Post by Cody Rhodes Diva on Dec 26, 2013 3:06:21 GMT -5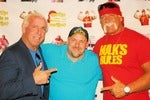 Ryback vs. Antonio Cesaro (No Legends)
Mark Henry vs. Zack Ryder (No Legends)
Dolph Ziggler vs. The Miz (Ric Flair at ringside)
Jack Swagger vs. Hacksaw Jim Duggan (Dusty Rhodes & Sgt. Slaughter at ringside)
Kane and Daniel Bryan vs. Darren Young and Titus O'Neil ("Million Dollar Man" at ringside)
Tensai and Brodus Clay vs. Heath Slater and Drew McIntyre (Honky Tonk Man at ringside)
Kofi Kingston vs. Fandango (No Legends)
Wade Barrett vs. Alberto Del Rio (No Legends)
The New Age Outlaws vs. Primo and Epico
Fatal 4 Way for a Shot at The Streak: CM Punk vs. Sheamus vs. Randy Orton vs. Big Show
Undertaker & Rock also appeared on the show, but as part of current angles building toward WrestleMania 29....
I remember all kinds of wild speculation that Stone Cold, Bret Hart, HBK, and others would be part of major angles on this show.... and we just got a mediocre RAW.
I remember this show being a colossal disappointment and refuse to get my hopes up that "Old School" 2014 will be any better..... prove me wrong, WWE.
As for Cody Rhodes, Damien Sandow, and the Divas, they competed on
WWE Superstars
that week. I'm pretty sure that Rhodes and the Divas will be on RAW this time around.