Post by Chris Reager on Jul 19, 2014 5:45:13 GMT -5
SUMMIT PRO: BEAST X スポットショー(SHOWCASE)
Veoja Keulopeuteu Sajig Arena (VKS Arena), Busan, South Korea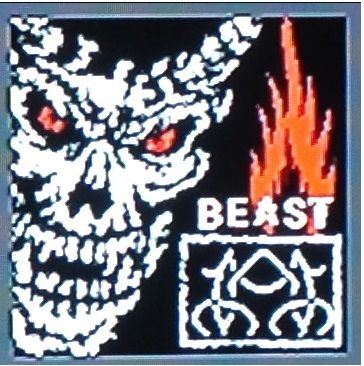 Show opened with a promo from Architect of BEAST Lucius Kraven hyping tonight's event; a BEAST-only showcase show which, just like the recent RIPTIDE X and IGNITION X showcases, was mentioned by 3NWPRO CEO Seth Cronyn on the most recent edition of 'Three Minutes To'.

Kraven revealed that in the secret BEAST Power Training Universum, several graduates would debut for BEAST; those being Animus, Oseron and Miasma (Seeds of Hate), Hazard and Tyrant (Perilous Oppression), and Inferno and Raze (Hellfire Eternal).

The international stable of powerhouse BEASTS, (Occasus) that came through the Universum would make their debut in a special attraction tag team match, with Senium, Nihil, Geilt, Sekem and Ennea taking on Venom and the two newest teams, the aforementioned Perilous Oppression and Hellfire Eternal.

The various stables that existed in BEAST would be tested.
As with the previous showcase events, the latter three matches would comprise the title matches for the evening.

The venue was small and a sell out, with face-painted BEAST announcer Malevolence taking the announcing duties for the evening.

SUMMIT PRO SHOWCASE: BEAST X

MATCHES

1. (Kolossal Miscreation) Vessel, Kraken and Bludgeon defeated (Seeds of Hate) Animus, Oseron and Miasma (14:03) when Vessel pinned Oseron after a Dark Circle Moonsault

OF NOTE: The combined awe-inspiring force of Vessel, Kraken and Bludgeon was a sight to behold for the fans in South Korea, as was the crowd reaction for their opponents making their debuts for BEAST; the sinister Seeds of Hate stable.
Kraken and Animus wowed the crowds with a Strong Style Big Boot duel that seemed to last forever, while Bludgeon used his ferocity against Miasma that saw them exchange strikes and moves, even going into the crowd.
The sheer size of the gargantuan Vessel overwhelmed Oseron, who was seemingly crushed under the might of Vessel, who successfully pinned him after his vicious Dark Circle Moonsault to get the win!

2. The Blood Pack (Mictlan and Vortex) defeated Bane of Ruination (Nightmare and Ravage) (16:02) when Vortex pinned Ravage after a Spiral Downfall Powerbomb - #1 contenders for BEAST Dual Beast Tag Team championship

OF NOTE: Lucius Kraven had ordered this match be a number one contender's match for the Tag Team titles, as the competition between certain teams in BEAST was beyond measure; The Blood Pack sought to right the wrongs of the NINE-BEAST WARFARE at the Fourth Stage of the Junior Heavyweight Grand Prix weeks earlier.
A focused attack against both members of the Bane of Ruination proved to be a step forward in the right direction, save for Nightmare's refusal to lose the opportunity to face The Pain Division with Ravage for the Dual Beast Tag Team titles, however Mictlan and Vortex were overwhelming in their approach, taking Nightmare out of the equation and unleashing their barrage on a hapless Ravage, with Vortex pinning Ravage for the successful pinfall!

3. SPECIAL ATTRACTION: Venom and Perilous Oppression (Hazard and Tyrant) and Hellfire Eternal (Inferno and Raze) defeated Occasus (18:03) when Venom pinned Geilt after the Devil's Cut-Throat Driver

OF NOTE: 3NWPRO CEO Seth Cronyn created the pro wrestling school/dojo, Stovebolt Championship Wrestling, for SUMMIT PRO's promotions, but due to the nature of BEAST's competitors, focussed instead on SCW where possible, leaving 3NWPRO mastermind Lady Laura Crothers to instead commission a training facility for those who wanted to truly become BEASTS, and sanctioned the BEAST Power Training Universum.
It was where BEAST King Beast champion himself, Bruiser, took it upon himself along with help from other members of the BEAST roster to ensure that those who entered the halls of the Universum would truly have the opportunity to become BEASTS.
The end result was the First Surge, comprised of Nine BEASTS in training, who had almost completed their quest to become fully-fledged members of the BEAST roster.
They chose their own alliances, with the members of Occasus becoming the first stable of five BEASTS, determined to show what they could do when presented with an opportunity.
Venom had mentored the two tag teams, Perilous Oppression and Hellfire Eternal along with Bruiser, so it was fitting that he would team with them against Occasus in their debut.
Elaborate entrances for both teams, and streamers aplenty, though it was a testing time for all but Venom.
The combined assault of Occasus' Sekem and Ennea on Inferno meant a hot tag for one of his team, and that would be Raze, who helped the match degenerate into an all-out war!
Eventually legal 'men' Geilt and Venom did battle in the ring, however Geilt's pride got the better of him, as he got overconfident after nailing Venom with a FlatFace DDT only for Venom to sit up, in homage to WWE's Undertaker! Venom got to his feet, and reversed a Lariat from Geilt into the Devil's Cut-Throat Driver for the win!

INTERMISSION

4. BEAST Dual Beast Tag Team champions The Pain Division (Legion and Warbringer) defeated The Violence Continuum (Reaper and Battlegod) (23:05) when Legion pinned Battlegod after a Black Dragon DDT to retain the BEAST Dual Beast Tag Team championships - fourth defense

OF NOTE: The first of three title matches began next, with The Pain Division being cheered despite being the very definition of 'monster heels', and were looking as serious as a heart attack.
Reaper and Battlegod may not have looked like a tag team, but they rose to the challenge, as brethren in The Violence Continuum, motivated backstage by their leader, Cthulu.
His counterpart, Virus, would be his opponent in a rematch for the BEAST Iron Beast championship hence their absence here.
The Pain Division had previously defended their title against Vessel and Kraven, Bruiser and Bludgeon and Nightmare and Ravage.
Reaper concentrated his swift, lethal shoot kicks at the legs of his much larger foes, though for the most part they did little but annoy the champions, who relied on their sheer size and power, mowing down Reaper and Battlegod at every opportunity they could.

Battlegod was able to retaliate with heaving suplexes one after another on both members of The Pain Division, and was aided by a vengeful recuperating Reaper, who used his size to his advantage, by delivering various Stomps to both Legion and Warbringer.
The tide turned to the side of the Violence Continuum, with Battlegod using Reaper as a weapon, by hurling Reaper at their foes feet-first, leaving Reaper to kick them repeatedly with animalistic fury.
Warbringer eventually made a comeback, beginning an onslaught that caught Reaper off-guard, with Legion firing back on Battlegod, massive chops and forearm strikes leaving him reeling.
Warbringer delivered the Desecration Driver on Reaper, though the count was broken up by Battlegod, who was now at the mercy of the champs; who chopped Battlegod's broad chest in turn, and executed a tandem suplex on him, waiting for him to get to his feet.
As they waited, Reaper groggily got to his feet, only to be flung into the crowd in a gorilla press from the ring by Warbringer!
Battlegod got to his feet, and ate a Big Boot by Warbringer and staggered against the ropes, leaving Legion to lunge forward and grab him in a front facelock and nailed the Black Dragon DDT, pinning him for the win and retaining the tag team championships for the fourth time!

5. PRE-MAIN EVENT: BEAST Iron Beast champion Virus defeated Cthulu (24:26) with the Contagion Lariat to retain the BEAST Iron Beast championship - first defense (rematch)

OF NOTE: As is always the case with SUMMIT PRO, the last two matches are title matches of the highest caliber, and this was no different, as Cthulu wanted to regain the BEAST Iron Beast championship, and had invoked his rematch clause with Lucius Kraven.
Leaders of considerable skill, both very different individuals but both possessed sharp minds and capable means to be Iron Beast champion, and potentially King Beast.

In comparison to their title match at MAELSTROM II, this match escalated quickly, with a tense exchange of blows from both BEASTS, eager to come out victorious of the strike battle.
Cthulu got the upperhand and methodically worked over Virus' leg with the rationale that if he was unable to stand, he could not hit the Contagion Lariat with appropriate force.
Virus fed off the force of thousands of South Korean fans and launched his comeback against his foe, who systematically caused Virus to start from scratch time and time again.
As he had attempted in the MAELSTROM II match, a Moonsault, Virus manoeuvred out of the way and slowly hammered Cthulu with strikes; forearms, chops and elbows.
He managed to get to his feet and staggered Cthulu with a backfist, but as he tried to run to the ropes his legs gave out on him.
Cthulu recovered and clutched Virus in a Powerbomb position, looking to hit his finisher, The Call of Cthulu Bomb.
Virus managed to wriggle free and both BEASTS grabbed each other in a collar-and-elbow tieup and hammered each other with forearms, whipping the Busan fans to a frenzy!
Both rescinded at the same time, groggy, but pressed each other's foreheads together, snarling in each other's face!
Virus roared and arched back, looking for a Lariat, but Cthulu ducked, and kicked Virus in the stomach and nailed a fast and furious Call of Cthulu Bomb!
He only got a two count, much to his chagrin. He attempted to pick Virus up, only to have his legs kicked out from him.
Virus staggered to his feet, trying to ease the pain pulsating through his left leg which had been assaulted for most of the match by Cthulu.
As Cthulu rose, Virus roared "より多くの伝染を必要としています!!" (NEEDS MORE CONTAGION!!) but Cthulu ducked again, unaware that Virus could do a Contagion Lariat with his other arm, and was smashed forcefully with the full weight of the Contagion Lariat with his left arm!
He pinned a stunned Cthulu for the win and first successful title defense!

6. MAIN EVENT: BEAST King Beast champion Bruiser defeated Kraven (32:11) with the MegaBomb to retain the BEAST King Beast championship - seventh defense

OF NOTE: At one time, Bruiser and Kraven were the force behind BEAST; two former journeymen wrestlers who became one with their personas and managed to become a true attraction in Japan, at a time when the business as far as the casual fan went was purely between AJPW and NJPW.
Atsushi Onita, who was the mind behind FMW showed that smaller promotions could thrive by being different to the two top promotions in Japan, and as two gaijin who were never top stars wherever they went, Bruiser and Kraven decided to try something different in 1997 after a chance meeting with Lady Crothers.

They created something different which was never supposed to usurp the Big Two, but offered a platform for non-Japanese wrestlers who could give something to the BEAST manifesto.
Seventeen years later, BEAST proved doubters wrong by providing a truly awe-inspiring brand of pro wrestling, one that revelled in the world it created for itself knowing that going against the grain was what was best for its very existence.
Kraven had been Bruiser's tag team partner in the first years of BEAST as the team 'Unbroken' and left BEAST due to injury, causing them to forfeit the Dual Beast Tag Team titles, which saw Bruiser become the face of BEAST and help the Universum get up and running.
However, Kraven had returned years later, as the leader of first Blood Pack, which included Reaper, Mictlan and Erebus.
Kraven refused to acknowledge his history with Bruiser, who had tried to reconcile with him and win back the titles they had forfeited.
This resulted in several beatdowns of Bruiser by The Bloodpack, causing Bruiser to seek help, and formed his own stable, 'Onslaught' with Bludgeon, Battlegod and Vortex to battle against The Bloodpack, in a feud that lasted several years.
Bruiser eventually won the feud against Kraven, who fell out of sight of BEAST again, only to return recently with a new incarnation of The Blood Pack, having recruited Vortex against Bruiser, who had long since disbanded Onslaught and Reaper had joined The Violence Continuum.
Kraven represented darkness in BEAST, with Bruiser representing power, and Kraven had finagled a title shot for this event from his namesake, the Architect of BEAST, Lucius Kraven.

Bruiser had retained his title against Vessel, twice against Venom, once previously against Kraven, Nightmare and Reaper.
Overwhelming crowd reaction for Bruiser, while Kraven was booed vociferously. Streamers covered both BEASTS who stared hatefully at one another, and began the match in earnest, with neither BEAST able to dominate the other, with a huge range of offensive strikes and attacks launched by both BEASTS.
The match saw them even exchange moves on the outside, with Kraven surprising the crowd by heaving Bruiser up in an apron powerbomb!
The match continued with drama and intense action, with the more lean Kraven unable to capitalise on certain big moves that he had been able to administer on the courageous Bruiser.
Kraven hissed at the crowd in his raspy, deep African-American voice, 'ブルーザーはのために行われている'(Bruiser is done for!), and motioned for his finisher, the Iconoclast, only for Bruiser kick Kraven's hand away, and nail him with a short-range Spear!
He roared in true BEASTly fashion, and raised his arms to the Busan crowd, who roared along with him, calling for the MegaBomb!
He grabbed Kraven and positioned him for it, only for Kraven to back away and nail a Superkick on Bruiser, only for him to no-sell it and roar in defiance, much to the delight of the fans!

"メガ爆弾!" (MEGA BOMB!)

Kraven attempted to Superkick Bruiser again, but Bruiser caught his leg.
Kraven surprised Bruiser by jumping up and landing in a Flying Armbar position, causing a massive roar of shock from the fans.
Bruiser grunted in pain, and needed to do something quick lest his arm get injured further by his former friend.
He was able, despite the pain, to adjust himself, and picked up Kraven in a gathered powerbomb, much like Rampage Jackson's famous 'Arona Bomb' on Ricardo Arona in PRIDE in 2003.
Kraven was able to kick out, barely.

Bruiser, grimacing from the pain on his arm, balled his fists, and nodded his head, the crowd roaring for the MegaBomb themselves, and brought Kraven into the powerbomb position, and again roared for the MegaBomb, and nailed it, covering Kraven for the successful win and record his seventh defense of the BEAST King Beast championship!

Lucius Kraven thanked the fans for their support of BEAST, and shared how much BEAST had appreciated South Korea.

He also mentioned the next SUMMIT PRO events, firstly FORGE VS KING III and the Junior Heavyweight Grand Prix Fifth Stage which would feature the semi final matches for the Junior Heavyweight Grand Prix Fifth Stage, when SUMMIT PRO makes their return to Japan.
The events are available as iPPVs on SUMMIT PRO's website, and as a traditional PPV in the same manner as the SUMMIT PRO shows from Japan through TCN - as this event was.

Domo arigato.