Mesh
Mar 30, 2018 14:59:02 GMT -5
Post by ♪★❤ MESH ❤★♪ on Mar 30, 2018 14:59:02 GMT -5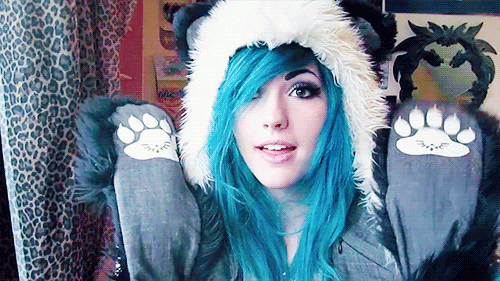 Name: Mesh

Alignment: Babyface

Hometown: Phoenix, AZ
Resides: Los Angeles, CA


Weight: 5'4

Height: 124 Ibs.

Biography: Mesh is a childhood wrestling fan. She was attracted to the bright lights, colorful outfits and larger-than-life characters at an early age. Being an only child, she would often use her toys as fictitious wrestlers and book her own matches. She fell in love with dancing after watching one of her mother's old aerobic dance tapes when she was little. As a result, her mother signed her up for dance class when she was in elementary school.

When she was 15, she found a wrestling school nearby and there, she began honing her craft as a professional wrestler. It was rough at first, she managed to balance her wrestling training which would leave her sore and in pain and would still make her rounds traveling as part of a dance troupe, but she made it work. No matter what, she was determined to realize her lifelong dream of being a professional wrestler. A couple of months later, she was working the independent circuit around California, paying her dues and learning how to work. She loves social media and has a bit of an online following from all her years on the indies.

Mesh experienced her first rave while in high school and she fell in love with the scene. The bright lights, the colorful outfits, the loud music. The more raves she went to, the more well known she became throughout the community. Many started calling her Mesh because she always wore fishnets with her colorful outfits and the name stuck.
Wanting to learn more, she moved down west and she really made a name for herself when she worked for the AWF - Arizona Wrestling Federation. It was there where she met Kat, who would end up being Mesh's best friend. They formed the tag team, Hate is Your Mistress and dominated all over Arizona. While they never won tag team gold, their run was quite memorable and they became well-known around the area.

The team disbanded after Kat walked out from the company following a heated exchange with management. This left Mesh on her own. As a result, she was forced to reinvent herself as to not get lost in the shuffle. Mesh struggled at first but after attending her first rave in years, that's where she decided to incorporate dancing and the rave fashion into her wrestling career. Needless to say, it worked - Mesh became one of the biggest stars in the AWF.


Since she was a kid, Mesh has dreamed of performing on the biggest stage of them all and she's busted her ass for years trying to get there. That's where the WFWF comes in. One of the top executives of the company noticed Mesh due to her quirky and chill personality and the way she connects with the crowd so on February 21st, 2018 they got in touch with Mesh and offered her a WFWF contract. Of course, she signed it.

At first glance, she may look like she can't hold her own in a fight but that's the biggest mistake her opponents make because Mesh will bring the fight. She may not fit in with the rest of the WFWF roster but Mesh will stand out, that's for sure!

Style: Despite her bubbly and colorful personality, Mesh is pretty reckless when she's inside the squared circle. She takes her craft seriously. She's a technical high-flyer; she can wow a crowd with her flips, kicks and dives but she is also capable of putting on a clinic.

(Picture base: Leda Muir)
Mesh's appearance changes frequently, as does her hair color. For the time being she has blue hair. She has a lip ring and various piercings. She's always wearing a choker and for wristbands, she wears her kandis. She wears a tanktop with a blue tutu. She has her fishnets and boots with blue tassels.

For her entrance, Mesh wears a white furry hoodie and a black surgical mask.

When she's not wrestling, Mesh likes to look stylish. A usual look for her is a pop culture reference t-shirt. She likes her jewelry which includes bracelets, rings and necklaces. She wears a studded belt with Skinny jeans that are usually ripped and Chuck Taylors.

Entrance Music: (S3RL - Pretty Rave Girl [Hands Up Edit])

The arena goes dark and bright colored lights flash throughout. As the colorful lights circle above, more lights rise from the ground and move in sync, forwards and backwards. As the song continues to build, the light move faster, flashing rapidly. The crowd starts getting into the song, the lights suddenly start to flash and flicker, painting the arena. The lights themselves are moving in sync to the beat of the song. From behind the curtain comes out Mesh, wearing her hoodie and surgical mask. She comes out dancing to the beat of the song, breakdancing and shuffling. She poses for the crowd, raising her hands in the arms and pumping it up! As she walks down the ramp, she continues to shuffle, holding her arms out to high five some of the party people in the crowd. She suddenly stops, points and pops! She hasn't lost a step as she keeps in rhythm. The crowd mimics her every move! She runs through the bottom ropes, breakdances back to her feet and pose for the crowd; hands up in the air as she stands atop the turnbuckle!

After jumping off from the turnbuckle, she does another dance in the middle of the ring and then stops which results in the crowd going nuts! She then waits in the corner, patiently for her opponent...


Finishers


Main: Raze (Front flip piledriver)
Second: 630 Splash

Impact Moves

01: Standing dropkick
02: Muscle Crusher (Variation of the Calf Killer)
03: Snap Suplex
04: Diving leg lariat
05: Flapjack
06: Mushroom Stomp
07: Discus forearm
08: Tilt-a-whirl backbreaker
09: Dance kicks (A combination of the Yes! Kicks and the 10-count punches. She kicks her opponent in the chest 9 times and before the final kick, she does a dance)
10: Running back elbow to cornered opponent with dance
11: Enzuigiri
12: Pelé Kick
13: Superplex
14: Headscissors takedown
15: Spinning wheel kick
16: Tiger Feint Kick (Basically, 619)

High flying Moves

01: Plancha
02: Springboard Elbow
03: Over the top rope suicide dive
04: Missile dropkick
05: Shooting Star Press* (Mesh RARELY uses this move, it's only a last resort)
06: Diving crossbody

Other
01: Matrix counter to clotheslines and/or punches leading into a handstand headscissors takedown
Mama Bear is Mesh's loving and supportive mother. She isn't too fond of the profession that her daughter chose but she's proud nonetheless.