Post by deskjet on Jun 18, 2010 7:28:50 GMT -5
by Mikey

PIC FED INTERVIEW
LA and Leno Fan: Thanks for being my guest.
Matty Mo:
Hey thank you for having me, its a pleasure my man!!
LA and Leno Fan: What made you use the Wrestlers who primarily made their name in the 70's and 80's?
Matty Mo:
I feel that wrestling today has lost its touch beyond fixing, the NWA, Memphis, AWA, and WCCW days are when wrestling for me was great, the matches were top notch, storylines were beyond beleivable, old school wrestling is where its at, and we at CWA are doin our best to re-create this, The stars such as Dusty, Arn, Tully, Flair, Dynamite Kid, they were wrestlers that i couldnt get enough of watching, dream teams like Steamboat and Dynamite who of which i thought when i was younger would make an unreal team, thats wat we are creating and thats why we went these direction with the old chool stars of the SPORT of wrestling.
LA and Leno Fan: How long did it take for you from inital idea of CWA to getting the first CWA Saturday Night on the air? What were the main challenges too?
Matty Mo:
Well the truth was i was goin to try to re-create the NWA, but G-money beat me to it, so i figured classic wrestling, so i replaced a c with the n, and came up with CWA, My intial idea for CWA Saturdaynight was somewhat imitating NWA Power Hour, but decided on more of a WWF Saturdaynight Main Event type show, now we have Sunday Morning Stars of Wrestling which is more of a Power Hour type show, My main challenge was making the show not look exactly like Gmoneys, and Warsman shows, i love there feds, but i didnt want it looking like we were all the same product, alot of re-writing went in to it, and still happens now, but i talk with both men on a regular basis, we love each others shows.
LA and Leno Fan: What exactly, for those who missed it was the CWA Saturday Night Revamp? Why was it needed?
Matty Mo:
CWA 6 Revamp was our coming back, President Harley Race sold me all of his shares to the company and i intended on selling, but i couldnt do it, so we worked with what stars we had and held tournaments for all titles except the US, new champions were crowned, tully retained his title, it was a good night for us, if we would have had the same talent it would have had been better, but what can u do, I beleive it was needed to show the pic fed fans that we are not dead, that we are alive and well, and still running better than ever!!!!
LA and Leno Fan: You were impressively able to expand the CWA brand to a Saturday Night show so quickly after starting CWA Sunday Morning. Why did you expand, and which show is the 'A-show' based off the wrestlers' performances?
Matty Mo:
We expanded to keep people interested in our product, it is a pain but with 2 shows a month it seems to be working well, every 4 months you'll see 3 shows a month with our yearly ppv's, the "A-show" Would definalty have to be CWA Saturdaynight simply cause it was our first, alot of history in the show as well.
LA and Leno Fan: In one word, what seaperates your company, CWA apart from all others on WF? Explain why you used the word you did.
Matty Mo:
Classic!!!! I say classic cause we use nothing but the classic wrestlers, nothing but classic storylines, clasic matches, i could go on but i think u get the just of it.
Finally, what can we expect in the future for CWA and its programming? Will any shows be "NXT'd"? Haha.
Matty Mo:
The future, well returning stars, we are currently in negoitations with about 12 to 15 new and former stars of CWA, some will surprise you, some will shock you, others youll be happy to see them back!!!! Will any shows be "NXT"? well we'll stick with the way things are goin "CURRENT", lol, if it aint broke dont fix it, lol!!!
LA and Leno Fan: Thanks for coming on Matty, it's been a pleasure. You can catch CWA Saturdaynight and CWA Sunday Morning on the WrestlingFigs Forums, currently up is SaturdayNight 1-7 and the debut edition of CWA Sunday Morning.
Matty Mo:
Thank you. Hope to see you all there. I'll see ya on CWA SATURDAYNIGHTS, and CWA SUNDAY MORNING STARS OF WRESTLING!!!!!!!!!!!!!
FREEDOMANIA PREVIEW
LETS DO THIS!!!
Has time really gone that fast? Is Freedomania right upon us? No surely not?
YES...IT.... IS!!! Freedomania is seen as the Wrestlemania of all pic feds and we saw enough last year with a huge turn out with such great matches taking place with new and old pic fedders, and once again Freedomania looks to be another great turn out as we already have a total of 15 sign ups. Such as wwefan617 with the guys from C2W, Tom with his deadly roster, easy1986 with WWR and Shiftyeyes making his return with WWA.
What will Freedomania have in store for us this year? A line up of all the greatest pic feds doing what they do best.
Will Freedomania 2010 top last year's? YES!!!
Make sure you have marked your calendar for July 11th 2010 because trust me this is something that shouldn't be missed!!!
Cheers
Mitch.

Blast From the Past Freedomania
[/size][/u]
by mallet
www.freewebs.com/rogfreedomania2007
2007
ROG - Cage of Death
Freedomania has seen many great matches, with debuts and returns galore sprinkled over its history. 2007 was no different, and it was the time KC with ROG became one of the top feds ever to be seen on the pic fed board. A record of 13 matches were handed in, with legendary matches taken place from ROG, BAOW, WWE-ML, VWA and WAP. The greatest, and very deserving of the main event spot, was KC and ROG. KC held the first ever pic fed version of the Cage of Death, and ending perhaps the greatest ROG feud ever, Generation Next (Led by the ROG champion Ken Kennedy), and the Extreme Revolution (Led by RVD). The match was full of high spots, drama, and violence. This was a part of perhaps the greatest Freedomania of all time, and this offering from KC, is definitely a candidate for the best pic fed match ever.
FIGURE REVIEW:
by the Champ is here!
mattel Mark Henry
This is a sweet figure. In fact, its what made me start collecting mattel's.
let's take a look at what makes this figure so incredible
the body: this is incredible attention to detail. Its a unique mold for him. look how they captured his hugeness. his calf's his arms, his whole body is just huge! take a look at this comparison pic:
the scan: totally captures his likeness, spot on
details: Mark doesn't have tons of details, but the attention shown to his scale more than makes up for it. The really cool part is, he fits in with both Mattel's and ra's, so no matter your collection, I highly reccomend picking him up!
SHIFTY'S PIC FED TOP 10
10. Edge (XEW) - Edge made a big impact, battling through a a deep cut to the mouth to take the win against 'The Ripper' Paul Burchill on Rush #3 (Temper's Flare).
09. Randy Orton (UWS) - Orton continued on his quest to kill the ECW Legends, by defeating Tazz in a hardcore match on S1EP4 'Payback?'.
08. CM Punk (FIW) - Punk defeated four of the independant scenes top stars in a five man match to earn the Pure Championship.
07. Lance Hoyt (XEW) - Hoyt continued on his path of dominance, defeating Al Snow and The Brooklyn Brawler in a handicap match.
06. D'Angelo Dinero (TNA:R) - Dinero defeated three time former World Champion Jeff Hardy in a viewers choice match to become the TNA Revolution World Champion.
05. Mr. Kennedy (WWEF) - Mr. Kennedy snapped the arm of WWEF's big new signing Kurt Angle, putting him out of action for the big event of the year, ResuRRection.
04. Samoa Joe (UWS) - Joe has been making waves, destroying everything in his path in an attempt to get booked in a match on UWS. Will he get his wish, and be booked?
03. Raven (ICW) - Raven won the ICW Heavyweight Championship in a brutal ladder match, defeating four other stars including Low-Ki and Jeff Hardy.
02. The CIM (UWS) - This trio have been unstoppable since making thier debut in UWS. How long will it be till they strike gold?
01. The Undertaker (WWEF) - The Undertaker returned to action on the 30th episode of WWEF RAW, destroying the set. Will he get vengeance on the Million $ Corp.?
AFTERSHOCK AWARDS!!!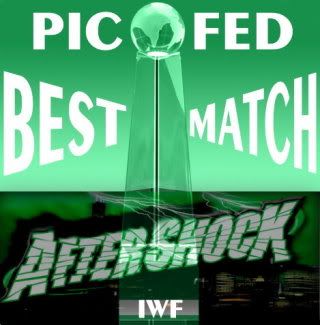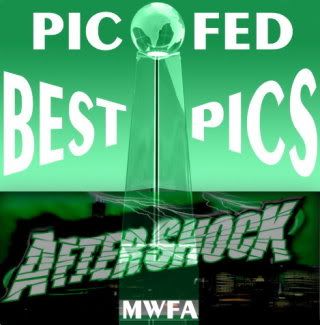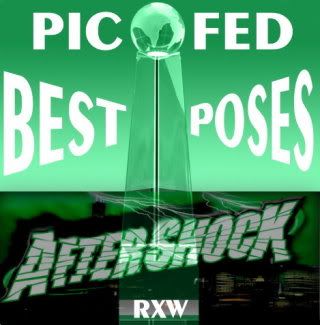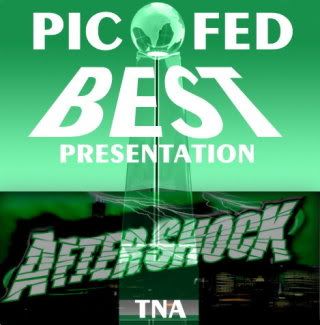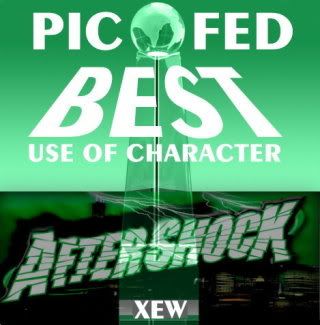 [/center]