Post by Deleted on Jan 16, 2011 7:31:22 GMT -5
A DMK animation?
? A MARC ANIMATION? I POOPED MYSELF
WF #1 Contenders Match for the HF Title
marc vs. Myyqee vs. Mr. Rocky vs. DMK
~Stip: Create a Rolling Thunder Splash
DMK:
i751.photobucket.com/albums/xx154/DMKwrestling/rollingthunder.gif
marc:
j.imagehost.org/0580/Animation2.gif
Rocky:
img840.imageshack.us/img840/9797/rollingthundersplash.gif
Myyqee: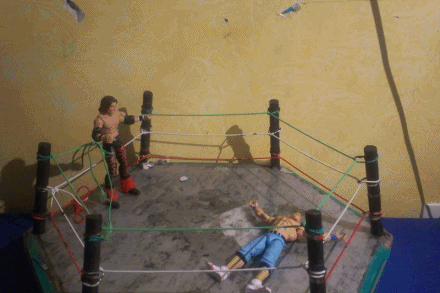 i954.photobucket.com/albums/ae23/Myyqee/SWE8rollingthundersplash.gif
How to vote on matches:
No polls and no suckish replies. Your vote will only and only count if you do the following:
1) State the username of the person you are voting for. (should I even have to say this?)
2) You must give reason on why you have voted this person as the winner. (Could be anything from smoother animation, to most creative. Compare other's animation is recommended)
If you cannot complete these simple rules, then your vote won't count and will be deleted on the spot, no exceptions.
Note: Alot of users like to get a mark out of 10 (or 5 if you must), but I can't force you to give a mark. Just take it to consideration when voting to make a mark to compare each animation in the match.
*Voting ends in 48 hours