Post by mase307 on Sept 17, 2011 13:34:00 GMT -5
Thanks to helsinkihellraiser and Apocalypse. I just took their ideas did a little tinkering and just wanted to share it with everyone else. I use this way to avoid the stress and cracks that occur when opening an elite figure. Hope it helps
Elite Perfect, box cutter, flat head screwdriver, container with water
Boil Water for 5 mins in microwave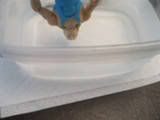 Dip head and neck only in the water for about 1 minute. than remove head and put water back in microwave for 4 mins.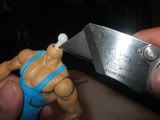 As the water is boiling take a box cutter and slice at the seam of the neck. Dont cut the peg just the seam. You should hear a slight crack. this is done so the neck wont get stress marks or break.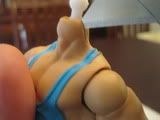 Once the water finishes boiling take it out of the microwave and put the headless figure in the water for 3-4 mins.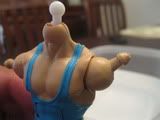 take the arms off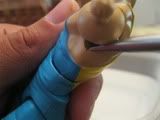 Take a flat head screwdriver and put it inside the armpit. put the screw driver where the 2 sides of the torso meet and the shoulder joint enter the torso.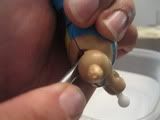 Push the screw driver into the shoulder joint torso area and push to the back of the figure to pop the pegs. Do this on both sides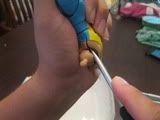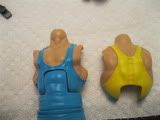 Now for the lower torso Put boxcutter at seam and press down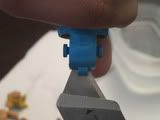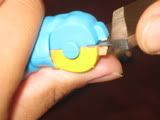 Put screwdriver in seam and push it as far down as you can. Then turn the screw driver to your right to pop the pegs.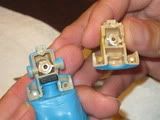 with the waist you have to take a box cutter and put it at the seam and push down.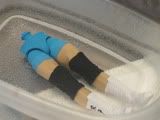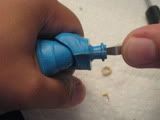 If it doesnt crack than put the figure in the hot water again for 3 mins. than put a screwdriver down the middle of the seam and turn right. You may have to take the boxcutter and slice the seam of the trunks on the side
Hope this helps out you customizer. Once again thanks to helsinkihellraiser and Apocalypse. I just took their ideas did a little tinkering and just wanted to share it with eveoyone else.