Post by ahunter8056 on May 28, 2013 14:24:18 GMT -5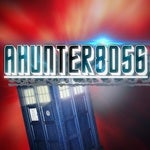 However with that said, the classic series evokes a different reaction from different people. Some people can't stand the wobbly sets, bad acting by a lot of actors and laughable special effects, but some people can get past that and enjoy the story for what it is. While I prefer the revived series by far over the original, I still enjoy classic Doctor Who.
If we're talking about favourites, my favourite Doctor is David Tennant, with Matt Smith at a close second. While the Tenth and Eleventh Doctors share similar excitable personalities, I get irritated some times by Matt Smith's posh British accent. One of the reasons why I prefer the revived series Doctors over all the classic series Doctors.
Talking about favourite Series, my favourite is Series 2. Spoilers in white.The return of the Cybermen, a surprise appearance by the Daleks marking the one and only time the Daleks and Cybermen have been in open warfare against each other on-screen, The Doctor facing the Devil, and of course Rose Tyler's emotional farewell.
My favourite episode has to be The Stolen Earth/Journey's End. Again, spoilers in white. We finally have the return of Rose Tyler, we have the Torchwood team, the return of Davros, a fake regeneration by The Doctor, the Supreme Dalek, an army of Daleks, and their plan to destroy reality.
If you enjoy Doctor Who, then I highly recommend it's spin-off series, Torchwood. It stars Captain Jack Harkness with his team investigating various alien presences in Cardiff, although Series 3 switches to London and Series 4 switches to America. It's basically an adult version of Doctor Who, without The Doctor or the TARDIS. Despite this, personally I find it to be a highly enjoyable programme.
Being British, I take offense to this.
Well -- you can take offense all you'd like. I'm sorry to hear that. But the effects are pretty terrible. I don't think this is debatable.
Which, what is SyFy known for? -- Some alright shows, but low production value due to bad special effects.
Admittedly, after last posting in this thread, I finally gave the show a legit chance, starting with Eccleston, and it IS entertaining (I prefer Being Human so far, though) But the effects are still terrible.
I don't understand how you can say the effects from 2005 onwards are terrible. One or two may be bad (the Daleks exterminating (spoilers in white) Captain Jack Harkness is a prime example), but the rest of the effects are fantastic.