Post by The Kevstaaa on Mar 12, 2015 21:43:57 GMT -5
WWE NXT: May 1st, 2014 – Full Sail University in Winter Park, Florida
---
Tonight's episode opens with a short video package highlighting the contract signing last week between Adrian Neville and Brodus Clay. The "Man That Gravity Forgot" will step into a NXT's first ever Steel Cage match against the "Main Event Player" on May 29th.
Speaking of the devil, Brodus Clay makes his way out to the ring to a chorus of boos from the always amped crowd at Full Sail University. He gets in the ring and snatches a microphone from ringside. He says that last week, he let Adrian Neville off the hook easily. "I could have snapped that little Hobbit in half at the end of the contract signing but I decided against it. If he can't make it to TakeOver, then I can't take over as NXT Champion. I'm the main event player but you idiots won't believe me until I wear the NXT Title. Tonight, I'm going to show you what happens when you face me. I'm going to demolish my opponent tonight just like I will Adrian Neville at TakeOver."
BRODUS CLAY VS. MOJO RAWLEY;
No Superstar in NXT, or the entire WWE for that matter, is more hype than Mojo Rawley. However, as soon as the bell rings, Brodus Clay stops him in his hype track with a massive shoulder block. Mojo is not some little guy though and he comes back with one of his own. Clay doesn't appreciate this and begins to club away on Mojo. He hits some vicious looking suplexes, but Mojo is able to send him into the corner and nail a splash. He poses to the crowd and connects on Hyper Drive, but Brodus kicks out. Mojo is stunned because nobody has kicked out of that before. He tries again, but Brodus moves out of the way. He takes out Mojo with a body block and a second rope splash is enough to put him away.
Brodus Clay defeats Mojo Rawley!
Brodus Clay demands the official raise his hand in victory. Adrian Neville is shown watching on a monitor backstage and he has to be at least a bit intimidated.
---
Backstage, Devin Taylor is standing by with the former NXT Champion, Bo Dallas. She asks about last week, when Bo said he would address the fans in Full Sail. Bo says that he has chosen not to go out and speak to them. "When I was NXT Champion, my fans were 100% behind me. They all Bolieved. But ever since I lost the belt, they seem to have changed and want me to leave. I don't want to go out there tonight. Instead…" we don't hear what's next as the Exotic Express appears and are jumping and dancing around. Bo looks rather mesmerized by this and does his usual smile as he tries to laugh this off. Adam Rose enters the picture and tells Bo Dallas to stop being a lemon because life would be better if he were a rosebud. Before Bo can respond, Rose and the Exotic Express dance away. Bo smiles at Devin after they leave and speaks. "I'm not a lemon Devin. I am a rosebud. I'll prove it to him. You know what? Even if there are some fans that aren't happy to see me, I know there are far more Bolievers out there."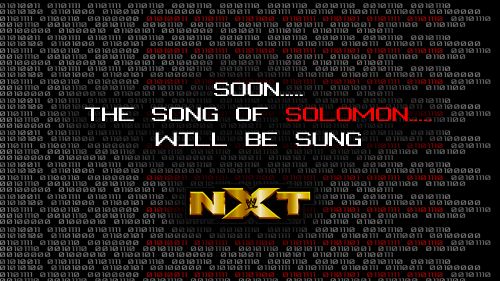 Bayley appears on screen backstage. She talks into the camera, saying "Last week, Triple H announced NXT TakeOver taking place on March 29th. Last time there was a special on the WWE Network, Paige and Emma set a new standard for women's wrestling." She says that she wants the next shot at living her dream. We cut to Charlotte who says that it isn't her dream to be a champion, it's her birthright. "I am genetically superior to all of these girls" is a line that causes a strange look from her BFF, Sasha Banks.
---
BAYLEY VS. CHARLOTTE;
Last week, Bayley teamed with NXT Women's Champion Paige in a losing effort against the Beautiful Fierce Females. In that bout, Charlotte rolled up Bayley to win. Tonight, Bayley charges early and overwhelms Charlotte with her early flurry. She hits some back elbows and a nice arm drag, before slipping and sliding on Charlotte's back, upsetting the daughter of Ric Flair. Charlotte confers outside with Sasha Banks, who still doesn't seem too pleased after Charlotte's comments earlier tonight. Once back inside, Charlotte gets in the driver's seat, and attempts the Figure Four. Bayley pulls her into a small package for two. Bayley tries for the Belly to Bayley, but Charlotte elbows out and Sasha gets on the apron. Charlotte argues with her to get down, allowing Bayley to grab her and hit the Belly to Bayley for the 1-2-3.
Bayley defeats Charlotte!
The crowd at Full Sail University comes to their feet as the cheery Bayley does exactly what she said she would. She quickly escapes the ring as Sasha Banks enters and avoids any sort of attack from the BFFs. "Bayley just made a big statement in her quest to earn an NXT Women's Title match" exclaims Alex Riley.
---
Catch an all-new episode of Legends House, airing Thursday nights on the WWE Network at 8E/7C!
We are now taken to a video package, showing the history between Corey Graves and Sami Zayn. Graves gave Zayn a beating a few weeks back, before they met two weeks ago. That match ended in a double countout and last week, Graves refused to break Lucky 13 against Tyson Kidd, leading to Zayn arriving on the scene to make the save. News has just broken that Sami Zayn will meet Corey Graves to settle their score at NXT TakeOver in a Falls Count Anywhere match!
CJ PARKER VS. SAMI ZAYN;
NXT's resident "Moonchild" looks to pick up a major upset against Sami Zayn here. The crowd, as usual, explodes at the arrival of Zayn. CJ Parker strikes before the bell and chops Sami in the corner. A loud palm strike earns him a near fall before he goes for a suplex. Sami blocks it and hits one of his own. He goes up top but Parker hits the ropes and crotches him. He takes Sami down with a Samoan drop for two again. Parker begins to get frustrated as he sets up for another palm strike. This time, Sami is ready and dodges it before hitting the Blue Thunder Bomb. Sami yells at the top of his lungs, showing a more aggressive side than we're used to. He seems to snap as he hits an exploder into the corner and the Helluva kick once Parker gets to his feet. Sami finishes the flurry with the Koji Clutch and Parker is forced to submit.
Sami Zayn defeats CJ Parker!
The fans cheer as Sami Zayn has his hand raised in victory. It seems like Corey Graves and his actions have brought out a more aggressive version of Sami Zayn.
---
Devin Taylor is once again backstage, this time standing by with Tyson Kidd. She asks for his thoughts on his main event match tonight against Tyler Breeze. Tyson responds by saying that things haven't been going well for him on the main roster. "I returned from my injury and could barely get time on Raw or Smackdown, so I find myself here. I will get the TV time that I deserve and I will turn my career around. I'm the last graduate of the Hart Dungeon and I'm better than what you all have seen lately."
ENZO AMORE VS. VIKTOR;
The dominant NXT Tag Team Champions have a target on their backs and Enzo Amore and Colin Cassady have aimed right at that. Enzo smack talks Viktor at the bell, leading him to get slapped. Enzo charges but runs into a back body drop. Viktor goes for another attack, but Enzo slips behind him and school boys him with a handful of tights to steal this one.
Enzo Amore defeats Viktor!
Enzo Amore quickly exits the ring with Big Cass as the NXT Universe cheers loudly. Konnor and Viktor are livid as Queen's finest back up the ramp. Regardless of how it happened, a pinfall over one half of the Tag Team Champions has to put them in line for a future shot.
---
More from Devin Taylor as she is backstage with the NXT Champion Adrian Neville. She wants his thoughts on Brodus Clay's dominating performance earlier tonight. Neville states that it was impressive, but before he can finish, Brodus nails him from behind. He throws Neville around as Devin escapes. When the assault is over, Neville is shown lying on the floor and two of his teeth are on the ground next to him.
ADAM ROSE VS. AIDEN ENGLISH;
The "Artiste" of NXT, Aiden English found himself going up against Adam Rose and the Exotic Express. Rose attempts to get English to sing along to his theme music, but Aiden is appalled at the thought of that. Instead, he clubs away on Rose to boos from the fans. English sends Rose off the ropes and hits a swinging neckbreaker, earning a near fall. Rose uses Aiden's momentum to send him over and out, where he is taken aback by the strange Exotic Express. When he gets back inside, he charges Rose, but is met with a big spinebuster. From that impactful move, Rose prances around the ring and follows with some clotheslines. Rose calls for the Party Foul but English shoves him off into the corner. He runs in, but Rose dodges and hits the Party Foul anyway for the victory.
Adam Rose defeats Aiden English!
Adam Rose celebrates with the Exotic Express and gets on the apron, preparing to leap backward into their welcoming arms. Instead, a rosebud dressed like a Ninja Turtle grabs his leg and pulls him down jaw first onto the apron. The turtle removes his mask and reveals himself to be Bo Dallas. Bo lifts Rose and nails the Bo-Dog into the ring post! The crowd chants "Bo leave" as Bo looks at them and smiles.
---
TYLER BREEZE VS. TYSON KIDD;
Since returning to NXT and looking to right his career, Tyson Kidd has continued to struggle. Two weeks ago he lost a shot to become the Number One Contender and last week, he was locked in the Lucky 13 for a long time. He shows some effects of that submission early on by limping a bit. Tyler Breeze goes right for it like a shark smelling blood. For the first few minutes, he works the leg and even goes old school Bret Hart by applying the ring post figure four. It isn't until after a commercial break that Tyson starts to gather some momentum. He reels some of his signature moves like the springboard elbow drop which only gets him two. Tyson goes for the Sharpshooter but Tyler kicks him off into the corner. He quickly gets to his feet and nails a vicious sounding superkick. He covers but Tyson is able to get his foot on the bottom rope. Breeze begins to argue with the official, allowing Tyson to connect on an enziguri! He climbs up top for the Blockbuster but his weak leg gives out and he crashes to the mat. As he slowly gets to his feet, Tyler nails the Beauty Shot to grab the win.
Tyler Breeze defeats Tyson Kidd!
After the match, Tyler Breeze takes a selfie with his phone in which Tyson Kidd could be seen laying on the mat. As he exits up the ramp, the cameras catch a frustrated and disheartened Kidd looking at a loss for words.
---