Post by The Kevstaaa on Mar 30, 2015 16:41:00 GMT -5
WWE NXT: May 8th, 2014 – Full Sail University in Winter Park, Florida
---
Following the NXT opening intro video, we go directly to the ring for our opening contest. Jason Albert, Renee Young and Rich Brennan introduce things from the broadcast table.
JUSTIN GABRIEL VS. TYLER BREEZE;
Just one week ago, Tyler Breeze defeated Tyson Kidd in the main event of NXT. Now, Kidd's friend and tag team partner, Justin Gabriel, gets a chance to avenge his buddy. Much like that bout, this is fast paced and exciting. Gabriel's daredevil offense has Breeze reeling early, until a well-placed Supermodel kick turns the tide. Out comes
Tyson Kidd
to ringside during a headlock to lend moral support. Breeze gets two on a DDT before stopping to take a selfie. Kidd gets on the apron and snatches the phone from him. Gabriel rolls up Breeze from behind, but only gets two. As they get up simultaneously, Breeze connects with the Beauty Shot, resulting in the finish.
Tyler Breeze defeats Justin Gabriel!

"The hot streak of Prince Pretty continues with another win over a main roster veteran" exclaims Renee Young.
Tyler Breeze picks up his cellphone from the mat and takes some selfies. He's interrupted by the sound of Tyson Kidd on the microphone. "Tyler. I've had enough of this. I came back to NXT to turn my career around but all I've done is lose. I'm the last graduate of the Hart Dungeon dammit, I'm better than this. So how about I show you just good I am at TakeOver?" Tyler Breeze gives a look of pity towards Tyson and nods his head, accepting the match.
---
The below graphic is shown, promoting tonight's big Battle Royal to determine the number one contender for Paige's NXT Women's Championship at TakeOver! Plus, in our main event, Adam Rose teams with Sami Zayn to face Bo Dallas and Corey Graves!
---
An advertisement runs for the WWE Network. Not only do you get all of the amazing content for just $9.99, but now if you refer a friend to sign up, you both get a $25 gift card to the WWE Shop!
ENZO AMORE AND COLIN CASSADY VS. THE LEGIONNAIRES;
Jason Albert informs us that the Legionnaires consist of Sylvester Lefort and his comrade, Marcus Louis. Enzo Amore and Big Cass come out to their usual big pop and cut down their opponents before the bell. Once it begins, the Legionnaires show off some solid tag team work as their chemistry seems to be solid. However, the chemistry of Enzo and Cass is just a bit better as Cass launches Enzo onto Lefort for the win.
Enzo Amore and Colin Cassady defeat The Legionnaires!

Cheers come down over Full Sail University as Enzo Amore and Colin Cassady continue to gain momentum. They do a Shawn Michaels and Diesel like high five as Tom Phillips mentions that with this and Enzo's win over Viktor last week, they have to be in line for a shot at the NXT Tag Team Titles!
---
Returning, a replay is shown of Brodus Clay's brutal assault on NXT Champion Adrian Neville last week. An image not seen last week appears, showing some of Neville's teeth were actually knocked out. We are then taken to an update from Adrian Neville himself, as he recoded the video from his phone while at home. He says that he had to have some emergency oral surgery to have his teeth fixed, but it won't keep him out of action long. "Even though I'm resting now, I'll be back next week and I'm coming for you Brodus. I don't wanna wait until TakeOver."
---
A Legends House advertisement airs. You can catch new episodes every Thursday night at 8E/7C only on the WWE Network! "I may not be here for a long time, but I'm here for a good time."
Before our Battle Royal to determine the Number One Contender for
Paige's
NXT Women's Championship begins, the "Anti-Diva" comes out to sit at ringside and watch the contest.
NUMBER ONE CONTENDER'S BATTLE ROYAL;
Bayley, Charlotte, Emma, Sasha Banks, Jojo, Alicia Fox, Natalya, Layla, and Summer Rae were joined by the debuting Alexa Bliss. She is pretty much a fairy princess. Once the bell rings, all ten girls just go after each other. The youngster, Jojo, only working her third match ever, is the first to be eliminated. Surprisingly, the next girls out are the main roster ones. It seems as if the NXT girls wanted to rid the match of them and have the focus be on them. As it comes down to the final four, we see Bayley, Charlotte, Banks and shockingly, Bliss. Bliss saves herself from being eliminated with her ability to hang on. That is stopped as Banks and Charlotte team up to dump her. The BFFs now turn their attention to Bayley, but end up arguing with each other. All three females end up going over the top and all hit the floor together.
The Battle Royal ends in controversy!

The match being over doesn't stop these rivals from continuing to do battle until the theme of John "Bradshaw" Layfield hits. The General Manager of NXT comes to the stage, shouting for them to stop. He says that with the ending we just had, he isn't sure what to do. The fans chant "Triple Threat" but before JBL can decide on that, Paige grabs a microphone. "Allow me to interject here. All three of these girls have been very impressive as of late and I pride myself on not only being the best Diva in the world, but on being a fighting champion. With that being said, I'll fight all three of them at TakeOver." The crowd cheers for this as JBL looks surprised at this idea. He asks if Paige is sure about this, and when she says yes, he makes the match official.
---
Devin Taylor is standing by backstage with Sami Zayn. She asks for his thoughts on teaming with Adam Rose in tonight's main event. Sami says that it doesn't matter who his teammate is tonight because all he wants to do is get his hands on Corey Graves. He is cut off by the Exotic Express coming into the screen and dancing. Adam Rose enters as well, "Sami, don't be a lemon. Be a rosebud! I know that you're dying to get to Corey Graves, and I understand that but that doesn't you can't have some fun with us on the way. Look at me, Bo Dallas attacked me last week, and I wanna tear him to shreds, but I'm still partying." He offers Sami a lollipop, so Sami looks to Devin before deciding to take it."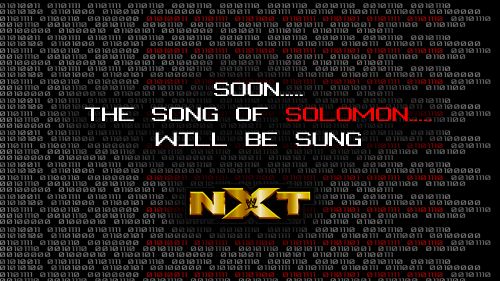 ---
KALISTO VS. OLVER GREY;
Oliver Grey is a former NXT Tag Team Champion but this is more about the debut of Kalisto. Renee Young is sure to point out that Kalisto reminds her of Rey Mysterio and it is easy to see that comparison. This bout is fast paced with both guys coming out of the blocks quickly. Kalisto shows off some innovative and cool offense, like a spinning springboard attack and an impressive handstand before a big kick. Grey does get in some offense, including some close near falls. However, Kalisto is able to connect on what Rich Brennan calls Salida del Sol to secure the victory.
Kalisto defeats Oliver Grey!

Kalisto earns a nice round of applause from the fans at Full Sail University thanks to his impressive debut.
"I see great things in the future for this guy. He is breathtaking" says Jason Albert.
---
Once again, Devin Taylor is backstage, but this time is with the NXT Women's Champion, Paige. She asks what drove her to accept the challenge of facing three women at TakeOver. Paige responds, "I didn't get into this business to duck challengers or take the easy road. It's the same reason why I showed up on Raw a month ago and the same reason why I'm taking AJ Lee to the limit. My goal is to be the best that ever did this and if that means beating three girls at TakeOver, then I welcome the opportunity."
---
ADAM ROSE AND SAMI ZAYN VS. BO DALLAS AND COREY GRAVES;
It is clear from the start that Corey Graves is not too pleased with his partner as Bo Dallas' upbeat attitude seems to irk him. That being said, it doesn't seem to stop them from really working over Adam Rose. Sami Zayn desperately wants the tag, but Rose is taking a beating in the ring. The Exotic Express do their best to get the crowd to try and rally Rose and it ends up working! He tags in Zayn, who comes in hot and hits some of his key moves. Dallas is knocked outside, so when Graves goes to check on him, Zayn flies over the top and takes him out with a huge dive. Back inside, he demands Dallas tag in Graves. Dallas gives him a thumbs up, but kicks him instead of tagging. Shortly after, Rose is the legal man again and he is hit with the BoDog, allowing Dallas to gain the victory.
Bo Dallas and Corey Graves defeat Adam Rose and Sami Zayn!

Bo Dallas has to celebrate on his own, because Sami Zayn and Corey Graves are brawling on the outside. Bo watches on with a smile as their rumble takes them up to the top of the stage. Security and officials rush out to try and separate them, but it's to no avail. They just keep breaking free and attacking each other. "I know its Falls Count Anywhere at TakeOver, but will that even be enough to contain these two?" asks Rich Brennan.
---