Post by Sleeping Like An Angel on May 14, 2014 18:58:39 GMT -5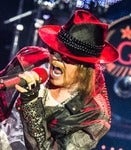 I don't BS when it comes to movies, my friend.
I believe it's either 12, or 14...I'm fairly sure it's the latter.
He's said that he wanted to take it, because it will allow him to still Direct once in a while, but it gives him a character that his kids can enjoy. He's become a big family man, which is what played into him taking the role. But it's consistent. WB/DC are finally wanting to invest in the DCU, and obviously Batman is their go-to character to bank on it, which -- is smart. Those appearances include cameos, etc too though, like Jackson's Nick Fury.
Take into account BvS, and JL following as 2 already...Affleck has already said he's interested in Directing stand-alone Bat flicks...figure 3-4 of those, and of course a JL2/3...he's more than half way home in the next decade, without a single cameo taken into account, as it is.
But the cameos are easy, enough. Hell, I want nothing more than to Direct Aquaman...and even my idea has him in a cameo. It's pretty damn easy to rack up that many appearances...
I have no doubt it's easy to use up appearances, but damn, that makes me happy to hear. Somebody consistently in the cape and cowl is something we need. Plus, we know Ben is a HUGE Batman fan. For Christ's sake, he built an entrance to a Batcave in his house.