Post by TheChamp617 on Mar 7, 2020 1:19:00 GMT -5
Papa Shango, Hornswoggle, Lanny Poffo, Brooklyn Brawler, and Virgil were in Toronto yesterday for a charity wrestling show.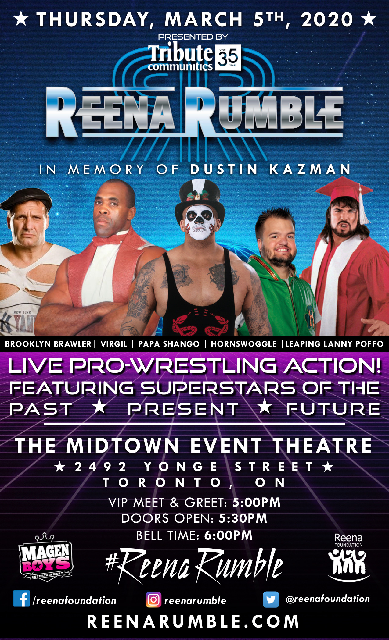 I've attended shows organized by these promoters several times. Like most of their shows, this was a charity show. I have some previous reports from shows ran by these promoters, which can be found in this thread. During one of those reports, I got a dozen autographs from Mark Henry and mentioned how the promoters were great and took care of me. This event was no different. They offer a $100 meet and greet that includes all of the big names, but I only needed Shango. Nonetheless, I would have done the VIP meet and greet anyway; however, I work until 5:30 and the meet and greet would be at 5. Consequently, I message one of the promotors and ask if Shango will be signing at intermission. He says yes. I then ask him how much six autographs and a photo would cost me, and we agree on $60 (amazing!).
Fast forward to the week of the show, I realize that I have to stay late at work during the evening of the event for a meeting. Thinking I'm in a pickle, I ask the promotor if I can meet Shango after the show. He says that he can try, but no promises can be made, which I thought was fair. Thankfully the night before the event, I was given the green light to skip the work meeting. This meant that my initial plan of meeting Shango at intermission would be back on. I update the promoter, who then gets me in contact with one of his staff. I was given the instruction to text his staff an ETA and we'll make the autograph opportunity work. Turns out, I would not meet Shango at intermission (more on this later).
On the evening of the show, I leave work at 5:30 with the anticipation of being at the event between 6:45 and 7. My commute was delayed because of a subway closure. There was an incident at a subway station causing a closure. Shuttle buses replaced subways, but the number of commuters heavily outweighed the number of busses. Therefore, I had no choice but to taxi to make it on time. I arrive at about 7 and text the promotor's staff member. He meets me at the door and explains to me that Shango will be wrestling in the next match, but he will make sure that I am able to meet him. He then brings me to the crowd and finds me a good place to stand as there are no more seats available. Not too long later, Shango's match is on. Shango can still go, but I couldn't help but laugh at the fact that he had to pull up/adjust his pants after every move.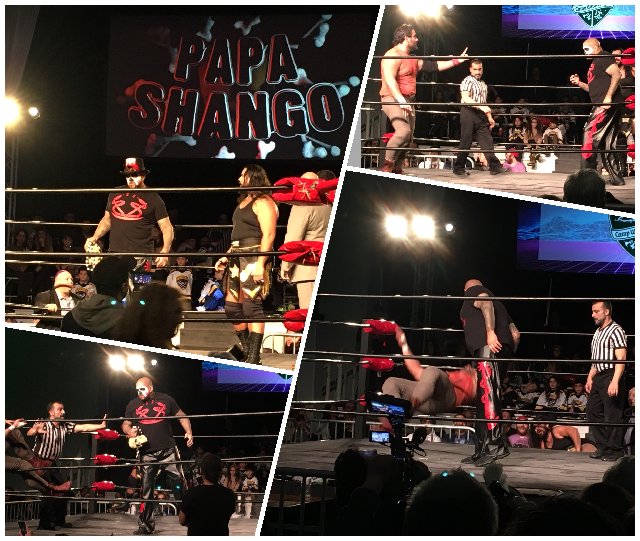 After his match, intermission is announced. Shango would be doing in-ring photos during intermission. It seemed like he wouldn't be signing. I found
josecalderon
and spoke to him for a few minutes until I realize that Hornswoggle did have a table set up. Although I've met him several times, I found a Topps WWE Card relic with a piece of his shirt in it. I figured that since he's here, I might as well bring it along to get signed. I approach his table and ask how much an autograph would be. He politely replies, "5 dollars", and I respond by asking if he has change. He doesn't, so I go to the bar and ask for change. I return to Hornswoggle's table and have him sign the card. When he sees the card, he exclaims "oh, right on!" and asks if I want it personalized. I tell him that I don't, and he signs it.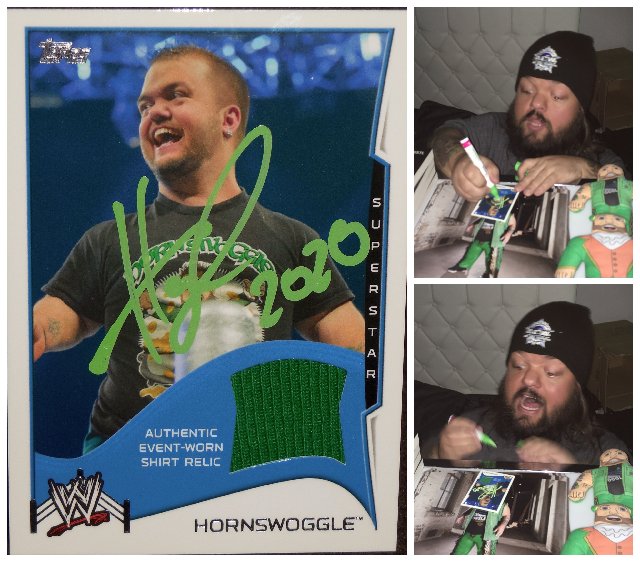 As he signs, I tell him about meeting him at Kingston, Ontario last year. He immediately says, "oh yeah yeah" and I offer my hand for a handshake. He insists on a fist bump, which we do. Short (no pun intended) meet with Hornswoggle, but he was nice enough. 10 minutes later, intermission is over and the show resumes.
10 more minutes later, I get a phone call from the promotor's staff member I was in contact with. He comes and gets me from the crowd and asks me to follow him to meet Shango. I quickly realize that we are going backstage! I am getting a one-on-one meet and greet with Shango. We enter one of the backrooms and I see Shango sitting. He is looking on his phone for his flight details when we come in. The staff says "this is Alex! He's here to meet you!". I say, "I missed the meet and greet because of work!" and pull my stuff out. We start off with the encyclopedia. As he signs, I tell him "I met you at a toy show in Mississauga, Ontario a few years ago". He instantly smiles and says "Oh, I had a lot of fun at that!"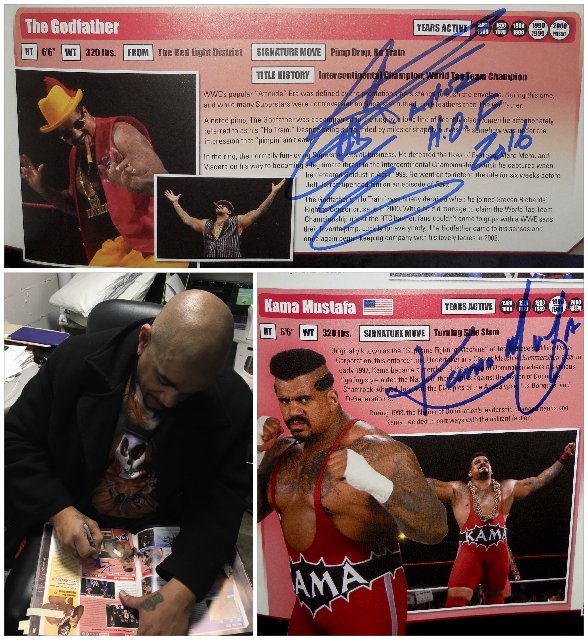 I then pull open the Nation of Domination entry. He says "oh!" as if to be surprised at the entry and how many I've gotten. He says "you're going to have to get the Rock on here too! That'll be a tough one". I laugh and he continues, "did you see what I'm doing to D'lo?" [bunny ears]. I respond by laughing and say, "yeah. When I met D'Lo, he pointed that out to me. He said that apparently it was supposed to be a joke, but it ended up being published everywhere!". Shango replies with a smile and sarcastically says, "I don't know!".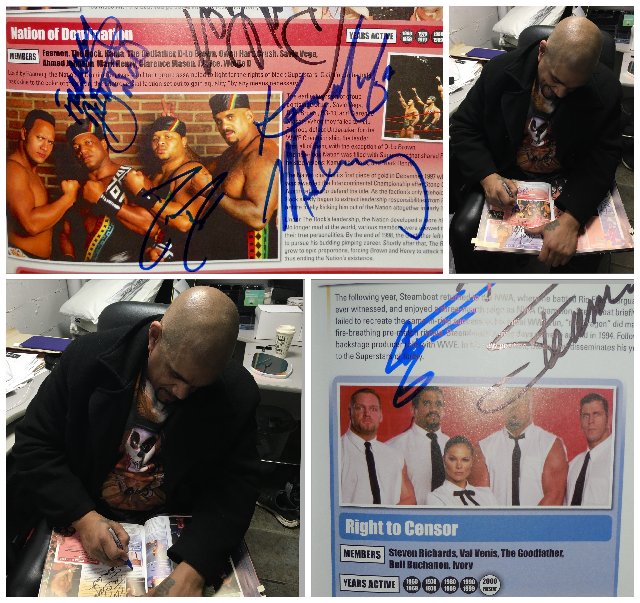 We then move on to a magazine, he asks if I wanted it personalized, which I did not. As he signed the magazine, the promotor's staff asks me how many autographs I have in the encyclopedia and if I'm enjoying the show.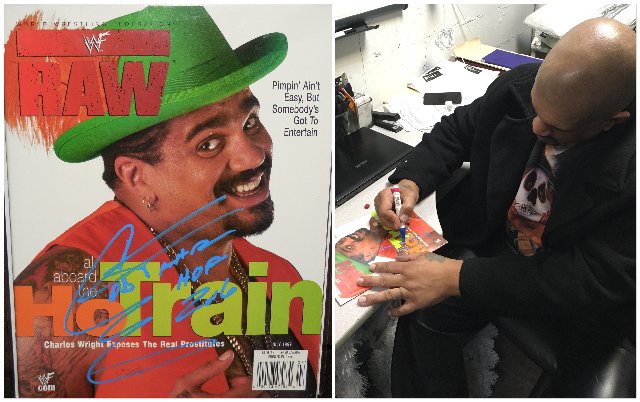 Lastly, I move on to the Hall of Fame two-pack with Warrior. I ask him to personalize and sign it in red and inscribe "Beware of Voodoo" in yellow over Warrior. He has no problem doing that. After he signed, I thank him, and he asks, "is that it?". I say yes, and he replies, "that was easy!" The promotor' staff chimes in, "yeah, you came prepared!" I thank Shango and pay him the $60. He thanks me, but honestly says "ok… I'm not sure if this [money] is mine." The promotor's staff says that the money is Shango's and that the price was agreed on. We then pose for a photo, which Shango gets out of his seat for. My one regret about this was that he was no longer in facepaint, but it's hard to complain when you get an amazing deal for autographs AND a one-on-one meet and greet. After the photo was taken, we shake hands and thank each other. The promotor's staff then brings me back out to enjoy the rest of the show. An amazing experience for sure. The promotors were great and Shango/Hornswoggle were also great. Side note: the Brooklyn Brawler was ironically in the main event.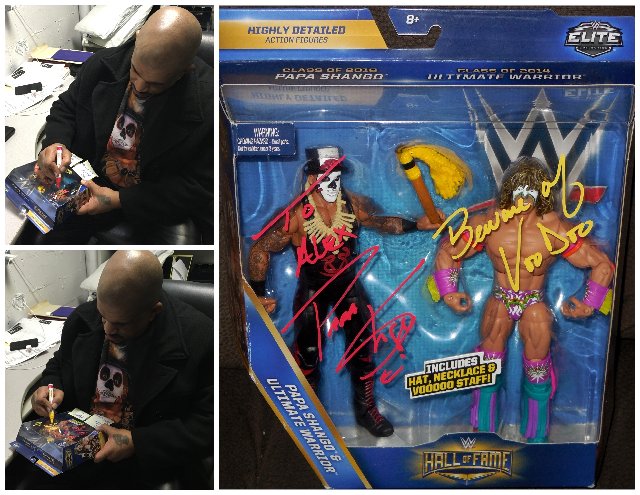 Thanks for reading!