Post by TheChamp617 on Dec 9, 2015 20:18:34 GMT -5
Page 39!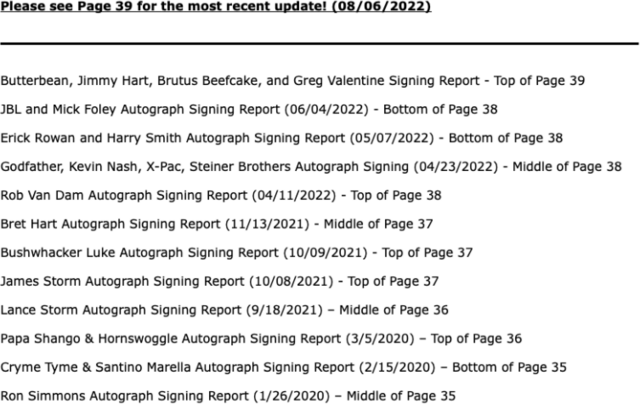 2019 Reports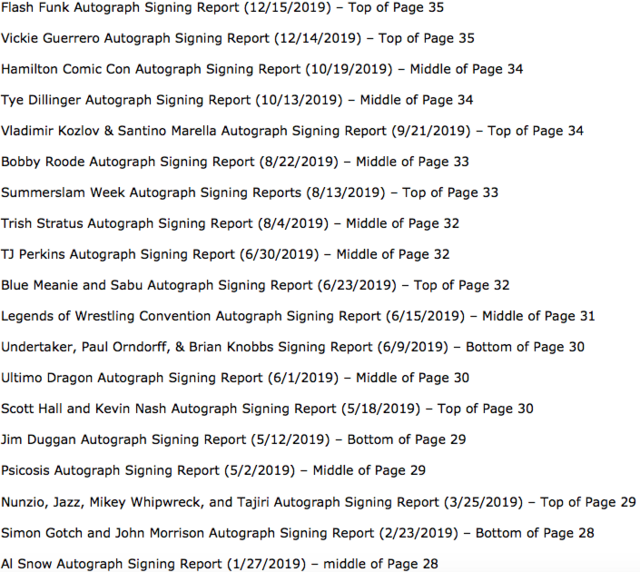 2018 Reports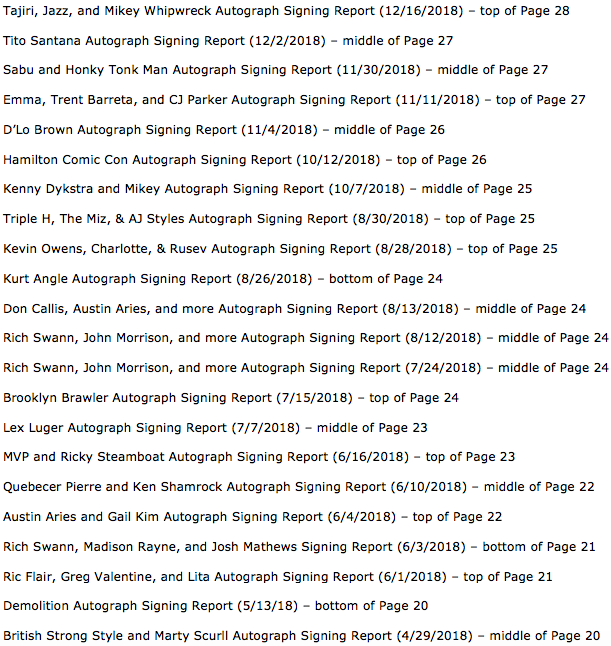 Jinder Mahal Autograph Signing Report (4/13/2018) - Middle of Page 20
Alexa Bliss Autograph Signing Report (3/23/2018)
Very short report today. I was able to meet Alexa Bliss as she was doing her media rounds to promote tonight's house show in Toronto.
I planned to try to meet her at a particular television studios downtown. Normally, I would try to get the wrestler as they leave their interview, but this time I was early. This would end up being a good thing. I arrived at the studios and see two other fans waiting outside. Alexa had not yet arrived. I waited around about 10 minutes in the cold and Alexa's vehicle pulls up. Immediately, 5 people in two parked cars come out and gather around the area by Alexa's vehicle. They were waiting in their cards to avoid the cold lol. All of us were lined up along the path leading from her vehicle door up to the door of the TV studios. As she made her way to the studio, she went to each one of us and signed. I take out my light blue paint marker from my pocket and try to take the cap off with one hand. My hands were numb from the cold, so I couldn't! I was struggling to get the cap off, and she was coming to me next. I quickly put my stuff down on the ground to free my second hand in order to use it to get the cap off. As I do this, Alexa skips me, but luckily didn't get too far (literally just the next person over) by the time I was ready. She turns back to me, and grabs my marker. I politely ask her to personalize it, and she does with a smile. Once she signed, I thanked her, and she happily replies: "yeah!". She signs a few more for others, takes a selfie, then heads in.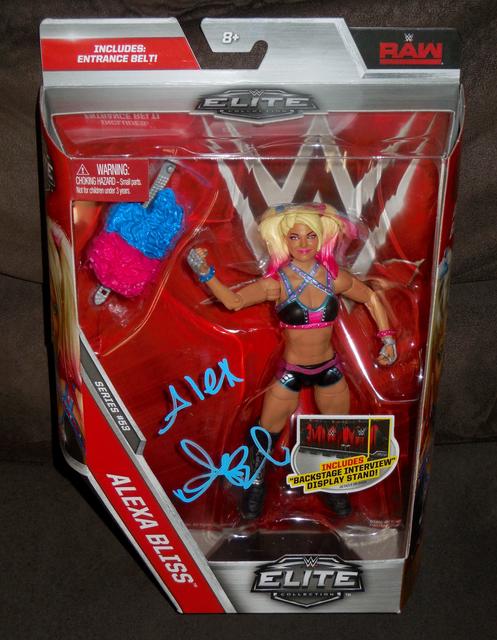 I also had a WWE program with me. My plan was to get a selfie on her way out, and try to get the program signed as well. After her interview, her and her people quickly spam the door and straight to their vehicle. Alexa was apologetic and said that they were in a rush to get to their next appointment. Although it was a quick meet, Alexa was very nice. I'm sure if she had the time, she would have stopped, and signed more and taken more pics.
Thanks for reading!
Mick Foley Autograph Signing Report (3/18/2018)
Mick Foley was in Toronto for Greektown Wrestling today: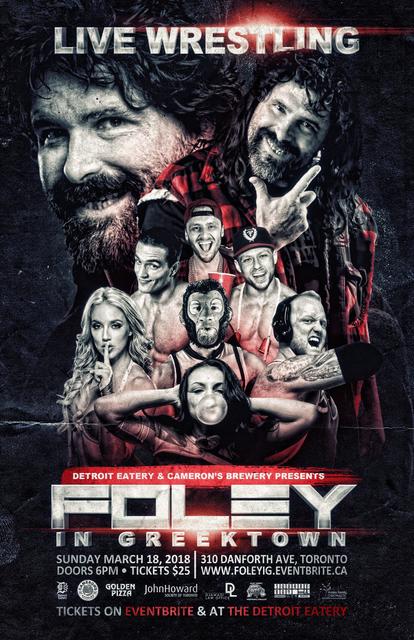 For this wrestling show, you had the option of General Admission to meet Mick during intermission at the show, or you could get a VIP ticket which included admission, a photo, and an autograph. The VIP ticket was more economic at $60, so I bought one for myself and one for
josecalderon
a few weeks prior to the event. They were being sold at an eatery that was a sponsor for the show, and is where the signing took place.
Fast forward to today. The signing is supposed to start at 3:30. The eatery is about a 25 minute walk from where i live, so I leave at 2:30 with the intention of getting there by 3 to get a good spot in line. When I arrive, I join the line and was about 10 people from the front. Not too long after, josecalderon finds me and joins me in line. We chat until the signing starts. 3:30 came and a staff member from the show came out to update us and tells us that Mick is running late and will be here in 20 minutes. josecalderon mentions that a 20 minute wait extra isn't too bad, but I joke.. after 20 minutes, they'll come out again and tell us that it'll be another 20 minutes. I was half-right: there wasn't another update on time, but it did take almost another 20 minutes before we got in. Once Mick arrived, people were let into the eatery in small groups. Before you meet Mick, there is a guy at a nearby table that you would pay if you wanted extra autographs. I wanted an extra 7, which would have been $140 at $20 each. It seemed like he didn't know about that $20 per extra item rule, so he asked one of the promoters (who is also a local indy wrestler) for details. The promoter explained the $20 per extra item rule and thanked me for bringing so much stuff. I pay the guy and wait until it is my turn to meet Mick. A few minutes later, it is my turn and I go up to him and shake his hand. He sees my stuff and says: "oh what do we have here! A TNA program!". I tell him that I have a whole bunch of stuff for him to sign. He responds: "you must be a big fan then!". I tell him that I am and remind him of the multiple times I've met him before. As we speak, I have Mick switch markers multiple times. After the TNA program, I had him sign two magazines in blue. Although I prepped the blue paint marker, it was actually dying.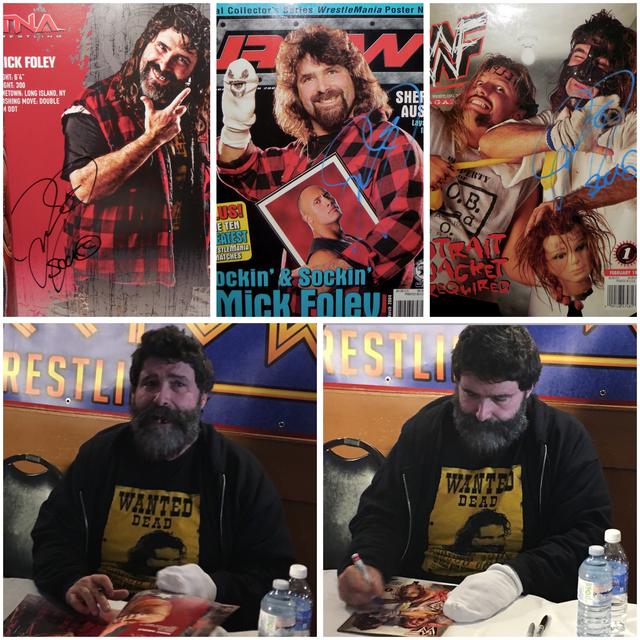 I tell him that I met him at Comicon last year along with his daughter, Noelle. He remembers the event right away and even asks if I was there during the day Bret was there. In response I tell him that I was. I also bring up the Toronto Santa Claus parade, and he recalled being there as well. We switch markers again for my Dude Love magazine.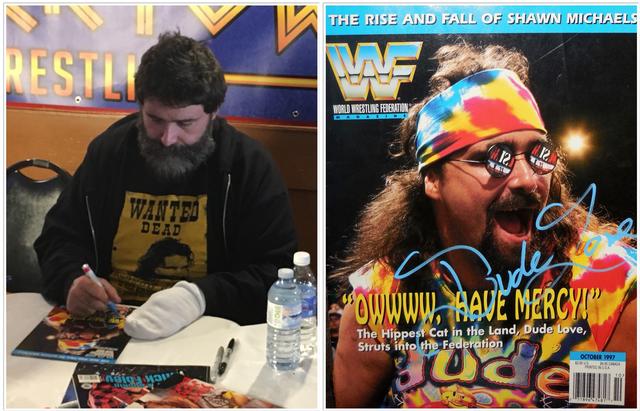 I also bring up meeting him at Santino's gym. He made two appearances there, one of which was a surprise appearance. He asks me: "which time was it? I was there as a surprise one time!". I told him that it was his first appearance. Really cool of him to remember the appearances he makes, especially considering that he does make a lot of them. I then have him sign my Battle Pack and Pop. I'm not too big on Pops, but decided to do something different this time. Also, after he signed my Battle Pack, Mick says: "you're going to have to get Steph on there!". I tell him, "yeah, but it's going to be difficult!", to which he smiles.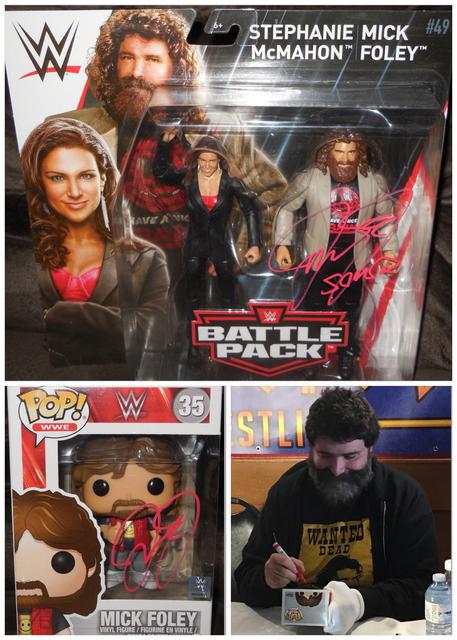 Lastly, I have him sign my Cactus Jack elite and Mankind retro. I had a yellow marker for him to use and with all the stuff I brought, I lost the yellow marker in the sea of merch. I tell him that I have a yellow one somewhere, look underneath one of the magazines, and it was there. As he signs the Cactus Jack elite he says "I'll put a 'bang bang' on there for you!", and I also have him personalize it.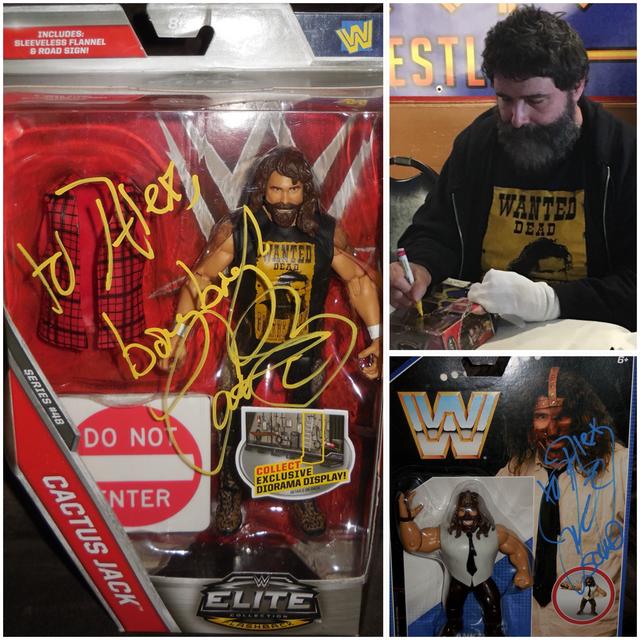 After he signs all my stuff, we take a picture and it was josecalderon's turn. The pictures of Mick above were all taken by him, so thanks again! I take picture his pictures for him too and once he was done, I start packing my stuff. VIPs were supposed to get a Socko, which you could get signed if you didn't have anything. We were given these Socks AFTER meeting Mick Foley. You would think that they would give it to you beforehand, especially if you wanted to get it signed. Anyways, josecalderon gets his unsigned sock, but I don't. I didn't think too much of it. However, once we get out of the eatery, I ask if he got Foley to sign the sock and I ask that because I didn't see it. He looks at the sock and it isn't signed (we were also kinda under the impression that there were presigned). He says that it's fine, but I figured that since he did pay for his own extra autographs with the intention of getting Foley to sign a Socko, we should talk to someone. We did that and explained the situation. They let us back inside where we talk to more staff about the situation. They then grab josecalderon's socko and hand it to Mick to sign. I simply explain that I didn't even get a sock. I was supposed to get an unsigned one, but the staff thought I was in the same situation as josecalderon, and they ended up having Mick sign a sock for me. It worked out very well and once were done, we chatted a bit more before parting ways. Good seeing you!
As usual, Mick was very nice and loved chatting with fans. I thought that it was really cool that he was able to recall some of his previous appearances in Toronto.
Thanks for reading and have a nice day!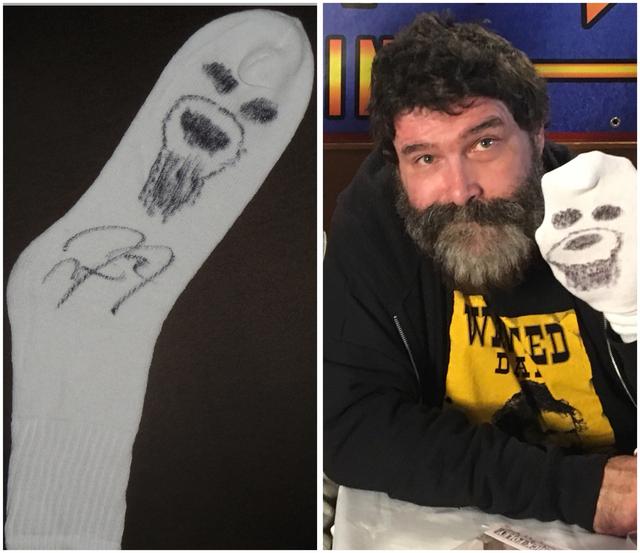 Alberto Del Rio Autograph Signing Report (3/4/2018)
Quick report today. Alberto Del Rio, Austin Aries, Matt Sydal, among others were at Battle Arts (Santino's gym) for an Impact Wrestling taping in collaboration with Destiny Wrestling.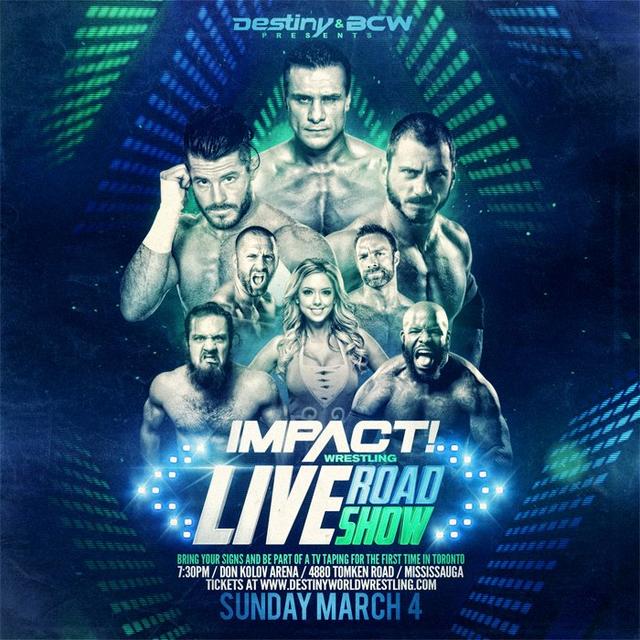 I didn't need to get Aries nor Sydal, having met them times before. I planned to get Del Rio on three figures and two programs. Plans don't always go like the way I want them to.. more on that later.
I get there at 6:50, with the doors already opening beforehand, I didn't need to wait in line, and was able to just show my ticket and walk in. I then go to the merch area to see who is out signing. Several, including Aries, were out signing. Alberto was not. I figured I'd have to wait until intermission, so that's what I did. I found a seat and waited for the 7:30 bell time.
Just before 9, intermission was announced. I head over to the merch area. Myself, along with about 20 others were waiting around for Del Rio. Again, he didn't come out.. so I guess I'd have to wait until after the show. The second half of the show featured Alberto Del Rio vs. Moose, Allie vs. KC Spinelli, and Kongo Kong vs. Austin Aries vs. Matt Sydal. I had an aisle seat up in the bleachers. Some of the action went up that aisle. Moose has a really big butt, especially when it's in your face. For the sake of not spoiling those who actually watch Impact, I won't mention results, but here are a few pictures: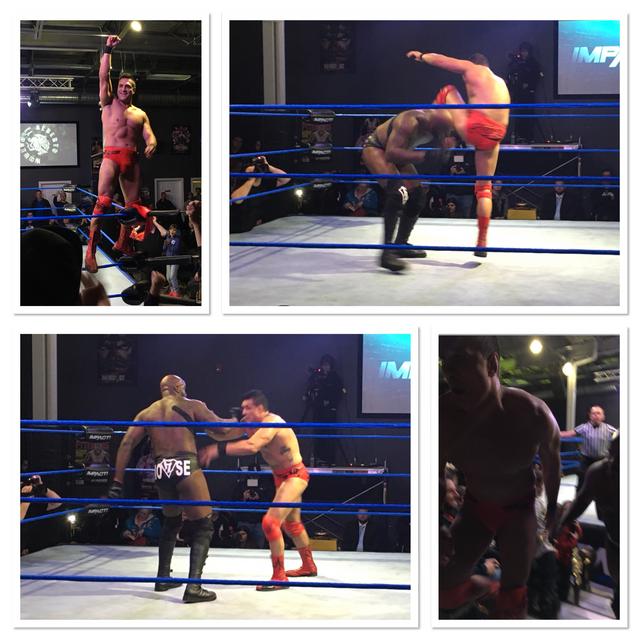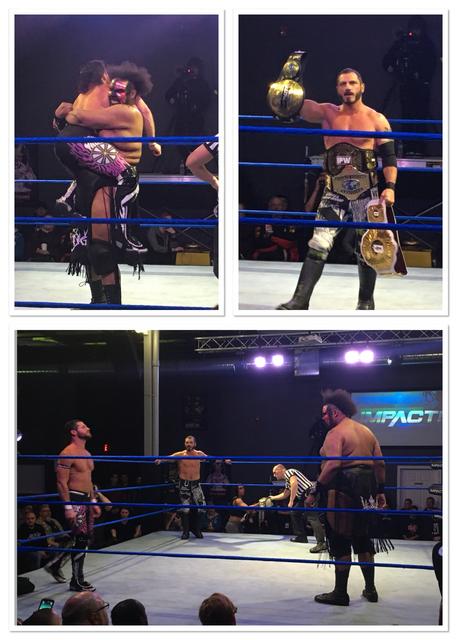 At about 10:30, the show is over. Again, I go over to the merch area in hopes that Del Rio would soon come out. After about 10-15 minutes, there is still no sign of him. Soon, he is seen in one of the staff rooms at the gym/arena. A small crowd then forms around him. He steps out and word around is that he won't sign autographs. As he makes his way to the back, fans ask for autographs and selfies. He does a few as he walks. With the crowd that wanted to meet him, it was hard for me to get to Del Rio. I figured that since he has to go to the backstage area, I'd walk a few feet ahead in that direction. That way, he would have to walk to me. That's exactly what he did. I first ask him for a selfie, and he smiled and stopped for one. Then, I asked him to sign my elite, personalized. He was very polite and happy to do so, which kinda surprises me that he wasn't formally signing autographs. Like I said above, I planned to get five autographs, but due to the circumstances, I could only get one. It was better than nothing though; he didn't sign too many before leaving. Best part was that he didn't charge.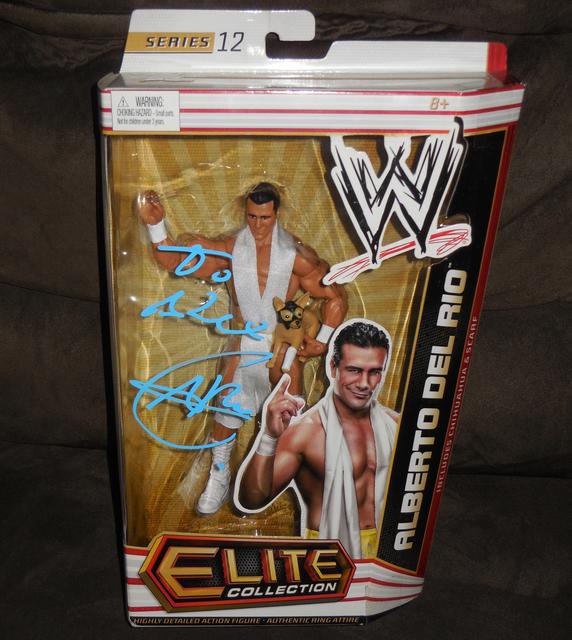 That's it for tonight. Kane was supposed to do a signing here in two weeks, but he cancelled. Mick Foley will be at an indy show here in two weeks, so watch out for that update. Thanks!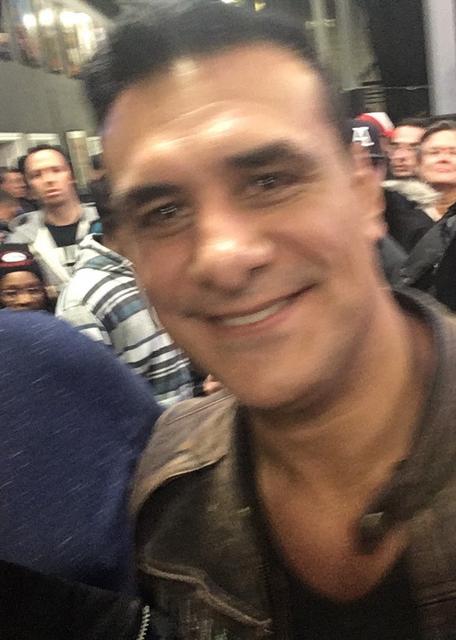 Virgil, James Ellsworth, "Hacksaw" Jim Duggan, and Mark Henry Autograph Signing Report (2/21/2018)
Mark Henry, James Ellsworth, Jim Duggan, and Virgil were in Toronto tonight for an charity indy wrestling event.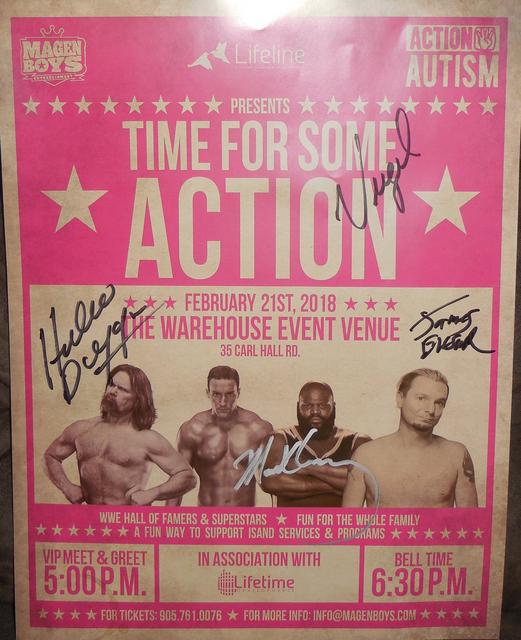 Chris Masters was also supposed to be there, but he cancelled and was replaced with Santino Marella. This event was pricier than usual at $50 for general admission plus $50 for the VIP meet and greet, but it was being held in a banquet hall and included autographs. There was some confusion as to how many autographs were included for VIP holders. The general conclusion seemed that you would get one autograph and photo-op from each wrestler, then each one thereafter would be $10 each. I emailed the promoter weeks ago and was able to set something up with him. He seemed to remember me from when I attended their last "Time for Some Action" event in 2016 (the report from that show is also in this thread - January 2016), and was willing to let me get three autographs from Mark Henry before having to pay the addition $10. He told he would set it up with the door lady and all I needed to do was mention my name.
The meet and greet was supposed to start at 5, and I got there about 10 minutes before. As I walk into the venue, I see
ARUN
and we headed into the venue while chatting for a bit. A few minutes later, we show our tickets to the door lady and exchange it for a VIP wristband. I tell her the situation with my autographs and she instantly asks: "Oh! Are you Alex?". It was really great to see that the promoter I had talked to was true to his word. Promoters can be shady, and while I didn't think he would be, I thought there was a change he might forget, but nope, everything was all set out. She explained everything to me which basically was what the promoter and I had agreed to. I also needed extra autographs, so I paid for them there. There was no ticket system, so there was no physical proof that I had actually paid for the extras, but the door lady told me that if there are any issues at the meet and greet itself, tell them to ask for her and she'll back me up. Great staff at this promotion. Arun and I then join the meet and greet line, where we also run into
A-Rock: Kane Collector
. A few minutes past 5, they open the curtain to begin the meet and greet. They bring us into a room where Virgil, James Ellsworth, Jim Duggan, and Mark Henry were signing. They had us all in one line and had us meet each wrestler one after the other. This made things a bit more difficult for me because I had several items. There was only one line as opposed to each wrestler having their own line. Virgil would be the first person everyone meets.
Virgil was... well, he was Virgil. He saw that we were getting his new Elite figures signed and he didn't seem too happy about it. He said to the handler something along the lines of that there's nothing in it for him and that he wants a cut as well. He talked about the figure and that it was his new one. Even though one autograph from him was to be included with what we paid, he didn't seem to happy to be signing the figure for that reason. (Price gouging at a charity event.. nice).The handler tells him to just sign them and that he would deal with it later. When I meet Virgil, I hand him my figure and a purple paint marker. I ask him to personalize it. He does.... but doesn't actually sign it. He gives it back to me with only "To Alex" on the figure, and didn't sign it. I'm not sure if he did that by accident (as if he forgot), or if he was hoping I wouldn't notice, because remember, he didn't exactly seem to want to sign it as part of the price we already paid. I ask him "umm.. can you sign it please?". He then signs it lol. I then hand my phone over to the person behind me to take a photo for me. When I stand beside Virgil, he starts plugging his merch to the people behind me, thus delaying the picture. He tells them that he's got photos and such that he can sign later on. I just wanted my photo-op...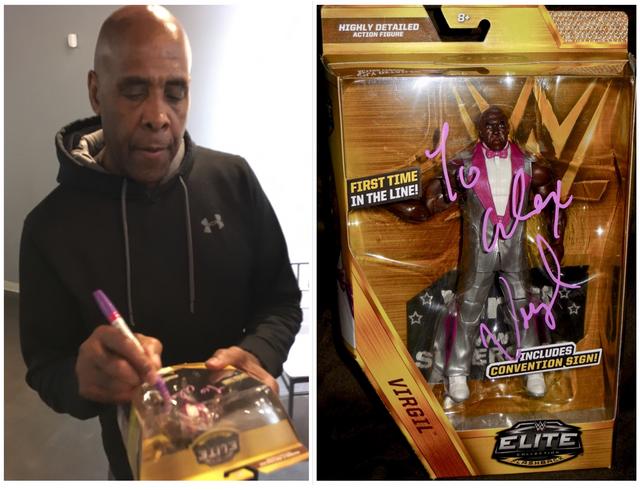 Anyways, with Virgil out of the way, James Ellsworth was next to him. James Ellsworth was quiet, but friendly. I open up the recent program to his page and have him sign it. He says: "oh! I'm in this one?". He seemed like he didn't know he was in the program. I tell him "yeah! It's the newest one". He then points to Carmella and says "I miss her. She was such a great friend". In response, I tell him that I'm a big fan and mention to him that it was great to see him as a surprise guest at the Destiny show a few weeks ago. He smiles and says that that was fun.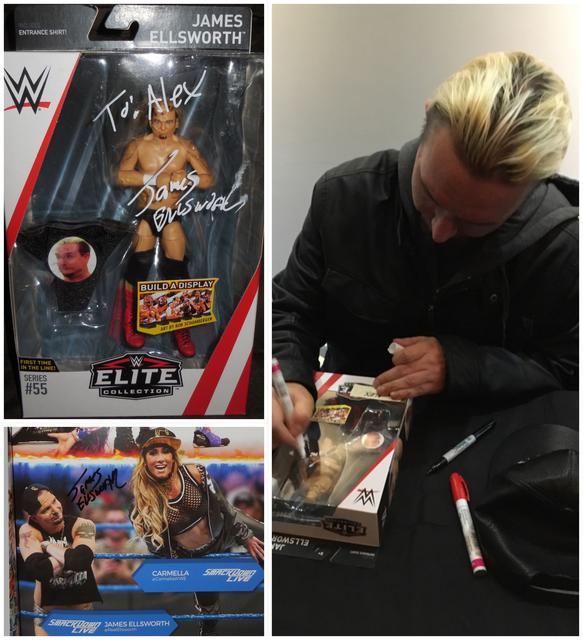 Beside him was Hacksaw Jim Duggan. Duggan has been around here several times so I didn't have a need for him, but I did realize he was in my Superstar Yearbook magazine that does have some autographs in it, so I decide to bring it along to get signed. Before he signed that, however, I had him sign a WWF Magazine which was for
josecalderon
. Like always, Hacksaw was super friendly. He asked if I wanted the autographs personalized and what marker I wanted. Hacksaw usually likes to chat, but this time was different as they were people needed to keep going in order to prevent delaying the line.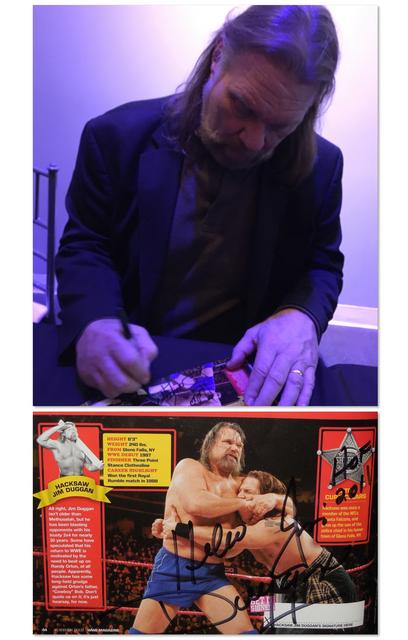 Delaying the line was something I definitely did. After meeting Duggan, I met Henry as Henry was right next to him. I'm a huge Mark Henry fan, and at $10 per additional item after the first 3, I thought I might as well get as many as I could considering that if he were to do another signing elsewhere, I'd probably be paying more than just $10. $10 was a great deal, so I got a whole bunch of autographs. First was on the ECW Commemorative. I first hand him a silver paint marker for him to use and he asks me where I want him to sign it. I point to the general area on the strap, and he signs it. He smiles and says "I was the first one to hold this belt!". (For those who don't know, my ECW belt is the grey one they released back in 2008). I then have him sign my encyclopedia under his own entry, and the Nation of Domination entry using a blue sharpie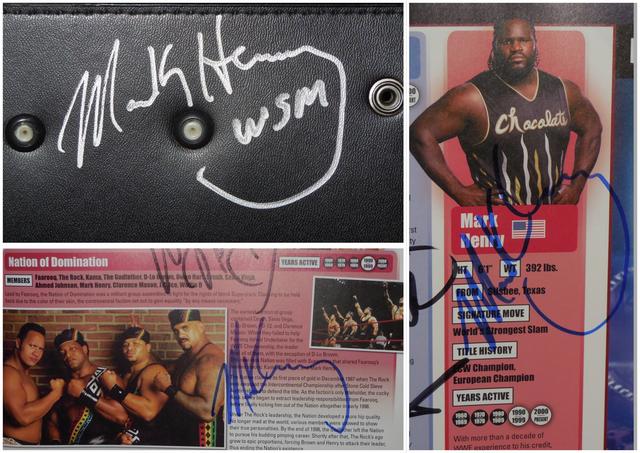 After he signed those, I had him sign 5 programs. As he signs, I tell him I'm a big fan and that I was really excited to hear he would be at the event. He smiled in response.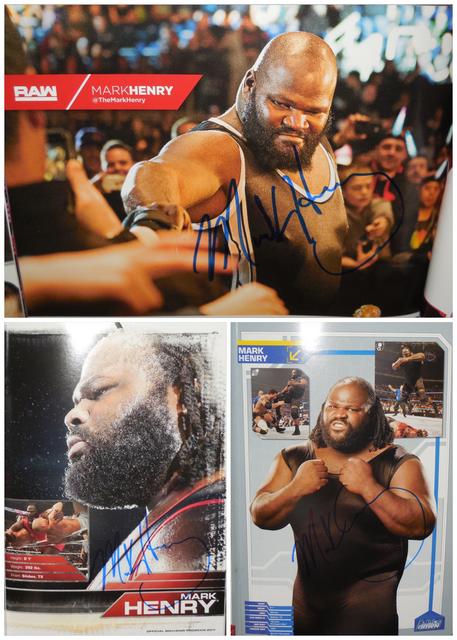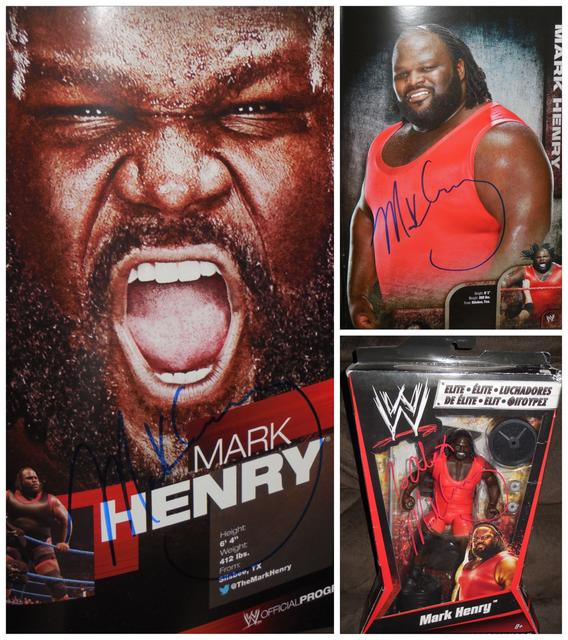 Next, are the figures. I have him switch to a red paint marker. All these marker switches... Henry didn't seem to mind. The first was the Elite Series 5 figure (above), and then his E32, B2, and BP.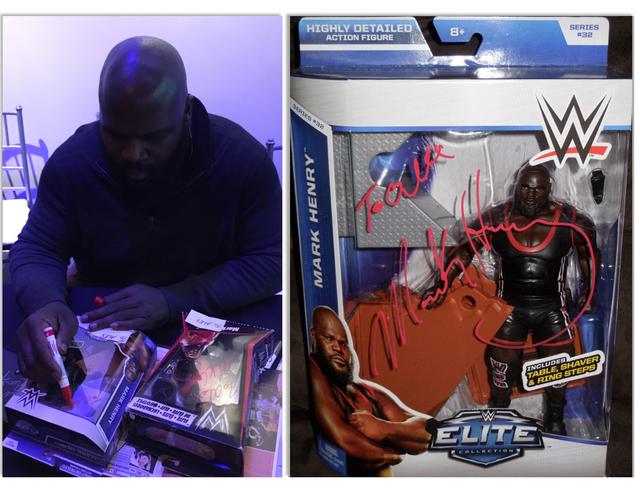 --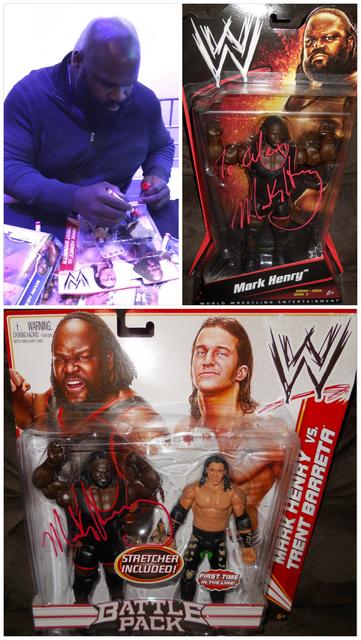 Lastly, as a VIP, we also received an event poster signed by the four wrestlers above. The poster can be seen at the top of this report.
After all of that, I moved over to the side. It was a lot of work because of how many items I got signed, as well as the format of the meet and greet in terms of the way they lined us up to meet them. When I say it was "a lot of work"... it really was. I was even sweating lol. My fault for bringing so many items, but hey, I'm a big fan lol.
I pack all of my stuff, move over to the side and continue talking with Arun and A-Rock for a bit. After a while they had to leave, while I decide to stay for the show. Before I head to my seat, however, I ask if I can get my picture with Mark Henry retaken since it was a little blurry. The handler was cool with it, but when I put my hand on Henry's shoulder, he joked: "don't touch me or I'll bite your hand like its chicken!". It was all in good fun and he smiled after saying that.
This time, I stayed for the actual event. I usually leave once I get my autographs, but I wanted to stay out of respect for the promoter helping me out, and also the fact that it was in a nice banquet hall: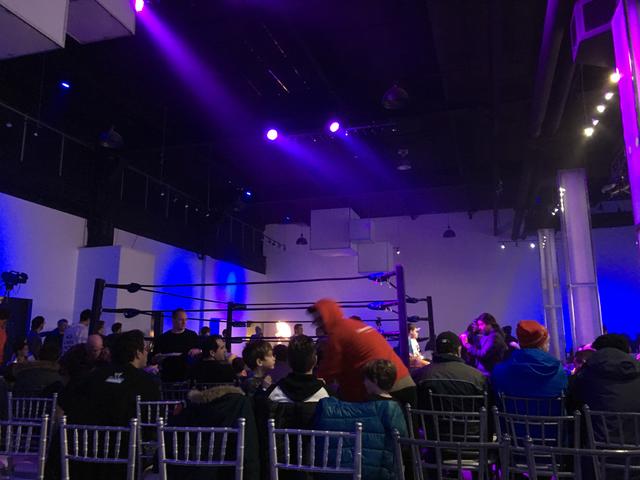 The show was interesting to say the least.. James Ellsworth defeated indy wrestler Rob Rage.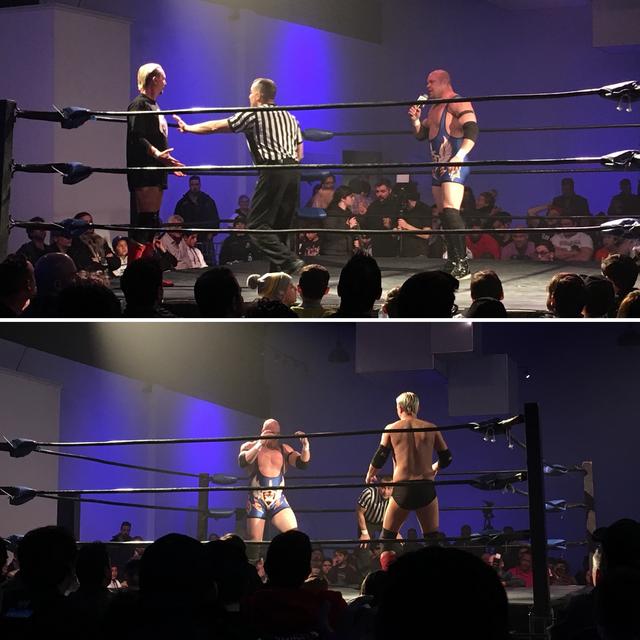 Also, Santino Marella guest refereed a match that was supposed to be a source of comedic relief. Mark Henry was the special guest enforcer for the match. A bit of background info: the promoters of this show are twins. At the show, one of the twins acted as a heel wrestler (though I do not think he is actually trained), while the other twin was the ring announcer (the one that I've been emailing). The heel twin declared multiple open challenges to anyone in the room. If he were to lose his match, the ring announcer twin would have his heel twin do something. The first who answered was someone in the audience, who I'm sure was a plant. It didn't take long for the heel twin to win. The next wrestlers to come out then be defeated were "Roman Reigns' brother", "Ultimate Warrior's nephew", and a bootleg Doink. It was all in good fun, but some jobber eventually beat the heel twin. As a result, the ring announcer twin declared himself as the GOAT.. then brought out an actual goat. The consequence for his brother's loss would be to kiss the goat's butt.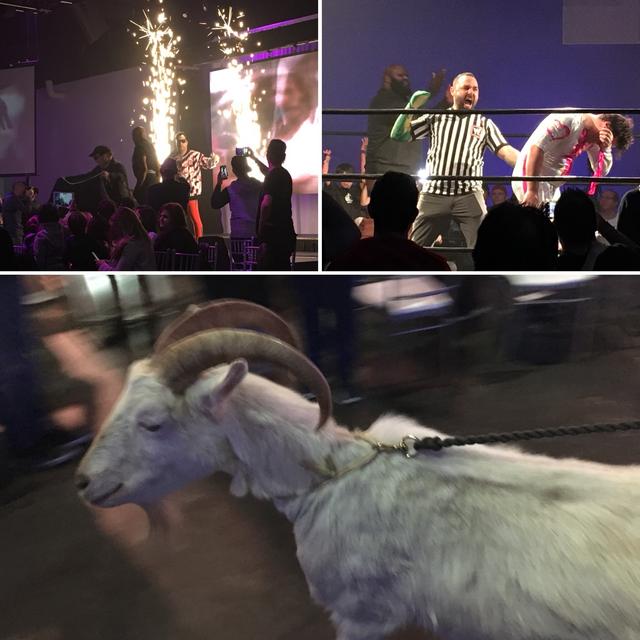 Lastly, in the main event, Hacksaw Jim Duggan wrestled victoriously in a tag team match.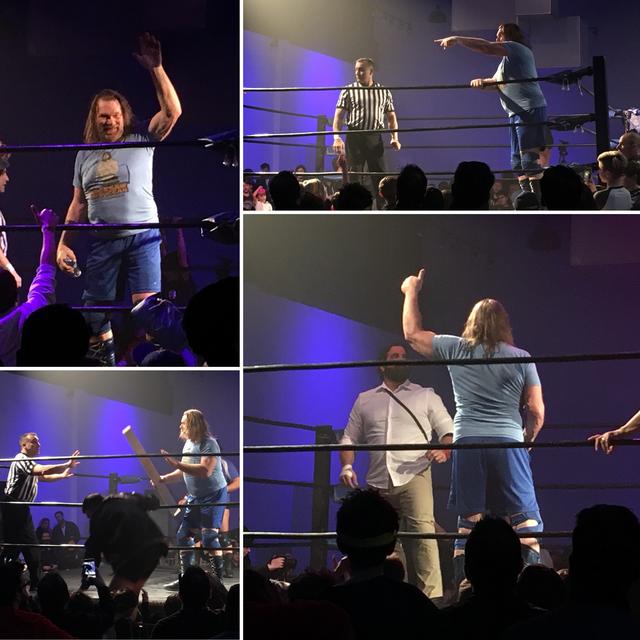 And that's it for the night! Solid night of autographs and wrestling! Thanks for reading!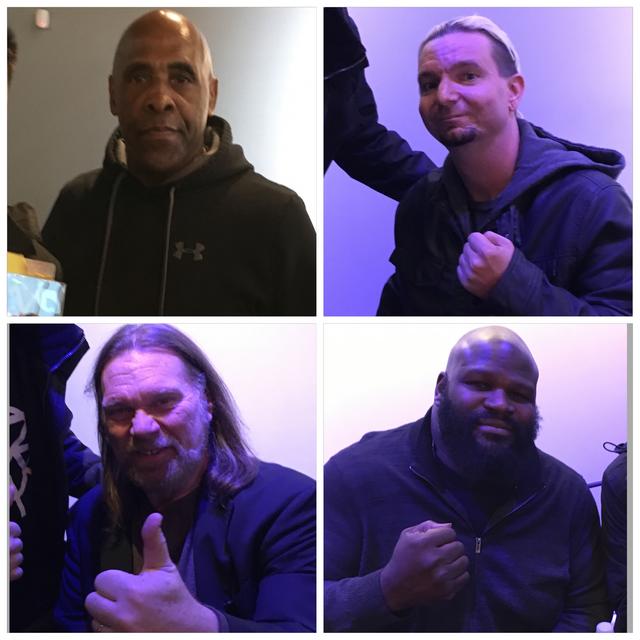 Brutus "The Barber" Beefcake Signing Report (1/28/2018)
Quick report today. Brutus "The Barber" Beefcake was in Mississauga, ON today signing autographs at a toy show.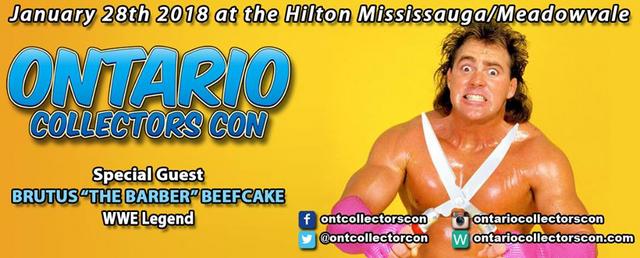 I've met Brutus four times before, but wanted to meet him to get my E49 figure signed. A month before the signing, I tweeted Toys R Us Canada to see if they were going to get the WresteMania 34 Elites, and in response they told me they expected them mid-March. Because I wanted it for the signing, I went ahead and ordered it. Then last week, the set gets released at Walmart. Great lol. This was surprising to Canadian collectors because elites being released is a seldom occurrence.
Anyways, on to the signing. He was scheduled to sign during the entire duration of the show, which was 10-4. Autographs at this toy show has always been $20, but this time, the price was raised to $25. I got there around noon and once I got in, I ran into
yeetman13
, who it was nice to see since it's been a while. We chatted a bit as I prepped my markers. A few minutes later I join Brutus' line, which had two people. It took me another 5 minutes before I could get to Brutus because he was having a good conversation with the guy two people ahead of me. The first time I met Brutus, it seemed like he didn't want to be there (a lot of people years ago would say Brutus isn't too friendly), but today was the total opposite. Brutus appears to be getting nicer and nicer each time I meet him.
When it was my turn, he immediately offered his hand for a handshake and said "you've got both of them!", referencing to me having both his elites. I told him yeah and that it was nice to meet him again. In response, he said "you too!" and as he said that I hand him a pink paint marker to sign his E49 with. Before he signed, he says "I love these pink ones! They show up really well!". I tell him that the paint markers are great for figures, then ask him to personalize it to me. He seemed to be really excited and happy that I had both of his elites.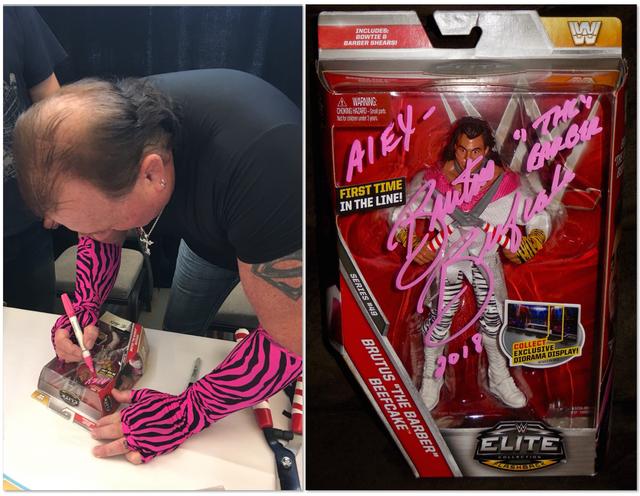 As he signs, the handler asks me where I got the first figure (it wasn't released at retail here). I told him I got it off Amazon. He then asked where I got the second one and I explained the situation above, where I ordered it in advance then they started randomly showing up at Walmart. I then hand Brutus a yellow marker to sign the WrestleMania elite with, also personalized.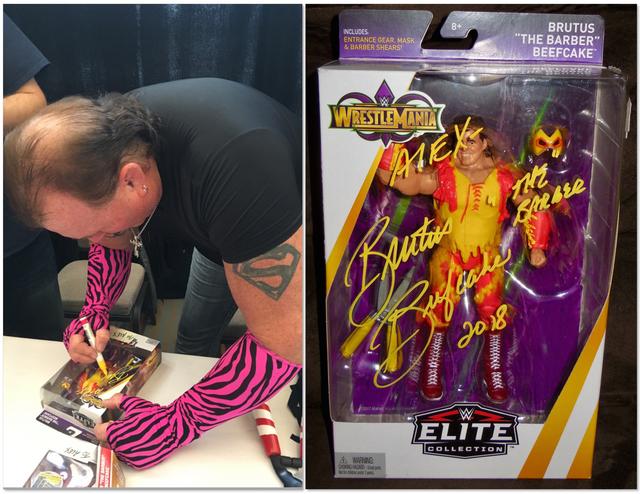 And that was it. We thank each other and shake hands, and I was off to look for toys in the dealer's room. Didn't buy anything this time around. Brutus was really friendly and really seemed to appreciate the fans who came to see him.
Thanks for reading!
Austin Aries & Pete Dunne Signing Report (1/21/2018)
First update (of hopefully many) in 2018! Austin Aries, Pete Dunne, and Evan Bourne/Matt Sydal were in Mississauga, ON for Destiny Wrestling tonight: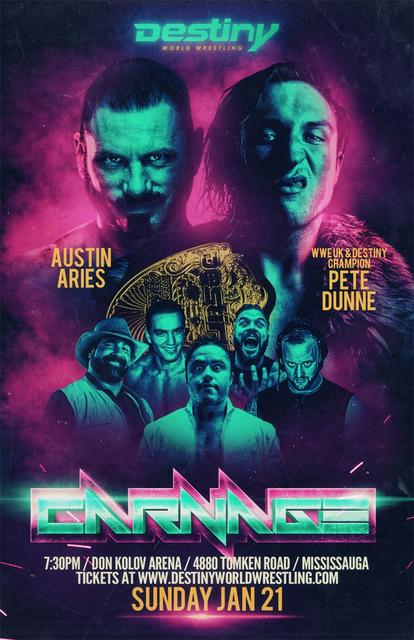 That poster was first released months ago; before Austin was Impact Wrestling champion. Tickets initially sold out really quick and with the demand the event was creating, more tickets/seats were released. Many people were quick to hype up this match considering the potential there was for this match to be a great one. Once Austin Aries won the Impact Wrestling championship, there was even more hype around the match as it featured an Impact Wrestling champion against a WWE Champion.
The show was supposed to start at 7:30, so I planned to get there around 6:30 which is when I expected the doors to open. Once I arrive, I see no line... or so I thought. They normally have people line up in a southerly direction from the front door, but this time they had people line up the opposite way. The line was LONG. This was the longest lineup I had seen at a Destiny Show; at least 150 people were lining up. Doors opened almost on time and they were slowly letting people in. Due to the turnout, they had to modify the seating arrangement a bit in order to accommodate for more seats. No one was signing before the show, but that was okay. Usually, I want to get my autographs and leave, but this time, I actually wanted to stay for the main event.
The show started right on time at 7:30. There were three matches before the show, including an Impact Wrestling TV taping featuring Matt Sydal against Petey Williams. When intermission started, I was slow to make my way over to the merch area, and that was because of where I was sitting. A long line towards the merch area had already formed. The ring announcer named some wrestlers who would be out and signing, and did not mention Austin Aries. This made me think that Austin wasn't out yet. I squeeze my way to the front to see what was going on, and of course, Austin Aries is already out there signing. Luckily, I saw
A-Rock: Kane Collector
in line, who was three people away from the front. He let me join the line with him. (Thanks again!). Autographs from Austin were $20 each, I tell the handler I need three, and give her $60. Once I approach Austin, he offers his hand out for a handshake and greets me. I tell him that I'm a big fan (had to tell him three times.. he couldn't hear me because the music playing in the venue was too loud) to which he said that he appreciated that. I open up my NXT program to his page. He uses a light blue paint marker that was given to him by A-Rock before me.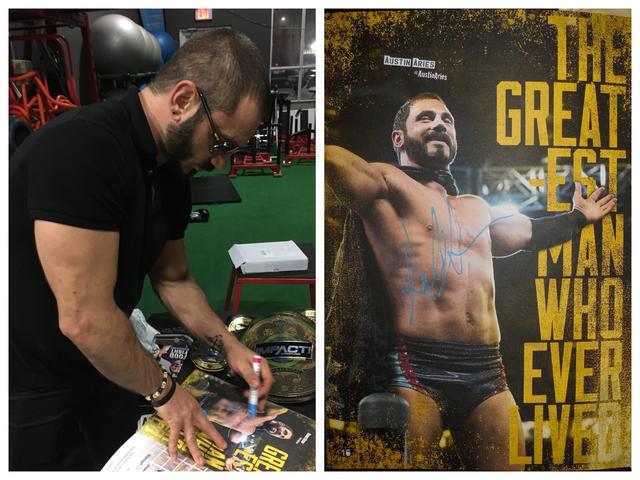 Next, I hand him a white paint marker to sign my two figures with. I ask him to make them out to Alex, and in response, he asks "A-L-E-X?" to make sure he has the spelling right. I told him he did, and reminded him about a time I met him last year when he was in Toronto. I told him "you were really nice to me and I appreciated that!". He tells me: "don't post that on the internet! People will think I'm actually a nice guy!". We both laugh at that joke.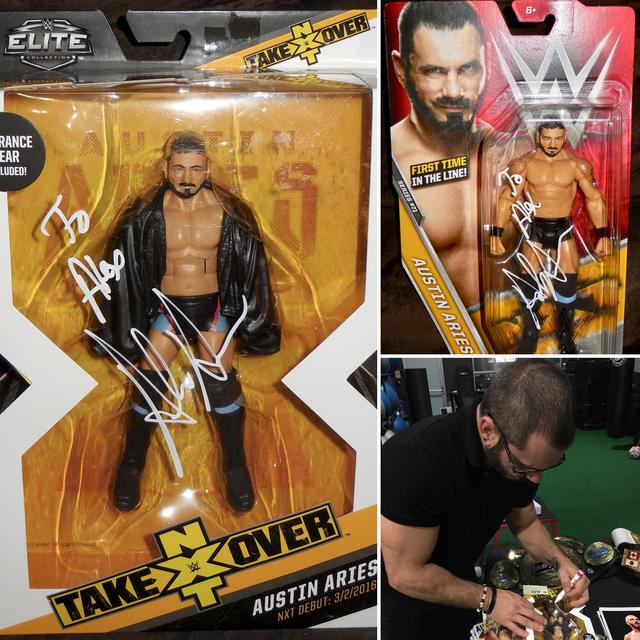 After he signed those, we shake hands again and thank each other. Couldn't speak to him much because the music in the venue was too loud, but I was still able to get a few words out. Before I leave his table, I wish him luck in his match and he says "thanks! I'll need it!". Austin Aries was a very nice guy.
Next, A-Rock and I found a spot to chat for a few minutes. Caught up with each other a bit, so it was nice seeing him. After, I went to go meet Matt Sydal. I had met him a few times, including one time a few months ago, but he's always so generous to me, so I felt like I should support the guy and simply grab an 8x10. There was about 8-10 people in line for Matt. Just like all other times I've met him, he was super friendly and super talkative. What was interesting was that he had his own handler did (and so did the other Impact Wrestling stars). Also, the only 8x10s were Impact Wrestling 8x10s. It seemed to me like Impact Wrestling was helping out with their stars and their autographs/photos. When I met Matt a few months ago, he took a photo with me for free after I bought some autographs. This time, photos were an extra $10. I just opted for the signed 8x10, personalized. I pay the handler $20, expecting back $10 change. I felt like she was hoping I wouldn't notice (or that i would forget about the change) because she didn't even try to give me change until I asked. She didn't have a 10, but told me to stick around and she'll give it to me when she can. I tell Matt: "I posted about my experience meeting you on Instagram a few months ago. You liked the post and I thought that was really cool!". He says: "yeah, if you post again, I'll like it again!". He thanks me, I thank him, and I linger around to wait for my $10. Two people after me, the handler gets a $10.... but doesn't give it to me. Matt had to remind her.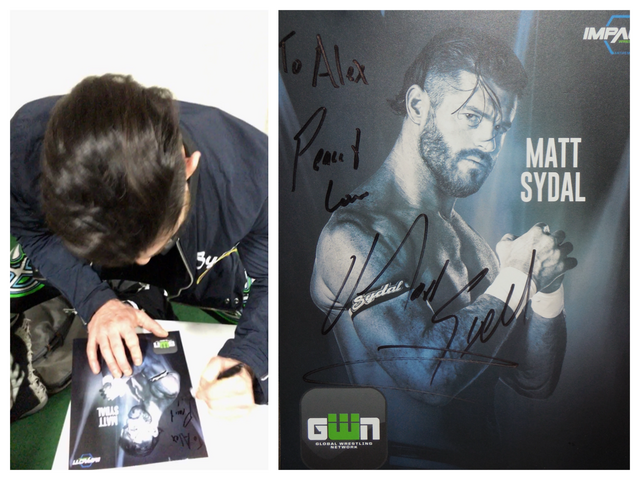 Anyways, after I met Matt, intermission would soon be over. Pete Dunne (who had appeared for Destiny several times, and is actually their current champion) only signs autographs in the ring after the show. I knew I would have to wait for after the show, but like I said before, I had wanted to stay for the main event, so it worked out.
The first match after intermission was a Royal Rumble-type match, with entrants coming in after every minute. A surprise entry, was none other than.. James Ellsworth. I heard his music, but couldn't remember who's music it was until the ring announcer said his name and he came out. James Ellsworth came out to a huge pop, and ended up winning the match. Winning the match implied that he'd get a Destiny Championship title shot in the future. After his match, Ellsworth cut a promo and insulted the crowd in a heelish way. A women's match followed, but everyone wanted to see the main event which came after the women's match. The match was solid.. until Ellsworth came in. I really liked the back and forth action between Aries and Dunne, but during the match, Ellsworth cashed in his opportunity for a championship match and inserted himself into the match. Soon after, Dunne pins Ellsworth ending the match, and the show.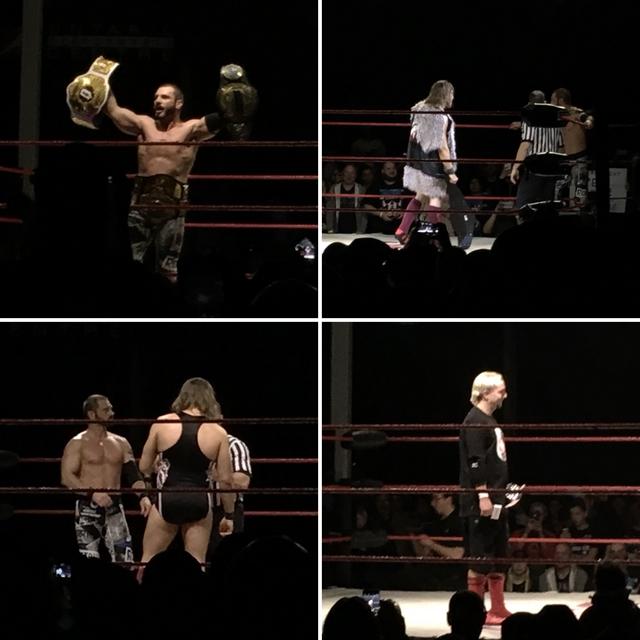 As the show is over, people are either leaving the venue, or lining up for the merch area. I wait around the ring because that's where Pete Dunne would be signing and taking photos. James Ellsworth was doing autographs and photos in the merch area, but I didn't have anything for him to sign, so having met him before, I passed on Ellsworth. After about 5 minutes, Dunne comes back out and into the ring. They were offering 8x10 photos which he'd sign for $10, while photo-ops were $20. A few days ago, I had printed out three 8x10s from Walmart with the intention of getting Dunne to sign them. I ask the handler if getting my photos signed would cost me, and the handler said I could get them signed for free. I did pay $20 for a photo-op though. I figured three autographs and a photo-op for $20 wasn't too bad. I climb into the ring, shake Dunne's hand and tell him it's nice to meet him. He mumbles something (couldn't understand him with the mouthguard in) and I hand him a blue sharpie. He tells me that he has a black one, but asks if I'd rather him use blue. I tell him yes and have him sign the first 8x10, which features him and Enzo. Dunno jokes by saying he wants to cross out Enzo and motions an X over Enso without actually doing it. We laugh, and I flip to the next 8x10. I had a sticky note that said "To Alex", in order to signify that I wanted it personalized. He removes the sticky note and gives it to me as under the sticky note is where he put the personalization. Lastly, I had him sign an 8x10 with the inscription "The Bruiserweight". Before he signs, he asks "who is this to?". I tell him I don't want it personalized, but ask him to inscribe it and he was happy to do so.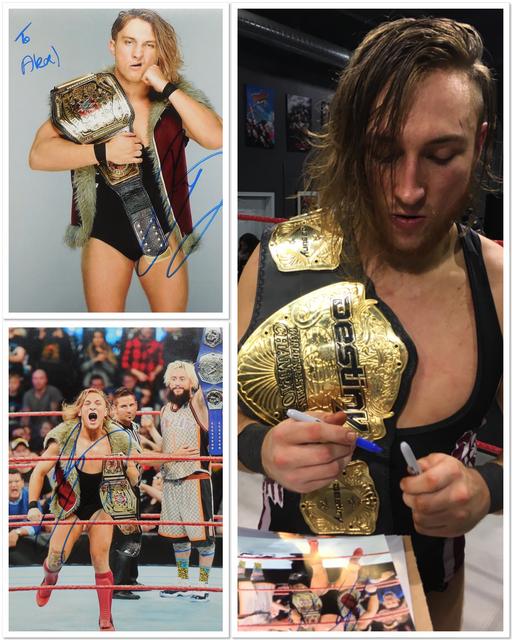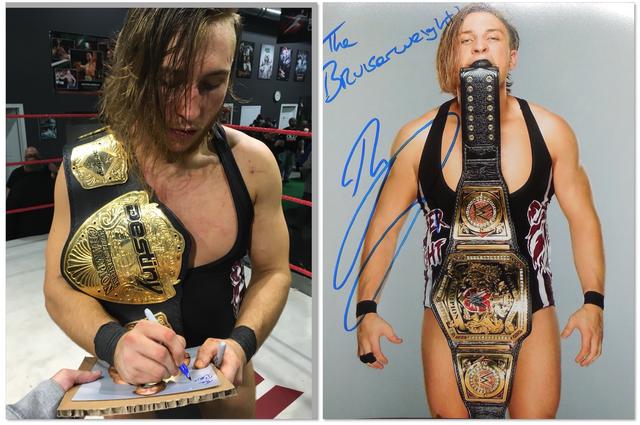 After he signs those three photos, we do our photo-op and thank each other. Dunne was friendly; not too talkative, but still nice.
That was it for the night. Overall, a solid night of wrestling and autographs.
Thans for reading!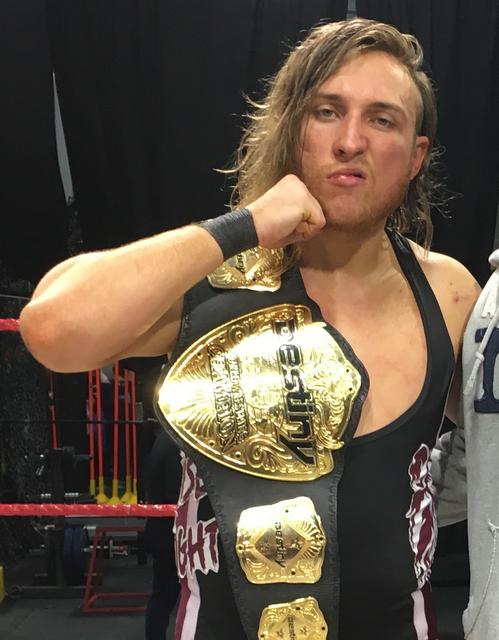 2017 Reports

Gail Kim and Ricky Steamboat Signing Report (12/3/2017)


Evan Bourne Autograph Signing Report (11/26/2017)


JTG Autograph Signing Report (11/19/2017)


The Mountie & Jimmy Hart Signing Report (11/12/2017)


Glacier Autograph Signing Report (10/29/2017)


John Morrison Autograph Signing Report (10/15/2017)


Hamilton Comic Con Autograph Signing Report (10/1/2017)


Chris Jericho Autograph Signing Report (9/18/2017)


Dan Severn, Pat Patterson, La Resistance Signing Report (9/2/2017)


Super Crazy and Chavo Guerrero Signing Report (8/27/2017)


Bobby Lashley Autograph Signing Report (8/13/2017)


Jinder Mahal Autograph Signing Report (8/8/2017)


Xavier Woods Autograph Signing Report (7/28/2017)


Hulk Hogan Autograph Signing Report (6/24/2017)


Cody Rhodes Autograph Signing Report (6/18/2017)


Sting, Tito Santana, and Mean Gene Signing Report (6/4/2017)


Rene Dupree & DH Smith Autograph Signing Report (5/14/2017)


Trish Stratus Autograph Signing Report (5/9/2017)


"Hacksaw" Jim Duggan Autograph Signing Report (4/30/2017)


Ted DiBiase Autograph Signing Report (4/9/2017)


Billy Gunn Autograph Signing Report (3/26/2017)


Bret Hart & Noelle Foley Autograph Signing Report (3/18/2017)


Jake "The Snake" Roberts Autograph Signing Report (3/4/2017)


Shane Douglas Autograph Signing Report (2/17/2017)


Honky Tonk Man & Sami Callihan Signing Report (1/29/2017)


Alundra Blayze/Madusa Autograph Signing Report (1/28/2017)


Ryback Autograph Signing Report (1/22/2017)

2016 Reports


AJ Styles/Mick Foley Autograph Signing Report (11/20/2016)


Shinsuke Nakamura Autograph Signing Report (11/18/2016)


Cody Rhodes Autograph Signing Report (10/23/2016)


Finn Balor Autograph Signing Report (10/15/2016)


Victoria, Chris Masters, and Jeff Jarrett Autograph Signing Report (10/2/2016)


The Godfather Autograph Signing Report (9/18/2016)


Enzo Amore and Big Cass Autograph Signing Report (9/11/2016)


Goldberg Autograph Signing Report (9/2/2016)


Damien Sandow & Hornswoggle Autograph Signing Report (8/28/2016)


Chavo Guerrero Autograph Signing Report (8/21/2016)


Brutus Beefcake Autograph Signing Report (8/20/2016)


Dean Ambrose and Natalya Autograph Signing Report (7/9/2016)


Jeff Jarrett Autograph Signing Report (6/5/2016)


Shawn Michaels & Ricky Steamboat Autograph Signing Report (6/4/2016)


Finn Balor (and Stephen Amell) Autograph Signing Report (5/24/2016)


Carlito Autograph Signing Report (5/15/2016)


Jimmy Hart Autograph Signing Report (5/1/2016)


Kurt Angle Autograph Signing Report (4/10/2016)


Dean Ambrose & R-Truth Autograph Signing Report (3/12/2016)

Nunzio/Little Guido Autograph Signing Report (2/21/2016)


Mick Foley Autograph Signing Report (1/31/2016)

Virgil, Nikolai Volkoff, Rhyno, and Brutus Beefcake Autograph Signing Report(1/27/2016)

Natalya & Jim Neidhart Autograph Signing Report (12/9/2015)