Post by ELITE on Jun 16, 2016 13:21:44 GMT -5
ELITE TV: EPISODE 1
SHOW OPENING
The show opens with "Elite" by Deftones blasting in the Warehouse's speakers and none other than ELITE's authority figure, Brother Grimm standing in the middle of the ring with a microphone. The fans are chanting "ELITE! ELITE! ELITE!" and Brother Grimm just soaks it in. After a minute of cheers, Grimm raises the microphone to his lips to electrify the crowd.
GRIMM:
Welcome to the Warehouse!
The fans cheer in answer to Grimm's welcome.
GRIMM:
Tonight on ELITE TV, for the first ever episode, we are presenting to you the first round of the ELITE tournament! The winner of the tournament will not only wear ELITE's world title, but will also establish himself as the ELITE of pro wrestling!
The ELITE chant once again breaks out in the crowd.
GRIMM:
Homies, y'all better be ready cause...
Bret Starr's music hits the PA System and he makes his way on the stage with a microphone under the crowd's boos. He walks down to the ring with a cocky smile and gets in front of Brother Grimm.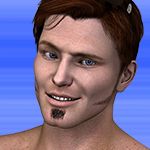 STARR: Ladies and gentlemen, let me introduce to you, the main attraction. The only wrestler worth watching on the planet, "Hollywood" Bret Starr!

The crowd boos the young cocky wrestler as he turns his attention to Brother Grimm.

STARR: Grimm, with all due respect...

GRIMM: All due respect?

STARR: Yes...

GRIMM: All due respect? You interrupt me and then try and pay respect? You have no right to disrespect an OG like that! When Grimm's in the ring, you shut up, stand back and listen!

The crowd cheers Grimm for standing up to Bret Starr.
STARR:
Hold on you old piece of s***t! Do you even know who you are talking to? You are talking to the son of an immortal, a second generation superstar! Greatness runs in my blood Grimm and you better respect that!
GRIMM:
You know what Starr, you are right. You're the son of an immortal, you're Hollywood Bret Starr and you know what big dawg, after you face Johnny Martin tonight you'll realize you ain't nowhere near deserving of being called a star!
STARR:
Maybe I can show you what I'm about right now and send all your teeth to the back of your mouth!


Starr walks aggressively towards Grimm but is interrupted by James Hernandez's music.
Hernandez gets in the ring with a microphone and immediately gets in Bret Starr's face.
HERNANDEZ:
 Take a look at me Starr! Take a good and long look at me because whether you pass the tournament's first round or not, I am the reason why there's no chance you're winning this tournament. You keep on calling yourself the future, calling yourself Hollywood cause I guess that's where you wanna make it, but guess what my friend, my name is James Hernandez and I'm already mainstream!
Grimm smiles and shakes Hernandez's hand under the disgusted look of Bret Starr.


STARR:
I know you Hernandez and you're actually right, you've made it in the business, you are mainstream as you like to say, but if you think I care about you or anyone else being in this tournament you are wrong. Whoever faces me will only serve as a step for me to become the ELITE of pro wrestling and you will all suffer the same fate. The sound of the referee counting to 3 will hunt you for weeks, knowing that you just got robbed of a chance to become the ELITE wrestler.
The three men in the ring once again get interrupted, this time by a returning legend, an immortal, Matthew Keith's father, Sam Keith!
Sam Keith stays on the stage with the microphone.

Keith: Children, I think you should listen to someone who actually really made it in this business. You see, I have done it all in this business. From being a 10 times world champion to actually owning my own wrestling company, I have done it all and I have done it by myself! The stupid fans never had anything to do with my success! I am the greatest american wrestler that ever lived and you children should respect that.

The fans boo the returning legend Sam Keith.

Keith: As for you Bret Starr, you should be ashamed of pretending to have greatness flowing in your veins because let's face it, your dad never even came close to being the man that I've ever been! In fact, where is your father now Bret? I guess he must be back in his silly old ranch in Texas, just thinking back on how his career was a disappointment. You see, none of you three in the ring can touch my legacy and my legacy has now been passed to my son, Matthew Keith, who is going to tear down the competition and win the ELITE tournament!

The fans book the son of the legend.

GRIMM: Enough! I'm sick and tired of this bulls***! Hernandez you better get ready now because your match is next against the brawler, Ali X!