Post by Old Man M.D. on Jul 17, 2016 23:37:10 GMT -5
www.facebook.com/CapeChampionshipWrestling/?fref=ts
Last night was the much anticipated debut show of Cape Championship Wrestling!
After several years of Cape Comic Con hosting a Wrestling event, Ken Murphy along with Jason Wells got together and opened up CCW!
Tickets were 12$ for front row, $10 for every thing else. Children 5 and under were free as well as military and emergency personnel (police, firefighters, etc)
I had front row seats with my family, when we got our tickets at the front desk the greeters had show posters for $5, if you bought one the wrestlers would sing for free..i snag one of course!
getting ready for everything to start I saw several of the guys at their tables with no lines so I went and hit up Indy star "Dirdey" Jake Dirden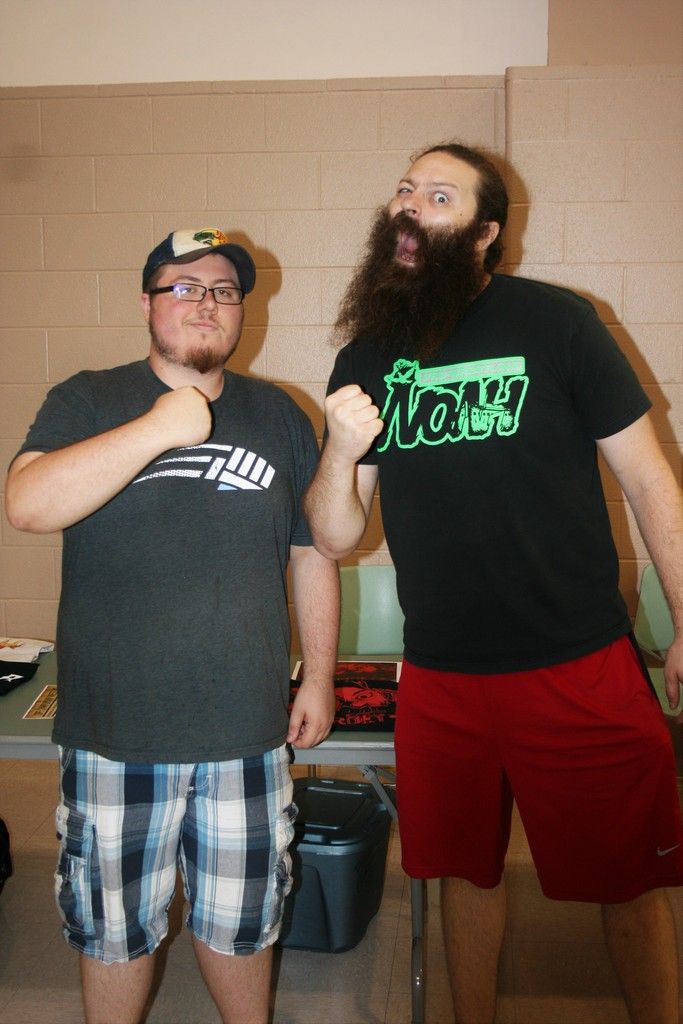 He was super cool, we talked about his time in Japan and ROH, as well as some other stuff. The guy is huge, im 6'0 280....
Next I met "The Fury" Jason Vaughn.
He is a local wrestler who wrestled in Tennessee, Illinois, and Missouri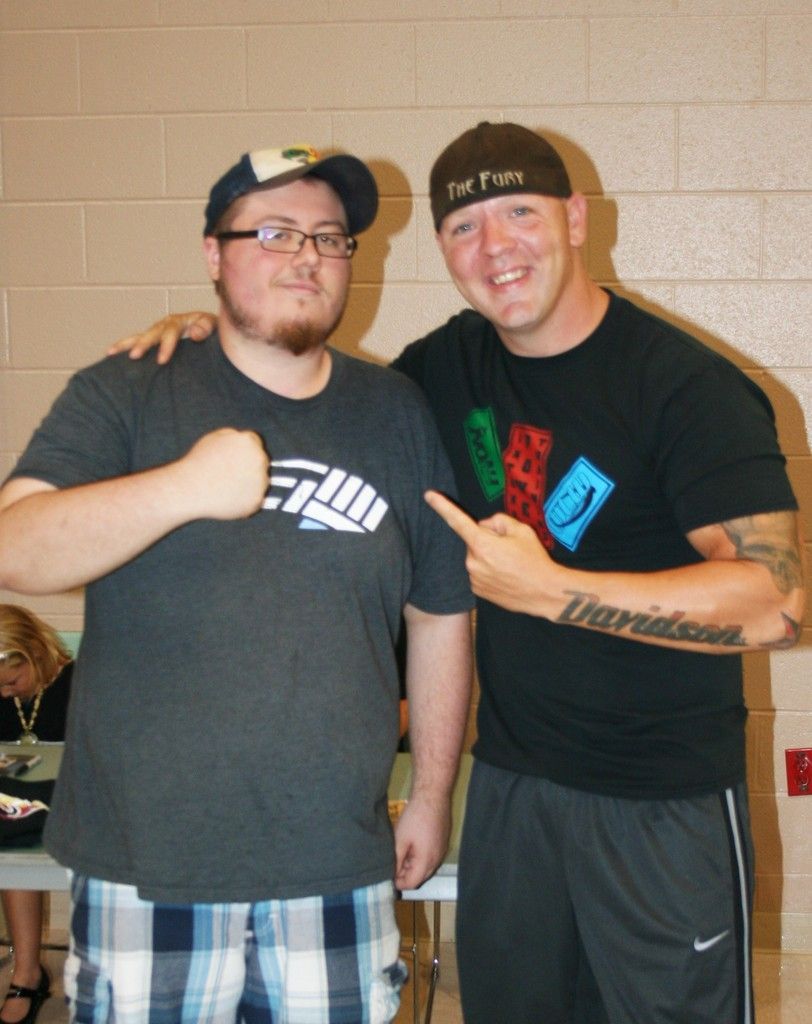 Again, Jason was super friendly, and its neat seeing someone local become a wrestler. He's from Dexter which is only 20 miles from me...my ex lives there lol
Next I met former WWE super star Trevor Murdoch! He was injured so he wasnt able to wrestle, but he was incredibly nice and very friendly. We talked about him being from fredericktown which is just up the road a bit, as well as his time in WWE
*fun little tidbit, When we parked we noticed him getting out of his car the next aisle over....he drives a little red Volkswagen Bug lol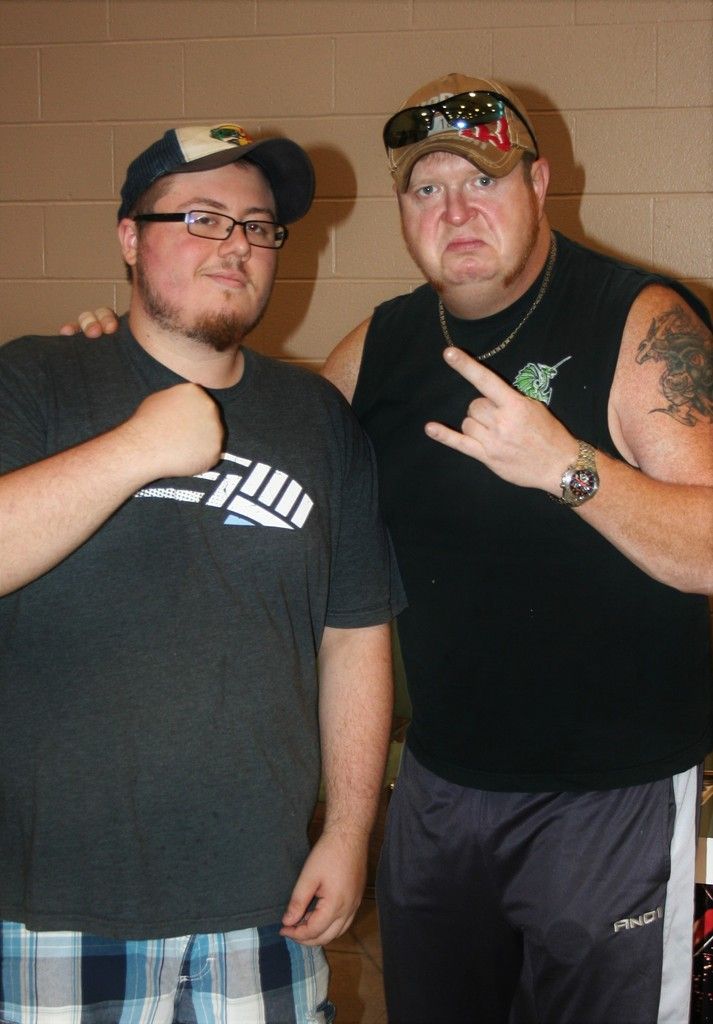 Next I talked to Osby Tomlin, the Kult of Kayfabe Champion. just a couple of weeks ago he suffered a career ending injury when he was dropped on his head. He suffered a Compression fraction in his C-2 vertabrae, he was supposed to wrestle in front of his hometown crowd again, but couldnt.
He was a nice guy, we talked for a bit.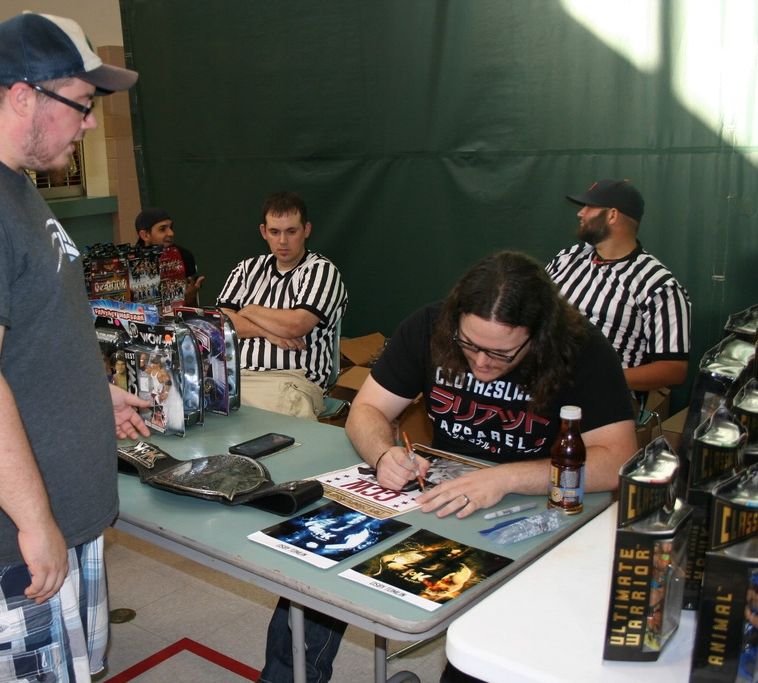 now the matches were about to begin.
Ken Murphy came out and introduced himself and Double H (local radio DJ) as the GM of the night (giving him permission to do as he pleased with matches)
1st Match
"Sexy" Sgt. Oriley (heel) vs Brandon Barbwire (face) in a Championship match qualifier
Sexy sarge came out dancing and strutting his stuff, yelling at the men and doing his shtick. I absolutely loved it, the guy was entertaining as hell. There was a guy behind us heckling him every 5 mins, Sarge yelled at him "why dont you just shut your mouth, youre going to die in about 2 weeks anyways old man"...the guy was probably 10 years older than him lol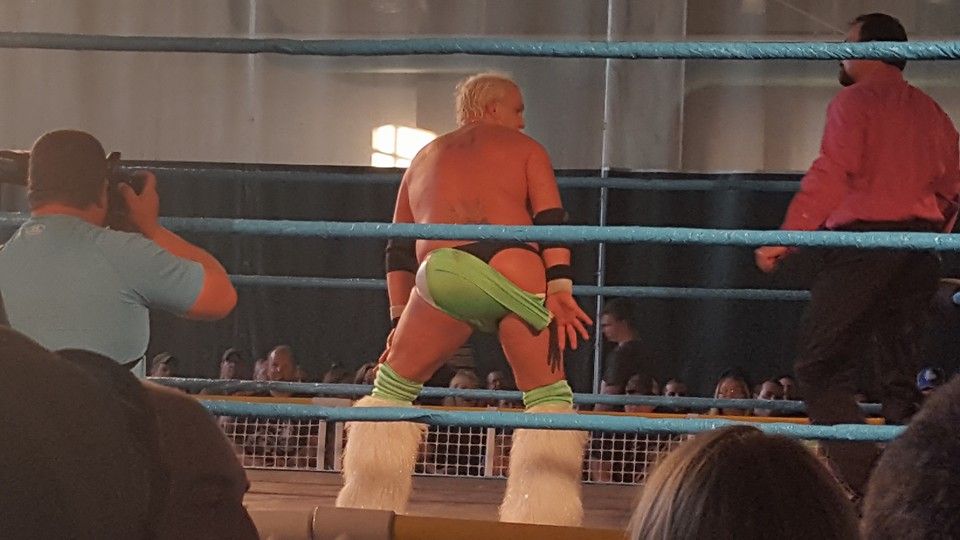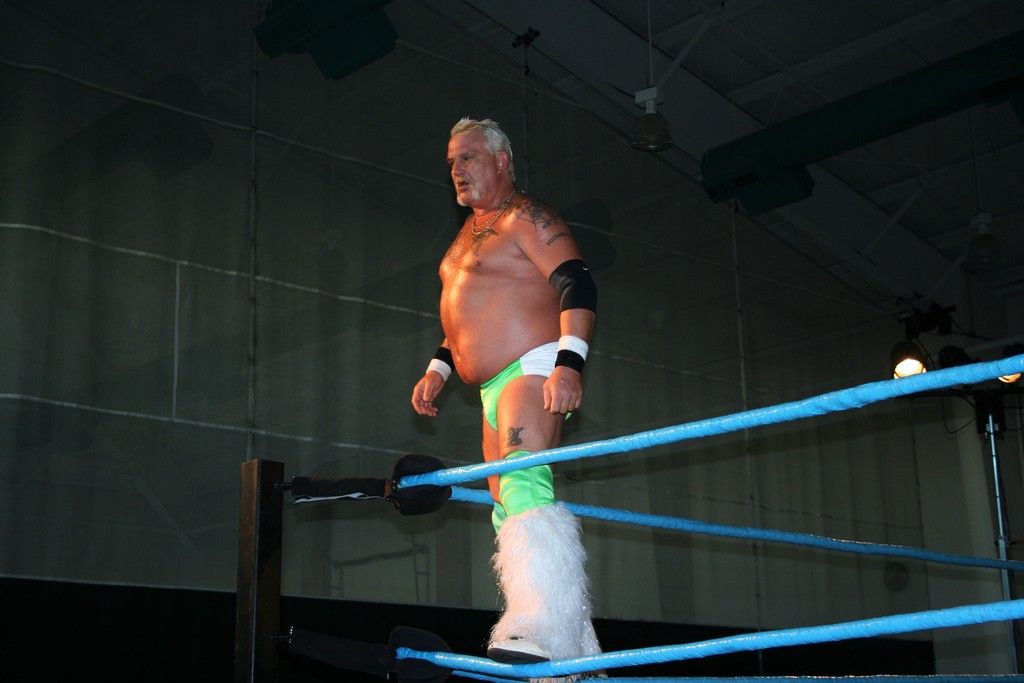 In a very good back and forth match Brandon got the win!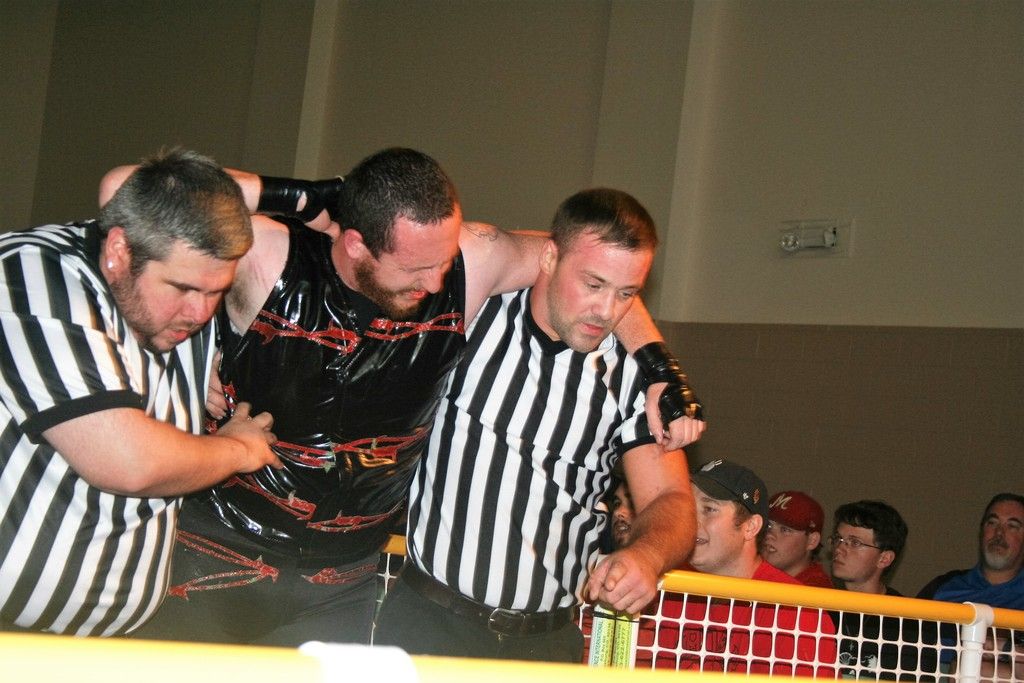 Next up Osby Tomlin officially retired and left his KOK belt and boots in the ring. It was a pretty sad moment, kind of surreal to see something like this in person.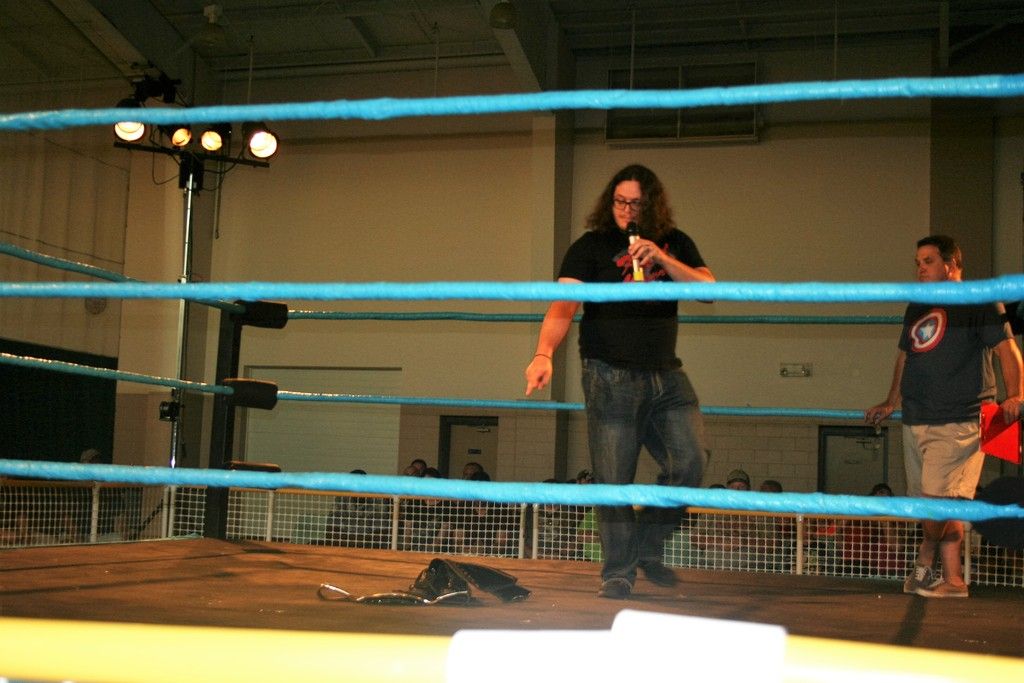 2nd Match
Farmer Billy Hills (huge heel) vs Fury Jason Vaughn in a Championship match qualifier
This was a good match, I know Billy and am friends with him on facebook so i cheered when he came out. He got in my face and said "I recognize you from facebook and i hate your face" lmao This was only the 2nd or third time hes ever been a heel in his career of 10 years. He was a natural! The entire room seemed to rain hate down on him.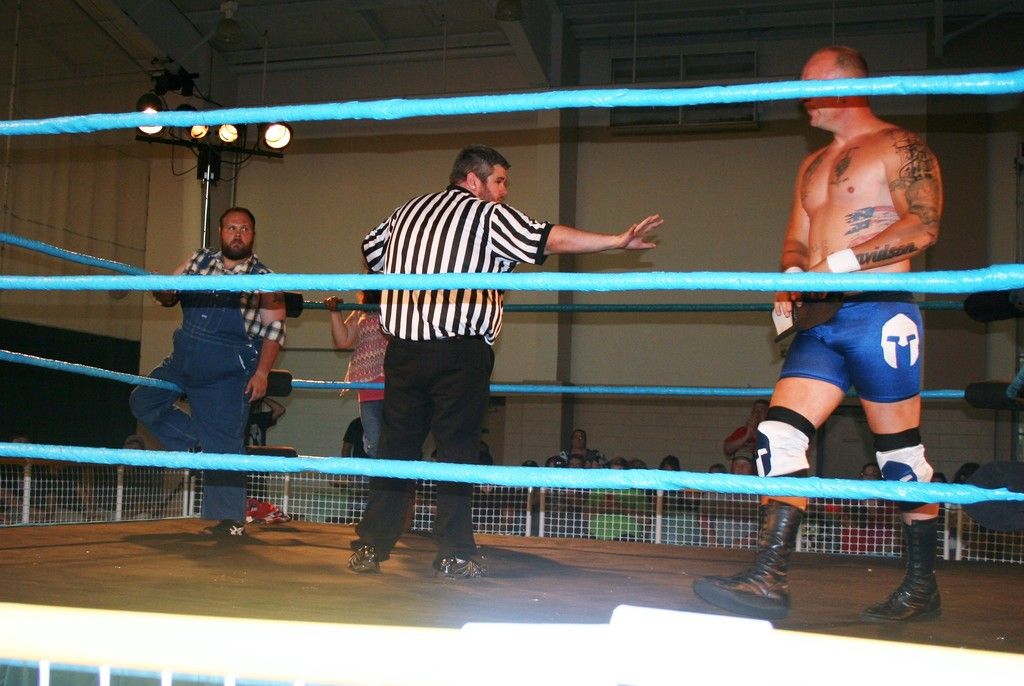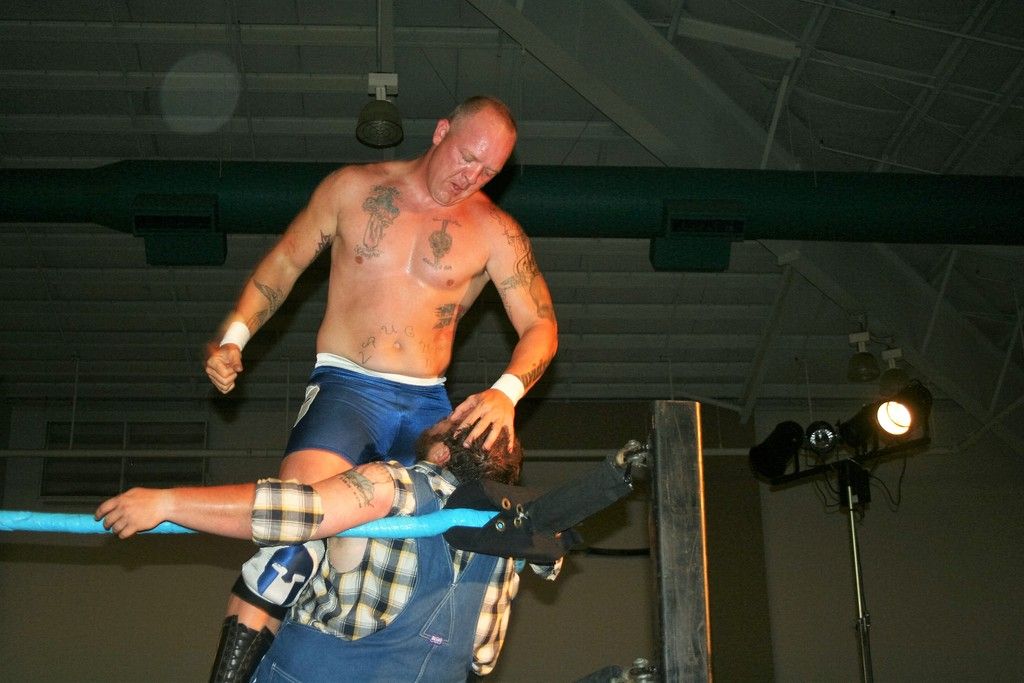 With a cheat Billy got the win to move on to the championship match
billy yelling at me again lmao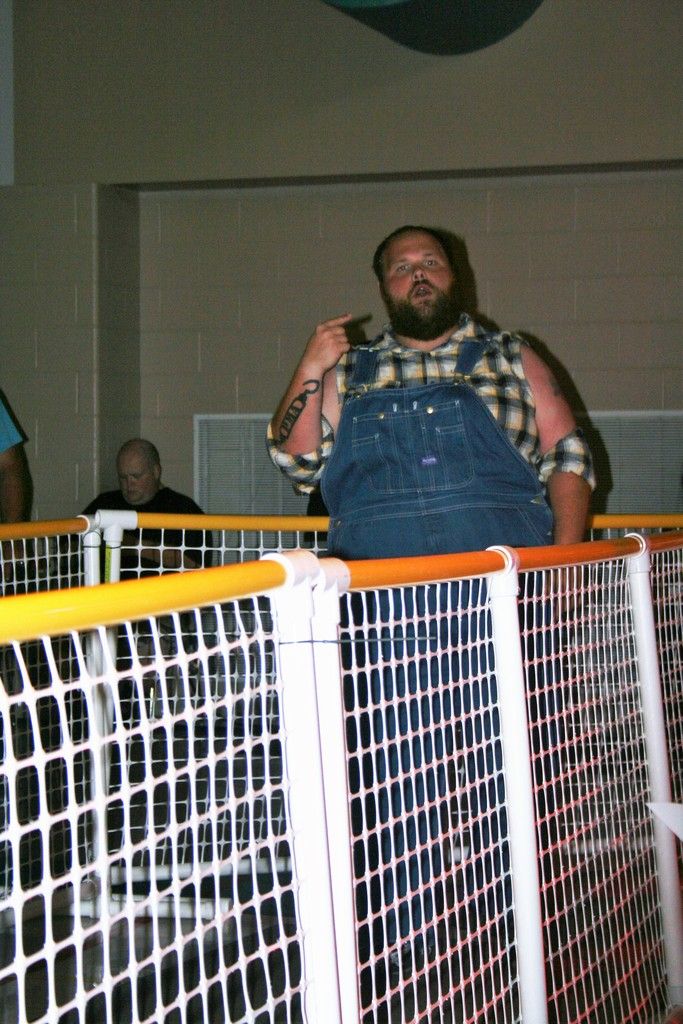 3rd match
Davey Vega (face) vs Hollis Giroux (heel)
This was a pretty fast paced match, Davey was very good, hitting several head scissors and even did a diving dropkick through the ropes to Giroux who was standing outside.
Davey won with a Suplex to neck breaker on his knee (Billy Kidman used to do this move)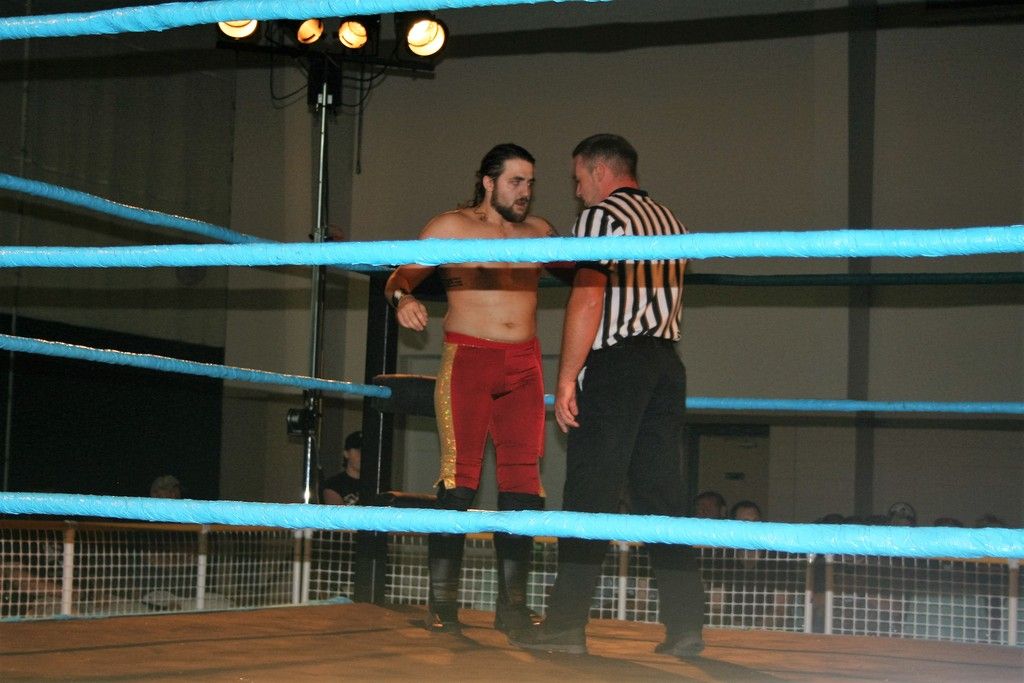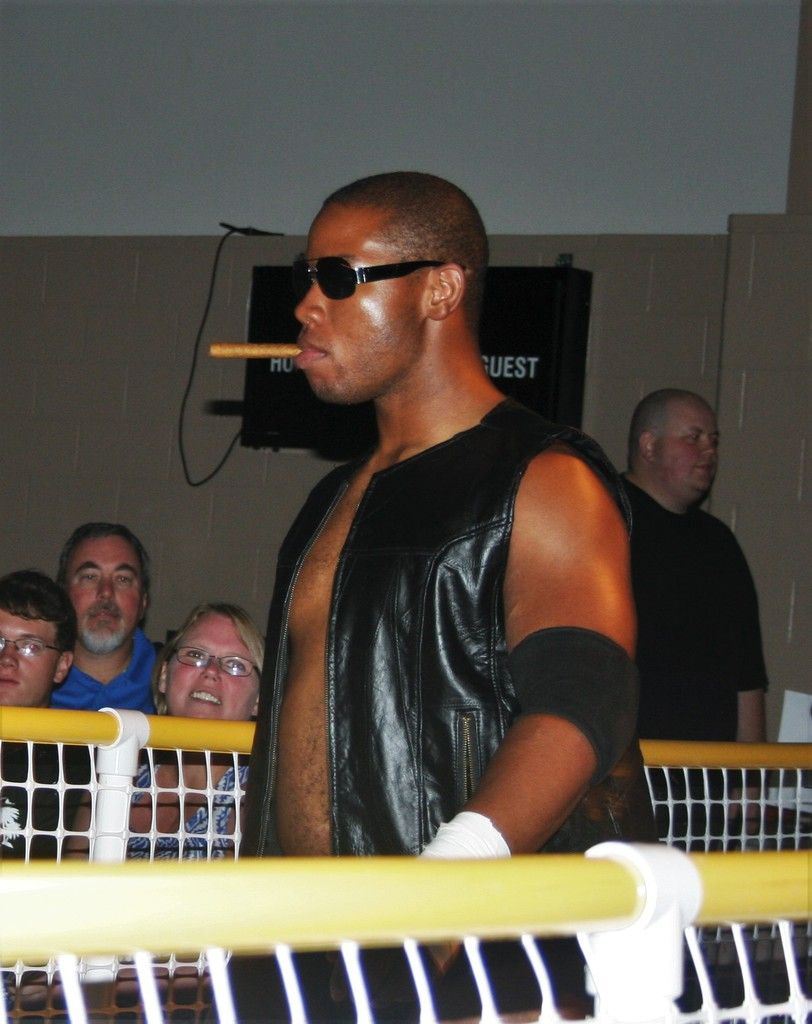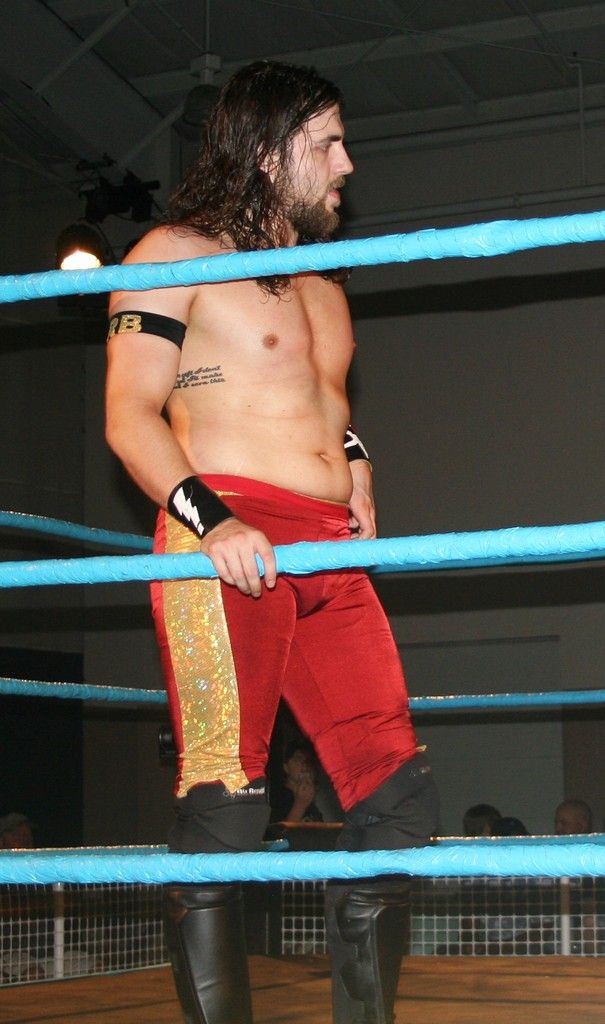 This was the third match and intermission took place. I got up to meet more guys that I hadnt met before the show
Me and Davey talked a good little while. I had posted a photo of him and me from a show in 2007 on facebook and had commented, we talked about that and his career since then. He is a super nice guy and a great talent!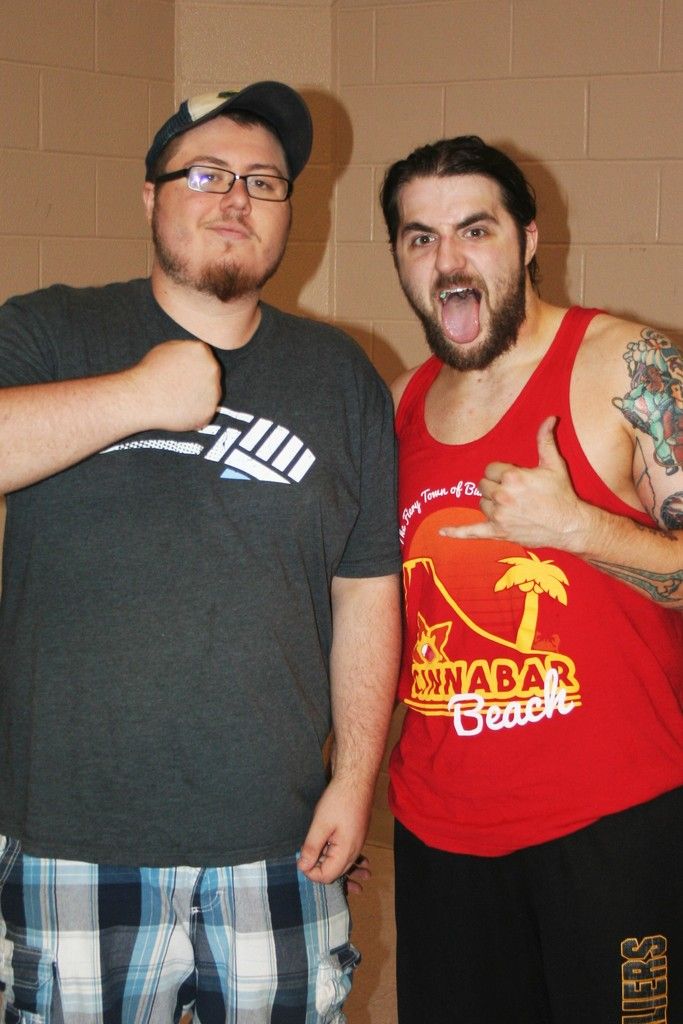 Next I met Sexy Sarge. I talked to him about his career in USWA and him working for WCW and WWF as a jobber back int he 80s and early 90s. Super funny guy. When it came time to take the photo he grabbed my next and made me lean in , he then kissed my neck lmao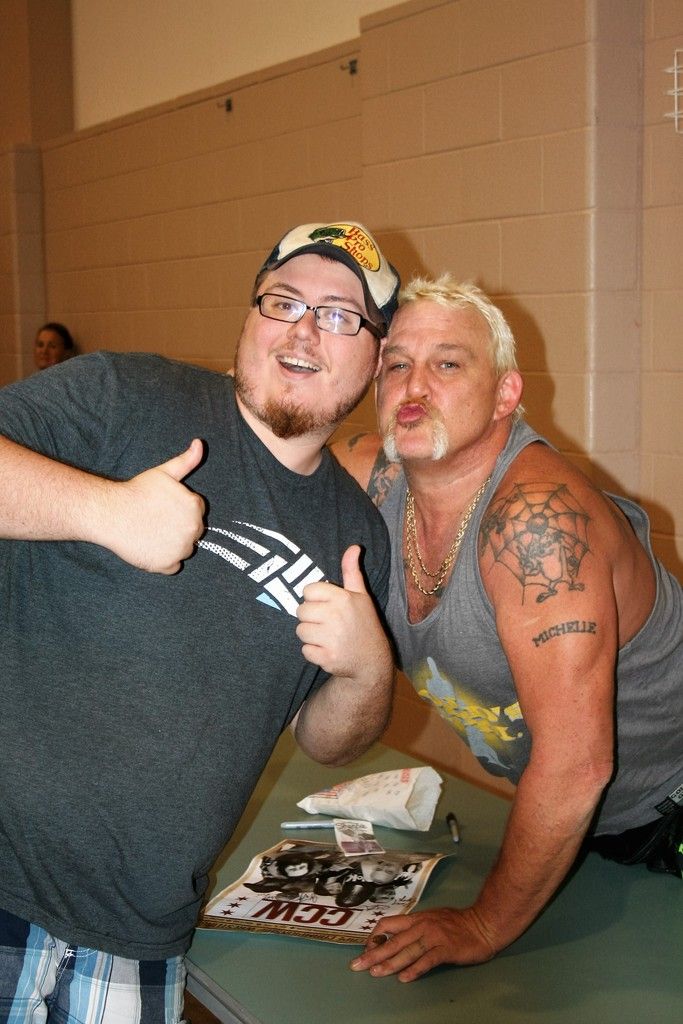 I then met Hollis Giroux
I talked to him and asked about his career because I had never heard of him, but was very impressed with his work. Turns out hes been wrestling less than a year! Guys watch out for this guy because he is definitely an up and comer and on the rise!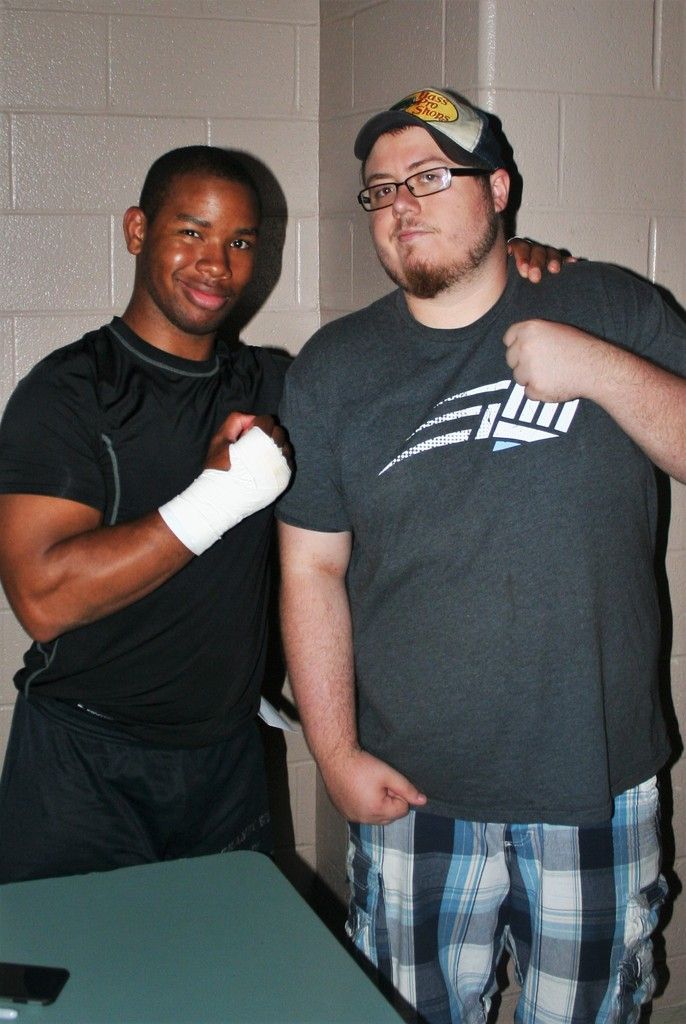 Intermission was over and the KEn Murphy came out to announce who had won free tickets to the next show, Also announced was the guest wrestler for the show......RICOCHET AKA PRINCE PUMA!!! Hes a local guy and is coming to support the show.
Matches again
Some guy named Genesis came out and trash talked the fans to draw heat, Double H (DJ guy) came out and told him he was going to fight,......Jake Dirden!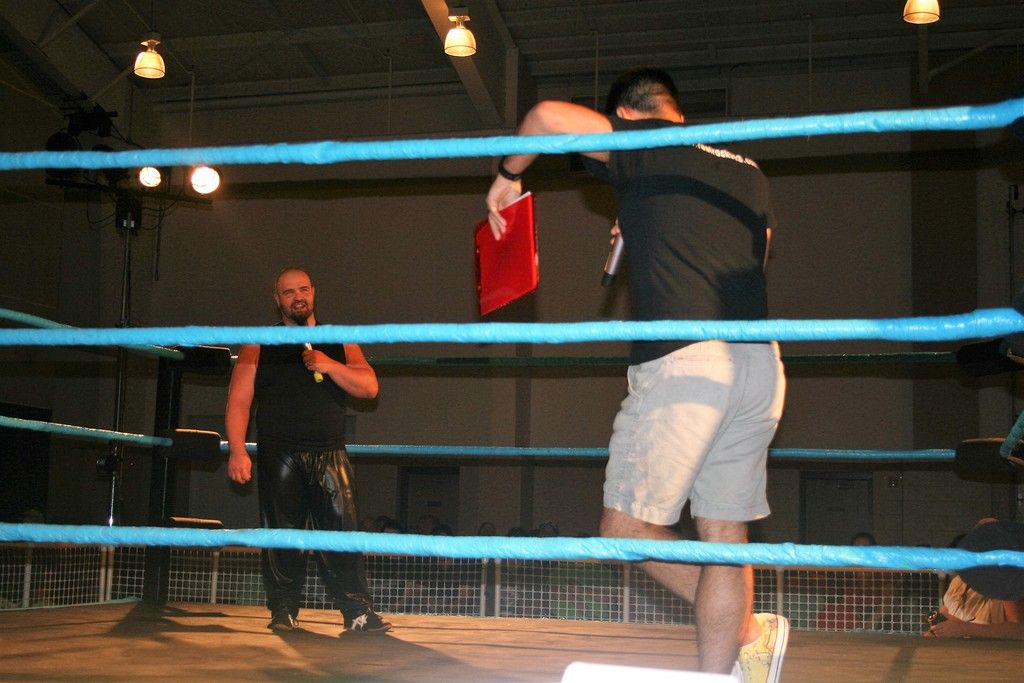 Match 4
Genesis (heel) vs Jake Dirden (face)
If youve never watched Jake Dirden wrestle then you are missing out! The guy is a throwback to Brody, complete with the crazy antics and HUSS HUSS HUSS. He won with the Asiatic Spiked Thumb hold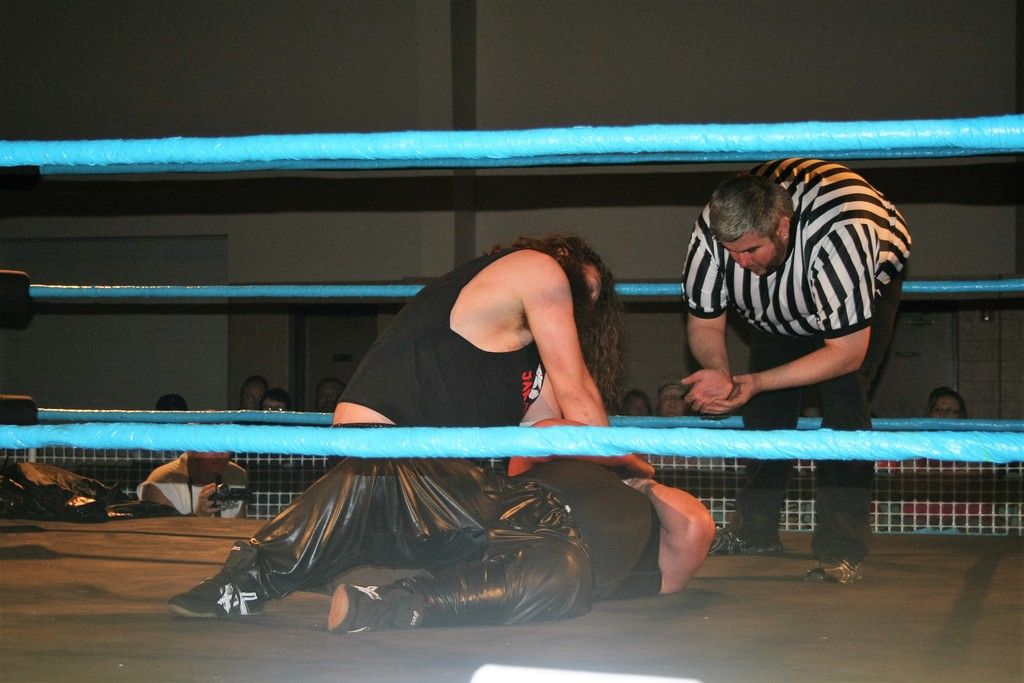 Match 5
Lil Bit (face) vs Diamond Doll (heel)
This was a very good womens match, not even going to lie...this was better than 90% of the shhhcrap wwe puts out in the divas division.
Lil bit put Diamond doll into various submission moves and eventually got the win. Diamond Doll then attacked her afterwards and put her in the camel clutch. Referees had to break them up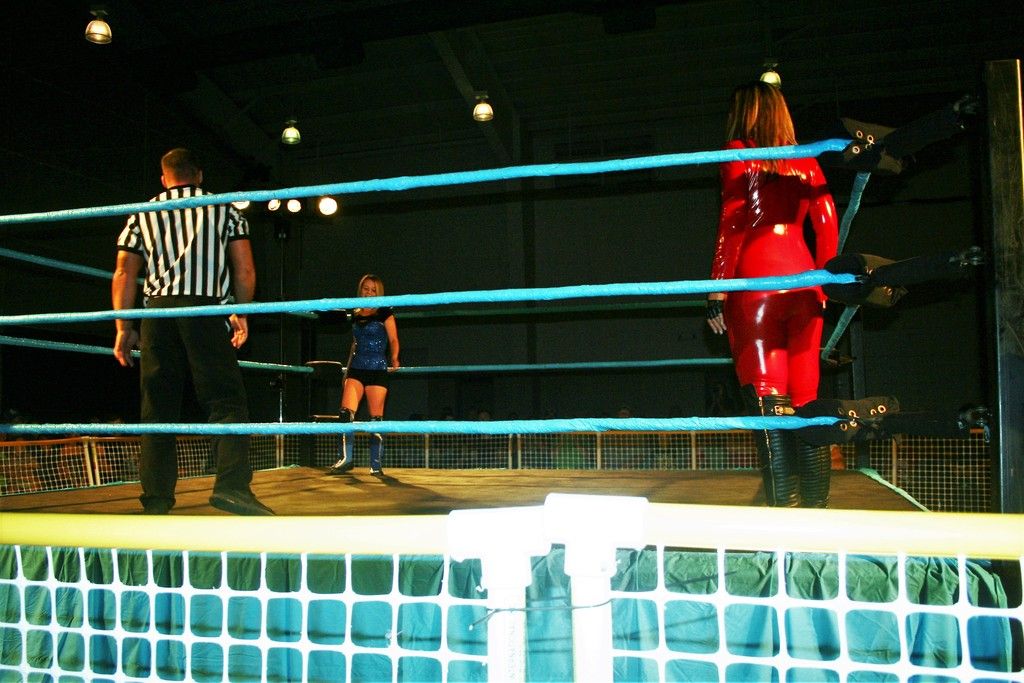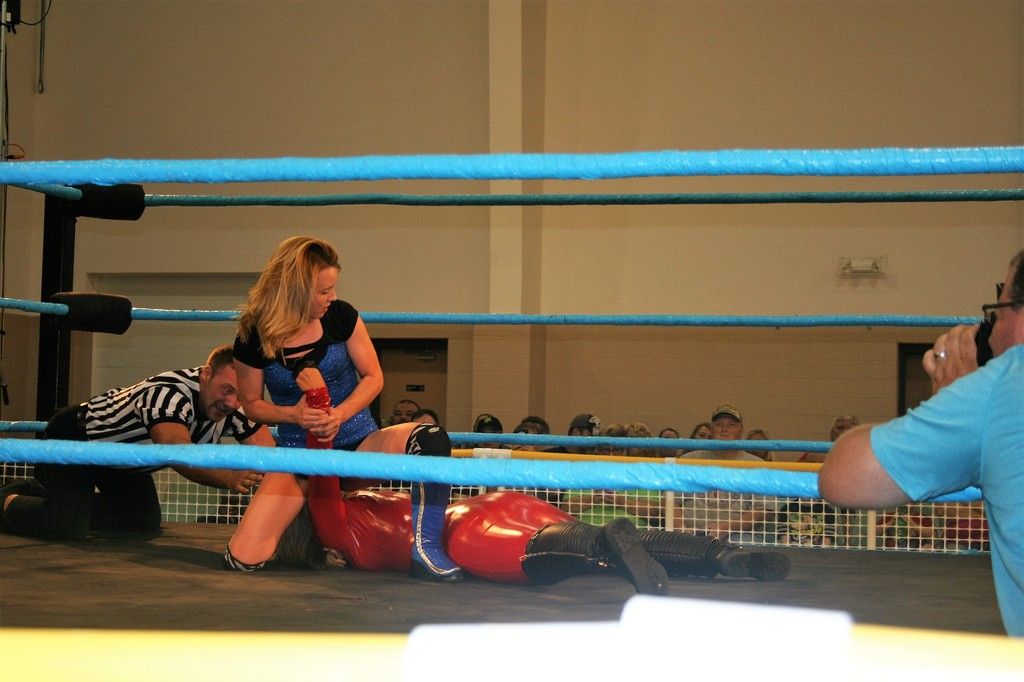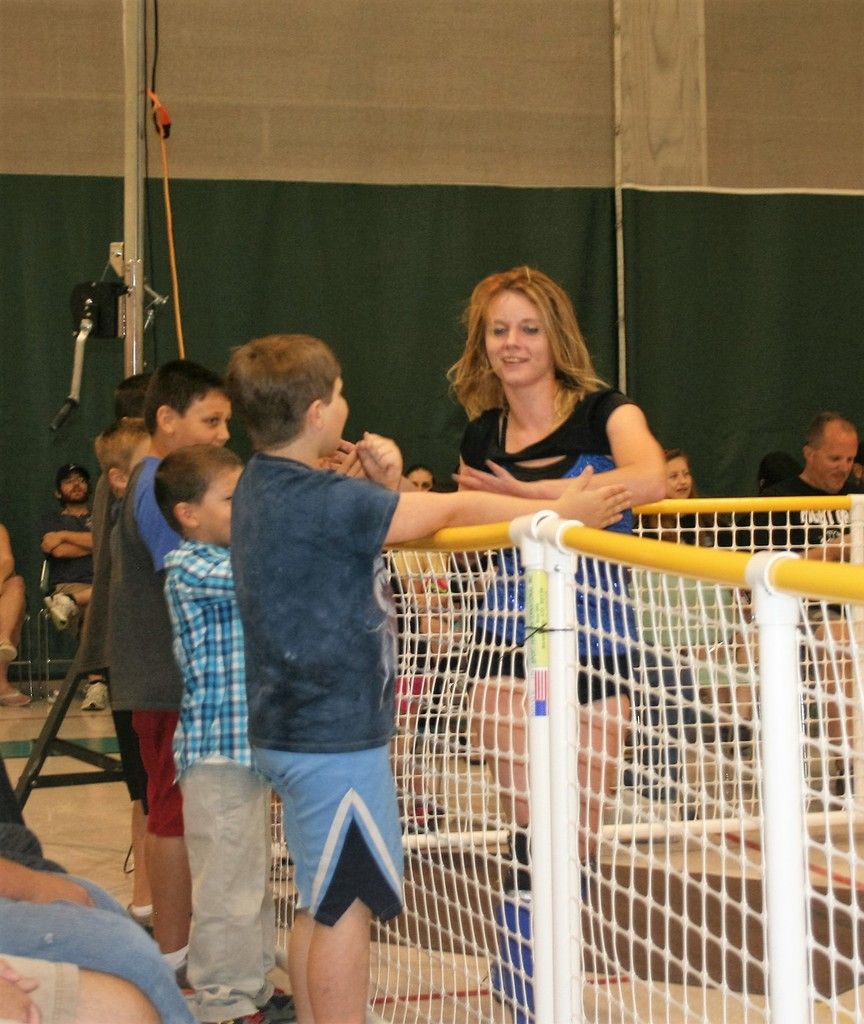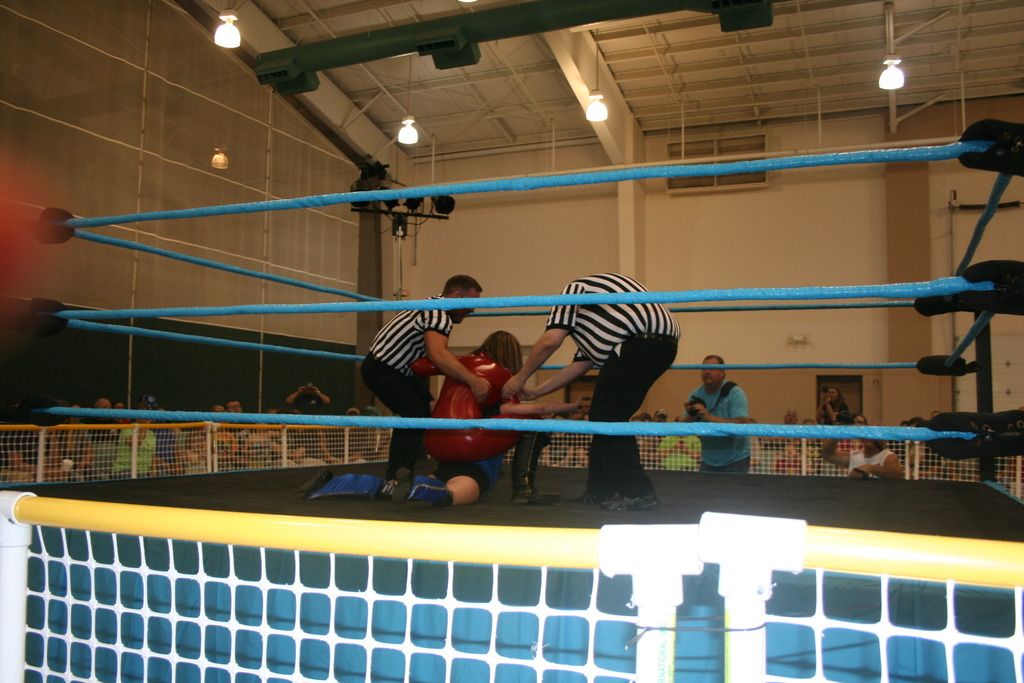 Match 6
Billy Hills (heel) vs Brandon Barbwire (face) for the new CCW Championship!
both took the belt and individually held it up for the crowd before the match, again this was a super match both are great wrestlers.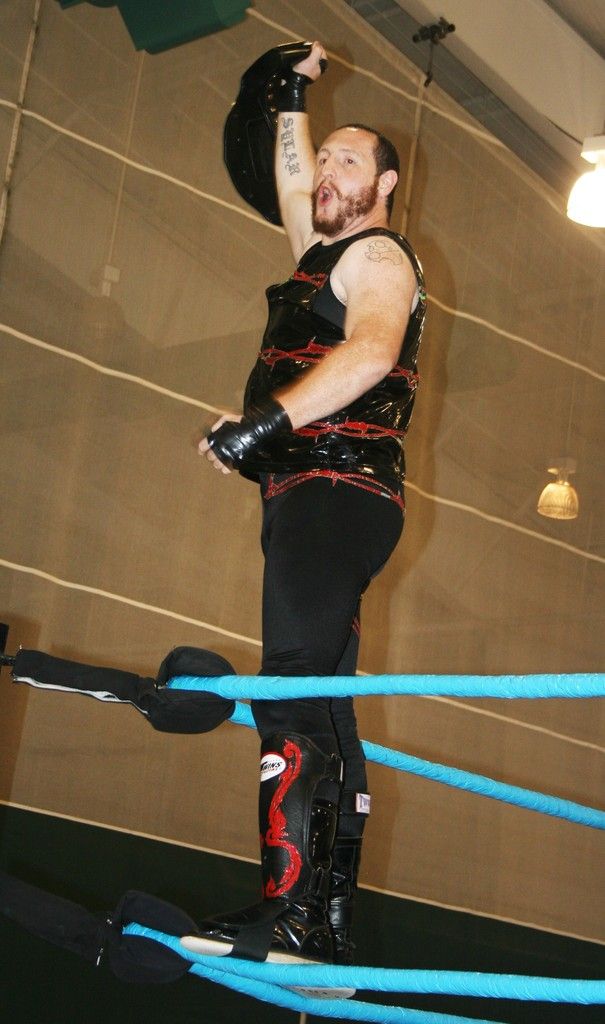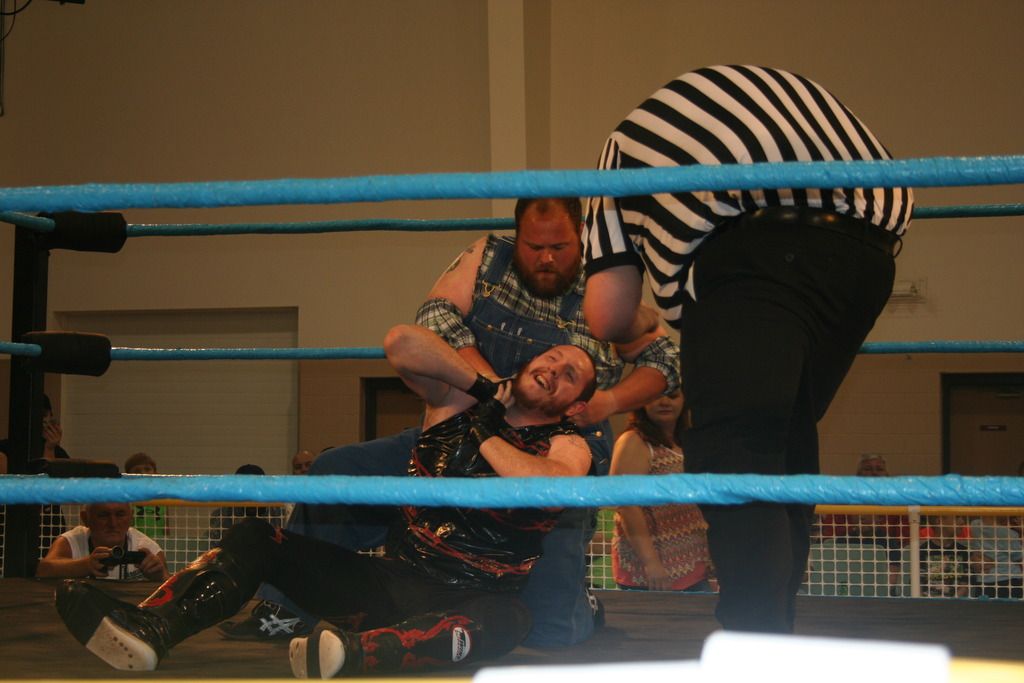 Billy doing a huge ass senton!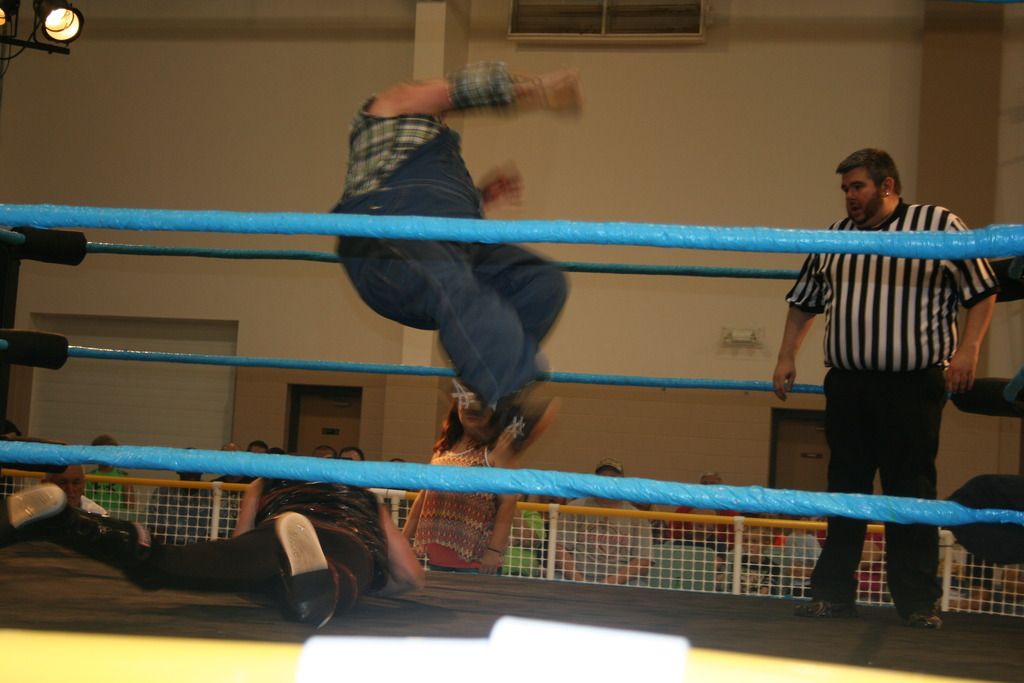 Sarge came out to cheer on billy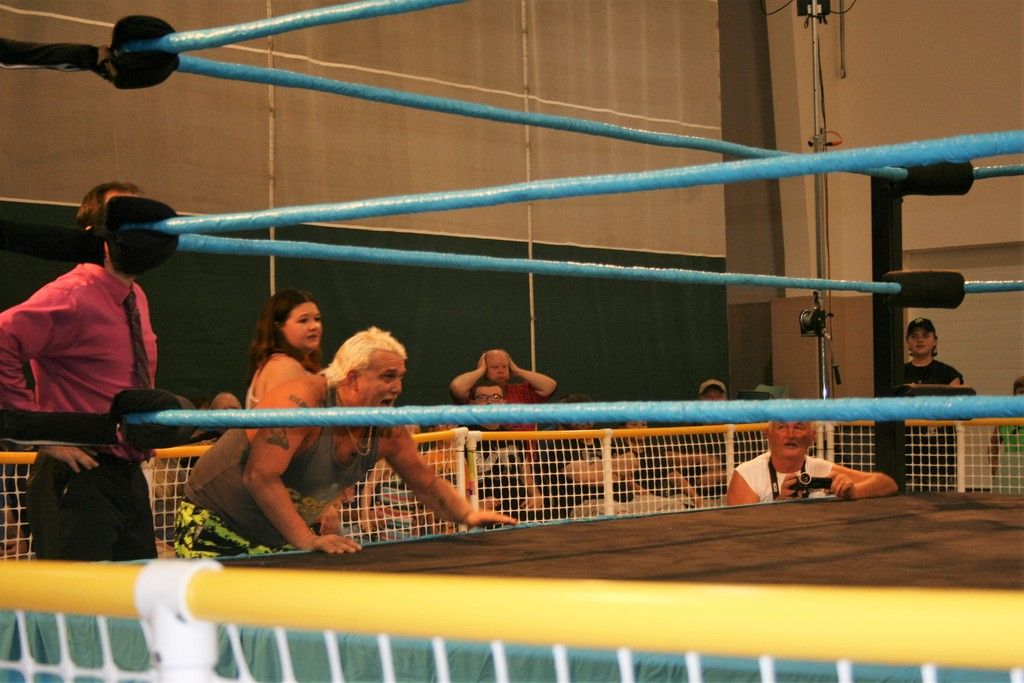 Brandon won with a Rock Bottom to win the CCW Championship!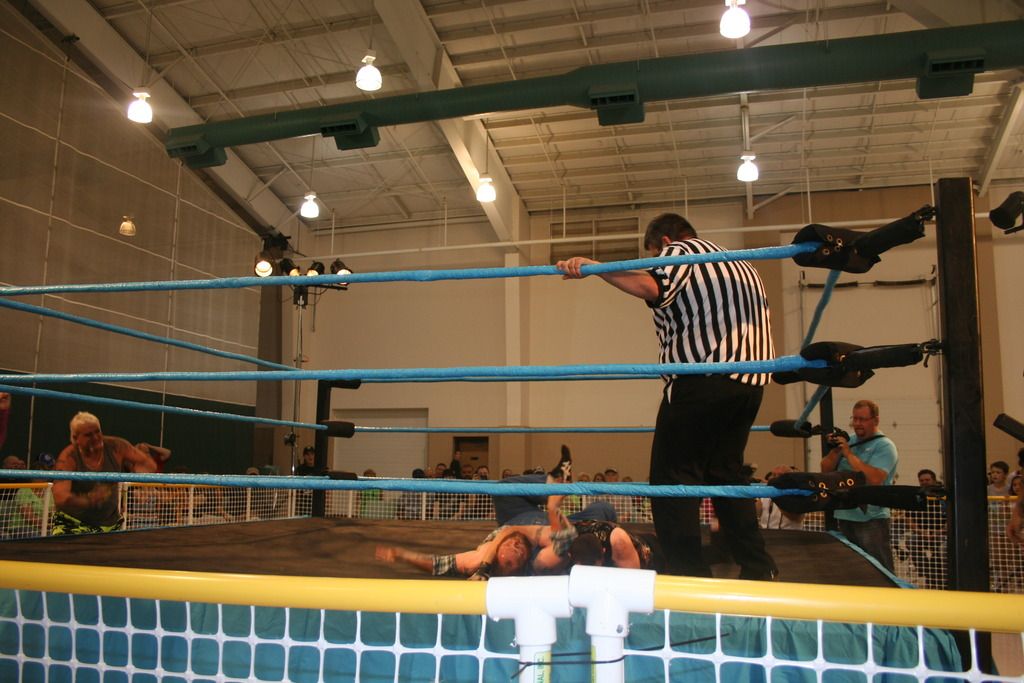 Sarge and his manager Jeff O'Dell came in to beat up Brandon
Jason Vaughn wasnt going to have any of that! He came out to help brandon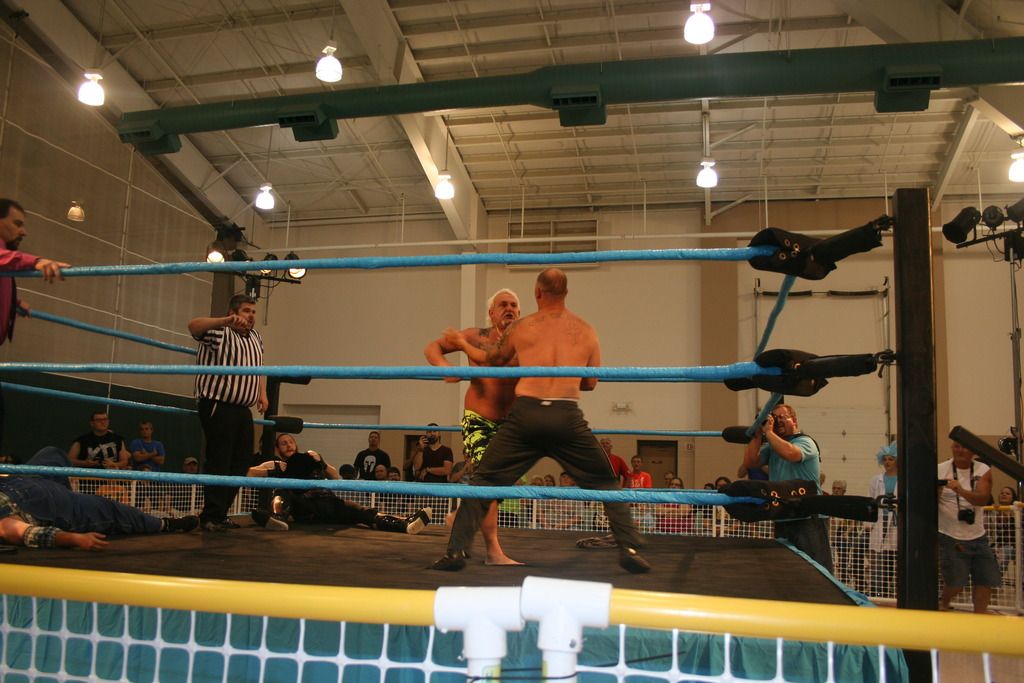 Brandon got Jason in a sneak attack!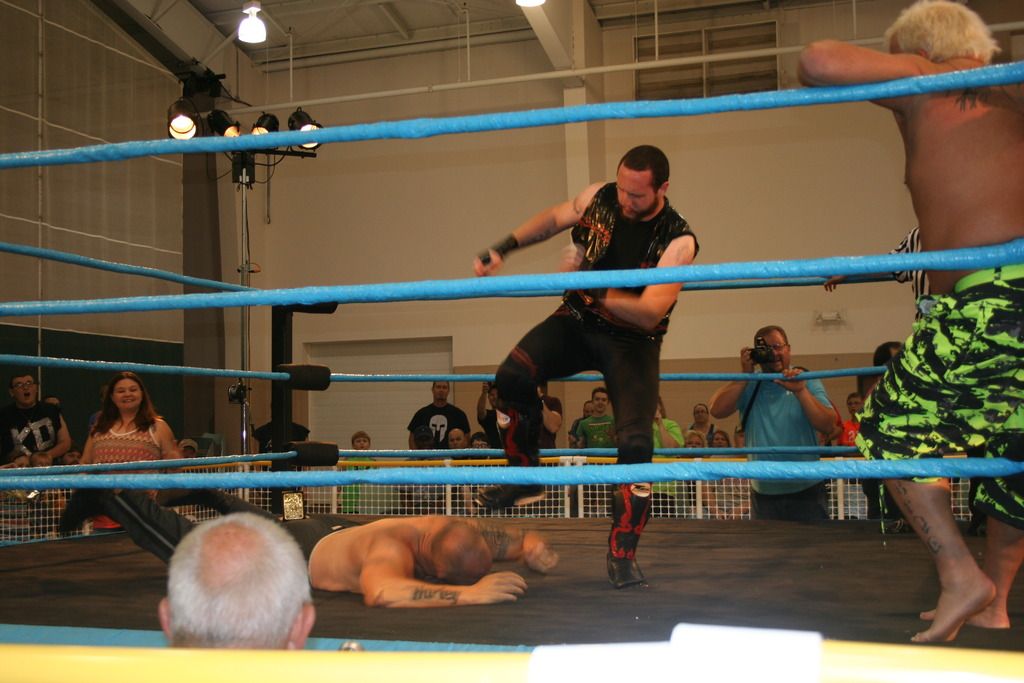 Billy, Sarge, and Brandon was actually on the same team and 3/4 of the guys fighting in the tournament!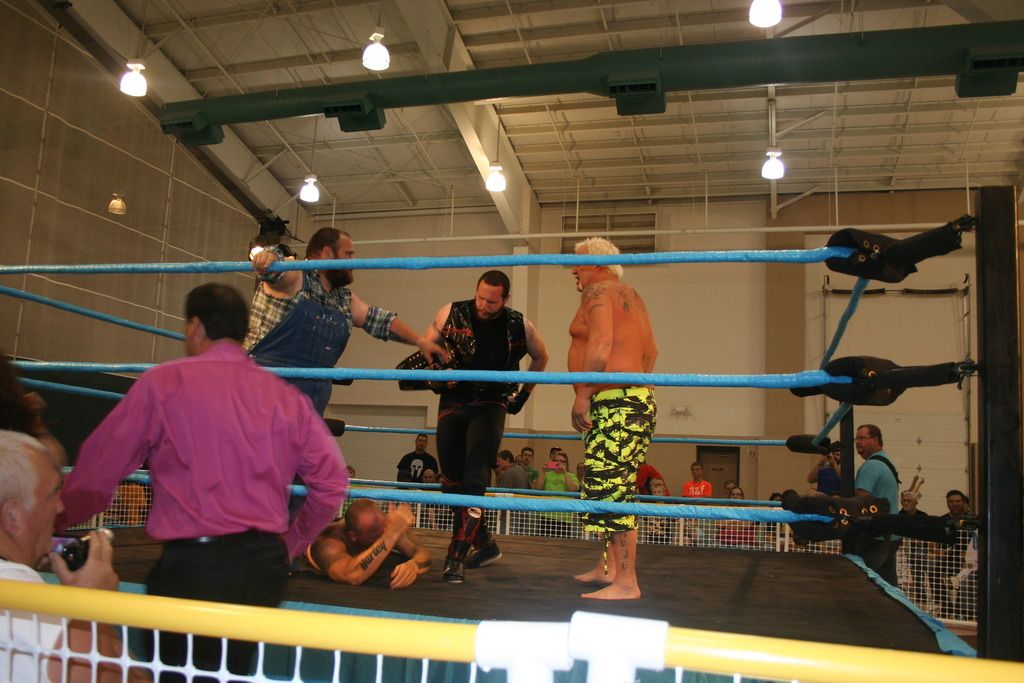 Jake Dirden came out and helped clean house. Double H then came out and announced that August 27th Brandon with face Jake Dirden for the Title!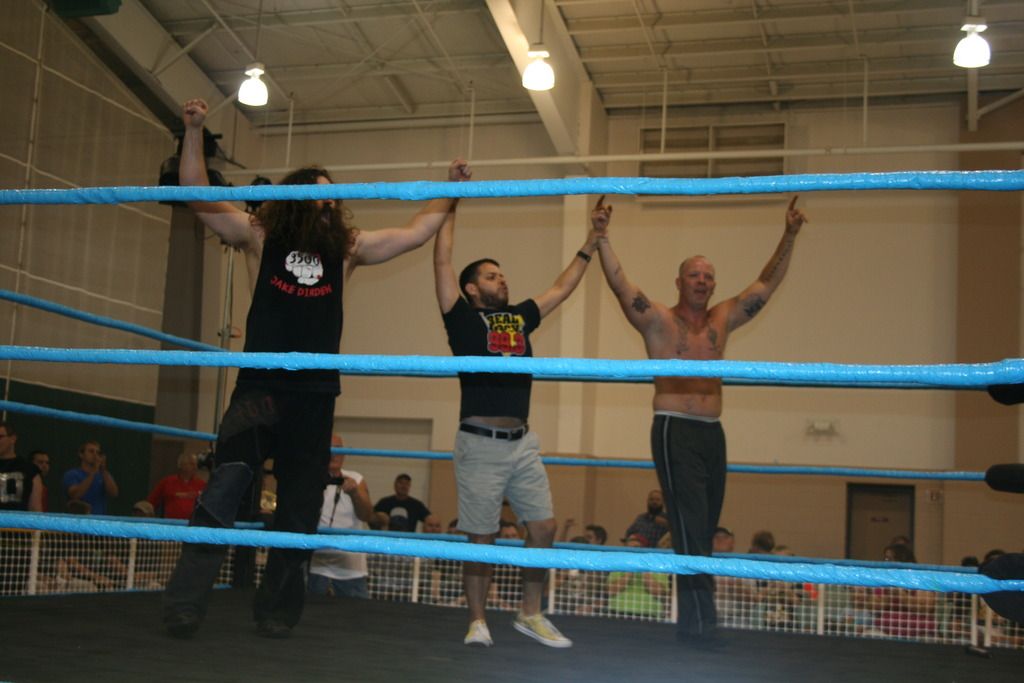 Overall I had an absolute blast. This was a super family friendly show, really cheap, and overall ran perfectly. I wish CCW all the best with their new promotion. If you live in the Southern Missouri, illinois, kentucky, tennessee area please come out to Cape Girardeau August 27th and help support some local indy wrestling!
*side note. Several guys were supposed to be there, not sure what happened. Tony Kozima, Mega Chris Jones, MAd Dog Sawyer, and Leland Race had all been announced but either backed out or didnt show up for one reason or another.