Post by Drakz on Dec 22, 2016 16:36:10 GMT -5
"A final opportunity to make your mark on a year in its dying moments...."
The number 2016 fills the screen and turns to dust to make way for footage from the last 12 months.

Joshua Dean pins Drakz in Las Vegas.
Lucas Crowe hits a huge lariat on Cameron Stone.
Trace Demon blasts Trevor Wolf with a step up knee.
Frank Lynn goes wild with a steel chair on everyone in sight.
David Brennan pins Drakz, followed by another shot of him pinning Lucas Crowe.
"A scramble to get ahead as we enter the new epoch....."
(T.N.E. WUT WUUUUT!)Drakz leaps from the top of a cage.
Samael Ahriman puts down Yukio Blaze inside the Elimination Chamber.
Ante Whitner grabs the Golden Opportunity brief case in front of over 100,000 fans.
Joe Bishop forces The Future to tap out.
"And the makings of a tournament that will change the face of this very business."
We now flash through a full series of posed shots of the entire WFWF roster.
"The journey towards Superbrawl X begins, and tonight we close the book on one hell of a year at the home of profesional wrestling. Madison Square Garden."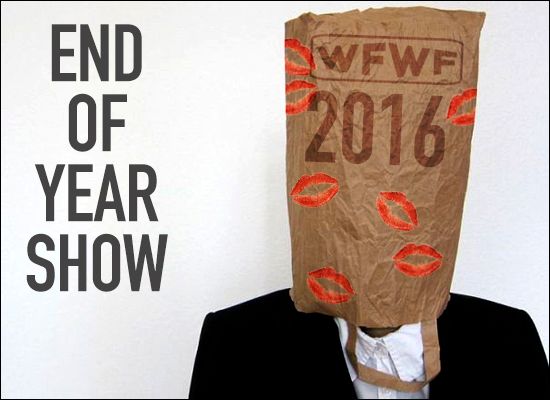 Madison Square Garden, the epicenter of pro wrestling in New York, is filled to capacity for the first WFWF show since Super Brawl and a epic amount of pyro fills the air.Alecia Matthews:
Ladies and gentlemen, welcome to the final show of the WFWF calender! We're here live in New York, still picking up the pieces in the wake of Superbrawl IX.
Daniel Knight:
A night that rocked the world, but we're not resting on our laurels folks, in fact we've got Lila Sleater waiting in the ring right now to make the huge announcement we were promised on WFWF.com earlier this week.
Alecia Matthews:
What's under the cloth? Do you think its a trophy for the Supreme Gauntlet 17! winner?
Daniel Knight:
Shut up and we'll find out. Jeez.
As the opening pyro finishes Lila raises her mic to speak.Lila Sleater:
As reported earlier in the week, I'm here tonight to make a number of announcements regarding the Supreme Gauntlet 17!, but before we get to that I'd like to say thank you to everyone who participated in the biggest wrestling spectacle of all time only 2 weeks ago. Superbrawl IX was a success in every sense of the word and I think it's merely a sign of things to come in 2017.
We will of course be releasing the names of those participating in the Supreme Gauntlet 17! throughout tonight's show but first some news that will change the way this entire tourney is viewed. It is with disappointment I tell you, due to his serious medical condition, Drakz will no longer be able to compete in this ring and as such can not defend the WFWF World Heavyweight Championship.
There is a shock of silence throughout the arena.Alecia Matthews:
I'm not surprised after the beating he took at Superbrawl. Honestly I'm amazed he's alive.
Daniel Knight:
You can never kill The Streak Destroyer Destroyer Destroyer!
Lila Sleater:
It's unknown as of now how long Drakz will be out of action for, or if he will ever be cleared to compete again. Because of this it is my duty to officially strip Drakz of his championship and announce the WFWF World Heavyweight Championship as vacant!
Daniel Knight:
NO! 850 days! It can't end like this!
Alecia Matthews:
504 days and 347 days respectively Daniel.
Lila Sleater:
What's more, it is with great excitement I can tell you all that no longer will the Supreme Gauntlet 17! crown a new number one contender, but instead the last man standing will be crowned the NEW WFWF WORLD HEAVYWEIGHT CHAMPION!
She pulls the cloth away from the podium, revealing the WFWF World Heavyweight Championship belt with Drakz's plates removed.Daniel Knight:
Oh my God!
Alecia Matthews:
This is huge! This could change everything!
Daniel Knight:
But……but…..Drakz never lost?
Alecia Matthews:
I don't think any of the entrants are going to be worrying about that Daniel. All 10 of those selected will have an extra injection of urgency in their movements now!
A screaming distortion tears through the arena, building in ferocity to an ear piercing crescendo. Every white light in the arena flashes in strobe for a full 10 seconds, disorienting the audience, until finally the sludgy guitar riff of "MK7" kicks in amidst a myriad of howling vocals.Alecia Matthews:
Wait…..what?
As the song jumps into gear the lights stop flickering and a number of bright spot-lamps all point to the exact same location at the top of the ramp, lighting up the man the people paid to see, Drakz.

Lila Sleater is dumbfounded and the crowd, seemingly forgetting everything Drakz did before turning on Trace Demon, actually cheer for him!Daniel Knight:
He's here!
Alecia Matthews:
How? I don't understand. He should be bed ridden!
The crowd are going wild as Drakz has seemingly risen from the dead.

Only it isn't Drakz.

It is Michael Kyzer. Grin plastered on his face, the crowd suddenly turns and the cheers turn to boos. He walks to the ring to Drakz's theme song, all the while going back and forth with several fans using colorful language. As he enters the ring to join Lila, a microphone appears in his hand through Kyzer magic and the music stops. He takes a minute to enjoy his reaction before being explaining the cocktease to open the show.Kyzer:
You were expecting someone else I am sure. Drakz, maybe even Samael Ahriman? Keep dreaming. I resurrected the dead at Super Brawl. Shawn Malakai murdered good ole Sammy. Everyone's favorite Satanist couldn't achieve his dream in his last match because of me. It felt like I busted a nut when I put his toy sword through his hand. Then the f*cking p*ssy could do nothing but cry while I dragged the carcass of Isaac Cray over him. Shattering his dream was definitely a memory for the ages, but that wasn't why I was there.
He laughs.Kyzer:
He wasn't worth a good old Kyzer return moment; he was just a cherry on top of the proverbial sundae. I was back to do one thing and I think everyone saw what that was.
The replay of the Glory of Kyzer.
Drakz loses his balance and stumbles to the ropes, leaning over them, trying to stay upright and maybe even conscious. The crowd still boos as Drakz's music fades out and all eyes are on the ring. With Drakz still strung out on the ropes, trying to make sense of it all, the masked man grabs a hold of the rubber chin of Shawn Malakai and pulls it up and off of his head!

Daniel Knight: WHAT THE F*CK!?

Alecia Matthews: OH MY GOD!

Daniel Knight: It's Michael f*cking Kyzer! The God of F*ck is in The Rose Bowl!

There's a monstrous pop, no one really knowing what to make of who they're seeing. The noise seems to pump some life into the champ as Drakz struggles back upright, managing to support his own weight, only to set eyes on the man that cost him over a year of his career after destroying both their friendship and The New Epoch, a man everyone thought was gone forever.

Daniel Knight: Do you know what this means Alecia? Kyzer has just cost the man who claims his scalp. He just denied Samael Ahriman his first ever World Heavyweight title, and of course his chance at the Grandslam!

Alecia Matthews: But what does this mean for Drakz? This is a man who feels he has eclipsed Kyzer and left him in the dust, and yet here he is, having overcome the greatest obstacle of his career so far, but with the man he hates to thank for it.

Drakz, eyes wide, shakes his head, his equilibrium some what returned. He looks down at the championship in his hands, the belt he has defended for so long, and straight faced shakes his head again before tossing it to the ground.

Alecia Matthews: What's this? Drakz just discarded the one thing he seems to care about.

Daniel Knight: Something tells me he's not happy that this moment, this opportunity for him to silence those asking if he can still seal the deal without outside factors coming into play has been scuppered by his former brother.

Drakz looks up from the title at his feet and locks eyes with Kyzer. He staggers toward him and half heartedly shoves him in the shoulder sending Kyzer back a step. Kyzer smirks and then all hell breaks loose as he throws a "F*CK YOU!" at Drakz that near knocks his head off.

Alecia Matthews: And Kyzer isn't done!

Drakz crumples having just survived a war of a title defence and a singled out attack from Trace Demon, and Kyzer takes control. He kicks him in the gut and hoists Drakz up in an inverted death valley, from which he then drives him hard into the mat.

Daniel Knight: Kyzer Effect on the champion! He's going to kill him!

Alecia Matthews: I'm staggered that I feel this way but someone needs to get Drakz out of there, we might actually be about to watch our heavyweight champion die in the ring. Like, seriously, be murdered.

Kyzer's not done. He bundles Drakz out of the ring, through the ropes, and onto the steel surrounds of the Elimination Chamber. He drags him up again and, holding the longest reigning champion of all time's bloody face in his hand, spits directly in it. He then repeats the process from before. Up and down! Drilling Drakz with another Kyzer Effect, this time head first onto the steel!

Alecia Matthews: Someone needs to get him out of there! We've seen Kyzer do terrible things to people over the years, and his former best friend isn't exempt from that list! He could be setting up for something career threatening here.

Daniel Knight: Setting up for it? Did you not just see him drop Drakz on his head! If his spine hasn't compressed then I'll eat your hair.

Alecia Matthews: …….

Kyzer will not stop! He has Drakz up again and walks him over to the open side of the chamber structure.

Daniel Knight: No, not again!

Alecia Matthews: He's going to toss him! For f*cks sake!

Kyzer, like a doorman ejecting a drunken bum, reminiscent of the infamoius scene from a few years ago, throws Drakz by his head and his waistband out from the chamber. Drakz flies through the air and lands hard on the ramp, bouncing a little and rolling off of it leaving him squashed against the guard wall.

Daniel Knight: That's a human being man!

Alecia Matthews: A sh*tty one, but he doesn't deserve to have his livelihood taken away form him like this!

Kyzer walks and snatches up the WFWF World Heavyweight Championship only to spit on it too and then throw it down at the crumpled pile that vaguely resembles Drakz.
Kyzer wipes a tear away from his face as he watches the replay.Kyzer:
I am sorry for getting a little emotional, I am just really proud of myself for that one. That will be the moment everyone remembers from that night. Not David Brennan winning his first singles title, congrats by the way on not choking on your dick for once; not some dyke beating some hyped up failure and not the return of some guy named Crow. The only thing anyone will remember about Super Brawl IX is Drakz being destroyed by Michael Kyzer again. I guess this is the third time? Yeah, I have lost count by now. Originally it was all just going to be a one time thing, I return from wherever I hide myself when I leave your television screens and Drakz's career is over.
He pauses for dramatic purposes.Kyzer:
But later that night, I was approached by a Mr. Trace Demon to discuss my contract. And seeing as how I gave him a good show, he persuaded me to stick around albeit on my own terms. That means when I want to be here, I will be here. When I want to wrestle, I will wrestle. And I only wrestle who I want to wrestle. After I thought about it there are a few loose ends around here, I would like to tie up. Just a few things to cement my legacy and whatnot. I am not talking about titles or any of that bullsh*t. I don't care about being a Grand Slam champion or any of that. I am beyond that petty crap. I am talking about burning down bridges I built over my career and cutting the throats of traitors to the cause. So while you won't see Drakz for a very long time, you will see more of me, Michael Kyzer.
Sleater finally summons up a voice.Lila Sleater:
Trace Demon doesn't own this company any more. You'll have to discuss this "agreement" with the new owner I'm afraid.
Kyzer goes into his back pocket and pulls out a piece of paper. He unfolds it and pushes it right in Lila's face.Kyzer:
Check the dotted line baby.
Lila snatches the contract from his hand and gives it a once over.Lila Sleater:
I'll be dammed if I let you gain from what you did to our champion.
Kyzer:
Then I guess you're dammed. Thank you and God Bless America!!!!
That Kyzer grin flashes and he pushes over the podium on which the WFWF World Heavyweight Championship sits as he makes his way out of the ring. Drakz's theme plays again as The Michael Kyzer makes his exit leaving everyone confused, furious and more confused.

Lila is left in the ring looking at the contract and shaking her head.Alecia Matthews:
What a roller coaster!
Daniel Knight:
Drakz is gone…..
Alecia Matthews:
And his title will be competed for in the Supreme Gauntlet 17! We also just learned Michael Kyzer apparently isn't done with the WFWF just yet. I'm kind of scared how 2017 is going to turn out now.
Daniel Knight:
Would a North Pole street fight settle your stomach?
Alecia Matthews:
Damn straight it would!
Daniel Knight:
Weeeeeell, sorry but Vass "The Slayer" simply decided he wasn't going to show up for work tonight, good luck with that one man, and the other 3 combatants in the match were attacked earlier on by a man who's description matches that of Krampus would you believe?
Alecia Matthews:
I wouldn't.
Daniel Knight:
You should. It's the only reason you're going to get for us skipping the match and moving straight on to Austin Hayes vs. Brandon Bison.
Alecia Matthews:
Whoop Whoop!
Daniel Knight: Okay I've just been informed that match will actually be coming right after the first batch of Supreme gauntlet 17! entrant announcements.
The graphic for the WFWF Supreme Gauntlet 17! flashes up onto the screen, as the deep, sensual tones of the WFWF's resident narrator echoes out.
"In 2017 the WFWF will present the inaugural Supreme Gauntlet, the ultimate test of the WFWF roster's resilience and strength. Ten entrants, two groups, five matches. The winner will be crowned the new WFWF World Heavyweight Champion."
The graphics fades away before footage of our new WFWF International Champion David Brennan begins to play, showcasing his lengthy career and recent championship glory.
"David Brennan is a veteran of the WFWF and is possibly best known for his run as one third of one of WFWF's most dominant groups, the New Epoch. Despite his personal demons Brennan has always been a powerful force and one few enjoy the prospect of facing. His recent return has found him his first championship success, first with a short run as WFWF Tag Team Champion and now as the WFWF International Champion. Now he has the opportunity to add the most prestigious title in wrestling to those successes, as David Brennan becomes the first entrant in the Supreme Gauntlet 17!"
A final shot of David Brennan with the WFWF International Champion fades away as it cuts to a less experienced competitor, a man who will debut later tonight, Austin Hayes.
"While Austin Hayes is new to the WFWF, very new in fact as he debuts here tonight, he has garnered a reputation as a very impressive high flyer. Young and new to the game Hayes may be the least experienced in this tournament but he's trained with some of the best high flyers in Florida and it's this pedigree that not only has gained him a contract here in the WFWF but has also gained him a spot in the tournament. Hayes might not have the same level of experience as the rest of the field but rest assured his youth, energy and sheer talent will likely carry him far in the Supreme Gauntlet 17!"
Daniel Knight:
And now on to our first match of the evening. Sorry to keep you waiting.
Early on the more experienced wiles of Brandon Bison keep him in control, working over Austin Hayes' back and ribs to set him up further down the line. Bison maintains pressure on the rookie until Hayes throws a kick. Bison catches it but is caught with an enziguri that gives Hayes an opening. Hayes runs wild for a minute or so, before too much posturing on the top rope gives Bison enough time to roll out of harms way, leaving Hayes with nothing but a face full or ring mat. Bison makes a series of quick pin attempts and then goes back to a slower, more methodical pace. Feeling his opponent has been sufficiently worn down he grabs a gut wrench and tosses Hayes for "The Final Breath" (Powerbomb Lungblower) but Hayes, in mid spin, delivers a double mule kick to the mouth of Bison staggering him back. Hayes charges up and hits the Flacon Punch to Bison's sternum, dropping him to the ground. Hayes steps through the ropes and hypes the crowd before drilling Bison with the "CRITICAL HIT!" (Spring-board Corkscrew Shooting Star Press) and picking up a three count!Christa Adina:
Here is your winner, The Shooting Star, Austin Haaaaaayes!
The Supreme Gauntlet 17! logo flashes up again, signifying the second batch of announcements here tonight. It fades out in favour of footage showcasing the former Thunderbird Frank Lynn.
"Frank Lynn, since debuting in the WFWF in early 2016 has quickly proved himself to be one to watch. A short run as one half of the Thunderbirds nearly garnered him the WFWF World Tag Team Championships, the pair only just coming up short against the veterans Drakz & Josh Dean. It doesn't matter who the opponent, Frank Lynn will always come out swinging against rookies and veterans alike, something that will benefit him along the talented field that makes up the tournament. We are proud to announce Frank Lynn as the third entrant in the Supreme Gauntlet 17!"
The screen swiftly smashes away to a man screaming straight down the camera before cutting away to that same man in action with the same intensity - the Bloodied Eagle Ante Whitner.
"Ante Whitner comes from a troubled background but ever since stepping foot in a WFWF ring he has proven time and time again that where he comes from doesn't matter, it's where he's going that counts. The man nicknamed the Bloodied Eagle has always fought with the intensity befitting a true champion, and he has proven himself to be exactly that having become the longest reigning WFWF National Champion in the history of the company as well as it's first Golden Opportunity champion. While many may consider Ante to be out of his depth in the tournament there is little doubt that any of his opponents will make that mistake, knowing full well that Ante Whitner is capable of beating anybody and everybody as he seeks further glory. We would like to welcome Ante Whitner into the Supreme Gauntlet 17!"
We cut to our announce team, Alecia Matthews and Daniel Knight.Alecia Matthews:
Throughout the night, Lila Sleater has been announced the competitors for the upcoming Supreme Gauntlet 17, a tournament that will declare the number one contender for the WFWF World Heavyweight Championship. One of the announced competitors is newcomer Austin Hayes.
Daniel Knight:
What a joke....
Alecia Matthews:
Austin Hayes is joining us from backstage.
An image of Austin Hayes in his locker room comes on over the large screen in the arena. He is nursing his shoulder with an icepack after his earlier battle with Brandon Bison and holding a microphone with his free hand. The crowd lets out a small pop for the newcomer which evokes a meek wave.Austin Hayes:
Thanks for having me Alecia.
Alecia Matthews:
Austin, first the obvious question. How does it feel to know that you could be the number one contender for the WFWF World Heavyweight Championship mere weeks after debuting?
Austin Hayes:
It's quite bizarre actually. I never thought I'd be in such a situation, especially so quickly. I mean I've only had one match now, and that just happened. I'm blown away and all I can really say is I'll put my best effort in to make sure Ms. Sleater's decision wasn't a mistake.
Austin lets out a sigh as there is a slight lull in the conversation.Alecia Matthews:
Thanks for being here with us ton-
Daniel Knight:
But why you?
Austin Hayes:
I beg your pardon?
Alecia Matthews:
Daniel not now...
Daniel Knight:
No Alecia, something needs to be said to this clown! Why you? Why, out of all of the talented guys we have in that locker room back there that have come and fought night in and night out, has Lila Sleater decided to choose you, the biggest joke of a person I've ever laid my eyes on? The guy who is sitting there in what appears to be a purple shirt with cats with wings flying through space on it? Why should I take this decision seriously?
Hayes stands there with a blank stare across his face. His eyes look to the floorAustin Hayes:
I don't know...
Daniel Knight:
Speak up boy.
...
...
Austin brings his eyes straight to the camera, a fire burning in them that wasn't there before.Austin Hayes:
You know it's really cute, Dobby, if I didn't know any better all of this negative attention you're giving me leads me to believe you've got a little crush. Just because I made you look like the moron that you are doesn't mean that you get to write me off just like that. When it comes to me being in this thing, I'm just as confused as you are, David. Believe me. I've been here all of three seconds and now I'm thrust face first into this cluster f*** of a tournament?! Can you imagine how bizarre that sounds to me?!? You don't think I heard the crowd's reaction when my name was the one called and not someone who has been around a bit longer? But don't get it twisted, I'm in this thing. I have the same chance as the other nine men to spam as the number one contender to the WFWF World Heavyweight Championship, and I'm going to make sure that I do everything in my power, win, lose, or draw, to make sure that the fans, my fellow competitors, and even you Donny, remember the name Austin Hayes.
Hayes walks out of the view of the camera. The camera turns off, as the arena camera feed returns to the big screen.Daniel Knight:
.....
Alecia Matthews:
There you have it, one of the ten men competing in the Supreme Gauntlet 17, "The Shooting Star" Austin Hayes. No doubt everyone's eyes will be on him, despite his underdog status.
Daniel Knight:
Is he for real?
Alecia Matthews:
Well folks before we get into our next match let's take a look at a scene filmed earlier on this evening.
A car with Massachusetts license plates pulls into the parking garage. Out steps Frank Lynn in a brown leather bomber jacket, red T-shirt, blue jeans, and hiking boots. He grabs an athletic bag from the back seat and starts to march towards the locker room. A WFWF interviewer intercepts him.Interviewer:
Frank! Frank! Do you have a second? How are you feeling after SuperBrawl?
Frank Lynn:
SuperBrawl? What is there to say? Everyone saw what happened. I lost. Ante Whitner is the Golden Opportunity champion and he can thank LeeRoy Jenkins for handing it to him. Do I like it? Hell no! But what's done is done. I can't change it. I have to move forward now.
Interviewer:
What are you going to do?
Frank Lynn:
Tonight? Absolutely nothing. Ante Whitner isn't here. LeeRoy Jenkins isn't here. They're both sitting at home watching "Miracle on 34th Street" and "The Grinch Who Stole Christmas" while stuffing their faces with turkey, stuffing, and apple pie. I'm here. Frank Lynn doesn't take days off. While they are getting fat and lazy I'm still a lean mean fighting machine waiting for them to show up so I can take care of business.
Interviewer:
So why are you here tonight?
Frank Lynn:
You must be out of the loop. I have a match against Trace Demon. I'm sure he is here somewhere not concerned at all about Frank Lynn. He is probably looking right past me towards his next title match. Big mistake. I just said it. I don't take days off.
Frank pauses to look around him, apparently in awe even though he is just in a parking garage.Frank Lynn:
The entire roster should be here tonight but they must be stupid. This is Madison Square Garden, the mecca for combat sports! Who says no to an opportunity to perform at Madison Square Garden? Just being here has me pumped for tonight. I'm going to bring the fight to Trace and if he takes me too lightly then he is in for a very long night and a very hard loss. Now get out of my way! I have a match to get ready for.
Frank storms away from the interviewer with a look of grim determination on his face.Daniel Knight:
Well Lynn is looking as determined as ever for tonight's match with Trace Demon, and it's coming up right after this next batch of tournament entrant announcements!
We're taken back to that familiar Supreme Gauntlet 17! logo for the third of our entrant announcements here tonight. The equally as familiar transition this time takes us to an initially unfamiliar masked face, before the mask comes off and the man behind the mask becomes apparent - Dex.
"A former WFWF World Heavyweight Champion, Dex initially started his career under a mask, but has proven that with or without his mask nobody will forget the man behind it. Entering the WFWF in 2013 Dex has refused to step down from any challenge and always meets hostility in kind. In 2014 Dex was handed the WFWF World Championship by the retiring Shawn Malakai, an honour which many on the roster claim he does not deserve. His short title reign only backs up those claims and Dex vanished from the company soon after. His return this year however has shown him to have a new fire beneath him as he seeks to dispel the notion he doesn't deserve to be ranked among the top stars in the company. A victory in the tournament would do just that as Dex becomes the fifth entrant in the Supreme Gauntlet 17!"
The footage now fades out and is replaced by a series of photos. The first of a baby, then of a toddler, then a pre-teen, then a teenager, then a young adult. It quickly becomes apparent that they're all of the same person.
"Wait, I thought you handed me this card as a joke? You were being serious? But… how? Why? Who thought this was a good idea? Wait, we're live? Balls. Umm… with the kind of pedigree befitting a new WFWF wrestler, Anna Ahriman is the daughter of the recently retired Samael Ahriman. Her father, in his time with the company, proved himself to be a determined and vicious competitor who held a host of championship gold. With that talent passed down to his daughter, well, hopefully, we're proud to announce that the debuting Anna Ahriman will be the sixth entrant into the Supreme Gauntlet 17!"
There's a brief pause.
"They're seriously putting Ahriman's kid in the tournament? Isn't she like twelve or something? Oh, she's a teenager now, when did that happen? What do you mean we don't have to pay attention to details? We're a wrestling company, not a child fight club. What, we're still rolling? God Todd, why can't you warn me about-"
Static.Daniel Knight:
That was…..erm…
Alecia Matthews:
Movingly swiftly on.
The moment the bell rings Trace Demon strikes quick and hard with a leaping knee that knocks Frank Lynn for a loop. Demon's vicious, violent and showing a focus that we haven't seen from him before, relentlessly attacking Lynn in a frenzy of strikes and technical holds. He isolates the knee, working it over and taking away Lynn's speed with almost-surgical precision. Lynn manages to connect with a dropkick and, with the knee causing him pain, resorts to his MMA skills, beginning to ground and pound. Trace slips out but Lynn follows up, leaps for the hurricane DDT but Trace counters by throwing Lynn knee first into the turnbuckle. Trace continues to work the knee over but he can't quite put Lynn away, every time he gets close the former Thunderbird finds a way to fight back, hitting a quick strike and going back to the ground and pound. He attempts to go for the Patriot Piledriver but a jolt of pain through his knee stops him, giving Trace time to drag him down to the mat and lock in an inverted cravate, standing leg grapevine combination that he calls the Demon's Brand: Ultimate Edition! Lynn holds on as long as he can but with no way to reach the ropes or break the hold, and with pain shooting through his knee, he's forced to tap!Christa Adina:
Here is your winner via submission, Trace Deeeemon!
The Supreme Gauntlet 17! logo flashes up again. Yes, another one. Don't worry, just two of these left. This time the footage is of Joe Bishop, splicing his early run in the WFWF with his more recent, impressive return.
"When Joe Bishop entered the WFWF there were those who doubted that he could fulfil his potential. One man who didn't? Trace Demon, the former owner of the WFWF. As part of Demon's Final Revolution Joe Bishop would take part in a war against the so called tyranny of general manager Lila Sleater. Bishop would eventually see the truth behind Trace Demon's 'revolution' and would leave the company, disillusioned with what he saw as the corruption of a sport he so dearly loved. Now he has returned in force, determined to bring a revolution of his own to the company and prove that wrestling can be about more than just greed and corruption. A lot of the fan base have gotten behind him and Bishop has proven to be highly impressive since his return, including a victory over The Future at Superbrawl. Now his revolution rolls into the WFWF's newest tournament, as Joe Bishop becomes the seventh entry into the Supreme Gauntlet 17!"
The footage fades out, transitioning to show Josh Dean, featuring moments of his lengthy career here in the WFWF.
"Josh Dean has been a member of the WFWF on and off for over ten years, initially making his debut in 2006. In that time he has done almost everything there is to do, becoming the fourteenth WFWF Triple Crown champion. However one very glaring black spot on his record is that the title reign that gave him that triple crown, the WFWF World Championship, lasted mere moments after Trace Demon and Drakz screwed him over. Ever since that moment Josh has become even more determined to put a stop to Trace Demon and Drakz, but has been trumped at every single turn. Now, with the WFWF World Championship on the line in the tournament, Dean's been given another shot at taking back the power in the WFWF and, more importantly, making sure that Trace Demon is kept far away from the title he so desperately wants. We are excited to announce Josh Dean as the eighth entrant in the Supreme Gauntlet 17!"
The lights cut out. The arena blackens. A spotlight appears on the stage. And "No Love" by Eminem ft. Lil Wayne hits over the arena speakers. The music plays through before much of anything happens.
Throw dirt on me..
And grow a wild flower.
It's
the world.
And get a child out 'er.
Yeah, my life's a bitch.
But you know nothin' 'bout 'er.
Been to Hell and back.
I could show you vouchers.
I roll in suites.
I'm rollin' sours.
Married to the game.
But she broke her vows.
That's why my bars are full of broken bottles.
And my night stands
Are full of open Bibles
Finally, the man this music belongs to makes his way onto the stage. The crowd is mostly indifferent to the smirking, happy Schneider, a few booing from previous sour feelings. Namely one fan who thought enough to bring a Penny Shannon sign to the event seems particularly bitter towards Schneider as he makes his way to the ring. Schneider slides into the ring under the bottom rope, making his way across the ring to request a microphone from the ring attendant as his music cuts off.Phillip Schneider:
Now now, not everyone welcome me back at once. The talk coming out of Superbrawl isn't Drakz' title win. No, once again, the return of a former star has stolen the show. All everyone can talk about is how a former top star wandered out, absorbed all the spotlight, and has taken the WFWF back as his own.
But you see, you're mistaken. Because when I walked out at the end of the Golden Opportunity match at Superbrawl, it was simply to be the first to congratulate Ante Whitner. I wanted to be the very first person to congratulate him on a big win on the biggest stage of them all. If I had held back at the gorilla position, I risked some hanger on jumping ahead of me in line to wipe the sweat off of Ante's brow and hand him a Coke. But me, I know Ante's more of a Pepsi sort of guy. I knew Ante was going to come out on top before I ever seen anyone walk to the ring. By the time Superbrawl 10 rolls around, is anyone going to remember Leeroy Jenkins? Will Warren Goodwin be a top guy? Is Maxwell Dachs the next big thing? No, it's Ante. Ante is the next.
In the same condescending way as at Superbrawl, Schneider starts a one man slow clap.Phillip Schneider:
You people out there have to realize, I'm not a stupid man. I know who's got potential. I know which flames need to be fanned and I know who needs to be snuffed out. Ante, he's a flame that needs to be fanned. Because he's going to set the world on fire. I see that in him. And I applaud him. That's all it was. I was there to applaud him. So the fantasy bookers out there, shipping me into a feud with Ante, thinking it's going to be Ante versus Schneider.. Think again. My boots are boxed up in storage and I don't feel like scuffing these crisp Nike Jordan 17s. I'm an observer. That's all it is. So from me to you Ante, congratulations. Congratulations on your biiiiiiiig win. Congratulations on being the first holder of the Golden Opportunity. Congratulations on coming out on top at Superbrawl. Congratulations on being the guy to watch here in the WFWF in 2017. I know I'm watching you.
Schneider smirks into the camera, dropping the microphone as "No Love" by Eminem ft. Lil Wayne hits over the P/A system.
For the final time tonight the Supreme Gauntlet 17! logo flashes up on the screen, and the narrator begins as footage showcasing the now-former owner of the WFWF Trace Demon begins playing. It's all rather violent.
"Trace Demon has been a constant presence in the WFWF since his debut ten years ago. Priding himself on having never taken a day off, Trace Demon has proven time and time again that he might just be the most consistent force of nature in the company. From winning two WFWF World Championships to becoming a grand slam winner to becoming the owner of the WFWF, Trace Demon has been at the forefront of the WFWF for years. Now however, after losing in the main event of Superbrawl and having sold the WFWF, Trace Demon's career is in a state of flux. What comes next for the WFWF's resident villain? If it's up to him it's one thing - the WFWF World Heavyweight Championship. His obsession with the title has always been at the forefront of his mind and, with the title on the line in the tournament, you can bet Trace will do everything in his power to win the Supreme Gauntlet 17!"
And then we move on to the tenth entrant however instead of showcasing just one man the footage shows many. The entire rest of the roster in fact.
"The tenth entrant of the 2017 Supreme Gauntlet… is the wild card. On the first show of 2017, the start of the tournament, there will be an open invitational battle royal consisting of any man or woman who wishes to compete. The winner will take the final spot in the Supreme Gauntlet and with it a shot at the WFWF World Heavyweight Championship. Who will win the 2017 Supreme Gauntlet? There's only one way to find out…"
The larger of the two men, Cameron Stone, imposes his will in the early goings of the match but before long Bishop uses his technical wrestling know how to isolate the left arm of Stone. Bishop spends the next few minutes using his speed to avoid all of Stone's attempts at shaking him off, whilst still keeping the focus on his opponent's left arm. Eventually Bishop isn't quick enough though and Cam connects with a big boot that nearly takes Bishop's head off. A quick cover and a kick out lets the world know Bishop is still in this thing though. Stone follows with a series of chops and a number of whips from corner to corner, using his strength and the ring itself against the brit. A spinebuster followed up by a Boston crab now sees Bishop clawing his way across the ring with the big man on his back. Seeing the futility of the situation Bishop manages to instead slip back under Cam's wide frame and hooks Cam's head. Small package attempt! A kick out from Stone. The two go back and forth with Bishop trying to trade strikes with Stone. Stone of course takes the upper hand in this area but Bishop has baited him in. Stone, thinking Bishop is standing prone and groggy, throws a wild swinging shot but Bishop catches the arm, trips the leg and now has Cam centre ring in the Mactabilis Factum (Anaconda Vice). The earlier work to the arm pays off as Stone is forced to tap out after a lengthy struggle.Christa Adina:
Ladies & gentlemen, your winner Jooooooe Bishooooop!
The show (and the year) closes out on the face of a man looking to become the first ever Supreme Gauntlet winner after a stunning victory, putting an exclamation mark on the return of Joe Bishop.