Post by Drakz on Jan 22, 2017 16:37:26 GMT -5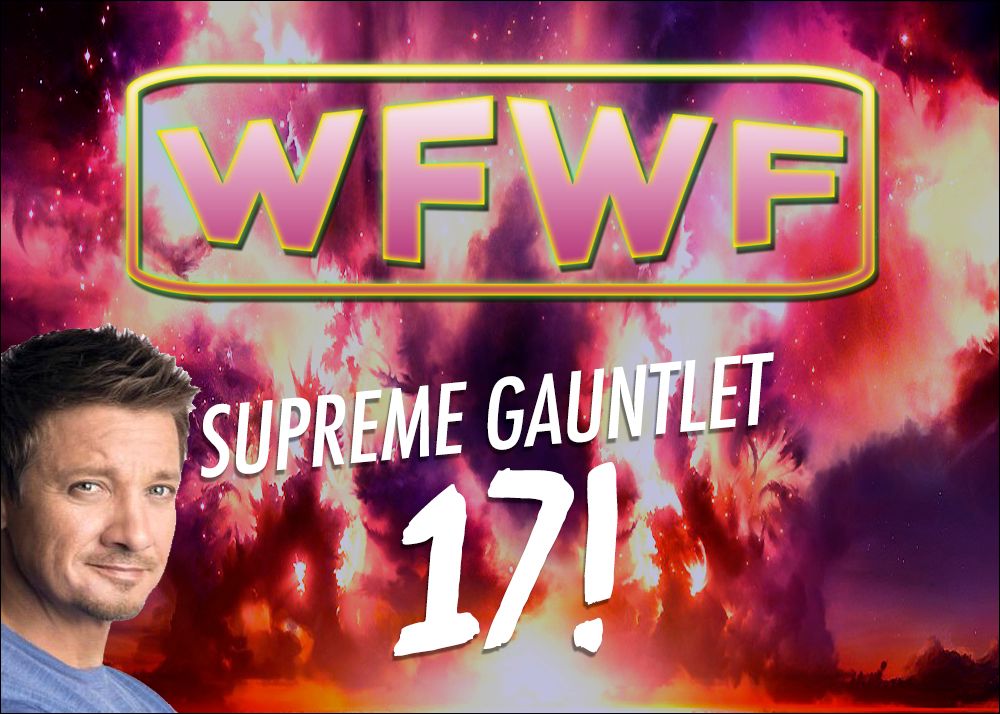 "Supreme Gauntlet 17 - Night 2: The Bourne Supreme-acy!"Featuring Guest Host Jeremy Renner (Matt was busy)
LIVE from The Scottrade Center, St Louis, Missouri!
The Main Event!
Supreme Gauntlet Block B
---------------------------------------------------
Josh Dean
vs.
Ante Whitner
With David Brennan not in action this week Josh Dean has a big opportunity here. Having already disposed of Dex in the opening week of the Supreme Gauntlet Dean has the chance to go two for two and as everyone knows the only guaranteed way of advancing from your group is to get the clean sweep. Standing in his way though is a guy many consider a dark horse in the B block, the current Golden Opportunity champion Ante Whitner. While Whitner sat out the first night of tournament matches he'll have surely been watching cleanly and will look to continue his impressive streak against the veteran Dean. A win here for Whitner would surely see him become one of the favourites and Dean will be looking to make sure that doesn't happen, especially with David Brennan still waiting in the wings for both men.
Supreme Gauntlet Block A
---------------------------------------------------
Joe Bishop
vs.
Austin Hayes
Last week Bishop fought off the spawn of one Samael Ahriman in a contest many were surprised lasted as long as it did. That's no knock on Bishop, and he managed to put Anna away in a clean fashion, showing he's not taking it easy on anyone in this tournament. Hayes was unlucky enough to draw Trace Demon as his initial opponent in the group and, though a valiant attempt was made, he came up short. This week Austin is going to be fighting with all his power to get some points on the board as Bishop looks to take the top spot in the group early on with only his former off again/on again enemy Trace Demon in contention.
Supreme Gauntlet Block B
---------------------------------------------------
Dex
vs.
Frank Lynn
The first night of the Supreme Gauntlet did not end well for either of these men as they remain without points on the board. Frank Lynn fell to one of the favourites in the B block, David Brennan, while Dex fell to the other favourite in Josh Dean. Both will be disappointed to have got off to a losing start but will see this as an opportunity at redemption. While both Dex and Lynn will know that people don't expect them to come out as winners of the B block they'll want to prove the naysayers wrong, but losing your first two matches wouldn't just not do that, but it would also almost certainly eliminate you from the running. That makes this a must win match very early on in the tournament especially when, if Ante Whitner comes out victorious, the loser of this match could end up being the only man without a win in the B block.
Supreme Gauntlet Block A
---------------------------------------------------
Trace Demon
vs.
Hugh Jass
Both of these men were victorious last week, one more deserving than the other though as Hugh Jass fought tooth and claw to secure the final spot in the Supreme Gauntlet 17! Trace was seen to be resting on his laurels, waltzing through to……oh no wait, that's not right? Trace defeated a very game Austin Hayes in his first round match, and The King of Demons is only going to look to continue his momentum, not wanting to fall a step behind the other victor from his group competing tonight, Joe Bishop.
Number One Contender for the Golden Opportunity
---------------------------------------------------
Trevor Wolf
vs.
Brandon Bison
vs.
Vass "The Slayer"
The Golden Opportunity grants its holder a shot at the International Championship whenever they choose (with notice given of course, this isn't some cheap trick opportunity to steal a victory. We'd never introduce something so stupid.) however before doing so the winner of this newly formed accolade must defend it on one occasion. Think of it as the successful defence unlocking the true potential of the G.O. or something dumb like that. Either way we need a challenger for Ante Whitner and tonight these three men get a shot at being the guy to steal it from under his nose and go on to greatness.
Roleplay Deadline: Thursday February 2nd, 2017 at 11:59 PM EST
Promo Deadline: Saturday February 4th, 2017 at 11:59 PM EST