Post by Drakz on Feb 7, 2017 12:49:21 GMT -5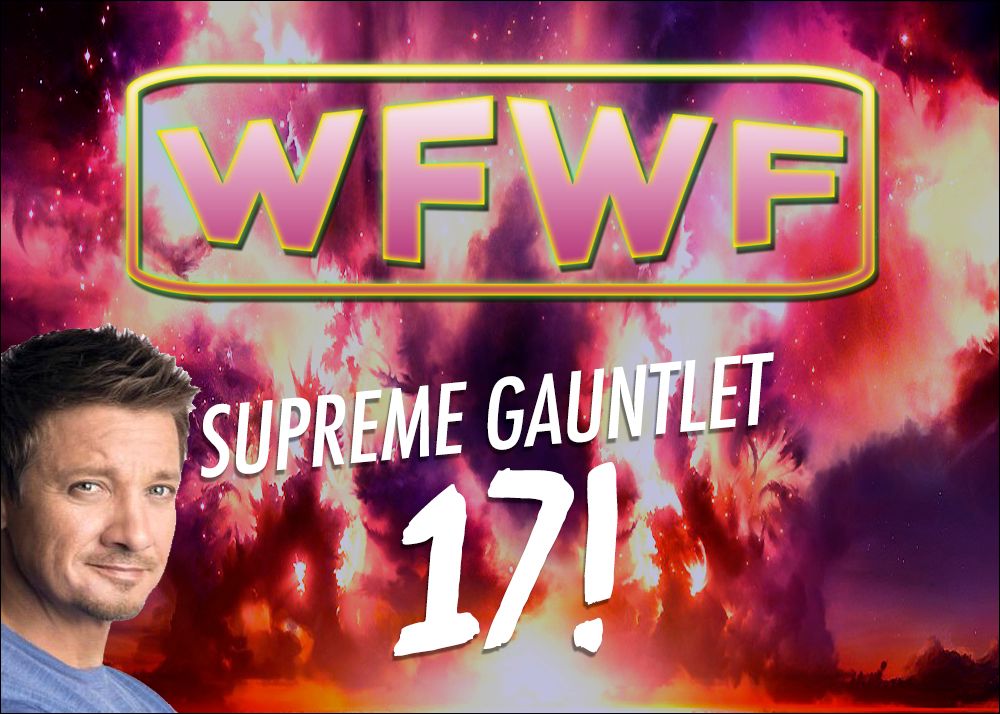 "Supreme Gauntlet 17 - Night 2: The Bourne Supreme-acy!"Featuring Guest Host Jeremy Renner (Matt was busy)
LIVE from The Scottrade Center, St Louis, Missouri!
Tonight's show kicks off in style with a big triple threat match, all three competitors knowing that a victory here would guarantee them the next shot at that all important Golden Opportunity. Though there are no friends in a match like this Brandon Bison quickly finds himself the target of Vass and Wolf, both seeming to decide that taking him out of the running would increase their own chances at earning that title shot. That's easier said than done though, Bison fighting off their punishing, countering a double suplex attempt and taking them both to the ground with a big double clothesline. Bison works over Vass with some big power moves but Wolf comes out of nowhere with a rollup… but only for two. Both men scramble to their feet, Wolf going for the Koji Clutch but Bison fights out of it and hits a big Nothern Lights Suplex! Vass dives in, striking quickly, looks like he's in firm control when… no! Bison sends Vass straight into Wolf, who tumbles out of the ring! Vass turns right into the Bison Bomb!

1…2…3!Christa Adina:
Here is your winner, Brandon Biiiiisoooooon!
Alecia Matthews:
What a way to kick things off tonight! Brandon Bison gets a big win and will get the next shot at the Golden Opportunity!
Daniel Knight:
Whitner's got a lot on his plate at the moment with that defence coming soon, the possibility of an International Championship match if he makes it through, and then of course he's a contender in the Supreme Gauntlet 17!
Alecia Matthews:
Not to mention that maniac Phillip Schneider's taken an unsettling interest in him.
Daniel Knight:
Well up next we have the night's first tournament action as The King of Demons takes on……the King of Ass?
Alecia Matthews:
It's Jass.
Daniel Knight:
Whatever. Wasn't Jeremy Renner supposed to be here tonight?
Alecia Matthews:
Erm.......he may, or may not, have seen our promo material that quite clearly stated he was our second choice. Would you turn up in those circumstances?
Daniel Knight:
If you were paying me. Weren't we paying him?
This is Hugh Jass' first real test inside a WFWF ring and it probably couldn't be against a worse opponent. Demon was clearly chomping at the bit for a chance to show Jass up even before the bell could even ring and when it does he goest straight on the attack with a big running knee that sends Jass crashing into the turnbuckle. Demon doesn't let up, viciously beating on Jass and taunting him the entire time, mocking him for being a 'nobody' and 'not belonging' in the WFWF. Jass refuses to quit though, making it to his feet every single time and trying desperately to fight back. Surprisingly he ducks underneath a clothesline, rebounds and tackles Demon to the mat, unloading with right hands. Jass chases Demon into the corner and begins putting the boots to the veteran much to the delight of the crowd. A big Irish whip sends Trace into the opposite corner and Jass follows up with a leaping clothesline, Demon crumbling to the canvas. Jass sees an unlikely opportunity and the crowd roar as Trace slowly makes it to his feet. With Demon doubled over Jass runs forward, going for the Fameasser… but Trace dodges it, grabs Jass by the throat from behind and drags him to the mat with the modified Guillotine known as Paradise Lost! Jass tries desperately to wriggle free but there's nowhere to go and he's forced to tap out giving Demon his second win in the Supreme Gauntlet.
Christa Adina:
Here is your winner, Trace Demoooon!
Daniel Knight:
That makes Trace Demon the leader of Block A with two wins to his name.
Alecia Matthews:
Don't forget though Joe Bishop could tie things up later on tonight.
"21st Century Schizoid Man" screams through the arena as Frank Lynn appears on the entrance stage. He goes through his usual backflip but then turns and points his arms at the entrance as a hot blonde woman in wrestling gear (red sequined sports bra and booty shorts, knee high red leather boots, long black leather sleeveless coat with a thick black fur collar). Frank takes her arm and the two walk to the ring as King Crimson keeps on playing, very loudly.

Frank holds the ropes for the woman to enter the ring, then follows her in and jumps on the turnbuckles for the crowd. After posing on two of the four corners, he goes over to Christa and gets a microphone.Frank Lynn:
Helloooooo St. Louis!!!
Frank waits for and is rewarded with the home town mention cheap pop.Frank Lynn:
Now before I get down to business tonight tearing Dex a new assh*le, I've got a few things to say, the first of which is to introduce all of you to this lovely lady standing at my side. Her name is Daphne Velasquez and she is my new manager!
Daphne curtsies to the crowd and gets a good reaction, some from fans who know her work in LPW but also some who are pervs yelling for her to show her t*ts. Such a classy crowd!

Daphne leans in towards Frank to speak into the mic.Daphne:
Not even in your dreams!
Frank Lynn:
Careful boys, she can kick your ass! Take this as a warning everybody back there in the locker room. You try any dirty tricks on me, you will have to answer to Daphne.
Daphne:
And I am far more woman than any of you can handle!
Frank Lynn:
Another item that needs addressing is that spectacular crapfest Lila called a number one contender's match for Ante Whitner's Golden Opportunity championship. Brandon Bison? Vass the Slayer? Trevor Wolf??? Really, Trevor waste of time and space f'n Wolf?!?! Even saying that painted freak's name in the same breath as Golden Opportunity makes me want to puke. Isn't he supposed to be dead anyway? Seems like someone wasted a perfectly good funeral. So… Bison, Vass, and Wolf! These are the best Lila can come up with to challenge Ante Whitner?
Frank pauses while Daphne prowls around the ring urging the crowd to react.Frank Lynn:
Is Lila Sleater blind? Stupid? Both? Go watch the SuperBrawl match! Who wasn't in the locker room watching the match? Who didn't need a last minute pre-show battle royal to get into the match? Who brought the God damn fight to Ante all night long? Who was on the ladder across from Ante just a second away from grabbing the briefcase? Who is the only other participant from that match deemed worthy of being in the Supreme Gauntlet? Who? WHO?!?!
Frank pauses while Daphne gets the crowd to start a "Frank Lynn" chant.Frank Lynn:
You got that right! Frank Lynn! Me! Why even bother with a number one contenders match between those wannabes when the obvious choice is standing right here! I deserve a one on one match against Ante Whitner for the Golden Opportunity. Hell, we're already going to face off in the tournament so lets up the ante, Ante! When our match happens, why don't you go all in? Frank Lynn vs Ante Whitner for the Golden Opportunity!!! Or are you afraid that you can't beat me without LeeRoy Jenkins around to save your sorry ass?
Frank tosses the microphone nonchalantly in Christa's direction and stands on the second rope firing up the crowd some more. The "Frank Lynn" chants become louder and louder until Dex's music interrupts them.With the knowledge that a loss would likely knock either man out of Supreme Gauntlet contention both of these men looked focused and ready to get started. Dex and Lynn lock up early on, both of them testing each other out with their technical skills. It's Lynn that strikes an early blow with a big dropkick and the Thunderbird quickly capitalises, lashing out with quick and effective offence that keeps Dex from really building up any steam at all. Lynn's in firm control and rebounds off of the ropes, goes for the Sling Blade but Dex manages to counter, twists Lynn back around and flips him overhead with a belly to belly suplex. Dex takes control, working over the shoulder of Lynn likely trying to set up for the Cattle Mutilation. Lynn's sent back first into the corner and Dex charges in, his boot aimed right for the shoulder… but Lynn ducks underneath, lifts Dex up and drops him face first onto the top turnbuckle. Lynn with the rollup but it's only enough for a two count! Lynn goes up high but Dex scrambles for him, crotching him on the turnbuckle before he can do anything. Dex clambers up after him, looking for a high risk manoeuvre. He hooks Lynn in a front chancery but Lynn drives his fist into Dex's ribs and pushes him from the top rope! Dex hits the canvas hard and Lynn stands atop the rope, leaping off and coming crashing down with the Five Star Frog Splash!

1…2…3!Christa Adina:
Here is your winner, Frank Lynnnnn!
Alecia Matthews:
Frank Lynn pulls off a huge win and puts himself right back in the running here in the Supreme Gauntlet!
Daniel Knight:
It's a good job really. He'd of looked like a total moron after that speech if he went and lost to Dex right afterward.
Alecia Matthews:
Up next we get to see if Joe Bishop can go 2 - 0 against the newcomer Austin Hayes.
Daniel Knight:
No problem. This kid's not gonna last.
Alecia Matthews:
Daniel what's your problem?
Hayes starts out tentatively with a series of leg kicks but Bishop checks them all until the 5th one, which he just catches, spins and drops Hayes to his front in an ankle lock. Hayes manages to get his free leg back under himself and rolls forward forcing Bishop over his head, breaking the grip. Bishop stops short of the ropes as Hayes kips up. Bishop turns around and uses his momentum to deliver a knife edge chop that blows the front row's hair back. Hayes eyes are wide as Bishop shakes his hand off before delivering another that backs him into the ropes. A third chop and then Bishop whips Hayes across the ring and runs after him, catching him just on the rebound with a running boot.

Bishop continues in this fashion with Hayes just managing to escape each submission attempt. Finally Hayes has created some room for himself after a running front drop kick knocks Bishop loopy. He stalks Bishop and then throws the FALCON PAAANCH but Bishop slips the shot, catches the arm and wrestles Hayes down to the ground, locking in Mactabilis Factum (Anaconda Vice) and Hayes is forced to tap out.
Christa Adina:
Here is your winner Joe Bishoooop!
Daniel Knight:
Told you.
Alecia Matthews:
I don't think we can write the kid off that quickly Daniel. So far he's been in there with Trace Demon and now a super focused version of Joe Bishop. I think anyone would struggle in there against those odds!
Daniel Knight:
Some people just weren't made for this sport Alecia.
Alecia Matthews:
Well folks it's time for our main event!
Daniel Knight:
Block B is finishing off the night in style as we see a battle of the Franchises. Ante Whitner, The current, and first ever, Golden Opportunity holder takes on Joshua Dean.
Josh tries for the early advantage, keeping Ante grounded but before long Whitner has started to change the pace, picking up momentum and throwing Dean into the ropes. The two collide centre ring but neither man goes down. They both hit the ropes and a pair of shoulder tackles still leaves both men standing. They run a third time and as Josh tries to baseball slide Whitner's legs Ante steps over him and delivers a huge running knee to the face. Whitner goes for the early pin fall but Josh kicks out on 2.

Ante takes control for the next 5 minutes delivering hard strikes and a variety of backbreakers before locking in a camel clutch. Dean struggles and manages to pull himself across the ring to the ropes. Whitner maintains control until, out of desperation, Josh catches a running Ante with the Nail in the Coffin (Falcon Arrow) before rolling under the bottom rope. By the time Ante recovers the ref is already on a count of 5. Whitner doesn't bother going after Dean and instead waits centre ring beckoning his opponent back in. Eventually on the count of 18 Dean rolls back in, having caught some of his breath, but Whitner is a force tonight and stomps Dean into the mat. Dean rolls back out.

Ante doesn't wait this time and hits a topé suicida that drives Dean over the guard wall. Ante still on his feet climbs over the wall, grabs Dean up by his hair and then with a sickening thud drives Dean neck first into the guard wall with a tiger suplex! The crowd begins to chant "Holy Sh*t!" as Ante smiles and hops back over the guard wall. The referee's count is at 12 as he slides into the ring and sits himself cross legged in the centre of the ring. Josh Dean still hasn't moved as the ref reaches 18. Josh finally pulls himself upright but can only slump onto the guard wall as the ref counts 20!
Christa Adina:
Here is your winner by count out, Ante Whitner!
Ante taps his temple with his index finger as he rises to his feet.
Alecia Matthews:
My goodness! That was insane!
Daniel Knight:
Ante knows he has to compete at a high level every week in this tourney, so why not save your energy and take a count out victory. A smart move if you ask me. A win is a win in this tourney. He gets the points on the board in his first match where as Josh falls to 1 and 1.
The show closes with Ante stood on the 2nd rope looking down at the hurting Josh Dean, still slumped on the guard rail, clutching the back of his neck. The ring side officials move over to him and it quickly becomes clear he's badly hurt.Alecia Matthews:
The medical team are rushing over to Josh, damn I hope he's okay?!
Daniel Knight:
We're out of time folks, we'll give you any updates on Joshua Dean's condition via the WFWF.COM website.
Medics begin to attend to Dean but he tries to wave them off, only to slip backward off of the wall and flat out onto his back amongst the fans. Whitner shakes his head and waves the situation off as he moves to the opposite turnbuckle to celebrate.