Post by Drakz on Feb 8, 2017 17:04:40 GMT -5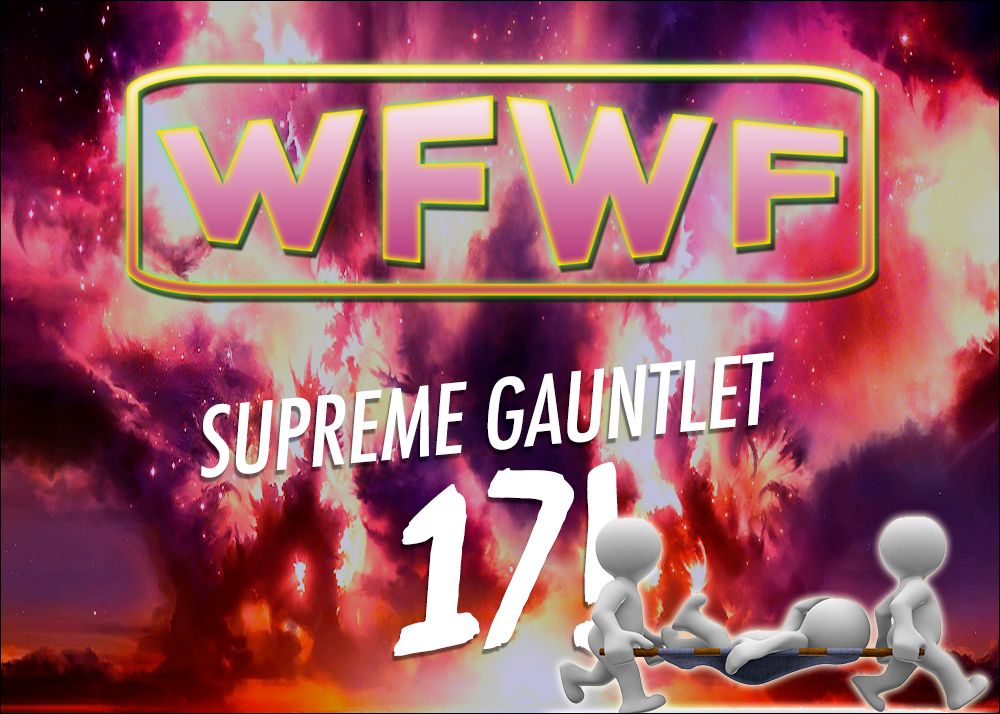 "Supreme Gauntlet 17 - Night 3: So Supreme it Hurts!"
LIVE from The American Airlines Center, Dallas, Texas!
The Main Event!
Supreme Gauntlet Block B - Golden Opportunity!
---------------------------------------------------
Ante Whitner
vs.
Frank Lynn
Well, well, well. Be careful what you wish for Mr Lynn. Last show Frank called out Ante Whitner, demanding a shot at his Golden Opportunity, however it is Brandon Bison who earned that right. Bison is still entitled to his shot but the office of Lila Sleater has decided, as penance for his putting Joshua Dean on the shelf, that Ante will be defending his Golden Opportunity within the confines of the Supreme Gauntlet 17! as well. Not only that, but both men have 1 point to their name so far, and with only David Brennan in the running for a second point this go around, a victory here could put either one of them at the top of the Block B. Someone has to go away empty handed though, and you have to wonder has Lynn antagonised the longest reigning National Champion in history with those aforementioned words? It's going to be damn physical, and there's a lot on the line for both of these men!
Supreme Gauntlet Block A
---------------------------------------------------
Joe Bishop
vs.
Hugh Jass
Bishop has made his opinion of one Hugh Jass very clear. "Stop making a mockery of my sport." With not just his perceived integrity of wrestling on the line, Bishop has the chance to become the highest ranked contender in the entire tourney if he manages to pick up a win here. Jass on the other hand has the opportunity to silence his doubters and not only get on the board, but do it in a huge way by pulling the carpet out from the hyper focused Brit.
Supreme Gauntlet Block B

---------------------------------------------------
David Brennan
vs.
Dex
There's still everything to fight for in Group B, with a four-way tie at the top of the group with one win a piece. The only man without a win after show two? Dex. That means that a loss to David Brennan would statistically eliminate any possibility of him winning the Supreme Gauntlet and halt any chance of him proving the doubters wrong. All in all it'd be a hell of a lot better for him if his opponent wasn't the undoubted frontrunner now that Josh Dean has been taken out with an injury at the hands of Ante Whitner. David Brennan has been unstoppable in recent months, first claiming the WFWF Tag Team Championship, then the WFWF International Championship and now entering his second Golden Opportunity match with every opportunity to eliminate Dex from contention. Brennan has everything to win here while Dex has everything to lose, making this one of the most intriguing matches of the tournament so far.
Supreme Gauntlet Block A
---------------------------------------------------
Anna Ahriman
vs.
Austin Hayes
After two shows in the Supreme Gauntlet Trace Demon and Joe Bishop have firmly locked down the top of Group A with two wins a piece, while the rest of the field have yet to pick up a single point. That means this match is do or die for both Ahriman or Hayes. A loss for either would statistically eliminate them from qualifying for the final match of the tournament. Things are even more dire for Austin Hayes as even if he wins he could still find himself unable to qualify if Joe Bishop comes out victorious against Hugh Jass. This match will also be a proving ground for the two newcomers to the WFWF as Hayes seeks to prove that he belongs in the big leagues while Anna Ahriman looks to show everybody that she is more than just the daughter of Samael Ahriman. There's a lot on the line here, the only questions are which of these have more heart, and which will become a footnote to history?
Watching the Gate
---------------------------------------------------
Brandon Bison
vs.
Tyson Watts
Last week Brandon Bison fought his way into Ante Whitner's mandatory Golden Opportunity defence in stunning fashion. This week he has the chance to show it was no fluke by testing the mettle of newcomer Tyson Watts. Can Tyson make a name for himself in his debut match? Or will Bison simply gain more momentum as he heads toward his own Golden Opportunity?
Roleplay Deadline: Saturday February 18th, 2017 at 11:59 PM EST
Promo Deadline: Monday February 20th, 2017 at 11:59 PM EST