Post by Rated R on Feb 24, 2017 17:48:24 GMT -5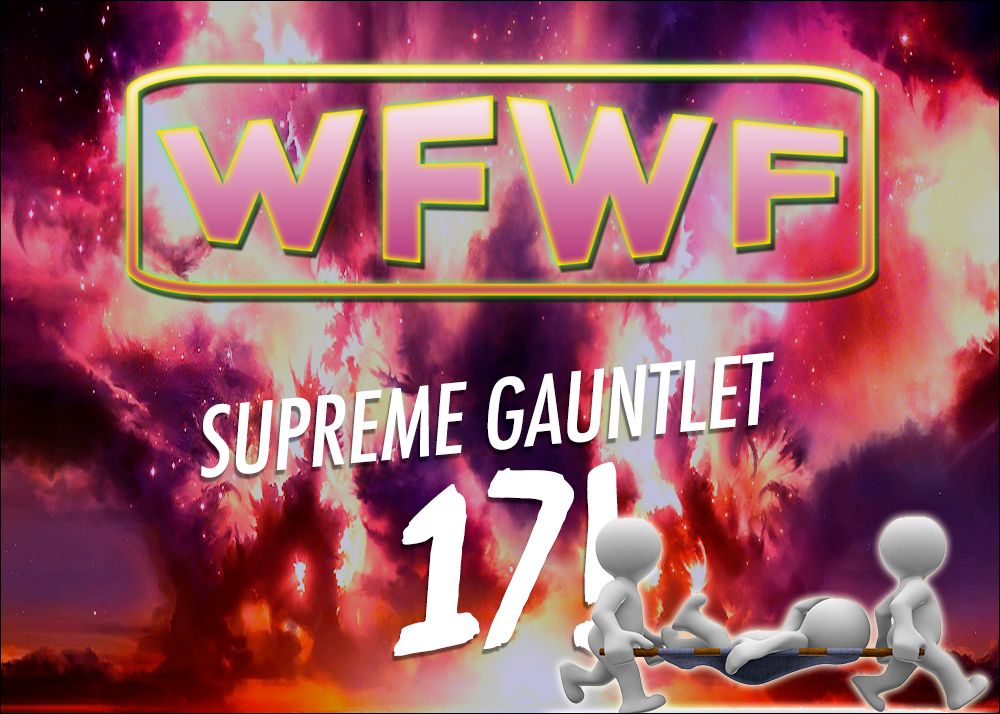 "Supreme Gauntlet 17 - Night 3: So Supreme it Hurts!"
LIVE from The American Airlines Center, Dallas, Texas!
We've got a cool opening video. We've got fireworks. We've got an awesome panning shot. Let's be honest, it's the usual opening. Let's just get over it and get on with the show.Alecia Matthews:
WFWF Multiverse, welcome to the third night of the Supreme Gauntlet! Tonight we will inch closer to finding out exactly who will be in the finals of the tournament.
Daniel Knight:
But before all that we have the debut of one Tyson Watts, as he tests his mettle against the current number one contender to the Golden Opportunity of Ante Whitner's.
Alecia Matthews:
Or maybe Frank Lynn's once the night is out!
Daniel Knight:
You have to believe both men will be watching this match very closely backstage.
Both men start out tentatively with Watts trying to pick a leg, but Bison manages to keep away from him until Watts fakes and then guns for a waistlock. He drops Bison forwards and then starts to go to work in stretching out his opponent on the mat. Bison is able to get to the ropes and ref breaks the hold. Watts continues to try and keep Bison grounded and the following minutes are a game of cat and mouse until Bison is able to get some momentum running the ropes and hits a jumping leg lariat that gives him an opening. Bison follows with a release northern lights suplex, a belly to belly and then a guillotine slingshot that leaves Tyson gasping for air. He makes a cover but Watts kicks out at 2. Bison tries for a standing vertical suplex but is quickly reversed into a snap brainbuster that leaves both men floored. The crowd begin to clap, rallying both men up to their feet. They begin to exchange blows, back and forth, until Watts kicks Bison in the gut and goes for 5000 Watts (powerbomb lungblower) but Bison leapfrogs Watts' head, rolls down his back and hits a sunsetflip bomb which he holds for the cover. Tyson again kicks out on 2!


The crowd are eating it up.


Bison hoists Watts to his feet then signals for the end, flipping Watts into the air and hitting his own version of the powerbomb lungblower, The Bison Bomb! He covers.


… 1 …


… 2 …


… 3!Christa Adina:
Here is your winner, Brandoooon Bisoooooon!
Alecia Matthews:
A great display from two young guns in the business. Watts really showed he can hang in the WFWF, putting on a great display even in defeat.
Brandon Bison is up on the 2nd turnbuckle celebrating his victory as an unknown man in a ski mask jumps the guard wall behind him. The anonymous man slides into the ring and waits for Bison who climbs down from his pose right into a superkick!Alecia Matthews:
What the hell is this!?
Daniel Knight:
I think you mean WHO?!
The masked man stands over the fallen Bison before walking to face the hard cam and pulling off his mask.Alecia Matthews:
It's THE THUDERBIRD! MIKE JETTE!
Daniel Knight:
But why?!
Jette stalks Bison as he regains his marbles. Bison uses the ropes to pull himself to a standing base only to be blasted by a second superkick that sends him spilling through the ropes to the outside.Alecia Matthews:
For God sake, Brandon Bison has just been through a gruelling match. He can't defend himself against a sneak attack!
Jette laughs to himself before falling to his back, rolling under the bottom rope and then hopping back into the crowd and disappearing as the ringside officials check on Bison who looks dazed but pissed off!Alecia Matthews:
A stunning return to action by Mike Jette, who hasn't been seen in months due to an injury!
Daniel Knight:
We've got no time to slow down though, it's time for the first Supreme Gauntlet match of the night!
Alecia Matthews:
It's do or die for both Austin Hayes and Anna Ahriman. A win would leave them with an outside chance of making the finals, a loss would make that impossible.
Ahriman and Hayes seem respectful of each other before the bell rung, but that doesn't last long as both of them know that this is a must win match. Anna attempts to keep out of Hayes reach for the most part, using hit and run offence to try and wear him down, but she doesn't count on the fact that he's just as quick as her. He counters a kick and swiftly sweeps the legs, leaping up and driving both boots down into the chest of the smaller girl. Hayes finds himself in the usual position of having a clear weight advantage and uses it to his advantage, working over Ahriman, who manages to take a breather by dodging a dropkick and rolling to the outside. She's barely there a few seconds before Austin Hayes is leaping up and over the top rope and crashing down onto her with a big suicide dive! Anna's hurt and Hayes looks to capitalise but he takes a little bit too long getting her back in the ring and only manages a two count. Hayes drags Anna to the corner, lifting her up onto the top turnbuckle and then climbing up after her, slowly standing up in front of the seated Anna. He leaps up, going for a top rope hurricanrana… but Anna has gripped the ropes and manages to keep hold of them, the Shooting Star crashing down into a heap below. Anna takes a moment to recover, waiting for Hayes to rise and when he does flying off of the top rope and driving her knee into the lower back with the Tramp Stamp! She drags Hayes to the corner and leaps up, flipping over, aiming for the Drag but Hayes manages to roll towards the turnbuckle. Somehow though Anna rights herself, landing awkwardly on her feet and as Hayes pulls himself up he turns straight into the Triple A! Hayes is out cold, making him easy pickings for the three count as Anna Ahriman picks up a huge victory.Christa Adina:
Here is your winner, Anna Ahriman!
Alecia Matthews:
Anna Ahriman gets her first win not just in the Supreme Gauntlet but in the WFWF!
Daniel Knight:
A massive moment for the second generation competitor. She'll still need a bit of luck to qualify though, or rather, a whole load of it. She needs Hugh Jass to beat Joe Bishop tonight.
Alecia Matthews:
Stranger things have happened.
Daniel Knight:
No, they really haven't.
Alecia Matthews:
Up next we have the man currently at the bottom of Block B taking on the man at the other end. David Brennan tries to break the tie at the top as he takes on Dex.
The bell rings and Brennan is out with a vengeance. He throws a hue lariat to start proceedings that knocks Dex for a loop. Not wasting any time at all he drags Dex back up to his feet, his eyes rolling in his head, gets the underhooks and then drops him with the Charles River Plunge (Double Underhook Sit-out Powerbomb). He holds for the cover.


… 1 …


… 2 …


Brennan is already pushing Dex's legs off of his own shoulders, knowing this is over.


… 3!Christa Adina:
Here is your winner, David Brennaaaaaan!
Daniel Knight:
Did you just see that?
Alecia Matthews:
My God! That's the quickest match of the tourney by a long, long way. The International Champion stamping his timecard and getting ready to head home.
Daniel Knight:
Well with Brennan getting a by from his upcoming match with Dean, he only has Whitner left in Block B. You have to believe a decisive victory like that has just played untold mind games with the man main eventing tonight's show!
Brennan looks down on the fallen Dex and spits on his back before shaking his head and stepping out of the ring.Daniel Knight:
Brennan not impressed with Dex it seems, and to be honest who can blame him?
Alecia Matthews:
It's one thing to not be impressed with the fight he just got, it's another to spit on a man when he's down. Once again David Brennan fails to impress me.
Daniel Knight:
To impress you? Did we just watch the same match? Well now let's go to the locker room for an interview with Frank Lynn, who will face Ante Whitner in the main event tonight in a Supreme Gauntlet match that is also for Whitner's Golden Opportunity Championship.
Alecia Matthews:
It's a huge night for Frank. He should have some interesting things to say going into the match.
A WFWF interviewer is standing outside Frank Lynn's locker room, the muffled sounds of an argument just barely audible. The interviewer knocks on the closed door. It opens a few inches and Frank's manager, Daphne Velasquez peaks out.Interviewer:
Excuse me. Is Frank in there? Can we talk to him?
Daphne:
No. Frank is preparing for his match with Ante Whitner. Ask me any questions and I'll answer for him.
Interviewer:
Okay. Why won't Frank speak to us?
Daphne:
No comment.
Interviewer:
What does Frank intend to do tonight? Is he out to hurt Ante?
Daphne:
No comment.
Interviewer:
So all the things Frank said about this being a war and bringing hell with him, were they true or not?
Daphne:
No comment.
Interviewer:
Do you have anything to say other than "no comment"?
Daphne:
No comment.
Daphne slams the door in the interviewers face but it bounces back open a few inches. Daphne's voice can be heard through the slight opening.Daphne:
Listen to me Frank. I know what you want to do to Ante. I'm just as pissed as you are about Josh getting injured and wouldn't mind breaking Ante's neck too but I won't let you do it. It would be career suicide. Just go out there and beat him. Take his title, his chance to win the Supreme Gauntlet, and leave him with nothing. That is punishment enough for what he did. Don't stoop to his level. Don't hurt him.
Daphne sees that the door is open and quickly closes it, making sure it clicks shut this time. Her muffled voice can still be heard but her words can't be understood. The interviewer turns to the camera.Interviewer:
Well at least we got something. Back to Daniel and Alecia.
Daniel Knight:
Well now we have perhaps the most puzzling match up of the tourney so far. Joe Bishop, the wrestler's wrestler, takes on a man who I have to say I had no respect for until our recent interview. Hugh Jass, has made it known that he's more than just a stupid…..just rock stupid…..name, and tonight he has the chance to prove that.
The match starts with Bishop glaring across the ring at Jass but also not rushing in, clearly aware that being caught out would be a far bigger embarrassment than he already perceives this match to be. Jass, smiling, calls for a test of strength but Bishop doesn't break his stare. Jass again calls for a test of strength but this time Bishop dashes forward, slipping behind his opponent and hitting a snap german suplex. He maintains the waistlock and and then transitions 180 so he has control of Jass' head. Bishop tries to get in a front facelock but Jass manages to slip out and scrambles backward across the ring. Bishop follows right up with a basement dropkick to Jass' shoulder. Bishop goes after the arm of Jass for the next few minutes with Jass trying his best to escape each time. Jass eventually gets some distance between he and Bishop with a step up enziguri and a roll under the bottom rope. Bishop moves to grab him from the apron but Hugh blocks his forearm and hits another enziguri sending Bishop staggering back. Jass hits a springboard missile dropkick and then dives onto Bishop, scooping his legs up over his own shoulders, running forward on the spot to try and keep Bishop down.


… 1 …


… 2 …


Kickout! Bishop kicks out hard and then rolls out of the ring himself. He shakes the cobwebs out and curses himself for allowing such a close near fall. Jass comes flying through the ropes! Topé suicida! Bishop is forced back first into the guard wall and Jass gets straight back into the ring, runs the ropes and then hits a second topé! Hugh is fired up and he gets in the ring a third time, runs the ropes and topés again! Bishop dives out of the way though and Jass goes straight into the wall himself. He's hung out over the wall and Bishop grabs him around the waist and german suplexes Jass against the edge of the ring! He rolls Jass back into the ring, climbs the turnbuckle and then hits Decido Spiritus (450 Splash).


… 1 …


… 2 …


… 3!Christa Adina:
Here is your winner, Joe Bishooooop!
Alecia Matthews:
What a performance by Jass!
Hugh Jass is slumped in the corner, leaning against the bottom turnbuckle and Bishop reaches down, offering his hand to him. Jass looks up at the man who just felled him and accepting the hand is pulled to his feet. Bishop then shakes his hand, pulls away and gives him a single pat on the shoulder before turning and exiting the ring.Daniel Knight:
Man, that was a classy move from Joe Bishop right there.
Alecia Matthews:
It seems Hugh hasn't just impressed the audience tonight. His biggest critic just seemed to offer him up a show of respect… woah, wait a minute, do you see what I see?
Joe Bishop sees it. He's paused at the bottom of the ramp, glaring up at the stage at where Trace Demon now stands, clapping slowly.Daniel Knight:
Trace Demon and Joe Bishop have been on a collision course since this tournament began. They're scheduled to face off on the final night, but could we be about to see a preview?
Joe Bishop hasn't budged, not sure what to do, whether to run straight for Demon or to see what happens. Trace makes the decision for him, turning his back on Bishop and heading through the curtain. The crowd boo loudly but Bishop's barely listening, his eyes still trained on the spot where the King of Demons stood moments ago.Alecia Matthews:
Trace Demon playing mind games with Joe Bishop. We now know that whoever wins that match on the final night of the tournament between the two will advance to the final, regardless of what happens between Demon and Ahriman next week.
Daniel Knight:
Well from the tease of one big match we move onto a big match taking place right now! Not only will this be a Supreme Gauntlet match, it'll also be for the Golden Opportunity!
Alecia Matthews:
Frank Lynn's more than a little salty that he's not the one holding that briefcase, can he tear it away from Whitner here tonight?
Whitner and Lynn square up to each other before the bell, Whitner grinning as he offers a handshake to Lynn. The usually sportsmanlike Thunderbird slaps the hand away however, telling Whitner that "this one's for Josh" making it doubly clear that this is a lot more personal than what's down on paper. The bell rings and things are no more hospitable as Lynn quickly tackles Whitner to the ground and begins unloading with strikes, more interested in fighting than wrestling. Whitner manages to escape to the outside but Lynn follows him out, throwing him full force into the steel ring steps. Lynn is all over a stunned Whitner, throwing him around the outside of the ring, into the steps, into the barricade, a suplex onto the ring apron. Back into the ring where Lynn goes for the cover… but only two. Lynn goes on the attack again but Whitner catches him with a sly boot, followed by a big European uppercut. Whitner's on the offensive, repeated headbutts knock Lynn loopy and leaves him wide open for a big backbreaker! But only for a two count! Whitner attempts to lock in Bloody Yonkers but Lynn uses his amateur wrestling skills and finds a way out of it! Both scramble to their feet but Lynn's a split second faster, catching Whitner with a big dropkick! Backstabber by Lynn! The Thunderbird goes up top, looking to finish this with the Five Star Frog Splash. He soars through the air… but Whitner rolls out of the way, Lynn crashing to the canvas! Whitner rolls him up into the Bloody Yonkers for the second time! This time round Lynn's unable to wrestle free or reach the ropes, he holds on as long as he can but eventually, with no other option, he's forced to tap out!Christa Adina:
Here is your winner and still the holder of the WFWF Golden Opportunity, Ante Whitner!
Alecia Matthews:
A massive victory for Ante Whitner, who not only retains his title but gets a huge victory in the tournament.
Daniel Knight:
The final night of regular tournament action is setting itself up to be huge, but we've still got one more show before we get there and as we all know, anything can happen in the WFWF!