Post by Hulkster2001 on Apr 9, 2017 9:49:56 GMT -5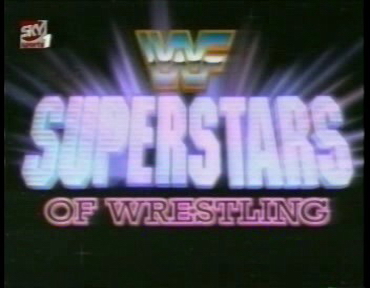 WWF Superstars Of Wrestling
January 11, 1992
Frank Erwin Center, Austin, Texas
Hosts: Vince McMahon and Mr. Perfect

Vince:
Welcome everyone to WWF Superstars Of Wrestling! I'm Vince McMahon and in the place of Bobby The Brain Heenan, Mr. Perfect!
Perfect:
Yes ladies and gentlemen it is I, the most Perfect man in the world Mr. Perfect!
But you know what wasn't Perfect?
Vince:
What?
Perfect:
The fact that Hulk Hogan had Ric Flair stripped of the WWF Title!
Vince:
Oh no, not you too!
Perfect:
Yes me too! Bobby was right! And the fact that Hogan had The Undertaker attack him for speaking the truth makes me sick!
Vince:
Well thankfully WWF President Jack Tunney has something to say about Heenan's conspiracy.
---
Jack Tunney announcement:

It has come to my attention that WWF employee Bobby Heenan claims that my decision of stripping Ric Flair of the WWF title had WWF Superstar Hulk Hogan involved. The truth is, Hogan had nothing to due with this decision. I solely decided to strip Flair of the title and it had nothing to due with an alleged Hulk Hogan influence. I haven't met with the Hulkster since November of last year. However since Bobby Heenan claims I wasn't fair to flair, I've decided to make Ric Flair the 25th entrant in the Royal Rumble.
---
Vince: I'm sure Bobby Heenan and Ric Flair are jumping for joy.
The United Nations (Hacksaw Jim Duggin and The British Bulldog) def. Barry Horowitz & Jesse Hernandez
I.R.S. (w/ Ted DiBiase) def. Robert Taylor
El Matador def. Brian Donahue

---
Sid Justice v. Shawn Michaels:

Sid Justice is ready to set up Shawn for the Piledriver and then... The arena goes dark as the crowd goes crazy.
Vince:
It's The Undertaker!!
Perfect:
What do you mean?! I can't see a thing!
Vince:
Exactly!!!
The lights come back on as Sid laughs thinking Taker wasn't there until he turned around.
Vince:
The Undertaker isn't laughing!! Now he's setting up for the Tombstone Piledriver!!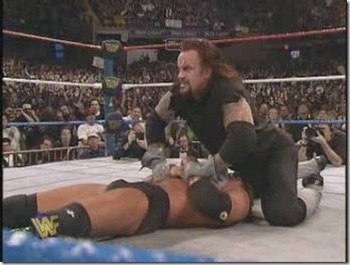 The lights go out again and come back as Shawn picks himself up and sets Sid for Sweet Chin Music.
Perfect:
Sid better stay down or he'll be knocked into next week!
Shawn
delivers Sweet Chin Music to Sid and pins him for 3
.
Winner: Shawn Michaels