Post by Hulkster2001 on Aug 16, 2017 18:03:58 GMT -5
WWF Wrestling Challenge
March 22, 1992
West Palm Beach Auditorium, West Palm Beach, Florida
Hosts: Gorilla Monsoon and Bobby "The Brain" Heenan

Gorilla:
Welcome everyone to Wrestling Challenge! I'm Gorilla Monsoon and with m- Heenan why are you laughing?
Heenan:
Oh you'll see why. Ha ha ha!
Gorilla:
Okay....Well anyways, tonight we'll see Hulk Hogan in his next trial!! Against a mystery opponent which is why Heenan's laughing. Oh boy.
The British Bulldog def. Bill Badd
Papa Shango def. Danny Kamo
The Big Boss Man def. Lee Armstrong
Bret Hart def. Dale Wolfe

---
Sid Justice (w/ Harvey Wippleman) def.
Dennis Bunt:

Sid destroyed Dennis Bunt in record time, he smiles until a gong is heard. Once again The Undertaker and Sid start brawling until WWF officials pull them apart. Then WWF President Jack Tunney makes his way out to the ring and gets a microphone from Finkel.
Tunney:
Alright! This issue between you too have to stop! It seems after every match you too have you attacked each other! If one of you attack each other before Wrestlemania VIII your match will be canceled and you will be fired! (Talking to Sid)
Heenan:
Oh come on Tunney! I wanna see them get it on!!
Gorilla:
I rather watch them get it on at Wrestlemania VIII.
Heenan:
Oh whatever! Let's just get to Ric Flair's announcement of Hogan's next trial!
---
Trial 9: Hulk Hogan v. ? (w/ Ric Flair)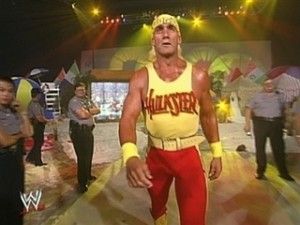 We cut back to the ring after a commercial break where Heenan is asking where Flair is until Real American plays. Hogan makes way to the ring notably upset with Flair's absence.
Hogan:
Come on Flair! Where are you? Are you scared? I'm ready for the next "trial"! Well?
the fans start chanting Hogan which gives Hogan a smile
Hogan:
Well I guess our WWF Champion has ran out of trials for-
WOOO!!
Flair:
Ran out?! You think your finished?! Ha! You wish you were after this next one. Because you will be facing your best friend!!
Both the crowd, Heenan, Gorilla, and Hogan are shocked.
Flair:
Yeah that's right. So enjoy losing another friend Hogan! Wooo!!
Brutus makes his way to the ring and the bell starts off the match, but Hogan just looks at Beefcake mouthing "You too Brutus?" Brutus keeps looking down to the mat until Hogan tries to get him to look up then he strikes. Flair laughs as Hogan just lets his former friend attack him while he just keeps saying "Why?" Brutus irishwipes Hogan and clotheslines him and pins him only for a one count while Flair yells at him. Hogan lets Brutus beat him up until the fans start chanting "HOGAN! HOGAN! HOGAN!" Hearing his little Hulksters cries for their hero to rise up, he does so and starts beating the crap out of Beefcake and delivers, not one, not two, but three atomic leg drops on Beefcake
and finally pins him for the 1, 2, 3.

Winner:Hulk Hogan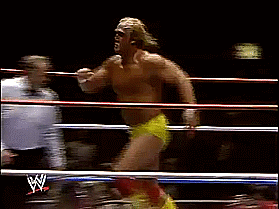 However Hogan's not done yet, he quickly slides out of the ring and clotheslines Ric Flair! And then he starts beating the crap out of Flair too!
Wrestling Challenge ends off with WWF Officials pulling the two apart.