Post by Rated R on May 25, 2017 6:56:16 GMT -5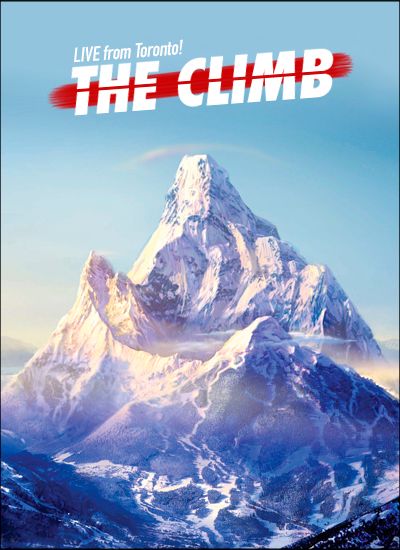 LIVE from The Air Canada Centre, Toronto, Ontario, Canada!
Fireworks and all that jazz. Camera pans the arena and its rowdy Canadian capacity crowd.Alecia Matthews:
Ladies and gentlemen welcome to the first stop on our Canadian tour, and welcome to The Climb!
Daniel Knight:
We're a little short on the ground for matches this week but we're more than making up for it with one hell of a main event.
Alecia Matthews:
That's right Daniel, we're getting Bishop/Brennan 2 with a side dish of Trace Demon and a tall glass of Frank Lynn.
Daniel Knight:
For f*ck sake.
"Mirai Nikki" by PelleK hits the PA system, and the fans are confused regarding the operatic opening to the song, unsure of who is coming out.

"Juno, Jupiter, Minerva, Apollo, Mars, Ceres, Mercury, Diana, Bacchus, Vulcan, Pluto, Vesta, Venus."

These names flash across the screen as they're sung.

"It's a fantasy program bestowed by the gods. ONE TWO THREE! I SHALL BECOME ONE! ONE TWO THREE! I SHALL EVADE DEATH!"

The name Ahriman follows the Olympian Gods, and the crowd pops out of their seats!Christa Adina:
Everyone please welcome ANNA AHRIMAN!
Anna rises from beneath the stage, smoke flooding her area. In one hand, a microphone. In the other, she has a kendo stick. She bats away the smoke and tucks the kendo stick onto a holster on her back. She raises her arms in the air and bolts for the ring, sliding in on her belly and nails a reverse kip up. She kicks the air, excited to be back in the ring. The fans are just as excited to see her. She raises her arm, requesting silence.Anna Ahriman:
What up, Toronto?
Cheap pop brought to you by RC.Anna Ahriman:
Right, so I've got some sh*t I need to get off of my chest. So convienes Anna's first, and last, meeting of the itty bitty ti….well y'all get the joke. What if I said I had a bone to pick? Nah, still dirty. I know my dad's watching. Sup, old man?
Anna waves at the camera.Anna Ahriman:
Right, so needless to say…sh*t didn't quite go according to plan during the Supreme Gauntlet, wouldn't ya say? Simply stating that I took an ass whoopin' is an understatement. Trace Demon was tryin' his damndest to put me six feet under. So I've got a message for you, Mr. Demon. One I think you'll eventually bite on when the time is right.
Anna backs away from the camera and crotch chops, the fans losing it.Anna Ahriman:
That was your OFFICIAL invitation to try harder next time, because this bitch's still standing, and I'm THIRSTING for an eraser game against you, you f*ck. A survival game of annihilation…I can't wait.
The fans are practically foaming at the mouth with her.Anna Ahriman:
But that has to be put on the back burner just for a sec, because I've got a bigger bone to pick. And that bone is with the man who has his name on the WFWF Championship, Joe Bishop. Congratulations Joe, you hit the jackpot. You won the bracket with a rookie, a guy who quit, a guy who can never quite get the job done and a guy named Hugh Jass. Quite the run to the championship, big guy. Are you proud? You've achieved something only Dex before you has…successfully being handed a WFWF Championship from the hands of a near-dead man forced to relinquish and claimed loud and proud that you're THE guy. News flash, Redcoat. That is NOT how you become THE guy. Ask THE guys before you. Drakz. Shawn Malakai. Trace Demon. Phillip Schneider. EBR. Thunder. F*g that tried to kill my dad…twice. All of these men have one thing in common. Hell, even Scarlett. They all have more balls than you. And that's REALLY saying something, me admitting Trace and Kyzer have a set between the legs.
The crowd is unsure how to respond. Half agree, half disagree. Loud reaction for Anna, but heavily mixed.Anna Ahriman:
Ah, so I've got all of your attention now. Goodie. Now to keep it longer than a Josh Dean title reign…
NOW come the flurry of boos.Alecia Matthews:
What the f*ck is she doing in there?!
Daniel Knight:
I believe the proper wrestling term is "heel turn."
Anna Ahriman:
Joe, you won the gauntlet. You beat Brennan. That's the only thing of note in my book, my friend. You beat Brennan when he was vulnerable. He wanted the WFWF Championship, who doesn't? But Ante Whitner, another man more manly than Stan AND you, was breathing down his neck for the title he already had. You know, the one he beat you for last time y'all faced? Yeah. I'm not one to make excuses for…well…anything, but if there were any that were any good, it's that. Now, I'm not claiming to be a representative of David Brennan. F*ck knows I don't get paid enough to be his advocate. But Joe, sir, anyone with a brain knows that you owe David Brennan a rematch at Pacific Rim. Since Ante Whitner is…well…dead thanks to your lackey, he's got a chance at a clear mind going into that match. And if you don't agree to it, I have no problem throwing around my namesake around and pulling whatever strings I have to pull to get your ass in that ring against him one more time.
"Anthem of the Space" by Acid Mothers Temple hits the PA system to a THUNDEROUS applause.Alecia Matthews:
Thank god. Get some sense into her, Frank.
Frank has a mic in his hand and starts walking down the ramp, walking and talking.Frank Lynn:
Ma'am, how much Kool-Aid have you drank tonight before coming out here? I can smell the fruit punch mixed with bourbon from all the way up here.
Anna Ahriman:
I don't believe I asked for your attendance at the Itty Bitty Titty Committee meeting, Frank.
Frank Lynn:
**entering the ring**
What can I say? Maybe I've got a thing for red headed planks.
Anna has no choice but to bow her head and extend her mic towards him, permitting him to talk. He got her there. Self-deprecating humor, everyone~!Frank Lynn:
Seriously, girl, the hell is wrong with you? This isn't you.
Anna Ahriman:
Might be. I'm still new 'round these parts. You know nothing.
Frank Lynn:
Yeah, maybe. Or maybe you're just acting out on order?
Anna laughs.Anna Ahriman:
I'm PRETTY sure Brennan's here, but he'd kill me if he were watching right now.
Frank Lynn:
I never said the order was from Brennan, kid.
Anna Ahriman:
Speak your mind, old man. You're testing my patience and I'm tempted to remove you from the floor of the Committee.
Frank Lynn:
You're in bad company, Anna. You're in over your head. I can hear the gurgling.
Anna Ahriman:
Bad company? Ok. Yeah. Brennan's a dick, but not as much of a dick as he plays to the fans…or they remember him as. He's earned a shot to capture the one thing that's eluded him.
Frank Lynn:
Sobriety?
Anna cocks an eyebrow.Frank Lynn:
Look, I'm not gonna sit here and say Brennan isn't talented. Look at those who hit a Dead End in the gauntlet from the other side. Brennan got me. But regardless of what you think of his talent level compared to mine, in the matchup of Brennan and Bishop, the right man won. Plain and simple.
Anna Ahriman:
How can you call Bishop the better man? Sure, he's acting the part now…but Drakz did at one point too. He was selling sweets to the candyman. Joe bishop spent much of his career under the wings of Trace Demon, the man who has made everyone's lives hell. You're still new here yourself, all things considered. Maybe you didn't see what hell he put my father through, and why I'm slightly jaded.
Frank Lynn:
Sure, but do you forget where your father came from? How he made his name? Donnie Monty Kent. The KoKaine Konspiracy. The midget who ran that also had a hand in the creation of Hurricane Kyzer, the most hated man in WFWF history. Hell, Brennan falls there too because of the Epoch. I guess with you, though, siding with guys like that…the apple didn't fall far from the tree.
Anna doesn't give any notice, just outright slapping Lynn across the face. She steps up into his grill.Anna Ahriman:
You have no right to speak about my father like that. Like you know him.
Frank Lynn:
**laughing**
Sweetie, everyone knows you're a bastard child. I've known your father longer than you.
Anna gives an innocent smile, flipping her hair back behind her head. She then grabs the back of Lynn's neck and drops him with the Triple A. Mixed reaction, but everyone has an opinion.Alecia Matthews:
Ok, Frank deserved that one. Doesn't mean the rest of his content was inaccurate.
Daniel Knight:
You better watch it with what you say. The ginger has snapped.
From behind the curtain comes Daphne, Frank's manager. She slides into the ring and throws herself in between Frank, down, and Anna.Anna Ahriman:
Oh look, Frank is hiding behind his skirt. Who taught you that move?
Daphne Valasquez:
**picking up the microphone**
You've got some nerve. You know Frank won't fight back, especially since he has a match tonight.
Anna Ahriman:
Awww…Frank's skirt has teeth. They grow up so fast. Look here, princess, step aside or you're going down with him.
Daphne Valasquez:
How about you two wait and have your loss come at Pacific Rim?
Anna Ahriman:
You know what? I don't hate that idea. Skirt has some brains. If he's willing to show his face, it's a deal.
Lynn pulls himself up and stares a hole through Anna.Anna Ahriman:
I'll take that as a yes. But what about tonight? Why not a small preview, let the fans see me kick your ass for free first and pay for the second helping?
Daphne Valasquez:
I already said he has a match. Against your man, nonetheless.
Anna Ahriman:
That does nothing for me, to be honest.
Daphne slaps Anna, kicking her feet out from under her, sending her to the mat. The fans lose it.Daphne Valasquez:
And what's that do for you?
Frank Lynn:
**off mic**
WHAT ARE YOU DOING?!
Daphne Valasquez:
Do I have your attention now? Anna Ahriman, I openly declare the WFWF held harmless. Lila, send out a ref. Let me at this puta.
POP.Alecia Matthews:
HOLY SH*T! ANNA AHRIMAN VS. DAPHNE! THAT'S UNEXPECTED!
Daniel Knight:
It's her funeral.
Anna rises to her feet, taking off the kendo stick and undoing her top to show her ring gear. She cracks her neck as the ref slides into the ring…apparently Lila is allowing civilians to make matches. Good. Lynn stands in front of the ref, Daphne shoving him aside.Daphne Valasquez:
REF, TOSS HIM FROM RINGSIDE.
Frank Lynn:
WHAT?!
The ref shrugs and makes the motion for Frank to be formally ejected from the ring. Reluctantly, he abides and starts to walk towards the back, keeping an eye on the ring as Daphne tightens her kicks and the ref calls for the bell.DING DING DING!Anna charges at Daphne, squashing her in the corner. She grabs Daphne's hair, smashing her face first into the top turnbuckle. Anna pulls her away and Irish Whips Daphne, who rebounds and goes up and over with a back body drop, but she lands on her feet! Anna turns around and is caught with a superkick right under the jaw! Anna falls to the mat, but she kicks out at two! Daphne sits Anna up, driving her knee into the Queen's spine, pulling her arms back in a stretch. Ahriman easily overpowers her though, pulling her up and over her head and elbows Daphne in the back of the head. Anna grabs a tuft of hair again, pulling her to her feet. Daphne throws an elbow into Anna's gut, wrapping her arms around Anna's neck and taking her down with an inverted blockbuster! Another near fall for Daphne, not getting quite all of it. Daphne, overzealous, picks up Anna and tosses her into the ropes, but on the rebound Anna drops her with the Pixie Cut! As Daphne comes to her senses, Anna drops her with the Crown Royal. Not even waiting for her to get up, knowing it's over, Anna pulls Daphne up and drops her with the Triple A. Anna gets ready to cover Daphne, but sees Frank grimacing on the stage. Anna points to Frank, then down to Daphne, going to the mat and locking Daphne into Hail the Queen! Daphne taps out immediately.Christa Adina:
Here is your winner, Anna Ahriman!
"Mirai Nikki" by PelleK hits to a chorus of boos. Anna faces Lynn on the ramp, Daphne to her side, scraping her boots on the mat almost as if to rub off the filth of Daphne. Frank yells at Anna, pointing down to the ring. Anna flips him the bird, grabbing her kendo stick and rolls out of the ring and hops the barricade. Frank storms the ring to check on Daphne.Alecia Matthews:
What the hell is going on here?
Daniel Knight:
Hell if I know, but this is only the start of the night for Frank. Can only get worse if he's not careful.
Maxwell Dachs enters to a big pop, and heads towards the ring. But on his way down, Mike Jette attacks him from behind!Alecia Matthews:
Oh no, not again!
Daniel Knight:
Somebody needs to stop this guy from doing this again!
Mike Jette throws Dachs back first into the barricade over and over. Dachs struggles to stand and catches a steel chair to the back. Mike Jette repeatedly slams the heavy steel chair across the back of Dachs. Dachs is still clawing to stand up and Jette positions himself for a super kick.Alecia Matthews:
This is honestly disgraceful, can someone please stop this?
Dachs finally gets to his feet and Mike Jette connects with a super kick. Dachs goes down, completely unconscious. Mike Jette heads back on the ramp as begins to gloat. Alecia Matthews:
I suppose that's one way to make a statement.
Daniel Knight:
Mike Jette taking names here tonight, one has to wonder what he'll do next.
The camera fades in on a close-up of a barely visible eye, so brightly blue that it manages to cut through the darkness that envelops the screen. A sudden burst of neon light washes out the scene before subsiding once again to darkness, but not before the deep pink skin around the eye is highlighted along with a road map of broken blood vessels, like small rivers emptying into the electric sea of the eye.



"What is the measure of a man?"
The screen is again washed out by neon light before again subsiding back to near darkness. This time, however, the camera pans out from the eye, framing the entirety of the man's face. It is shadowed and dim, but visible from the hollow static of what sounds like a lively city.
The man has jet black hair, shaved on the sides and long and combed back atop his head. His eyebrows are likewise dark and slightly furrowed, insinuating contemplation. Even in the few brief moments you have spent with the man, the pink surrounding his right eye has given way to a dark red with rumors of deep purple round the edges. His beard is short and neatly groomed, black with lightning strikes of grey throughout it. His ears show light but noticeable signs of cauliflower, the badge of an ametur wrestling career, perhaps.
"Some say wealth. Things. Fast cars, big houses, custom-made suits, the ability to travel the world without a care. I have wealth. I've crashed fast cars. I've burned down mansions, sullied fine suits with the stench of scotch and the stains of blood when my darker thirsts could no longer be quenched by alcohol or prescription medicine. They kicked me out of Japan...twice, if I recall. Thrice, if I'm being honest."
The last line is delivered with a knowing smirk and a sharp chuckle. The man's voice is deep and reverent, like a Pastor preaching regret. Each word weighed and measured in a mind not quite steady enough for the task. The deep purple edges of his wounded eye have now nearly consumed the dark red, a violent tide rolling in toward the pupil. The camera pans out further, revealing the man to just above the knees. The neon lights burst again, illuminating him in a juxtaposition of white halo surrounding his black attire. He wears a black dress shirt, the collar unbuttoned twice and a black vest buttoned over it. He has just finished buttoning the cuff of his left sleeve before beginning to roll his right sleeve down to the wrist and doing the same. His dress slacks are just as black, as is his belt, save for a dulled silver buckle. The knuckles on his right hand glisten with still warm blood.
[/color][/b][/div][/b]
"Some say it's his beliefs. Prayer, church on Sundays, how much he tithes, love for his fellow man. I stopped praying when I was six and the beatings from my Father never ceased. I left my church when my Mother stopped believing that he would change. I spent my tribute on food to fill my belly and payments to continue my wrestling training. I hate everyone. I hate everything. I hate what I've done...and what I'm going to continue to do in the WFWF."
The man lifts his right foot into frame and thrust it down with a viciousness and quickness that is only matched by the sick sound of skull contacting pavement, hollow and repulsive. The camera pans out a last time to show a beaten and battered man at the feet of the Violent Gentleman. The man reaches over to a curved railing where bikes are meant to be locked up and secured, but he has a black suit jacket neatly folded over. He picks it up and slowly slides it on, buttoning it once before stepping over the prone body, a guttural and half-awake moan rising from the alley floor. He steps toward the camera, which begins shakily backing up before presumingly hitting a wall and coming to a halt. The man gets closer to the camera until once again his right eye is all you can see. It has settled on an amalgamation of dark purple, blue and tinges of black.
"I am Sean Casey. I am here. I...am the measure of a man."
The man walks out of frame and the camera fades out again as footsteps and agony end the scene.
"Shadows" by Yelawolf hits over the P/A system, bringing the entrance of Phillip Schneider as lights flash and smoke billows through the entrance way. Through the smoke walks Schneider, black shorts and a They Live t-shirt, his hair neatly tucked under a black backwards baseball cap. Schneider makes his way to the ring with a certain swagger and smirk about him, rolling in under the bottom rope and demanding a microphone from the ringside attendant. He's handed one as his music cuts off.
Alecia Matthews:
It looks like we're opening the show tonight with the appearance of Phillip Schneider. He's not scheduled to be out here tonight, but then again, there isn't a whole lot that IS scheduled.
Schneider taps the microphone a couple of times before beginning to speak.
Phillip Schneider:
I feel the need to come out here and apologize. Not to Hugh Jass. He deserved everything he got. I feel the need to apologize to each and every one of you fans. Because as we make our way out of Ultimate Supremacy and move forward, I'm realizing I was very wrong. Now here tonight, in Canada, I'd like to make this right.
Daniel Knight:
What's he talking about?
Phillip Schneider:
Ante Whitner, if you've got any balls between your legs, get your ass out here right now.
There's a collective "OOOOHHH" from the crowd.
Alecia Matthews:
Ante Whitner, not here tonight, as he's nursing injuries sustained at Ultimate Supremacy and I think Schneider knows that.
Daniel Knight:
Of course he knows that. Why else would he be out here? He's a master manipulator first and foremost.
"Gangster's Paradise" by Like A Storm hits the PA system to everyone's surprise, igniting a massive cheer from the crowd.. Bluish-colored smoke plumes out from the stage. Then it fades into the ether. And the music sort of trails off. As quickly as the crowd erupted in cheers, they begin to boo as they realize they've been had.
Phillip Schneider:
See, no Ante. Percy pushed the music button. And you all thought there was going to be a big showdown. Not from Ante. Because Ante is into the spirit of intergender wrestling the WFWF has embraced. Ante Whitner has a vagina. And that's where I, Phillip Schneider, the greatest wrestler that's ever stepped foot in the WFWF, feel the need to apologize to each and every one of you. You see, I gave you all false hope. I led the proverbial sheep to slaughter. I told you Ante was good. Then he got punked out by David Brennan. David "Last Call" Brennan. You know, the number three man in the New Epoch. Punked. Him. Out. But you know what, I'll look past that. I wasn't even going to call him out. Figured he'd bounce back. Then he really made me look like a fool at Ultimate Supremacy. He TAPPED OUT to Frank Lynn.
The crowd's disgust for the situation is growing into more than a spattering of boos, an outright rumbling of boos echoing through the arena as Schneider pauses, looking around with a smirk.
Phillip Schneider: Now I've lost a few matches in my time. I'll never be one to say I haven't. But to tap out? To say uncle? To beg off like a little pansy? To pound the mat and say "no, please, stop, I can't take it any more"? That's absolutely pathetic. Ante Whitner, I got behind you. You were the new hope for the WFWF. You're the kid who followed in my footsteps. You beat Michael Kyzer for god's sake, and even though it's been a couple of years you won't let people forget that. But I was first. But you were supposed to be something special. And you tapped out. I don't have to tell you how disappointed in you I am, Ante. I don't have to tell you how atrociously sick you make me right now. I know you were shook before, because you didn't know my motivations. My motivations were to get behind you. My motivations were "this kid's a badass. I can wreck s**t by his side.". Just like The Deville. But just like Pierce Deville, you went and blasted your load before you even achieved penetration. You're a one pump chump, Ante, and you've created a hell of a mess here.


Alecia Matthews: I feel like this should be flashed across the screen before he's handed a microphone, but the WFWF would like to apologize for the words of Phillip Schneider.


Phillip Schneider: Ante, you should be afraid of me now. Because I am here to fix the WFWF. And you're the next problem that needs fixed. You wanna be a contender when you're nothing more than a pretender. The facade's over, Ante. You're going back to the opening match, if there's anything to salvage of you when I'm done. Heal up, Ante. I want you at 100% when you step in the ring with me. Cause you're gonna step up to the table, stick your last quarter in the machine, and step up to face the final boss of the WFWF. You ready for this, kid?


"Shadows" by Yelawolf hits again, Schneider making his way out of the ring and to the backstage area as we cut to an advertisement for next week's program.


Alecia Matthews: It's main event time, and what a match this is going to be.


Daniel Knight: Joe Bishop and Frank Lynn take their revolution to two men who could absolutely derail it, David Brennan and Trace Demon.


Alecia Matthews: And they've both got scores to settle with the new WFWF World Champion, the only question is whether they can actually work together to do it.



Frank Lynn urges Joe Bishop to let him start out the match against Trace Demon, eager to prove himself, and despite some hesitance Bishop relents. It turns out to be a good choice as Lynn sees Trace's flying knee coming and dodges out of the way, grabbing him from behind and launching him with a German suplex. Lynn bridges the suplex for a surprisingly close two count, which shocks the crowd almost as much as it agitates David Brennan on the apron. Lynn continues to take the fight to Demon in the early exchanges before Demon slyly sends him throat first into the ring ropes and drives him to the mat with a twisting neckbreaker. Trace tags Brennan in and he begins viciously working Lynn over, trying to send a point to Bishop. Brennan's firmly in the driving seat but it doesn't matter what he does, Lynn won't back stay down. Bishop's desperate for the tag but Brennan and Demon actually manage to work together to divide the ring, separating Lynn from his corner. The pair are surgical and brutal in their dismantling of Lynn, but they just can't keep him down. The pair go for a double Irish whip on Lynn but on the rebound he catches them both with a double leaping clothesline. Lynn's hurting and it's a slow crawl across the ring to the corner. He gets so close before Brennan grabs him by the boot, trying to drag him back. Lynn twists, kicks Brennan back and leaps up to make the tag to Bishop!


Alecia Matthews: Frank Lynn makes the tag! A lot of people said he wouldn't be able to hang in this match, but not only has he taken the fight to two of the best in the business but he's shown just how much heart he's got at the same time.


Daniel Knight: Maybe Joe Bishop's not made such a stupid decision after all.


Bishop's in and goes toe to toe with Brennan, the pair exchanging right hands, going back and forth between each other in scenes reminiscent of their clash just weeks ago. Brennan dodges a charge and sends Bishop face first into the turnbuckle, then hauls him up for the Charles River Plunge, but Bishop slips out and rolls Brennan up for a close two count. Both men scramble to their feet and Bishop strikes first, dropping him with a DDT and then attempting to turn that into the Mactabilis Factum… but Trace Demon breaks it up before it can be locked in. Demon puts the boots to Bishop but Lynn's seen enough and yanks him out of the ring, throwing him into the security barricade. Demon pulls himself to his feet… but the Thunderbird clotheslines him right over the barricade, taking himself over with him! Inside the ring Bishop and Brennan are going back at it, Bishop whipped into the corner but then pulling himself up when Brennan charges at him and planting both feet into his chest, driving him into the mat. In the crowd Lynn is beating the crap out of Demon, throwing him around and taking out a year worth of frustration on the King of Demons. Lynn takes a brief moment as he looks in confusion at a strange masked man just sitting among the crowd, which is all it takes to give the Villain the time he needs to form a plan as he pulls himself up via a security guard. Lynn grabs Trace from behind but Trace swivels and clocks him right upside the head. Lynn drops, the security guards snatched pair of handcuffs dangling from his hand. Trace grabs Lynn by the wrist and puts on one half of the handcuffs, then latches the other half onto a fan in the crowd! The security guard darts in with the key but Trace lays him out, grabs the key and lobs it into the sea of fans.


Alecia Matthews: Trace Demon has stooped to a new god damn low.


Daniel Knight: Really? You ask me he's just showed how much of a genius he really is.


Joe Bishop hasn't seen all this going on, he's been too busy taking control of the back and forth between himself and Brennan, driving Brennan back first with a big superplex before going up top. He's clearly aiming for Decido Spiritus, but he leaps over Brennan's downed body instead, running across the ring and knocking Trace Demon off of the apron, the King of Demons having returned to ringside. Bishop does a good job keeping Demon out of the ring while still going at it with Brennan but can't do it for long, the numbers game proving to be too much as Brennan blasts into him from behind. Brennan hauls Bishop up for the Charles River Plunge, but again Bishop slips out of it and pushes Brennan away. The force sends Brennan into the official, distracting him just long enough for Demon to slip into the ring and clock Bishop in the back of the head with the WFWF World Championship belt. Trace hauls ass, getting out of the ring with the title sharpish while Brennan grabs the downed Bishop, drags him up and goes the Charles River Plunge for the third time tonight. This time it's successful and he drives Bishop into the mat. Brennan covers, the official crawling over for the cover while Trace watches with a grin at ringside. Off in the crowd Frank Lynn is desperately trying to snap the handcuffs to no avail, forcing him to watch in horror as the referee's hand hits the mat…


Once…


Twice…


Three times.


DING! DING! DING!


Christa Adina: Your winners… David Brennan & Trace Demon!


Daniel Knight: David Brennan and Trace Demon have just beaten the new WFWF World Champion! So much for that revolution!


Alecia Matthews: Were you watching the same match as me? They just stole that match!


Daniel Knight: Say what you want, but the record books are going to give Demon and Brennan a win over the champion. They even worked together to do it.


Alecia Matthews: Will somebody get Frank Lynn out of those damn handcuffs!


Daniel Brennan slowly pushes himself to his feet, looking down at Joe Bishop laid out at his feet. Then his eyes turn towards the outside, where Trace Demon is standing, smirking at him, still holding the WFWF World Championship. Demon climbs up onto the security barricade and holds the title up high, pointing at Brennan who watches him stoically. Demon drops backwards, landing on his feet among the crowd, still with the title. Brennan climbs up onto the turnbuckle, watching Trace as he approaches Lynn, still handcuffed to the fan. Lynn goes for Trace but the weight of the fan holds him back and Trace deftly dodges the blow, kicking Lynn clean in the chest and pushing him and the fan to the floor. Demon laughs as he throws the title onto Lynn, telling him to "give it back to his better half". Demon leaves through the crowd while David Brennan drops off of the turnbuckle, staring down the stirring Joe Bishop, making it clear that the two of them aren't done yet as the WFWF fades to black.