Post by PJ on Mar 27, 2018 9:14:44 GMT -5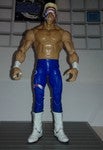 Also on an unrelated note I have noticed a glitch more often now where during the match at some point you go to throw your opponent into the corner and it won't work. They just keep bouncing out and then you can't throw them into a corner or even us any corner moves for about 5 minutes until it starts working again. (Frustrating when trying to do the Stinger Splash or any turnbuckle finishers)
The rollout feature happens randomly throughout the match, some meters are more than others. it's just to break up the action, and it's (mostly) realistic IMO.
I'm pretty sure that isn't a glitch, I know guys usually won't rest in the corner if their health bar is in the green at all. If you think about it, guys who get whipped into the corner at the start of a match don't usually rest there. That's another one of those "realistic" things.
No it's a glitch because they don't even go into the corner. They stop with enough space between them and the corner as if there is someone else in the corner already. Then if you try and climb any corner you can't. Your wrestler just runs in the corner area. It lasts at least 5 minutes before they work again and sometimes the use of the corner moves don't come back at all in the match. But usually if you wait it out they do start working again.
As for the rollout I know it is to break the action. But my point being if I didn't get hit or grappled the whole match (which was the first time I ever played a match where my opponents didn't get one move on me) then the first offensive move they hit me with especially a simple body slam shouldn't trigger that rollout meter. Hell I don't even think my stamina meter ever left the first blue bar.