Post by Drakz on May 29, 2017 11:29:21 GMT -5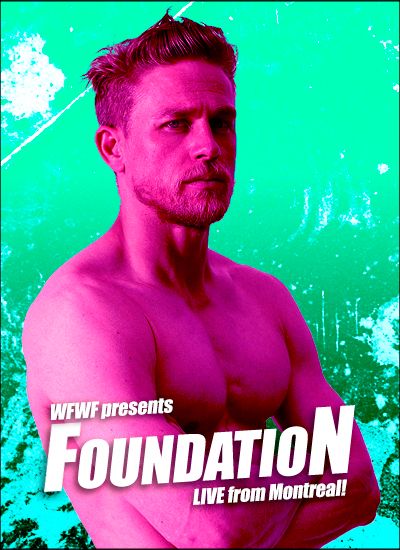 LIVE from The Bell Center, Montreal, Quebec, Canada!
The Main Event!
WFWF International Championship Match
---------------------------------------------------
David Brennan
vs.
Phillip Schneider
David Brennan is your reigning WFWF International Champion but, through no fault of his own, he's yet to defend that title in the months since he beat Lucas Crowe for it. Ante Whitner was intended as his next challenger as the winner of the Golden Opportunity, however Whitner's been shelved due to injury at the hands of Frank Lynn. We figured it was about time we spiced things up and offered Brennan a challenge. That challenge is Phillip Schneider. Schneider has had some fairly colourful things to say about Ante Whitner of late and what better way to get under his skin than to take the International Championship before he ever gets to cash in his shot? It's not quite as easy as that though as Brennan has proven time and time again that he's scared of no man, regardless of their tenure. This is the kind of dream match many would expect to see headlining Superbrawl, so what better way to kick start our new bi-weekly PPV series?
Street Fight!
---------------------------------------------------
Trace Demon
vs.
Frank Lynn
Last show Trace Demon did what Trace Demon does best. Be a horrible piece of sh*t at the expense of anyone and everyone else. Frank Lynn and Joe Bishop were looking to establish their revolution with a decisive victory over the team of Trace and David Brennan and things were going to plan until The King of Demons took Lynn out of action, handcuffing him to a member of the audience, leaving his tag partner Bishop to fend for himself in the ring, something no man could overcome given his opponents. It was easy to see that Frank was seething as the show went off air, feeling as though he had let down his new comrade, and in an attempt to show the former owner that actions have consequences in the new WFWF Lila Sleater has booked the two men in a street fight! Now we know Frank is championing a more straight down the middle side of wrestling but can even he resist an opportunity like this?
Make Your Mark
---------------------------------------------------
Joe Bishop
vs.
Sean Casey
Last week in the main event the WFWF World Heavyweight Champion was pinned by the very man he beat to claim the title, albeit in somewhat dubious circumstances. This week he gets the chance to showcase his wrestling ability unhindered by the numbers game. One on one action sees the champ take on a man new to the company who comes with quite the reputation from the independent circuit. Having made his name in Japan, Canada and the US indies Sean Casey is finally getting his break in the WFWF, and what better way to make a name for yourself than by knocking off the current world champion in your debut? This will be an eye opener for both men and the WFWF faithful alike.
Bad to the Bone?
---------------------------------------------------
Anna Ahriman
vs.
Mike Jette
vs.
Danny Young
Anna Ahriman has been absent from in ring competition since her match with Trace Demon in the Supreme Gauntlet 17! She did however return last show with a somewhat……adjusted attitude and made some pretty scathing comments about Frank Lynn. She ended up in an impromptu, unsanctioned match with Lynn's manager Daphne and now has the chance to pick apart Lynn's personal life even further with a match against his former tag team partner Mike Jette. Jette and Lynn don't exactly run together these days though, as Jette has returned from injury with seemingly the sole intention of getting himself noticed, wether fairly or otherwise. This week he has the chance to do it again, against the daughter of a WFWF veteran and a debuting Danny Young. We don't know much about Young so far other than the tapes our scouts watched prior to him signing with the company, but one thing is undeniable, he's a sh*t kicker and he won't be backing down from a fight. Can Jette keep his momentum going? Will Anna pick up a victory on route to a clash with Lynn? Or is Danny Young going to set the world on fire?
Roleplay Deadline: Friday June 9th, 2017 at 11:59 PM EST
Promo/Match Writing Deadline: Sunday June 11th, 2017 at 11:59 PM EST