Post by Rated R on Jun 14, 2017 14:24:07 GMT -5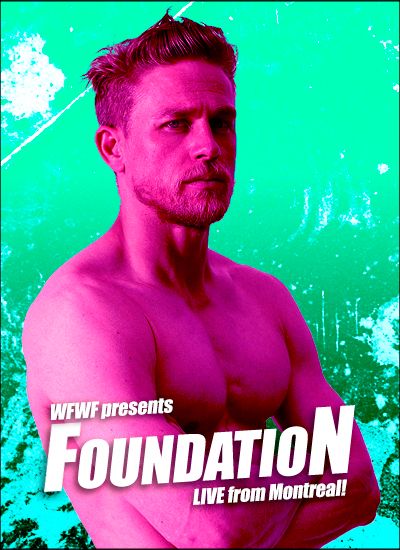 LIVE from The Bell Center, Montreal, Quebec, Canada!
Explosions! Fireworks! Music! A spectacular video package that I'm simply too busy to write. Welcome to Foundation!Alecia Matthews:
Ladies and gentlemen we are live from The Bell Center here in Montreal, Quebec, Canada for the second stop on our Canadian tour. We're kicking off a new era here in the WFWF as we welcome you to this show exclusively on pay-per-view!
Daniel Knight:
It's a new era and we're kicking it off in style. Tonight we've got a monumental WFWF International Championship match as well as what promises to be one hell of a street fight.
Alecia Matthews:
But before all that we've been promised a blockbuster announcement by our very own Lila Sleater, and I think we're going to be kicking things off with exactly that.
Christa Adina:
Ladies and gentlemen, at this time, please welcome to the ring - Lila Sleater!
A mixed reaction rises from the sold out crowd as the WFWF's principle decision maker determinedly makes her way down the ramp toward the ring, her presence often ambiguously signaling some manner or another of upheaval toward the WFWF's roster, which could often illicit thunderous applause or vitriolic jeers, depending on where her sights had been set on any particular evening.


Refusing to be fazed by any negative response to her name, she climbs the ring steps and into the ring, accepting the mic from Adina as the crowd settles in, cautiously eager to hear what's brought her out tonight.Lila Sleater:
Thank you, Montreal, and welcome to the start of a new chapter in the WFWF's long standing history! We've already got an action packed card waiting to unfold for you all here tonight, but what better way to stack upon an already loaded kick-off pay-per-view than to finally address the contendership for the WFWF Heavyweight Championship?!
The notion of a contender for the WFWF's top prize is enough to sway the crowd entirely in her favor, as a raucous cheer rises from the sold out crowd, who is now ravenously eager to hear who will find themselves staring down the champ in his first title defense.Lila Sleater:
Since the finals of the Supreme Gauntlet tournament, it should come as no surprise that my office has been plagued by talent and their agents making their cases as to why they should be the first to face Joe Bishop for the WFWF World Heavyweight Championship. We have, as you know, a roster full of contenders eager to make their own run for the most prestigious prize, but tonight, I'm pleased to announce that Joe Bishop's inaugural title defense at Pacific Rim will be against none other than David Brennan!
The crowd pops huge - not necessarily in celebration of Bishop's opponent, but rather the prospect of a sequel to their absolute barn burner in the finals of the championship tournament. Daniel Knight:
Pleased?!
Lila Sleater:
Now, now its true that Brennan and I have not always seen eye to eye, and that common accusation would suggest that Brennan would be the last name on my list of potential opponents for Joe Bishop, but the fact remains that Bishop did defeat Brennan for an uncontested championship. Under normal circumstances, there'd be solid grounds for a rematch, and as such, Brennan will be granted this singular opportunity to face Bishop for the championship.
The reasoning does not sit well with the crowd in attendance, who vocally express their displeasure at Brennan being handed, well, anything. All smiles, Sleater puts up a hand to interject once more.Lila Sleater:
That being said...this agreement has not come lightly, and in concession, an agreement has been made.
An almost deafening silence comes over the crowd, drowning out any lingering jeers, as no stipulation set on Sleater's behalf could possibly lean well in Brennan's favor.Lila Sleater:
Should David Brennan fail to emerge victorious following his rematch with Joe Bishop at Pacific Rim, he will, effective immediately, resign himself to retirement from the WFWF, conceding any titles that should remain in his possession following the conclusion of this event!
This is the announcement Sleater needed to sway the crowd back to her side - the place comes unglued at the mere prospect of the WFWF's resident assh*le being a distant memory in a matter of a few short weeks.Alecia Matthews:
My god…
Daniel Knight:
What an announcement!
Sleater's announcement has left the audience in high gear as she exits the ring, waving a quick flick of the wrist to the gathered crowd as she makes her way toward the back.Alecia Matthews:
Folks, we now have Joe Bishop's first title defense seemingly set in stone for the culmination of our Canadian tour, but the implications have just grown ten fold, leaving perhaps more questions than answers in the wake of what we've just learned.
Daniel Knight:
What's to question - soon enough, the WFWF will be rid of David Brennan once and for all! What a great way to start the night.
Alecia Matthews:
Well we promised you big things tonight and there's no point in slowing down now. Let's get the action started!
Daniel Knight:
We're kicking things off with a triple threat match as Mike Jette plays the role of unlikely veteran against Anna Ahriman and Danny Young.
As you'd come to expect from a triple threat match nowadays the action starts off thick and fast as Mike Jette and Anna Ahriman work together to fight off the bigger Danny Young and manage to send him packing with a double dropkick. The alliance doesn't last as Jette turns on Anna and begins working away at the back. The beating continues until Danny Young interjects, blasting Jette with a violent shoot kick. Young takes control, showing himself to be impressively adept in the ring as he works over both opponents. He sets Jette up for the DY Driver but Jette slips out and rolls him up for a close two count. Both men scramble to their feet but Young's there first and hits a snap kick to the side of the head. Jette goes to the ground and Danny Young lines up for the PK. He charges forwards but Jette drops backwards, the kick flying over his head. Danny Young can't stop his own momentum however and it carries him straight into the Pixie Cut by Anna Ahriman! Anna's caught from behind by Jette who attempts to yank her in but the smaller woman slips through his grip and catches him with the Goddess Kick. Jette staggers rather than going down but that leaves him worse off as he swiftly falls to the Triple-A. Anna makes the cover…


…1…


…2…


…3!Christa Adina:
Your winner… Anna Ahriman!
Alecia Matthews:
A big victory by Anna Ahriman as she capitalises on the chaotic energy of that contest.
Daniel Knight:
She pulled it off tonight but Danny Young put in a very impressive debut performance. He's definitely going to be one to watch if he sticks around.
Daniel Knight: Before our next match, we have a taped interview I did earlier today with current World Champion Joe Bishop and Frank Lynn, two men leading a revolution to change the WFWF.


Fade in to a shot of a generic locker room. Joe Bishop sits on one bench with his championship belt next to him. Frank Lynn sits opposite him in a folding chair, his manager Daphne standing behind him massaging his shoulders.


Daniel Knight: Excuse me gentlemen, if I could have a moment of your time…


Joe Bishop: Sure Daniel, what's on your mind?


Daniel Knight: How are the two of you doing after the tag match loss to Trace Demon and David Brennan at The Climb?


Joe Bishop: We're fine. It sucks that we lost but Trace was up to his usual antics.


Frank Lynn: If I can interject, the loss was entirely my fault. I have to apologize to Joe and all the fans who were pulling for us. I let Trace Demon pull my strings leading to us being in the crowd and you know what happened then…


Thanks to the modern miracle of editing, the feed cuts to several still shots of Trace Demon handcuffing Frank Lynn to a fan in the Toronto crowd all set to suitably dramatic music. An almost uncomfortable amount of time is spent on the last shot showing Kevin Jansen holding up the WFWF World Championship belt.


Joe Bishop: Nonsense. You have nothing to apologize for. Trace is a piece of sh*t and he took advantage of you. You've learned an important lesson is all. It won't happen again.


Frank Lynn: I hope so but no words you can say will dull the guilt I'm feeling for costing you all that momentum you gained in the Supreme Gauntlet.


Joe Bishop: You didn't cost me anything, I should have been ready for it.


Daniel Knight: So you don't think the loss hurt your revolution?


Joe Bishop: Not in the slightest. It was minor setback but it highlights exactly what we are fighting for. We have more support than ever and are back tonight standing tall, ready to make another stand.


Daniel Knight turns to speak directly to Frank Lynn.


Daniel Knight: Speaking of tonight, you have to face Trace Demon in a street fight. After he embarrassed you last time out, are you sure you are up to the task? Can you beat the Demon at his own game?


The image cuts to footage of Trace Demon beating Frank Lynn at the 2016 End of Year show, then cuts back to a close up of Frank Lynn.


Frank Lynn: Well, I think so. Sure Trace has spit his usual venom about being the experienced veteran who knows best how to dish it out in a match with no rules but he isn't taking into account my own experiences. My debut match was a street fight and at SuperBrawl I was in a ladder match. Add in that I'm well versed in the ways of MMA including dozens of holds that can tear muscles, pop joints, and break bones. My body is a weapon and I know how to use it. Trace is the one in trouble tonight. I know what to expect from him. He has no idea what to expect from me. I will get his blood on my hands tonight.


Daniel gets a puzzled look on his face as he listens to Frank's answer.


Daniel Knight: Isn't that a direct contradiction of your ideas that the WFWF should be pure athletic competition?


Frank Lynn: Yes and no. I'd like the WFWF to be pure but we have a long way to go before we get there. For now, I'm content to fight by whatever rules are clearly established for the match. In this case, there are NO RULES so I can match each and every one of Trace's dirty tricks with some of my own.


Joe Bishop: Trace Demon has had more than enough chances to change, and he's shown no interest in taking any of them. He's going to go out there looking to hurt Frank tonight and above all else Frank needs to defend himself, Trace Demon can't be allowed to put another talented wrestler out of action.


Frank Lynn: The gloves are off tonight. Trace Demon won't know what hit him when Furious Frank is unleashed.


Joe's intensity picks up noticeably when he talks about Trace Demon where as before he was a bit downcast and seemingly going through the motions.


As for Frank, he has been running at eleven the whole interview, obviously psyched up for his chance to get a little redemption against Trace Demon and take a giant step forward for the revolution.


Daniel Knight: And what about you Joe? Tonight you face off against a newcomer to the WFWF in Sean Casey, who has a long and violent history outside of the WFWF.


Another jump cut to grainy, out of focus footage of "The Violent Gentleman" Sean Casey from one of his many non-WFWF matches. It is mercifully short and then cuts back to a clear HD quality shot of Joe Bishop.


Joe Bishop: I'd love to give Sean Casey the benefit of the doubt, but there's more than enough signs that he's going to offer more of what we've seen from the likes of Trace Demon and Philip Schneider. Tonight is my chance to show him how he needs to be approaching life in a WFWF ring. And while it's not gonna make up for last week, I can at least start putting it right.


Daphne Velasquez: I think that's enough for now Mr. Knight. Time for you to go so I can get my man ready for his match. I'm sure Joe wouldn't mind some prep time as well.


Daniel Knight: Okay then, thanks for your time.


Fade to fancy graphics showing promo shots for Joe Bishop (with his title belt over his shoulder) vs Sean Casey and Frank Lynn vs Trace Demon with the words "Street Fight!" underneath.
The camera cuts to a shot of the locker room door just as Christa Adina comes into frame looking beautiful in a dark green dress juxtaposed with a look of worry in her doe eyes. She takes a breath and pushes the door open. The camera follows her inside and around a corner. The locker room is empty, save for bags, towels and water bottles scattered about.


Christa approaches a man with his head down, slowly wrapping black tape around his left wrist. He is in all black ring attire and his dark hair hangs down, gently swaying with the motion of the taping. Christa stops a few feet short of the man and looks back at the camera with a half smile before looking once again to the man.Christa Adina:
Sean Casey, Christa Adina.
Sean stops taping his wrist for a few seconds before resuming. Christa again looks toward the camera, looking more uncomfortable now. She inches a bit closer to Sean and returns her gaze to him.Christa Adina:
I was hoping to get a short word with you before your match with Joe Bishop.
Sean stops again, this time raising his head and running his right hand through his hair and pulling it out of his face before tearing the tape with his teeth and securing it to his wrist. His face shows a piercing mixture of contempt and intense focus. He stands up from the bench and steps up to Christa, close enough that she takes a slow step backwards before raising a microphone up.Sean Casey:
Did you know he compared me to Trace Demon?
Christa lets out a sharp chuckle before looking embarrassed and slowly swallowing.Christa Adina:
I mean, yes, yes I did.
Sean's mouth slightly turns to the slightest grin at Christa's nervousness before returning to focus.Sean Casey:
Joe thought he was cutting me down with those words. Thought he might get my blood boiling, get me all riled up so I might come into this match any less focused, measured and violent than I always do. But you know what, Joe, I take it as a compliment. Trace Demon does what he wants, when he wants and how he wants. By hook or by crook, he has dominated the WFWF. Multi time champion, rich, admired and despised. Take one look at the signs in the crowd or nearly any promo put out by this roster and you'll hear the name Trace Demon. So, if that's your idea of an insult, keep them coming, Joe.
Christa Adina:
Plus, you're both Canadian!
Christa has a big smile before meeting eyes with Casey who gives her a look of disgust and shakes his head at her before snatching the mic from her hand and motioning with his left hand for the camera to come closer, which it does as Christa hurries out of frame.Sean Casey:
But all that aside, there are some stark differences between Trace and I. Experience, for one. Next month will mark my twentieth year in this great sport. Trained by the Harts, tearing through Canada and the States before being invited to stay and learn the Japanese style in Japan. I'm the best, Joe.
Sean leans into the camera.Sean Casey:
The best.
He leans back.Sean Casey:
People talk about the lost art of real wrestling. The ability to zero in on a body part and work it, break it down and render it useless by the end of a match. Technical, hard-hitting wrestling. Not playing to a crowd or management who want to see you do a four-fifty through a table like a f*cking stuntman. I don't give a sh*t if it draws a crowd or not, I'm a wrestler and I do it better than any living person on this planet. So, don't let people referring to me as "The Violent Gentleman" fool you. I don't swing chairs, I swing neckbreakers. I don't break tables, I break bones. I don't wrap myself in barbwire, I wrap championship titles around my waist.
Sean steps even closer to the camera, only his head and neck in view now.Sean Casey:
Some people are hated in this sport because they cheat, take shortcuts and steal their victories. This is wrestling. I get my hate by telling the world that I am the best and then going out there and proving it, every night for twenty f*cking years.
Sean lets a grin spread across his face, his ivory teeth showing ever so slightly.Sean Casey:
Maybe I take things too far from time to time. I don't need to break someone's arm in a chickenwing, I could just let them quit and release the hold. I want to break it, and if I feel like it, I will. My moniker is well-earned, Joe. I take this sport seriously, perhaps too seriously at times, but I don't regret it. This is my life. This is my dream. This is your nightmare. This. is. wrestling. And I'm just getting started.
Sean shoves the lens of the camera and you're greeted to a look at the fluorescent lights on the ceiling.Alecia Matthews:
Strong words by newcomer Sean Casey there, but we'll see whether he actually backs it up in just a few moments.
Daniel Knight:
He couldn't have asked for a tougher debut opponent, the WFWF World Champion Joe Bishop, who'll definitely be looking to get himself back on track after losing on our last show.
Alecia Matthews:
Well let's not waste anymore time, let's get on with it. Joe Bishop faces off with Sean Casey… next!
Joe Bishop is more focused than usual tonight, if that's possible, as he looks to get a win after a devastating loss last week. Unfortunately for him the Violent Gentleman Sean Casey is no easy mark as he proves early on, countering Bishop's relentless offence and dropping him with a violent Dragon Suplex. Casey takes control, throwing Bishop about with a variety of suplexes, not giving any though to a safe landing. Casey sends Bishop crashing back first into the turnbuckle and then goes fora belly to belly but Bishop nails him with an impromptu headbutt, staggering the newcomer. Bishop quickly pulls himself up onto the middle turnbuckle and then leaps off, driving Casey head first to the canvas with a tornado DDT. Bishop goes for the Mactabilis Factum but Casey delivers a few choice elbows to the side of the head and then rolls Bishop up with a cradle for a close two count. Both men scramble to their feet and unload on each other with a flurry of strikes, both trying to get the upperhand. Casey's striking game proves to be stronger as he takes control and then pulls Joe is for the Call of the Void. Bishop however proves his own technical game as he manipulates Casey, dragging him down to the ground and going for Mactabilis Factum… and this time he locks it in! Casey struggles, he fights, he tries desperately to escape but there's nowhere to go… and he's forced to tap out!