Post by Bpatrick on Sept 26, 2020 15:11:49 GMT -5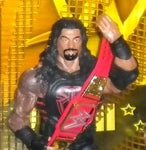 I have ordered from Deep Discount before a lot of times in the past for dvds, and used to love them, but they did send me the wrong thing the last time i ordered from them, had to send it back to get what I had initially ordered, and i think though that I did get what i what initially ordered but i actually don't remember if I didn't just get a refund and had to order it from somewhere else, actually i now remember ordering some Funko stuff and Worlds Smallest toys from there, but the WWE stuff seems too precarious I don't know how easy it is too cancel something and if PayPal payments are pending until they ship or they get the payment initially
theres no way Jordan miles is happening.
I didn't notice Myles on the site now but know he had been there before. They use all the pencilled in lineups that all Entertainment Earth and everyone else gets.
I bought from DeepDiscount when they were DeepDiscountDVD well over a decade ago. Other than them not getting some stock fulfilled by manufacturer and them being unable to send it, only a few times on a wide variety of purchases, I've always been satisfied and never encountered anything sketchy.
Yes, their website feels at least a decade old, which I think is some hesitancy, but I've had good experiences. They also are on Rakuten with cash back if you use that (and if you haven't yet, send me a PM and I'll send you a referral link as I believe there is extra bonus for referrer and the referred. I love my Rakuten cash back).