Post by PJ on Jul 19, 2017 15:59:10 GMT -5
UPDATED 3/23*
I got to open the
RetroFest Flair and NXT Series 4 Riott
figures yesterday for my birthday. I also have the
Elite Series 66 Kurt Angle
arriving Monday from Amazon.
I put their loose pics with the original RetroFest Flair and NXT 4 pics below.
UPDATED 3/20*
I walked into Target last night at around 6:15 and saw a
Elite Series 64 Pete Dunne
sitting front and center on the pegs.
E64 Pete Dunne -UPDATED 3/6*
So when I went to bed last night 8 area GameStops had one or two
RetroFest Flair
figures in stock. Today when I check there was only one store left with one. So I went there this morning and picked it up. Nanuet has none now. Unfortunately I can't open it until my birthday on the 22nd. But at least I have one. I just hope the extra two weeks MIB doesn't cause any staining. I am going to have to fix his hairline because of that paint on his forehead.
RetroFest Ric Flair -UPDATED 3/4*
For the last 29 years March 4 is always a tough day for me as it's the anniversary of my father's passing. And this year marks the 29th Anniversary. So For the last 29 years I always go out and try to take my mind off of it. While I do get stuff it never really works. Anyway here's what I picked up today while trying to take my mind off of it.
The
E63 Backlund & WM 35 Undertaker
were from the Monroe NY WalMart. The
RetroFest Hacksaw
was from the Monroe GameStop and the
NXT 4 Black
I picked up at the Monroe Target for an overseas board member.
Elite Series 63 Bob Backlund -WrestleMania 35 Elite Undertaker -Retrofest Hacksaw Jim Duggan -NXT Series 4 Aleister Black-UPDATED 3/3*
I actually picked this up a couple days ago when I went out wearing
the hat!
I picked it up for a fellow board member, but he already found his MIB one and seeing I never return anything she's now part of my collection. lol
Walgreens Exclusive Alexa Bliss -UPDATED 2/27*"Liar Liar Your Pants ARE on Fire!"
It was a bit of a journey as the post office delivered my
E64 Rollins
from Amazon and my Multiverse Vixen from
Heroes and Martyrs
to the wrong house at first, but the driver went back and got my package.
Elite Series 64 Seth Rollins -UPDATED 2/23*Hey Yo! Your Pants aren't on Fire!
I went to the Mohegan Lake WalMart looking for the WrestleMania Scott Hall and the Elite 64 Rollins. They had one Hall and no E64 on the display. So I got the
WrestleMania 35 Scott Hall
And the
WrestleMania 35 The Miz vs Rollins Battle Pack -UPDATED 2/21*
My
Elite Series 65 Eric Young
just arrived from Amazon.
UPDATED 2/20 *
Thanks to Popfindr and the Monroe Target I was able to pick these up for myself and
JokerFC
. There was still a McIntyre, Dain and both Riotts when I left. The Riotts both had poorly painted eyes though.
NXT Series 4 Black, McIntyre and Dain -Killian Dain -
I don't usually play with another man's figures, but
JokerFC
asked me to take a few pics of Killian.
Aleister Black -
a very detailed figure but it is noticeably shorter than Bret Hart even though he is listed at 6'.
Drew McIntyre-Ruby Riott -UPDATED 2/10 *
I finally got around to using a bookshelf that we had taken out of our daughter's room last year.
This is my
NWA/WCW, WCCW, AWA setup.
I still have to add a few figures to it.
Top Shelf -
Middle Shelf -
Bottom Shelf -
Sting Customs, and Basics. I still got to give the Beach Blast Sting pink boots.
Not WCW, but my Heenan Family, Jimmy Hart's stable, Money Inc. and other groups and teams.
Heenan Family and other stables-
UPDATED 2/16 *
I picked up the
Elite Series 63 Gold Standard Shelton Benjamin
at the Monroe NY Target yesterday.
I picked the
Basic Series 91 Alexa Bliss
and Sting DVD up at the Riverdale NJ WalMart -
Retro Kurt Angle and Chris Jericho
- I picked these up Thursday at the Suffren NY Walmart.
UPDATED 2/4*
I found
BP57 and B91
at Target today. I picked up both Balor figures.
Basic Series 91 Finn Balor -Battle Packs Series 57 Finn Balor and Nakamura -Nakamura -Finn Balor -UPDATED 1/29*
The Palisades Center Target has the New Day Macho Man Retro wave today so I picked up
Retro Macho Man
.
UPDATED 1/28*The New Day Booty O's box set -
I picked this up tonight at K-Mart because it was on clearance for $10, but I had $2 in rewards saved up so it was $8. So I couldn't pass it up. The best part was the cashier thought it was a box of cereal that was marked $52. Until I showed him it was three figures. lol
Xavier Woods -Big E -Kofi Kingston -WrestleMania Triple H -
I ordered this from Amazon after the one I received for Christmas had two left thighs. Although even though it's a hair shorter I still like my fixup I did with the less ripped thighs better.
Basic Series 82 Becky Lynch -
I picked this up at WalMart Saturday.
UPDATED - 1/16*
These just arrived from Amazon.
Best of Attitude Era Triple H and Top Picks Rollins.Best of Attitude Era Triple H -UPDATED - 1/12*
I picked up the
Top Picks Rollins and Balor
at Target. The Aquaman at GameStop and the DC Multiverse Lobo wave arrived from Big Bad.
Top Picks Seth Rollins -Wearing the Epic Moments Shield Set Rollins "Burn it Down!" shirt -Top Picks Finn Balor-UPDATED - 1/11*
I picked up the
Top Picks AJ Styles and another Entrance Greats Goldberg
today at Target.
Top Picks AJ Styles -Entrance Greats Goldberg -UPDATED 1/08*Not the Gold Standard, but the American Dream.
After Amazon cancelled my
Elite Series 63 Shelton Benjamin and Dusty Rhodes
preorders after pushing the date twice I ordered these from RSC Saturday night.
E63 Shelton Benjamin -E63 Dusty Rhodes -UPDATED 1/05 *
So I was happy to find the BP 56 B-Team tonight at Target...
Battle Packs Series 56 Miztourage -
Then I was totally p!ssed off when I saw that I received two emails from Amazon canceling my orders for E63 Dusty and Benjamin. This after they pushed my delivery date back twice. They were originally supposed to be mid Dec. then they were pushed to Jan 29. And now they cancelled them. They did the same thing back in September or October with a couple of Mattel DC figures I had preordered as well as the Jakks Big Fig Super Articulated New 52 Batman.
BP56 Bo Dallas -BP56 Curtis Axel -UPDATED 1/01 *
I picked these
Basic 90
figures up at Walmart this morning. It was the only new assortment they had.
Basic Series 90 Roman Reigns-Basic Series 90 The Miz -Basic Series 90 Ronda Rousey -UPDATED 12/25 *
Top Talent Finn Balor & WrestleMania 35 Triple H -Top Talent Finn Balor-WrestleMania 35 Triple H -Commissioner HBK -
I finished him today with the addition of Jake the Snake Roberts.
Elite Series 62 Dude Love-Basic Series 89 Kurt Angle -Basic Series 89 Carmella-Epic Moments Shield Set -Seth Rollins-Dean Ambrose -Roman Reigns -
They missed painting his left cheek.
E62 Sting -
UPDATED 12/13 *
My
Elite Series 63 Bob Backlund
arrived today and while I would have preferred a longer haired WWF 70's/'80's version I am very happy with how this figure came out. Personally I would have used the Funk/Anderson/Blanchard torso over the Matt Hardy one, but it's not a bad choice. I got to open it because of the robe. I was worried about it staining if I waited until Christmas to open it so my wife let me open it. And I am glad I did, because while there wasn't any staining there were a ton of little blue fibers all over him that I wiped off that would have stained if I kept the robe on him until Christmas.
Elite Series 63 Bob Backlund -UPDATED 12/12*
I picked up a couple of this set on Monday at the Middletown NY Walmart. I am very happy to have gotten this Sting.
Sting vs Undertaker Fan Central Battle PackFan Central Ric Flair-Hall of Champions Series 3 Ultimate Warrior, Road Dogg & Billy Gunn -Ultimate Warrior-Road Dogg -Billy Gunn -Retro Flair -Retro Balor -
I finally found a new wave at Target. Unfortunately there was no Flair.
UPDATED 11/17 *
I picked up the
Basic Series 87 Miz and Styles
today at WalMart.
B87 The Miz -B87 AJ Styles -UPDATED 11/14 *
My Goldberg just arrived from Amazon. It looks fantastic! Also my WrestleMania 35 Triple H and Top Talent Balor arrived from RSC. All three are great looking figures. Now comes the part I am never good at. Waiting month and a half until Christmas to open it. lol
Entrance Greats Goldberg -Top Talent Finn Balor & WrestleMania 35 Triple H -UPDATED 11/08 *
I went to two different Targets this morning hoping to find the E62 Sting and Dude Love. Spring Valley NY only had a bunch of the last Elite John Cena. And the Palisades Center Target had a fresh case of E61. So I picked up the
Elite Series 61 Styles
I really like the figure, but I wish he came with the United States Championship
Elite Series 61 AJ Styles -UPDATED 10/21 *
I actually picked this up at the Monroe NY WalMart Thursday night...
Stone Cold Steve Austin-UPDATED 10/11 *
The Riverdale NJ WalMart had a case of the
FB Elite Series 3
on the shelves.
Austin X3
Roberts X2
Steamboat X2
Both are welcome additions to my collection.
Race X1
So I picked up the two I wanted the most.
King Harley Race -Ricky "the Dragon" Steamboat -
It's a great figure, but it would have been even better if they gave him the arms his DM figure had.
Jake the Snake Roberts -Commissioner HBK -
🎼He's A Man Called Sting...A Man Called Sting🎼 -
UPDATED 9/17
UPDATED 9/17 *
I found the
WalMart Basic Flashback JJ Dillion set
this morning at the Saddle Brook NJ WalMart.
Booker T -Lex Luger -Ric Flair -Sting -
Now I know I complain when they were giving Crow Sting smaller arms than Ziggler, but this is ridiculous...his arms are HUGE! He should have had the same arms as Lex, but they gave him (and Booker T) arms that are the equivalent to Brock's basic arms. lol
Also I had to swap his left hand because it was fused to the wrist stem and ithe eyehole on the stem snapped when I tried to move it. Plus they face painted the tip of the hair strand. lol
JJ Dillion -
Unfortunately the extra thin body they gave him make his oversized head more noticeable. I wish they had used the Heenan torso for him.
UPDATED 9/12 *🎼He's A Man Called Sting...A Man Called Sting🎼
My Elite Series 62 Sting figures just arrived from RSC!
Sting -
UPDATED 9/1 *
I picked up
Hall of Champions Series 2 Ron Simmons and Tommaso Ciampa
today at the Fairfield NJ Target.
Tommaso Ciampa-UPDATED 8/27*The Stunt Action Superstar Was Set A Blayze at WalMart -8/27
I picked up the
WalMart Flashback Alundra Blayze
today at the Suffren Walmart.
And this was their aisle today. lol
UPDATE 8/11*
(You know who the title was for
)
I picked these up today at WalMart...I wanted to get Alundra also, but I wanted another E59 Finn more so I got him instead.
WalMart Flashback Elite Series 2 -HBK Basic Series 85 Seth RollinsUPDATED 7/24*
My
Elite Series 60 Triple H
arrived today from Amazon. I think it is a great looking figure.
UPDATED 7/20*
My
Entrance Greats Finn Balor
just arrived. According to my tracking it wasn't supposed to be here until Tuesday so I am glad it arrived today. I mistakenly picked FedEx SmartPost by mistake instead of Priority when I ordered it.
UPDATED 7/15*
I picked up the
Hall of Champions Hitman vs HBK set
today. I am upset as Bret is way too short. HBK is about the same height as his Elite counterpart though.
UPDATED 7/8*
I picked up the
RetroFest Shawn Michaels
figure today at Think Geek. Not sure if I will open it though. They also had Savage.
UPDATED 7/7*
Between TJ Max, Home Goods and Marshals I picked up all the series 2 Retros I wanted. Marshals also had the talking HOF figures, TJ Max also had the Big Boss Man Elite (47?) and Home Goods had the talking figures wave with Kofi in it.
Retro Series 2 Mankind Retro Series 2 KaneRetro Series 2 Triple H Retro Series 2 Sting UPDATED 7/5*
In honor of the 28 year anniversary in two days of the 1990 GAB (and the fact that I am weak) I picked up another DM GAB Sting from the Westwood NJ KMart for $14. lol I also picked up the Retro Austin and Basic Finn fan pack at the TJ Max next door to it.
GAB '90 Sting -
Finn Balor Fan Pack -Retro Series 2 Stone Cold Steve Austin-UPDATED 6/30*
I picked up some of the SummerSlam figures today at Walmart.
SummerSlam Kurt Angle -SummerSlam Ric Flair -Seth Rollins -UPDATED 6/22*
My two
KotR Hitman figures
arrived just now.
I really like this figure, but there's a couple (4) things that keep it from being a perfect figure. Here's my initial quick thoughts on this figure.
First...It's not Mr Perfect (for all the comedians that will say it's not perfect. lol)
But seriously here's the few things holding it back. One is a major issue and the other three are minor things.
1. Again they painted the flesh tone on the torso instead of molding it in flesh tone plastic. This will always be a major issue. Luckily I just display mine so the torso won't chip over time, but that will be an issue for those who play with them.
2. His hair. Like all Mattel Bret figures the front of the hair looks odd. I get what they are going for, but the strands are molded way to thick and look like dreads.
3.The pink wrist tape is way to long. It should be half the length they made it.
4. They didn't give Bret socks. This is a major pet peeve of mine. If a guy wore socks above his boots I feel the figure should represent that. It used to piss me off whenever Jakks would release Piper, Bret and Dynamite Kid without them. Because to me that was always part of their look/attires. So I would always paint the on myself.
RSC Exclusive KotR Bret Hart -UPDATED 6/21*
So today I picked up the e56 Samoa Joe at Wal-Mart. Odd my last two purchases were of Samoa Joe. lol
Elite Series 56 Samoa JoeUPDATED 6/16*
So I picked up Samoa Joe's first Elite today at Five Below and my question is this...What was the issue he was supposed to have with his arms or hands? Because my Joe's articulation is perfect. No joint is too tight or too loose. If I had to have a complaint about him it would be that his lower torso (crotch piece) hinders his legs from kicking forward very well.
Elite Series 43 Samoa Joe
Oh and a TRU update. My local store had "The Last 13 Days" signs up around the store this morning. The only WWE they had left we're a couple of the Jakks "Big Figs" (25"-30" Figures) an endcape of the Dolls and then in elections about 13 of the Ambrose figure with the cop hat.
UPDATED 6/11*
My two
Best of Attitude Era Jericho
figures arrived tonight from Amazon.
UPDATED 6/10*
I picked up the
NXT Basic Ciampa and Gargano
figures at the Palisades Center Target (still had another set or two when I left) the
Elite Series 43 Owens
I picked up at 5 Below for $5. The Aragorn POP and JL Mystery Mini was from Barns and Noble. And the rest was from TRU.
Tommaso CiampaJohnny GarganoElite Series 43 Kevin Owens
So I found another
B84 Balor
with the perfect card at another WalMart. They had two of those displays. Unfortunately it wasn't a MitB version and every other figure box in both displays was completely crushed.
UPDATED 6/7*Looks like WalMarts are getting new display box flats. I saw this at WalMart today. It says "Series 84" and "New Figures Every month". Unfortunately if you are a MOC collector you will be disappointed as the box tops are all bent. I saw one for Elites the other day at a different WalMart.
I picked up a
Basic Series 84 Finn Balor
with a MitB briefcase.
UPDATED 6/1*
These two
Elite Series 59 figures (Angle & Balor)
arrived today from RSC and Amazon.
Finn Balor -Kurt Angle -
And last night my wife stopped and picked this up for me at the Booton NJ WalMart on her way home from work.
Battle Packs Series 50 Orton vs WyattBray Wyatt -Randy Orton -UPDATED 5/19*
I picked these up this morning at TRU. Yes,
Heroes and Martyrs
and everyone else who have heard me say in the past I wouldn't ever buy him... I went against what I have been saying for years and picked up Waltman. But it was $11 and might be a good base for someone in the future. lol
Elite Series 43 Samoa Joe and Elite Series 41 1-2-3 KidUPDATED 5/18*
I ordered two of the
Basic Series 85 Bobby Roode
from RSC on Wednesday and they arrived today.
UPDATED 5/10*
Thanks to
Nivro™
for thinking of me and
Apocalypse
for picking it up I now have the
Shark
. Thanks guys!
UPDATED 5/6*
Found all of
Elite Series 58
at the Palisades Center Target. I only wanted and picked
the Bar.UPDATED 4/22*
I picked this up
Basic Series Angle
at WalMart this morning. I was going to get Orton and Triple H also, but picked up two LotR Mystery Minis instead.
UPDATED 4/13*
Mail just arrived. And it was Glorious!
Entrance Greats Bobby Roode
- The base plays for about 30 seconds once you switch the switch on the bottom of the base.
UPDATED 4/10*
And of course I found the
Fan Central Elites
today. lol
So I picked up another Triple H and Bobby Heenan
UPDATED 4/9*
Thanks to
penny1rockets
I now have the
Fan Central Triple H and Bobby Heenan. UPDATED 4/6*
Went to TRU again this morning hoping to find the Fan Central, but they still didn't have them. Earlier in the week the did get over 6+ of the
Festival of Friendship
set and each day they had less and less. Today they only had one set left so I picked it up for $44.
UPDATED 4/3*
Even though I have one coming from Amazon tomorrow I saw a full WrestleMania display at WalMart and couldn't pass on the
WrestleMania Elite Orton.
There were at least 10 of everyone in the wave in it.
UPDATED* 3/31
I just picked up the
Elite Series 57 King Slayer
at WalMart. And earlier today I picked the
WrestleMania Brutus
up at TRU.
UPDATED 3/29*
The second
RSC Finn Balor
I ordered the other day arrived. And I just ordered the WM Elite Orton off Amazon for $19.98 w/Prime. It comes in on the 31st and I should have it Wednesday. And here's the start of my
Elite Series 55 Neville
fixup.
UPDATED 3/26*
Well, I hit the WalMart by my daughter's college and they did get E55 in over the weekend. Unfortunately all they had left were 4 Cass figures. After we got home I headed up to the Monroe NY store and they had 1 each of Cass, Brock, Ellsworth and Neville. So I picked up the second Neville I was wanting. I'm not sure if I am going to change his attire to the black one that the prototype had.
I also ordered a second of the RSC Balor this morning. I have been wanting a second for a while now and at $19 and change after the discount code I couldn't resist.
I am not going to take more pics because there should be the pics from my first one back in Nov/Dec in this thread still, but I picked up another
Elite Series 55 Neville
.
UPDATED 3/22*
I went out today hoping to find the Fan Central and another e55 Neville for my birthday. But unfortunately I had no luck finding Fan Central at TRU or finding e55 at WalMart so I picked this
Revival Battle Pack
up at Walmart. A little disappointed in that they use tights molded legs molded in flesh tones. So they have wrinkles molded into their legs.
UPDATED 3/20*
At $25 now I couldn't pass on picking up a second
NWO/WCWvHoF 4-Pack
set today. I won't post loose pics because I did back when I originally purchased one.
UPDATED 3/19*
My wife picked this up Target last night for me.
Basic Series 81 RhynoUPDATED 3/17*
I picked up the two of the
Basic Series 81 Rollins
figures at Target this morning.
UPDATED 3/10*
I picked these up today at the Middletown NY TRU and Monroe Target for a fellow overseas board member.
HoC Batista and EG HardyUPDATED 3/6*
I picked these up this morning.
Hall of Champions BatistaUPDATED 3/4*
Today is always a bad day for me, because 28 years ago today my father passed away. So I usually go out on the anniversary and buy something to try and take my mind off of it. (Which was what I had done yesterday after seeing my sister's post on FB about him) but then I realized she had posted it a day early. So my wife and I went out this morning to WalMart where they restocked the FB Elite so I was able to pick up the lone Mean Gene they had which was someone I did watch with my father. Now if Mattel would only release his favorite wrestler Superstar Billy Graham.
WalMart FB Series Elite Mean Gene and the Ultimate WarriorUPDATED 3/3*
I picked these up this morning at the Palisades Center store. There was still a Rikishi and Undertaker when I left. My Eddie has a very loose ab crunch...it's like they forgot to put that little rubber stopper piece in the torso joint.
Target Hall of Champions Eddie Guerrero and the Undertaker UPDATED 2/24
I picked up the
Elite Series 56 Luke Gallows
he has a stuck left arm. I'll have to pop it off and put some powder on the shoulder stem.
UPDATED 2/23
I was only able to pick up half of the Club this morning. I will have to pick up Gallows at a later date. The shirt is very tight on him. So tight that the Velcro doesn't reach in the middle of the back. Just the very top and very bottom connect.
Elite Series 56 Carl Anderson UPDATED 2/15
I picked up the
Elite Series 56 AJ Styles
at the Monroe NY WalMart tonight.
UPDATED 2/11
I couldn't find the extra pair of BAF arms I had so I picked
Basic Series FB Sgt Slaughter
up this morning to finish the Fink. And an FYI Sarge's upper arms look to be molded in green and painted flesh .
UPDATED 2/9
It was a GLORIOUS morning. I picked the
NXT Elite Series 3 Bobby Roode
up at the Palisades Center Target. They had a full case as well as the basics with Ciampa and Gargano.
UPDATED 2/8
I finally found the FB Elite wave minus Mean Gene. I picked up
Ultimate Warrior
and passed on the other two.
UPDATED 2/5
Finally something I wanted at retail. I picked up the
Basic FB Rick Rude and Bob Orton
today.
Now I just need to find the Elite FB Warrior.
UPDATE 2/1 -
I picked up the
WrestleMania Triple H vs Sting 2-Pack
at TRU this morning and the
Basic WrestleMania Series Seth Rollins
at WalMart yesterday. Seth has the new unarticulated boots, but Triple H and Sting still have articulation at the ankles.
Updated 1/12*
I finally found new Retros. Thanks to the Target Tracker I picked the
Rollins and Styles
up at Target this morning. I've still not seen any series 2 locally.
Updated 1/11*
I picked up two of the new
Basic Series 79 Neville
this morning at WalMart.
Updated 1/8*
I picked the Miz at TRU and AJ from Target.
Elite Series 53 The Miz
as everyone knows they gave him the DB thighs so he is really short.
Basic Series 78 AJ Styles Updated 12/21*
I picked the
Elite Series Jericho
up this morning at Walgreens. I already have the exclusive, but I like this attire more.
updated 12/14*
These arrived from RSC this morning. Now the wait until Christmas begins.
Entrance Greats Kurt Angle -RSC DX HBK -Update 12/13*
My wife picked up the
Elite D'Lo and the NXT Basic Series 2 Bobby Roode
for me.
UPDATED 12/11*
I saw Virgil was in stock at my local store this morning so I ordered one for in store pickup. And here are my purchases. And while I have had the DC Multiverse Rookie wave since the summer this was the first time I saw the Rebirth Batman from the assortment on the pegs. So I was finally able to pick up my MIB one.
*UPDATED 12/4*
My "King of the Cruiserweights" arrived today.
Elite Series 55 Neville -
It's a great head sculpt and a very nice figure...but it is missing his arm bands around his shoulders.
*UPDATEd 11/11*
I picked up the
HOF Piper and Diesel
today at the Palisades Center Target. They went from Limited stock to In Stock overnight on Brickseek so I got there at 8am. Looks like 2 Piper figures were purchased by the overnight crew. Because all that was there were 2x Diesel, 2X Roberts, 1 Piper, 1 Steele. The employee searched the back room, but there weren't any. Thankfully they left the one or I would have been pissed. lol
Rowdy Roddy Piper -
the kilt needs work, because it won't stay fastened at all. Slightly touch it and it pops open.
Diesel -
Diesel was packed away for Christmas.
*UPDATED 11/4*
We had to cross the river today and drop my Brother-in-laws car off at the Westchester Airport so I didn't have to drive over there at midnight to pick them up. Anyway after dropping off his car my wife suggested we go to the Mount Kisco NY Target. I agreed hoping to find the HOF Piper and NXT Roode. No luck on either of those just 4 HOF Tito's and a bunch of Owens, Joe and Sami from NXT series 1. But they did have the NXT series 2 Elites (3 Asuks, 2 Nakamura and 1 each of the Revival) so I picked up a
NXT Elite Series 2 Nakamura
.
*Updated 11/2*
Finally after almost a full year of looking I found this 3-Pack.
Steamboat/Piper/Savage
*UPDATED 11/1*
My wife picked these up for me at the Booton NJ WalMart.
Basic Series 77 Finn Balor and Seth Rollins-New Basic Series Arm Movement -*UPDATED 10/31*
I picked these up today at WalMart (BP) and Walgreens.(Braun)
Elite series 52 Braun Strowman -
I know people bitch about his hands being small, but if I have an issue with it...it would be like with the Mike Knox figure where the beard the beard hinders anywhere movement what so ever.
*edit*
after forcing it a bit I do have some side to side motion out of it now. As for the hands I will swap them with his basic's.
*UPDATED 10/29*
I picked up the
Elite Series 42 Neville
up today at the Middletown NY WalMart.
*Update 10/28*
I picked these two
Basic Series 76 figures (Orton & Strowman)
up at the Monroe NY WalMart this morning.
*Updated 10/26*
I picked this up this
HOF WCW/NWO 4-Pack
morning at the Palisades Center Target. I think they spelt Zbyszko's name wrong.
* Updated 10/24*
This arrived from Amazon this morning.
Elite Series 52 Seth Rollins -*Update 10/22*
I picked these up this morning at the Monroe NY WalMart. They had at least two of everyone. Lana might have had 3 but I think one fell out of my reach as they were on the top of the shelves where they stick the overflow. All the cards were damaged on this set. Still need to pick up Orton and maybe Braun, but passed on them for now in favor of better carding. (I don't know why as I will open them anyway. lol)
*Update 10/20*
I picked up the new
TRU WrestleMania AJ Styles Elite Exclusive
at the Nanuet NY TRU this morning. Here's some quick pics while waiting for my daughter to get out of class. I will try and post better ones tonight or tomorrow, because I am not sure when we will be getting home today.
* UPDATE 10/8*
I saw one of our WalMarts had updated their stock with two cases of Elites this morning so I went hoping it was E52, because they had already had a few restocks of E51 and their last restock they had gotten a case of E50 two weeks ago. I get there tonight and what do I see on the pegs? Becky, 2 Enzo, 2 Cass, 2 Beefcake, 6 Apollo and 3 Orton. I ended up buying another Orton so it wouldn't be a wasted trip.
* UPDATE 10/7*
I picked up the
Two Dudes Battle Pack
today at the Fishkill NY WalMart. They had a full case. They also had the Elizabeth wave off TNF.
*Updated 10/5*
These just arrived from RSC.
DM Jericho is for me and the RSC Exclusive Shane
is for an overseas board member. It's hard to believe it was almost a full month since my last WWE purchase.
Updated 9/9
I went back to Walmart picked this up yesterday.
Basic Series 76 Dolph Ziggler -
And here's the e51 Hall with a raised head and larger DM Steamboat/Ziggler sized arms.
Updated 9/6
I picked up the new
Basic series 76 AJ Styles
in blue today. The Walmart was stocked today with E51, BP wave with Banks/Flair and the Basic assortment with AJ and Macho Man. They also had new basic Justice League figures and 3.75" Black series Star Wars
*Updated 9/2
I took our daughter to class this morning and while waiting for it to let out I stopped at a WalMart that I really don't like and surprising they had one each of the
TNF Series 3 on the pegs so I picked up Seth and Elizabeth
as they were the only ones in the set I wanted. And it was good thing I only wanted them seeing every other figure besides the Seth that came with a title belt had the title stolen. So I would have been pissed if Seth's title was stolen, because like I said there was only one each of this assortment and I really wanted the Seth.
*Updated 8-31
I picked up the
TRU Exclusive Andre the Giant* Updated 8/26
I picked up
TRU Exclusive Isaac Yankem
today at my local TRU.
*Update 8/17
I purchased another
Elite Series 51 Scott Hall
and did a head swap with one of his BP figures.
*Update 8/11
I picked these up today at Walmart-
I also ordered the e51 Hall last night from Amazon for $19.99 with Prime shipping.
Found E51, Network Spotlight 5-Pack, Network Spotlight Ambrose and the new "dolls" at the Nanuet NY TRU.
I picked up the Hall and cancelled my Amazon order.
Scott Hall -
They had the Roman with the new scan/sculpt.
*Updated 8/10
I picked up the
basic TNF Seth Rollins.
*8/08 Update.
I picked the
Elite Berzerker
up this morning at Walmart. The DKR Flash and Blade I bought at Walgreens yesterday. And Michelangelo was at Target on Sunday.
Berzerker -Michelangelo as Roddy Piper
I thought these were WalMart exclusives? But while not the Piper I was hoping to find I did find it at Target.
Walgreens Exclusive DKR Flash -Marvel Legends Blade-
*8/1*
This arrived from Amazon. Of course it was in a box that was too short for it. I think besides the BP figure with Roman Reigns I now have all the Styles released so far.
*7/31*
On clearance for $25 I had to get another! I'm weak! lol
*7/30*
I picked up the E51 Styles at the Monroe Walmart this morning. No Hall or Berzerker.
I think that is more on par with the type of titles that @heroesandmartyrs loves.
I picked this
Hart Foundation Battle Pack up as well as another B73 Styles
at the Monroe NY WalMart this morning -
* Today 7/22 KMart/TRU/Walgreens Purchases *
I think this is the last Finn that is out that I needed.
* Basic Network Spotlight Sting is out! Just picked him up at Nanuet NY. * 7/20Network Spotlight Sting -
You know who the title is for.
My Jericho just arrived from RSC.
List of Jericho -
I just picked these up at TRU. Mankind now has a painted mouth. Or was that a different Mankind?
SummerSlam Mankind & Finn Balor -
While I was still in the packing lot I realized what the basic case I read said so I went back into the store and returned him, because the case I had read said "TRU Network Spotlight Basics" So Mankind was returned for the Stinger!
Sting vs Flair 1990 Great American Bash -"SAY IT!...SAY IT!"..."NOOOooo!"...Introducing the Challenger to my right from Virginia Beach, Virginia weighing 242lbs the vastly popular Magnum TA...
Finally we have this figure in our hands. I can't believe it took close to 30 years to get our first Magnum TA figure.
The NWA -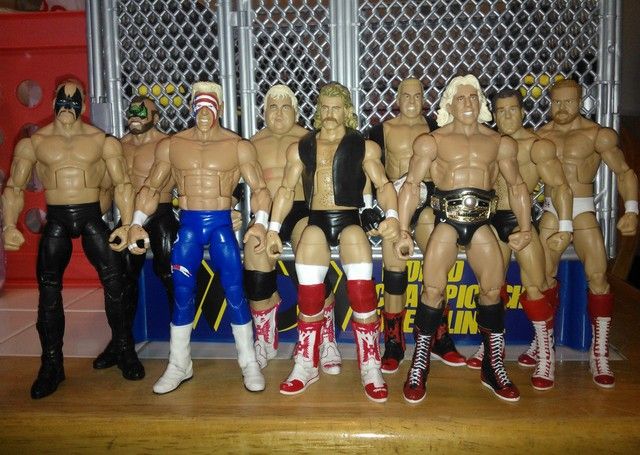 Starrcade '85 "I Quit" Match -