Post by Jack Specific on Dec 13, 2017 16:41:01 GMT -5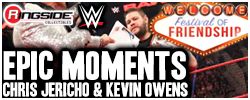 Mattel Festival of Friendship (Chris Jericho & Kevin Owens) - WWE Epic Moments
Insider Video!
*** Use Coupon Code WFIGS for 10% Off! ***
CLICK HERE to Pre-Order Now!
The hottest bromance of 2017 will now be forever immortalized with the Mattel WWE Epic Moments Chris Jericho and Kevin Owens! When Chris Jericho and Kevin Owens celebrated their partnership, they used the 'Festival of Friendship' to speak about it. All the memorable items from that moment are accessories here, including a trophy, the 'List of KO', a stand with a 'Festival of Friendship' logo featured and even the 'Creation of Adam' image featuring both Jericho and Owens! Also included are microphones, the WWE United States Championship, the WWE Universal Championship and pens! Jericho sports a big smile, a scarf and a silver and black outfit while Owens wears his 'Kevin Owens Show' shirt and black pants and boots!
The bromance between Kevin Owens and Chris Jericho, while now over, has been at the forefront of WWE television for months and one of the most exciting friendships to grace small screens since Cagney and Lacey. While these two have come to fisticuffs, one of their most memorable segments together came when they joined together in celebration with a 'Festival of Friendship'. This new WWE Epic Moments set will include premium accessories including Festival of Friendship signs, a trophy, the List of Kevin Owens, a scarf, hat and even the painting of Jericho and Owens parodying 'The Creation of Adam'.