Post by punksnotdead on Feb 12, 2019 11:02:15 GMT -5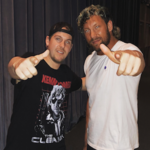 I'm REALLY hoping they remake Nemesis next. Although, if they just do a new story with RE8 and use the RE Engine, that would be awesome too. I'm totally onboard with getting 0, 1, 3 and CV now though using these controls and I'll spend the $60 every time. Assuming they're all made with this level of care, I'm fine with getting remakes over new installments right now with this franchise.
Did you start with Leon or Claire? I was pretty shook encountering the G's in the sewer the first time through. I tried to sneak past them on the way to the blow torch and then they popped out of the water and I panic fired on them. I handled them much differently through scenario B since I knew how they moved.
The first of the three free DLCs comes out Friday. So I'm looking forward to playing through that soon.
Started with Leon and will do Claire once his story is complete.
It's been so long since I played the original everything feels so new to me. I think the last time I played it was on Dreamcast. I am not sure what I'm wanting more RE8 or remakes of 0-Veronica. I'll be happy with either.
That was how I played it as well.