Post by Eric on Apr 15, 2021 20:07:52 GMT -5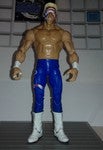 I would play for hours in my backyard with Megos or the 1:32 scale army men. Either by myself of either two of my friends. I am talking hours. We would build forts for them. My yard was great for both. It was 250 yards long and about 25-30 wide. (It sucked when my father passed the lawn cutting duties off to me though!) LOL
But as a kid it was great for playing sports or just playing with toys. The driveway wrapped around the house and was raised about 3 feet from the yard. Where the driveway ended was on a 3' high wall that ran the length of the driveway with a dirt ramp in the middle to get into the yard. And in the right corner of the driveway was my spot. The rock wall was a "cliff or mountain" with a 6' dirt patch with a big oak tree about half way in the dirt patch. And to the side was the start of the lawn "jungle/forest" with a 8" pond with fountain that was the "River/ocean".
And for hours on end you could see me there playing with Mego Star Trek, PotA, Action Jackson, Robin Hood, Superheroes, Legends of the West and the LJN SWAT/Rookies/Emergency figures. Or 12" GI Joe's or little plastic army men. So many adventures where had there. Unfortunately when my father passed away my mother ended up selling the house to a developer who tore it down to make an access road to the development of townhouse he built. Although I was married by the time that all happened it was a very sad day.
That's awesome, man. We all made do with what we had, right? I bet a lot of us have similar memories.
I didn't take my figures outside too much, but GI Joes had to be outside sometimes on our back porch and the grass around it. When I was a little older and had Batman and Marvel Super Heroes figures, my place was our living room between the back of the couch and the wall. My private play area, maybe four feet by eight feet with the '89 Batcave and the Marvel Super Heroes Training Center. Every day after school, with lots of high drama (someone always died tragically, just never Batman or any of my other favorites haha).