Post by TheChamp617 on May 17, 2018 1:19:27 GMT -5
It's been over a year since I last posted pictures of my collection. Not much has changed, but I figured I'd post new pictures anyway. I usually start off my collection posts with the following points:
- Everything might seem jam-packed and its because I live in an apartment, so space is limited.
- Space is limited and with a collection like mine, it's hard to take proper pictures
- Some pictures may have squares covering certain parts. This is to block any pictures of myself (i.e. pictures with wrestlers) that may be on my wall.
- See something you want to see up close? Let me know and I'll post a close-up picture.
Without further ado..
Entering my room... two posters are on my door and once you open it, Jericho warmly greets you (or, in the case of my friends, scares you away). The MITB hangs in the background: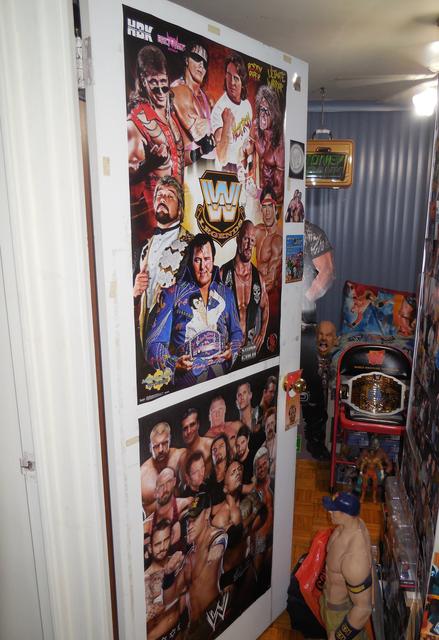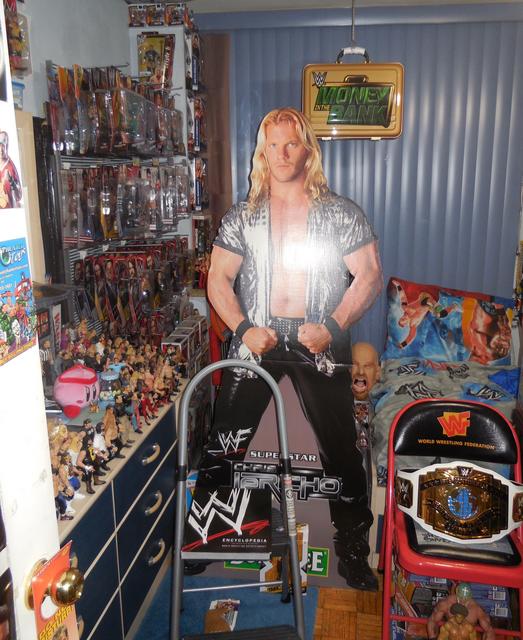 Above the door are some of my signed Elites: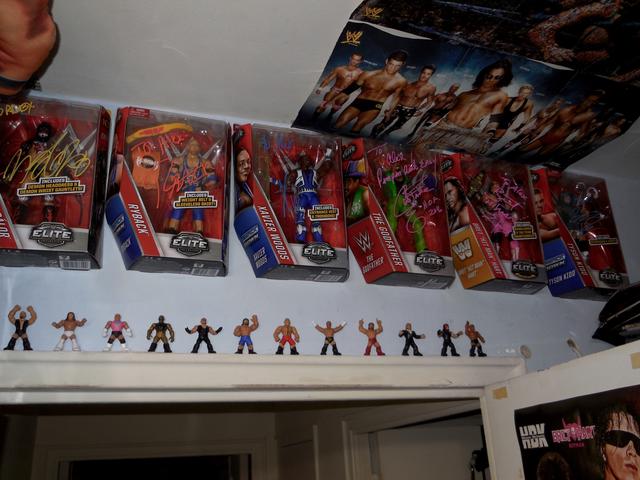 Once you enter my room, the wall on my left has a dresser with autographed figures. To the right of that dresser is a mirror. Above that mirror are more of my autographed figures: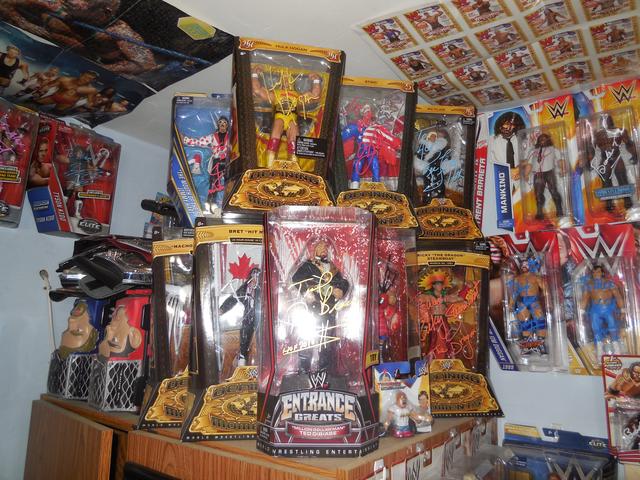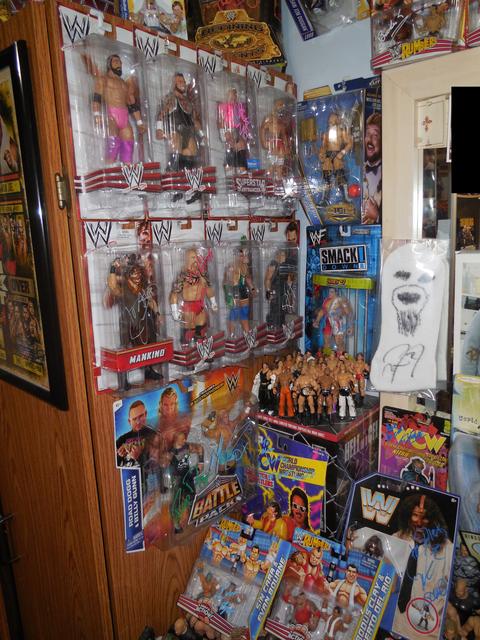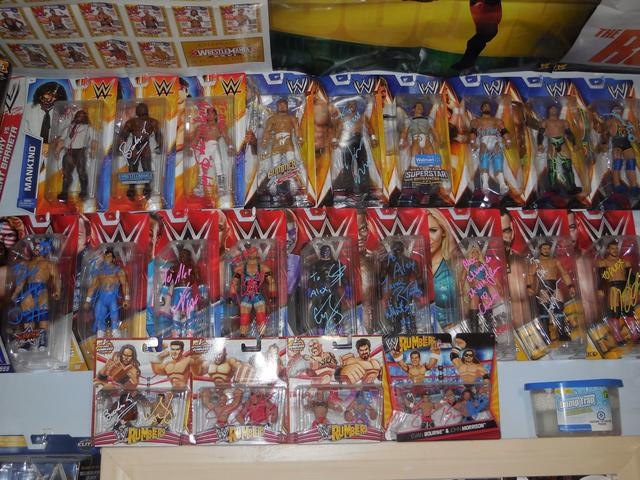 Below the mirror are my drawers, on top of which are my TTLs and BCAs.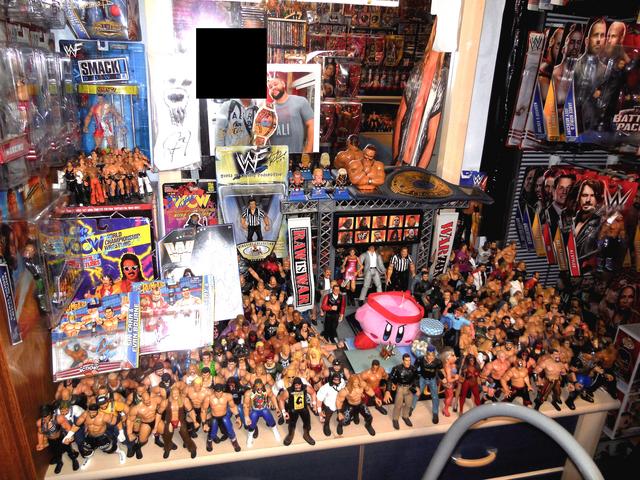 Jericho is usually grumpy and won't move from his spot. Thankfully, he stepped over such that I can take these pictures. Next to the mirror and drawers are my store display racks that hold my Basics up. In front of the store display racks are random stuff like playsets and other figures.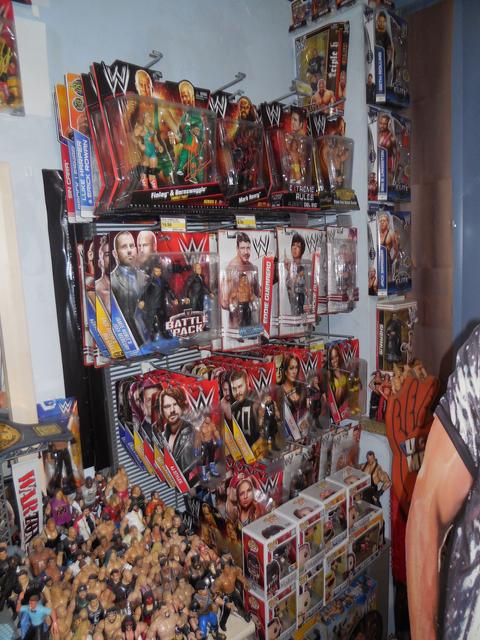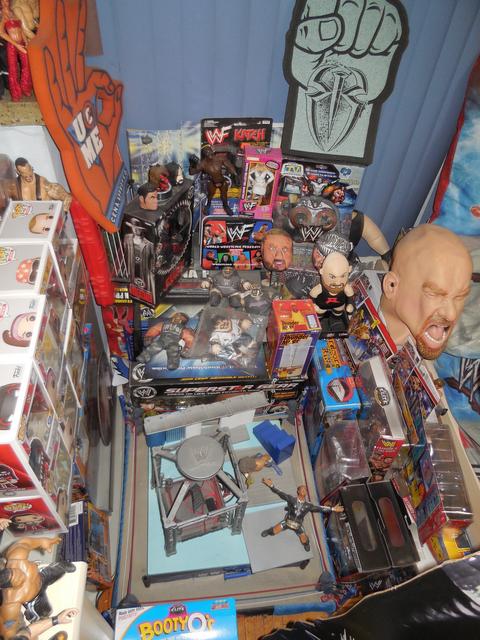 Moving over are my windows, and next to them are some elites and two of my commemorative belts.
Moving rightwards to the next wall are more Elites and DVDs.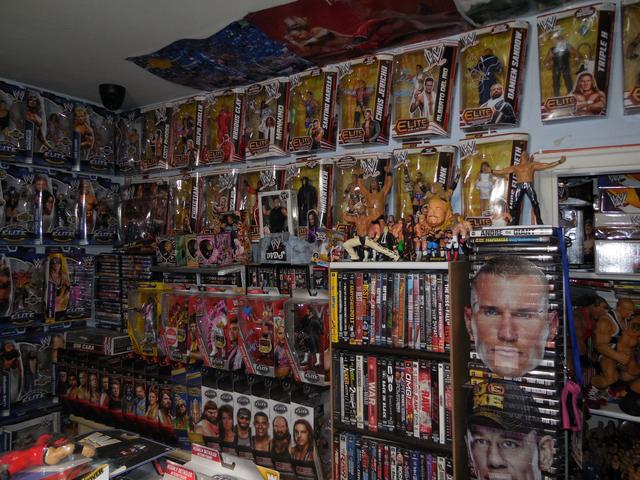 Next, is my closet. The closet door has some autographed figures. The closet houses playlets and random MOC figures on the top shelf, books and larger figures on the second shelf, third shelf has my loose Mattels, fourth shelf has the rest of my MOC basics, and the bottom shelf has random MOC figures not shown.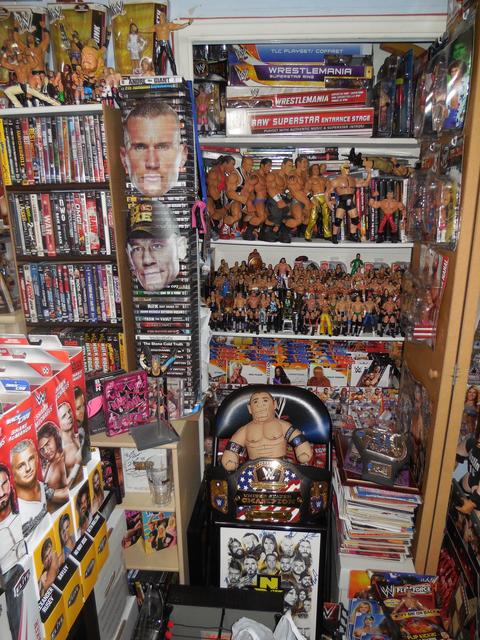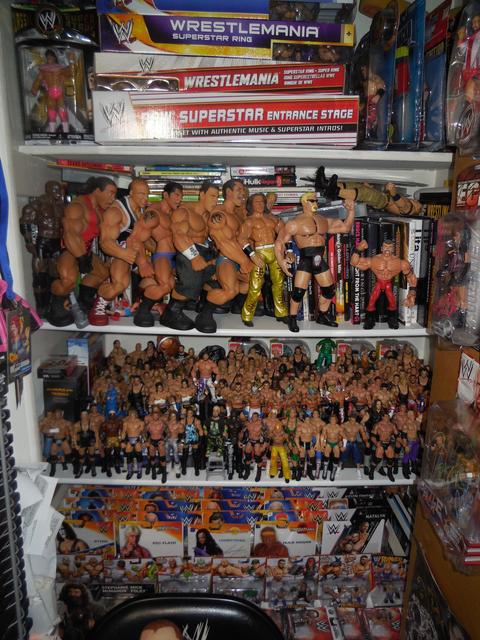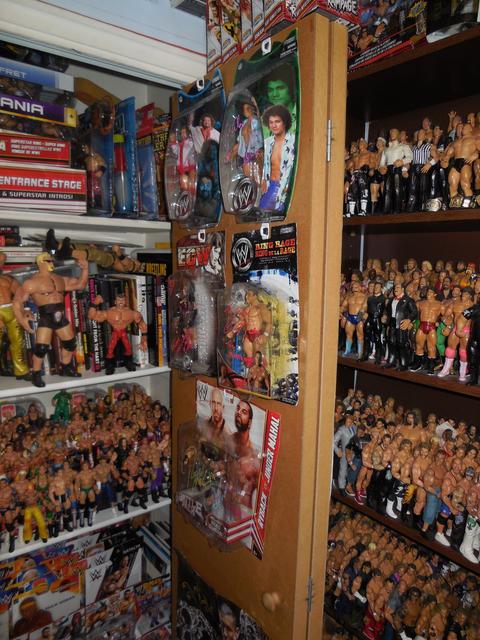 In front of my closet are some magazines, rings, and a Summerslam 2004 chair that is holding up my US title.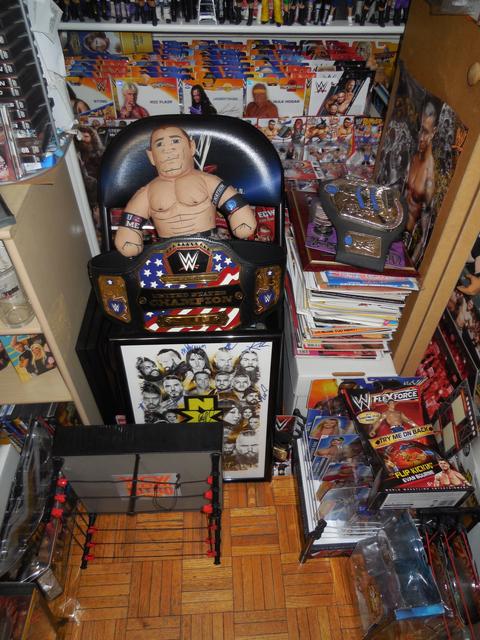 Next wall over has my Jakks shelf.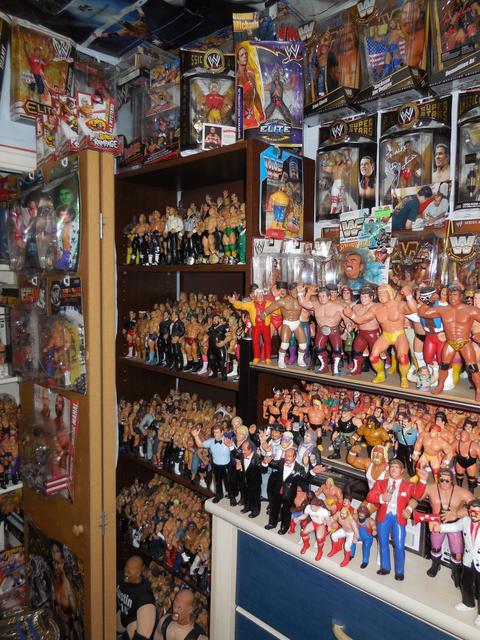 Beside that shelf is my Legends area with mostly LJNs and Hasbros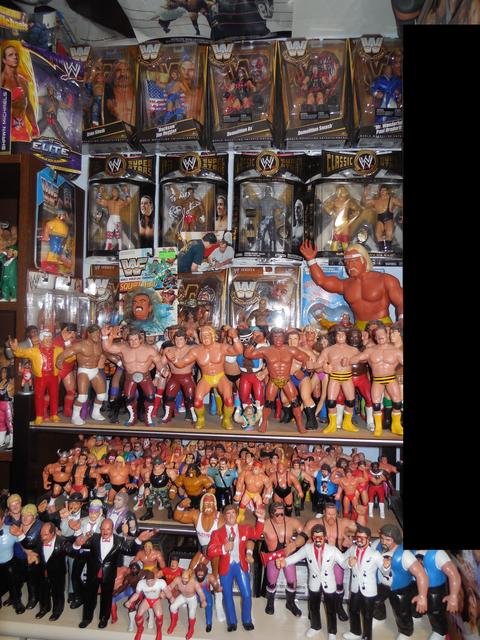 Beside that is another shelf, which mostly has VHS tapes, but also contains random things like autographed stuff and random figures.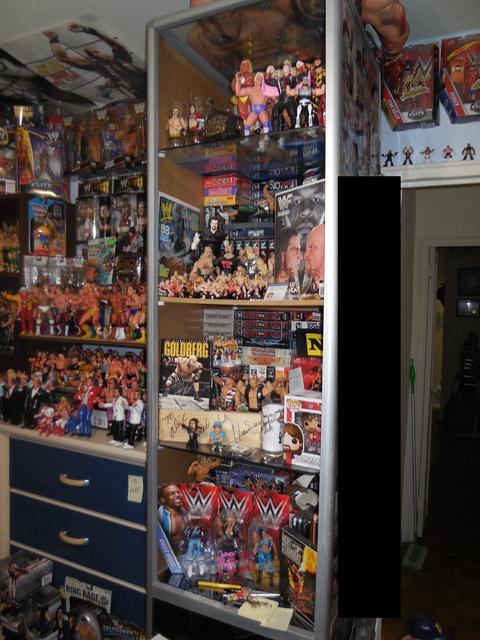 In front of that shelf and the Legends area, I have more random figures on the floor.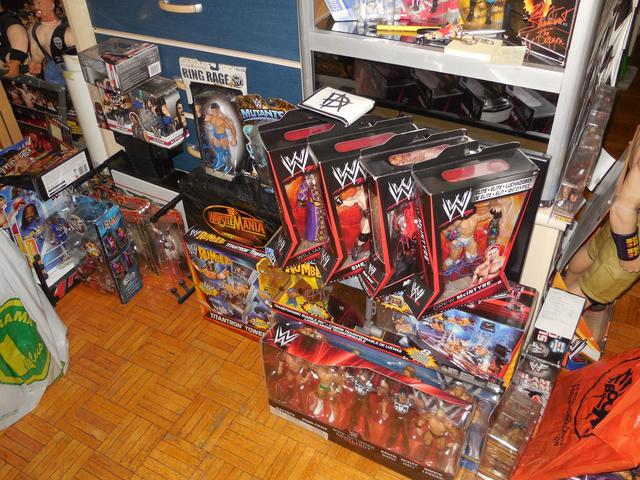 That's pretty much what is on the perimeter of my room. In the middle of my room, however, is a table. This table holds most of my Elites. Below my table are magazine boxes and DMs.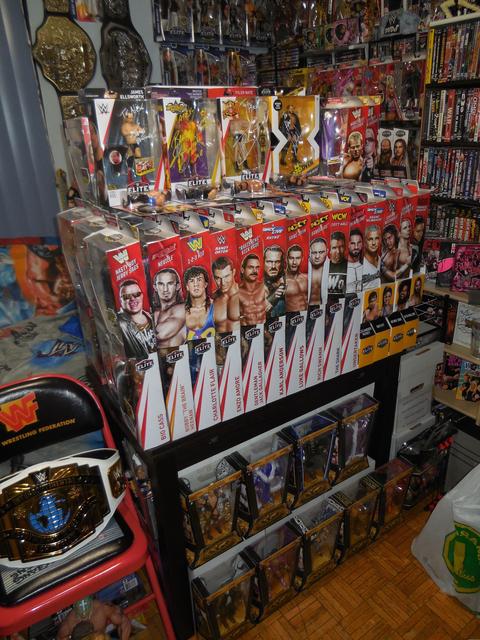 That's most of the collection!
Thanks for looking!