Post by King Richius on Jun 15, 2018 22:15:12 GMT -5
Prologue: The Odd Couple
Framingham, MA : June 10, 2018
Frank Lynn sits silently in his office, the only light coming from the computer monitor in front of him. Doctor Claw is curled on his lap, Frank absentmindedly scratching behind his ears while the cat purrs loudly.

On the monitor two videos play side by side, the sound turned off. Frank doesn't need to hear either soundtrack as he knows all the words by heart having watched the videos too many times over the past few days.

On the right, a clip from End Time. Kay Fabe is standing by as Mesh tells jokes to Frank, trying to make him laugh so he will let her hold his International Championship belt. The silent soundtrack plays in his head.
A piece of rope walks into a bar. The bartender says, "We don't serve your kind around here." The rope walks out back, ties himself up, and unravels his ends. The rope walks back into the bar. The bartender says, "Aren't you that rope that was just in here a minute ago?" The rope says, "Nope. I'm a frayed knot."
Frank groans again, in perfect sync with the recorded image of himself groaning the first time he heard the joke. Some things don't get better with age and that joke is certainly one of them.

On the left, a clip from over two years ago that Ricky shot to introduce the world to Frank Lynn. It was supposed to show how Frank liked to live life on the edge. The rest of the WFWF should fear the man who had no fear himself. In retrospect all it showed was an adrenaline junkie with no clue how things worked in the WFWF.

In the video, Ricky is acting goofy as usual. He was the Oscar to Frank's Felix in their Odd Couple friendship. Again, the silent soundtrack plays in Frank's head.
Frank: "That stuff with Paulie is going to need some serious editing. I don't want the world to see him perving on my mom."

Ricky: "He has a point. Your mom is kinda' hot."

Frank: "You do know that I can kick your @ss anytime I want to."

Ricky: "Won't make your mom any less hot."
Frank groans again and mouths "F*ck you Ricky", his fall back response whenever his friend got one over on him with his irreverent quick wit.

His eyes switch back and forth between the two videos. A tear forms in Frank's eye, not that he would ever admit it. There is no crying in professional wrestling. Despite the rather obvious differences between his dead male friend Ricky and the very alive female Mesh, all Frank sees are the similarities. They could be the same person as far as he is concerned.

Frank silently wishes he was fighting anybody but Mesh. Under different circumstances they could be friends. But there are no friends in the WFWF, just victors and victims. For Frank to be a victor Mesh will have to be his next victim.
This is why I didn't want you being a part of the WFWF Ricky. You'd have been Mesh, in over your head, oblivious that you were signing your own death certificate. I had to protect you for your own good.
Sarah waddles into Frank's office looking every bit of eight months pregnant and ready to pop out the baby. Frank hears her approach and quickly closes the two video windows, leaving one open that was hidden behind them previously - a video of Mesh's last match ending with her getting beat within an inch of her life by Ryan "Needles" Payne. Frank winces watching the blood flow from Mesh's broken nose. She didn't deserve it.
Haven't you watched enough video? I'm no expert and even I can see that Mesh is no match for you.I know. That's what I'm afraid of.
Frank and Sarah nod in silent agreement. Mesh is not up to the challenge of facing the reigning International Champion but her win or die trying attitude may force Frank to do things to her that he doesn't want to.
Haven't you had enough for one day? Come to bed.Best offer I've had all day.Better be the only offer or you can sleep on the couch.
Frank cracks a smile. The couple head off to bed, each hoping for a pleasant eight hours of sleep that neither will get. For Sarah, being pregnant is enough to guarantee she will be getting up in the middle of the night to relieve herself. For Frank, the nightmares that started after Back to Basics continue to haunt his nights.
---
WFWF Breakout RPHomecoming
featuring Frank Lynn
"The ache for home lives in all of us, the safe place where we can go as we are and not be questioned."Framingham, MA : June 12, 2018
Objects in the Mirror
I gotta' get something off my chest. David Brennan and Michael Kyzer are not the center of the f*cking universe.

If you listen to them talk you might think so. The facts do not back them up.

Michael Kyzer can be beat. I know that for a fact 'cuz I did it. We had a straight up one on one fight and I put him down. There's no doubt who was the better man at Back to Basics.

David Brennan can be beat. Again, this is fact 'cuz I did it later in the night at Back to Basics. Yeah, Brennan was somewhat out of it at the time but everything I did was within the rules and my win is permanently etched in the history books.

Imagine that. Frank Lynn beat two thirds of the New Epoch ménage à trois IN THE SAME NIGHT!

Too bad Lila won't reinstate Drakz. I'd love to make it three for three. I still owe that bastard a proper @ss kicking.

But I digress. What is pissing me off is that both Brennan and Kyzer are trying to spin doctor my wins into the land of "who gives a f*ck".

Brennan carried the International title around for over a year practically begging for someone to challenge him and take the belt. I did. Now he barely acknowledges any of it and can't even be bothered to ask for his champion's rematch. All he cares about is the stupid f*cking New Epoch.

Kyzer has been making all kinds of claims to being the greatest thing since sliced bread. He was practically handed a World Championship match despite doing almost nothing since his surprise return at SuperBrawl. Seriously, the delusional bastard hasn't done much other than harass Brennan, beat an injured Joe Bishop, waste his opportunity against Brennan, and.. what was that other thing… oh yeah… LOSE TO ME! At least he admits he lost but then he scoffs and says "Who cares? I'm still sitting at the adult's table while Frank Lynn chokes his chicken at the kiddie's table." All he cares about is the stupid f*cking New Epoch.

It's enough to make me miss Trace Demon… almost.

I have a warning for Brennan and Kyzer. Check your rear view mirror. You'll see me there, either waving or flipping you off depending on my mood. Pay attention to the warning: Objects in mirror are closer than they appear.

I am not someone who can be tossed aside like yesterday's trash. I may be the International Champion and have to watch my own rear view mirror for challenges from the likes of Mak Cross and Mesh but I'm also looking ahead and I see two @[email protected] that I have beaten who are now fighting over a World Championship that I clearly deserve a shot at too.

For now I'm content to sit back and watch you two tear each other limb from limb. Just know that I'm here and you can't ignore me forever. Soon enough Lila will realize that there is just as much money to be made from Lynn vs Brennan or Lynn vs Kyzer II as there is from another Kyzer vs Brennan match. Greed will win out over her grudge against me and she will book the match. When that happens I will show everyone that I don't need any special advantages like a Golden Opportunity cash in on an injured opponent to beat David Brennan. I certainly didn't need any to beat Kyzer.

You better make some room at the adult's table cuz' I'm coming to take a seat. If you don't make room, I'll just have to take one of your seats.

I'm coming boys and I'm a lot closer than you think.
---
Boston, MA : June 14, 2018
The Guilt Trip
I roll into the Legacy facilities around 11 am, some two hours late. Sarah had a rough time getting going this morning so that meant I had a rough time getting going this morning. A long phone call with Scott didn't help. Neither did the traffic.

I'm sure none of this will matter to Daphne.
It's about time you showed up!
Yep, Daphne is in one of her moods. I shouldn't say "one of" because honestly, she's been in one long bad mood ever since the doctors told her she might never wrestle again.

If she was anybody else I would have told her to chill out a long time ago but I bear some of the responsibility for the current state of her neck. I convinced her to be my manager which put her in harm's way and led to Ante Whitner doing the deed.

I don't know if it is intentional on her part, but she seems to be testing how much I will let her get away with before I snap.
Sorry boss. Give me five minutes to change and we can get on with the torture.
I can feel her eyes burning holes in my back as I walk very fast to the locker room. I'm sure she would have preferred I run but I'm not doing that in hiking boots. She'll just have to wait 'til I get changed.

Soon enough, though not soon enough for Daphne, I'm in the gym doing some stretching and then cardio on the treadmill. She runs next to me making sure to set her treadmill slightly faster than mine. I don't need her to say it to know what she is thinking. If I can go faster with a broken neck then so can you!
Did you deal with Scott?Yep. He told me Lila's lawyers are backing off. My contract is untouchable.
I increase the speed of my treadmill to match Daphne's, which she responds to by increasing her speed another notch. She's turning my training into a pissing contest. Yay.
He's running with the "fighting champion" angle. New shirts should be out before Breakout. The PR machine can roll on without any input from me for now.Good. One less distraction.
That makes me cringe a little. Daphne can't see beyond the wins and losses but there's more to being a wrestler than that. Scott isn't a distraction. He's a major part of the Frank Lynn hype machine. I don't need the fans to cheer me, although I definitely like getting cheers more than getting jeers, but it damn sure helps to sell merch. The money is nice but the real goal is to show Lila and the board of directors how popular I am. The WFWF isn't a meritocracy. It's a popularity contest. The most popular wrestlers get the high profile matches. Just look at Kyzer, who got a title shot based on who he is, a reputation that he has hardly lived up to in the past twelve months. Scott is very important to keeping me on top.
So the only other thing that could distract you from your match with Mesh is a pregnant fiancé?
I cringe again. Daphne is dangerously close to going over the line my guilt has created. I fight to keep my voice calm and not show my growing irritation.
Sarah is not a distraction.No? What if she goes into labor right before your match? Will your head be in the game?
This time I stop the treadmill so I can turn to Daphne and give her a death glare. I try to keep the bass out of my voice but fail.
What is your problem?!? Sarah is having my baby. If I can be there when it happens I will.And if it happens right before your match, then what? Am I supposed to wrestle for you? I can't do that! Remember? Doctor's orders - no physical contact.
How could I forget? Daphne mentions it at least once a day when she reminds me that her neck problems aren't my fault, which only makes it all the more apparent that she does think it's my fault. Every time she curses Ante Whitner's name I know that is a smoke screen and she really means me. Just like every time she says I have to win she really means she has to win because she's living vicariously through my wrestling career.

It's enough to make me wonder if I really need or want her at ringside any more. She's becoming the distraction she's so worried will cost me a match and my title.

I should tell her to piss off but I can't. She hasn't crossed the line of what my guilt makes tolerable. She's damn close but not quite over the line.
Don't worry. Sarah isn't due until a week or two after Breakout. Hell, I doubt she would call me until after the show if she did go into labor. She knows how much my title means to me.I hope she does. No distractions. We can't have a repeat of the Mak Cross match. You need to beat Mesh the first time out so she can't make a claim to your belt.
Of course not. It's all about Daphne managing a champion. Doesn't she get that I like being a champion as much as she likes managing one? This is everything I've worked the past two years to achieve. The view is much better from the top. I'm not giving it up without one helluva fight.
Stop being so negative. I can beat Mesh. I WILL beat Mesh.I'll make sure you do. No way are you losing to that… that… annoying chica! She has no right being in the ring with the world's best. "LOL hashtag I'm so cute!" Gah. I want to puke. She's an embarrassment to real women wrestlers. Smurfette needs to eat sh*t and die.
That's some pretty blatant jealousy. Such an ugly emotion. I expect better from Daphne but she has become so bitter.
She's earned the right to be in the ring. She's earned the right to get her @ss kicked. The right way. By me. In a technical match. No canes or baseball bats.
I hit a nerve. Daphne is still hurting from me asking the ref to remove her from ringside in the Mak Cross rematch. I didn't do it because she was interfering, although she came close several times. I did it because I saw the baseball bat inside her coat. We needed the bat for Trace Demon. Sarah, Daphne, and I all agreed that was a match that called for special preparations. I thought we were done with it but against Mak the bat was there inside Daphne's coat. I saw it while she was standing on the apron and I got scared that Daphne would pull it out. I didn't want to beat Mak that way. So I got the ref to remove Daphne before she did something we both regretted.

My actions earned me an earful of spanish, most of it R rated, in the locker room afterwards.
As long as I'm not cleared for contact, I AM bringing an equalizer to the ring. There's still a chance my neck may get better. I'm not going to risk it getting worse because of some @sshat who doesn't play nice.Do you really think Mesh would do something underhanded? She doesn't have a mean bone in her body. That's part of her charm. And will probably be part of her downfall.Exactly! How long before she learns the wicked ways of the WFWF? I won't be her first victim and neither will you. You came to me with the idea for the bat hidden in the coat. I'm keeping it!
I can't say no to Daphne… not yet. The guilt still outweighs my growing disgust. If she keeps pushing though… I don't know how far she would have to push me but it feels a lot closer than I'd like.

I got over my "destroyer" phase but Daphne didn't. If anything, she's going even further to the dark side.

Maybe I can bribe her doctors to clear her to wrestle. Then I could get the old Daphne back. I don't like the new Daphne. Way too angry for my tastes.
I can't stop you and you may have a point. You have to protect yourself if the sh*t hits the fan. But I'm telling you we won't need it against Mesh. She's a straight shooter.Are you sure? She just had her face rearranged by a lunatic. That can change a person.
Pot meet kettle? Getting pile driven outside the ring sure changed Daphne. No wonder she expects the worst of Mesh. No way would she think that if she had seen the way Mesh acted before the match, when she was all doe-eyed over my International Championship belt. Mesh is as pure as a mountain stream. She's the type of wrestler the revolution wanted more of in the WFWF. She's a shining light amongst the steaming piles of crap like Clarke and Payne.
How about we concentrate on my training so there's no chance the match reaches a point where you feel the need to pull out your bat and take a few swings, 'kay?Oh you are going to train hard. I'll make sure of it. We are not going to lose!
Again with the "we" that actually means "she". I better beat Mesh fast and clean. If I don't, Daphne may do something really f*cking stupid.
---
Boston, MA : Jun 21, 2018
The End of the Beginning
The following is an excerpt from the private journal of Frank Lynn:
Here I am sitting in the cheap seats of an empty TD Garden eating a late lunch and tapping away at my laptop. At the request of my therapist, I'm trying to keep a journal of my dreams, particularly since they are mainly of the unpleasant variety and preventing me from getting a good night's sleep. Problem is, no matter how fast I shake out the cobwebs and get to my laptop, the dreams quickly fade to nothing but a lingering feeling of ?paranoia? ?fear? I dunno. I can't really put it into words.

Whatever. Can't do anything about it now while I'm wide awake.

I figured I might as well record my waking thoughts and feelings since the content of my dreams continues to elude me. Scott is encouraging me in this endeavor as well. He thinks I might do well enough in my career that one day there could be a book offer. Best to start taking notes now so my story can be told accurately.

So let's get back to TD Garden. This place is special to me and not just because it's in my home: Boston. I made my WFWF debut in this building two years ago. Beat Mike Jette. I wonder if he regrets asking Lila to make our match a street fight. He wanted to make a good impression but I'm pretty sure he didn't mean of his face in a steel chair. Turned out to be one hell of a debut.

Now I'm back in TD Garden for another match. I have a whole new appreciation for the banners in the rafters. I know the trials and tribulations one must overcome to become a champion. Believe me, it ain't easy.

I don't think anyone respects a champion quite the way another champion does. Well, that's the way I see it. It's probably not true of most of the raging egomaniacs who've won gold in the WFWF but I'm not like them.

If my life really does end up being worthy of a series of memoirs, Breakout is the perfect place to end the first volume. It would cover my childhood when I found my love of combat sports and started a lifetime of training. Then the high school and college years where I got my first taste of competition and discovered that I both liked it and was good at it. Then three years in MMA as I struggled to find a place where I could enjoy practicing my chosen craft. And finally, my first two years in the WFWF, where it took me a while to find my true self as I went from a clueless rookie to an idealistic revolutionary to a thankfully brief period as a psychotic destroyer to this moment where I am what I was meant to be: a fighting champion. I have achieved my dream and for the first time in my life I think I may be happy. There's more work to do but I am satisfied with the progress I've made.

That's a damn good spot to end the first book. Everybody loves a happy ending, right?

Except for that M Knight Shamalamadingdong guy. He doesn't care if the ending is happy or sad as long as it comes with a twist that any fool with an IQ larger than their shoe size can see coming a mile away. Spoiler: Bruce Willis is dead! I figured it out less than twenty minutes into the movie. What took the rest of you so long?

Oops, went off on a tangent. I'm tempted to delete that part but I won't. The therapist told me to just let my thoughts flow - no editing or deleting - because that's how my subconscious will reveal itself. I wonder what deeper revelations can be discerned from my dislike of overrated crappy movies.

Better get this back on track before I write an essay on everything wrong with Annihilation.

Breakout is the end of the beginning for me. I've met if not exceeded expectations, shedding the rookie tag to become a seasoned veteran with solid résumé and a championship belt.

Veni Vidi Vici bitches!

After Breakout, everything changes. In a few weeks I'll be a father. I have no idea how it will change me but I'm ready to see what happens in the next phase of my life.

I'm actually more comfortable with becoming a father than I am with my next match. Of all the possible opponents Lila could book me against why her?

Mesh.

The odd little girl with the odd little name. I have to wrestle her tonight. I'm not sure I want to. Why you ask?

I'm 99.99% sure I can beat her. I'm not worried about that.

It's not that she's a girl. I've wrestled Anna Ahriman several times and enjoyed beating the snot out of her. When it comes to putting her money where her mouth is, Anna Ahriman is flat broke. I had no qualms about getting in the ring with Scarlett Quinn either. Sex doesn't matter to me when we're in the ring. I'm all for equality. I'm an equal opportunity @ss-kicker.

So why does this match bother me so much?

Mesh is different. Perhaps it's best explained with an anecdote.

I came to the arena early today, taking my time to enjoy driving the Impala and doing my best to look like Dean Winchester on a hunting mission. He's the hard driving, hard drinking, hard hitting brother on Supernatural in case you didn't know. I'm not pretty or sensitive enough to be Sam.

I drove around the parking lot to the back entrance but stopped when I saw a small crowd. I got out of the Impala to get a better view of what was going on. That's when music suddenly blasted out from some unknown source, the crowd organized itself into formation, and everyone started dancing a familiar dance. It was Mesh's entrance routine. Sure enough, in the center of the flash mob was Mesh, her blue hair standing out in the crowd of mostly kids dancing her moves while she rotated in place holding her phone above her head, probably recording video for use in one of her blogs.

I could see the ear to ear grin on her face as she danced with the kids. Then she stopped spinning. She was facing directly towards me and still recording. I hope I wasn't smiling. I've been told my smile makes me look like a serial killer. I don't want that look plastered all over the internet by dinner time. Of the many things I want to do in life, becoming a meme is not one of them.

And then Mesh waved at me, an overly enthusiastic Hey I'm over here! wave that girls make in the mall to get their friends to join them in whatever the hell it is that teenage girls do at the mall.

What the bloody hell? We're going to war in a few hours and this goofy little girl was waving at me, beckoning me to join in the flash dance mob. Needless to say, I didn't. Frank Lynn doesn't dance. I got back in the Impala and drove the rest of the way to the staff entrance, leaving Mesh to enjoy her moment with her adoring fans.

That's Mesh in a nutshell.

She's too nice for this business. She's going to get hurt… bad. She doesn't have the mean streak that every successful wrestler calls on when the going gets tough. You don't send out a LOL tweet after getting your nose broken by an @sshole with a bat. You chase that mother f*cker down and put the fear of God into him.

Mesh needs to learn a harsh lesson if she's going to survive…. but I don't want to be the one to teach her that lesson. I actually like her just the way she is. She's a breath of fresh air in an asylum full of sadistic psychopaths who want to eat your liver with a side of fava beans and a nice chianti.

I don't want to break Mesh.

I'm afraid that is exactly what I will do because winning in my homecoming means more to me than preserving the innocence and naiveté of an annoyingly irresistible blue haired pixie.

I'm afraid of what I may do to Mesh.

I'm afraid of what that will make me.

I'm a frayed knot.

Nope… still not funny.
---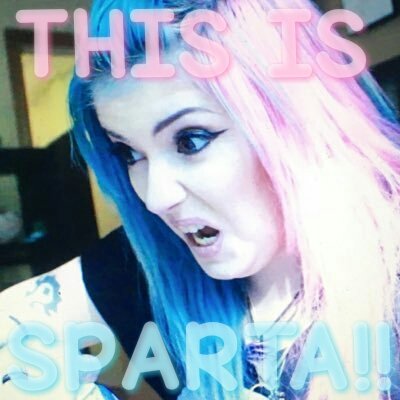 Boston, MA : Jun 21, 2018 : Breakout
Homecoming
Hi Mesh.

Let me start off by saying this: I like you. Your jokes are awful and you spend too much time on social media for my taste but still, I like you.

If you were coming to Boston under different circumstances I might ask you to go see the Blue Man Group. I know you'd love the show.

If the revolution wasn't dead and buried I would have sent you a gold plated invitation to join. The WFWF needs more wrestlers like you, glass half full types even when the glass is not only empty but lying shattered on the sidewalk in a hundred pieces. The WFWF needs competitors who want to test their skills in fair and clean matches rather than engage in barroom brawls and criminal assaults. You're one of the good guys.

But you are a wrestler - and my next opponent - so business comes first. I can't afford to be Mr. Nice Guy.

That's why I almost hate myself for what comes next.

There are others far more deserving of a certified grade A Frank Lynn @ss kicking than a happy go lucky Cali girl. I'd love to get my hands on Ryan Payne, Reina Kenshin, or Tyler Draven. They're scum of the Earth types that need to be taken out behind the woodshed if you know what I mean.

But they have to wait for another day.

At Breakout Lila saw fit to put you up against me. Grats on achieving one of your dreams. You're in the main event. Enjoy the feeling while it lasts because it won't last long.

I get what Lila is trying to do. Breakout is all about offering the new class of WFWF wrestlers an opportunity to break out from the crowd. Step up and take your shot against one of the elite. Shatter the glass ceiling.

Too bad that you aren't running up against a glass ceiling. You're running head first into a brick wall. A foot thick steel reinforced brick wall that hits back.

You're about to go toe to toe with the International Champion. A title I took from David Brennan and defended against Mak Cross. A title I plan to hold onto for a long time.

I am the one who took Trace Demon out. Tyler Draven gets the credit but all he did was sweep up the scraps I left behind.

I've faced the best and beaten them. Former champions like Lucas Crowe and Ante Whitner. Hell, I beat Kyzer before Brennan did. And I didn't need a karate kid reject to help me.

You getting the picture now? You're neck deep in sh*t and sinking fast.

They don't call me the "Lethal Weapon" because I like the Mel Gibson and Danny Glover movies. I don't need a cane or a bat to beat my opponents. I have trained in multiple combat sports since I was ten years old. I have honed my skills to the point that I am a lethal weapon. It's more than a nickname. It's a fact.

I will beat you.

But you've shown a high tolerance for pain. I was impressed by how you laughed off the beatdowns Clarke and Needles gave you. You're like a Timex - you take a licking and keep on ticking. I'm not sure if that's because you're tougher or crazier than you look. Maybe a little of both.

I don't want to hurt you. You seem like a nice person. But if you get in that ring with me and refuse to quit, I will punish you. Maybe I choke you out, maybe I snap a limb, I don't know. Point is I will do what I have to, what you force me to, in order to get the win.

Sucks to be you.

Be smart. This is a great opportunity for you. You get to be in the ring with a champion. Bring the fight to me. Make me work for it. But know when it is time to give up.

Pro tip: that time is when you can still walk away to fight another day. Avoid a trip to the emergency room.

Just because I like you don't think I won't break you. The revolution is dead. I'd rather be a living champion than a dead martyr, nailed to a cross for caring too much about others and not enough about myself. No more crusading, just me fighting for respect and championships. If I have to leave a trail of broken bodies behind me, I will. If I have to hurt you, I will.

On top of everything else, I'm coming home at Breakout. This my city. TD Garden is my house. I'm returning to where it all started for me with a championship belt to raise right next to all those championship banners hanging in the rafters. Boston is a city of champions. Celtics. Red Sox. Patriots. Bruins. David f'n Brennan. Frank Lynn. No way am I letting the fans down. We are #BostonStrong!

You ARE going to lose.

There's no shame in that.

At least I won't break your nose with a baseball bat.