Post by LaParka on Jul 3, 2018 8:32:06 GMT -5
****** CLICK HERE TO READ THIS FIRST BEFORE POSTING IN THIS THREAD ******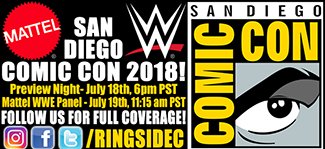 Welcome all! Thank you for joining our ongoing San Diego Comic Con coverage!
Remember to follow us on
Facebook
,
Instagram
,
Twitter
, and
YouTube
for all of our SDCC 2018 coverage this week!
See what's brand new and coming out in the world of WWE Toys with Mattel for WWE Wrestling Action Figures!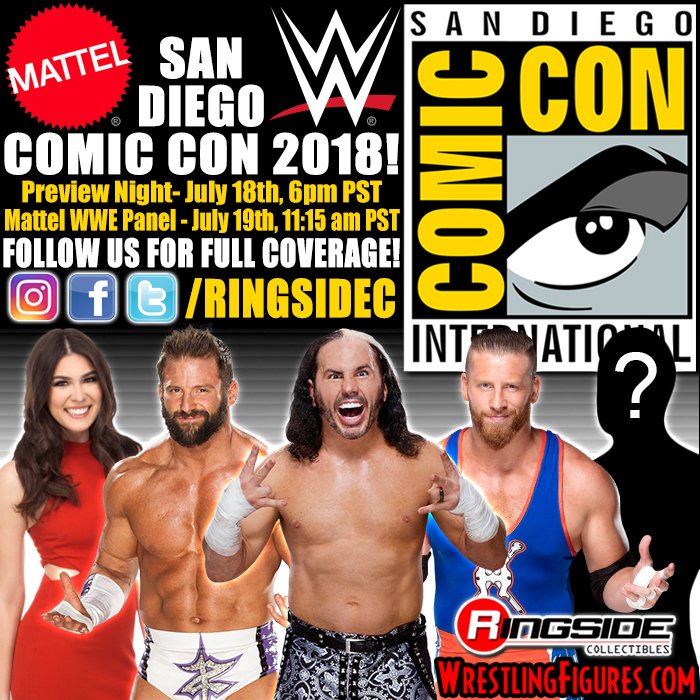 SDCC 2018 The Loyal Subjects (New WWE Vinyls) Video!
-
SDCC 2018 Cathy Kelley Interview Video!
-
SDCC 2018 FUNKO Interview Video!
-
SDCC 2018 Rey Mysterio Interview Video!
-
SDCC 2018 Mattel Q&A with Rob & Bill from Mattel WWE's Design Team!
-
SDCC 2018 Becky Lynch Interview Video!
-
SDCC 2018 AJ Styles Interview Video!
-
SDCC 2018 Matt Hardy Interview Video!
-
SDCC 2018 Zack Ryder Interview Video!
-
SDCC 2018 Mattel WWE Day 2 Display Video!
-
SDCC 2018 Curt Hawkins Interview Video!
-
SDCC 2018 Mattel WWE Day 1 Display Video!
-
SDCC 2018 Mattel WWE Panel Video!
-
SDCC 2018 Mattel WWE Slide-Show Video!
-
SDCC 2018 Mattel WWE Display Day 3 7/21/18****** Thanks to Action Figure Attack and yesreallyrob for the information provided below! ******
Action Figure Attack
's Instagram Live video (second half recap quoted below with new edits).
Here is what was said:
No more figure reveals for today/this weekend
Steve showed off the upcoming Retro Goldust wig again
Hall of Champions Elite Series 2 should be hitting any time now
Maybe the Mattel guys could be the inspiration for generic referees someday
It's best to ask Bill questions about torso changes since that is design-related
They'd love to do more RVD figures, but he's not currently signed to a Legends deal
There's another Retro figure coming next year that will have an accessory as well
Mantaur Elite? If he's signed, they'll try to get a figure out
Their dream Elites from SDCC this year were Pete Dunne and Sherri
Sensational Sherri (WrestleMania VI) will come with a soft goods entrance gown
They have the rights to King Mabel/Viscera/Big Daddy V; if they can find the space for them and as long as he remains on contract long enough
Ringside Collectibles has a little stash of the Elite figure posters which should be made available soon
NXT line is Elites only for the foreseeable future
New Alexa with long curly hair or WM33 Maryse? Stay tuned, especially given the extreme popularity of Alexa and Miz/Maryse's new reality show
With women becoming more prominent on WWE/NXT TV, they want everyone to be celebrated with a figure; great diversity of looks for Alexa
Brother Love? Would be fantastic. Fingers crossed that they will get the rights to him
No announcement yet for the Fan Central line, but it does have a home and will be revealed shortly
Kenny Omega? They're big fans, but they need the rights to him first
Bill Referee figure was an anniversary gift to him and stuck on the poster so he'd have a spot to sign for this week; that's not coming out
Dude Love story will be told by Bill (he promises), but he's waiting to see it 100% on store shelves first
Undisputed Era Epic Moments pre-order should be any time now
Avalanche/Golga? As long as they have the rights, they will explore those options
*David Vonner makes a cameo appearance*
Walmart Flashback Elite Series 2 (HB Hotel wave) is hitting now on the west coast, should be everywhere in the U.S. in a couple of weeks
Ultimate Deletion Epic Moments will be released in June 2019
Double-jointed elbows ever happen? Stay tuned
G.L.O.W. Series? That's a larger question, stay tuned (but likely nothing to announce at this time)
They've been talking about making more of the Elite Squad jackets
Steve says Bill designing Mantaur entrance gear would be great
Haku? They'd love to get one out, but he's not under contract
Kairi Sane with pirate hat? Hopefully in time
They're always working on playset ideas; as soon as there are any developments, they'll get the info to us
Asuka robe is cloth goods on new figure; not a part of Ultimate Edition line, but a taste of what may be to come with those figures
Asuka is not a WM Axxess exclusive; it will be available first to market at WM Axxess then later to the public/on WWE Shop
Favorite Elite? Out of new reveals, Ruby Riott and Elite 62 Sting
They heard the concern voiced about the Entrance Greats music boxes, so the cost of the stands will now go into something else
Although specific details are not given, it is said that the Ultimate Edition line will be worth your money more than the Entrance Greats
They are lifelong fans of Legends, so they will put out as many as possible
More to come of Goldberg's signature WCW and WWE looks
Ring skirts have been discussed; they're talking about it, but there is no news yet to share
Ultimate Edition line is replacing Defining Moments and Entrance Greats
Multiple Big Daddy V requests from fans
Jeff Hardy figures are going to keep coming
They don't have rights to Rick Martel, but they would do some more if they get his rights back
Do masked wrestlers need deals? It depends on the wrestler; it's a case-by-case basis
WWE owns the rights to the Doink character, so that's how they've been able to make him
Torrie Wilson would need to sign for them to make her
NXT Elites should be out hopefully within the next few months; they're ready, just have to get them out to the retailers now
"The Natural" Dustin Rhodes - there's always a chance
They're big fans of the Iiconics, so expect to see them find a space in the line at some point
They're going to try to get all eras of Hardyz Flashbacks covered
How far in advance do they plan? They are planning as far ahead as 2020 now (based on their production schedule) with some wiggle room in case characters get hot on TV
Undisputed Era Epic Moments should be available at the end of this year, or early 2019; packaging is said to look incredible
WrestleMania XIV Undertaker? They will try to get one out as long as they can; as many Takers as they can
They can do more Vaders; his death left them brokenhearted, and they think he deserves at least one more; Steve thinks he may be the greatest big man of all-time
Red Rooster has a home - connect the dots (similar to Yankem/Virgil as exclusives; if Shark is now at Target, expect Rooster to follow)
They are actively working on a way to get the Elite scale entrance stage out to us
Lots of requests for the Elite Squad jackets and t-shirts
Stay tuned for more Elites to come with multiple heads; there are some surprises in store
To keep Basics at the same price point, articulation had to go down; they are aware of concerns about that and are listening to the complaints
Some of their favorite reveals this week include Elite 62 Sting/AOP, NXT Elite 4 Ruby Riott, and NXT Elite 5 Andrade "Cien" Almas
They are big fans of The Great Muta, but he'd have to sign for it to happen
Ric Flair with bowl cut look would be amazing and they'd love to see it happen
NXT Elite Series 4 is Hideo Itami/Killian Dain/Ruby Riott/Aleister Black/Drew McIntyre
NXT Elite Series 5 is Andrade "Cien" Almas/Titus O'Neil/Roderick Strong/Finn Balor
Just a taste of the Ultimate Edition line at this time; they want to hear what we think it will be
They always try to get at least one Elite Undertaker in the line each year
Vader Retro would be super rad; hang tight and maybe they'll be able to make it happen
A lot of Rick Martel requests; they're trying to get him under a deal
Nothing new to announce about The Iiconics, but they'll get them out soon
They're huge fans of "The Natural" Dustin Rhodes/Goldust and are listening to the requests
NXT Elites: Due out sometime this year; timing-wise with the retail exclusives is a little hairy, but they're ready to go and just waiting to get them on pegs now
Greg The Hammer Valentine is not available to them, but they'd love to do one in his classic robe and a Rhythm & Blues version to go with the RetroFest HTM
Chyna? Again, they'd love to make, but they don't have the rights to her; one of Steve's favorites from the Attitude era
Bob Backlund accessories are still being finalized; it won't just be the figure and the interchangeable hands
They're working on the future of the Basics line
The Shark was to be a SDCC/TRU exclusive here in the U.S., but obviously that fell through; TRU Canada was fortunate to get them early
Superstar Billy Graham? He is available to them and they are trying to make it happen; he was a colorful character, big influencer in his time
They're big fans of Ricochet and he will be made as soon as they can make him
No Dynamite Kid/Hercules Hernandez/Greg Valentine (asked again) - they'll put requests in to see if they can get them signed
Davey Boy Smith is available to them
Q&A Continued:
dvontu
drop in on the video saying he wants a Hercules Hernandez.
From what I caught of the Instagram Live video:
A lot of different looks, opportunities to get Jinder Mahal back out there; he's not just going to be available only in the SDL Main Event Ring
Not 100% sure of Elite 62 Sting torso; photos will be out after SDCC
Steve says he believes there are some ECW Flashback characters lined up for the line
Elite 61 Shane deco is being finalized, but it will be based on Hell In A Cell from last year
Vader Retro? Definitely, they want to make that happen
They have to keep pushing on quality control issues, as always
NXT Main Event Ring has been discussed, could happen
More reveals were put out Day 1, but it would have been the same amount regardless if spread out; panel slides wouldn't have been ready to be shown anyway
Figures with the Elite Squad jackets would be great
Luger Retro would be pretty rad
Steve mentions the Retro Diesel sneak peek during the panel
Nothing more to announce about UE line; it will be awesome
A lot of people asking about "The Natural" Dustin Rhodes
They are keeping Kassius Ohno requests in mind
They're still working hard on an Elite scale stage; details to come as soon as they are ready to announce something
*David Vonner pops in again to request Hercules Hernandez*
Montreal Screwjob Epic Moment? Not being planned, but it's a great idea
They can still do Vader
HIAC/Elim Chamber playsets are still possible; they will explore those possibilities
No rights to Jeff Jarrett; he had so many iconic looks, they hope a deal can be reached soon
No AJ Styles in gear from another company
Any Edge Elites planned? Always possible given his popularity, but they did just release the SS Elite; there's always room for Edge
There are more Trish Stratus figures to come; Steve thinks she's the top woman performer of all-time
Would love to find a place for a WCW Jericho (Ralphus era specifically mentioned)
More New Day gear looks to come; they have them slotted in
Three Best of Attitude Era figures released this year (Austin/Jericho/Rock)
Best of Attitude Era Triple H is technically a 2019 release but will probably come out by the end of this year
Royal Rumble Shawn? Great idea, give them some time
They absolutely want to do referee figures; they talk about it multiple times a week
Unfortunately, WWE doesn't sign Referees to deals, so they're trying to figure out how to make it happen
No North American title in the Undisputed Era Epic Moments box set; planning for it was before TO:NO, so no belt yet
Lots of talk about Retro Diesel
Byron Saxton figure? Let's see; they want to make everyone, but retail restrictions have to be taken into consideration
RVD not under a deal right now, but they'd love to try to make it happen
King Mabel will be released in the regular Elite line
Customizers inspire them and they love the work that they do
Regarding Retros: There's more coming. Legends are comings. Main roster, talk of trying to add the women somehow. There's a nice future for Retros at the moment
Epic Moments likely online only, not available at retail
Riott Squad 3-Pack is possible, but for now they're being released separately
Ruby Riott is in NXT Elite Series 4
Liv Morgan is in the regular Elite line
Sarah Logan - do the math (she'll be coming)
Al Snow/Val Venis/Giant Gonzalez - would love all of them; some more complicated than others, but it's just a matter of getting them signed to deals and slotted into the line somewhere
Will the rest of the Elites have the old articulated arms? They are transitioning to the new Elite articulated arms (without the pins), so some will have old arms, some will have new until the transition is complete
Removable mask for Almas? Chances are, if it's done, it would be made as a removable head (similar to Elite 60 Giant Machine's masked head)
LOD is not available to them; give some time to see how that pans out; Steve is a big fan of LOD
Mortis would be amazing, has a very "toyetic" design and has been requested by fans (Glacier, too); if they become available, they'll try (same for WCW belts)
Great Khali made the one appearance last year, but he's not signed at the moment
****** Thanks to Ringside Collectibles for the images below! ******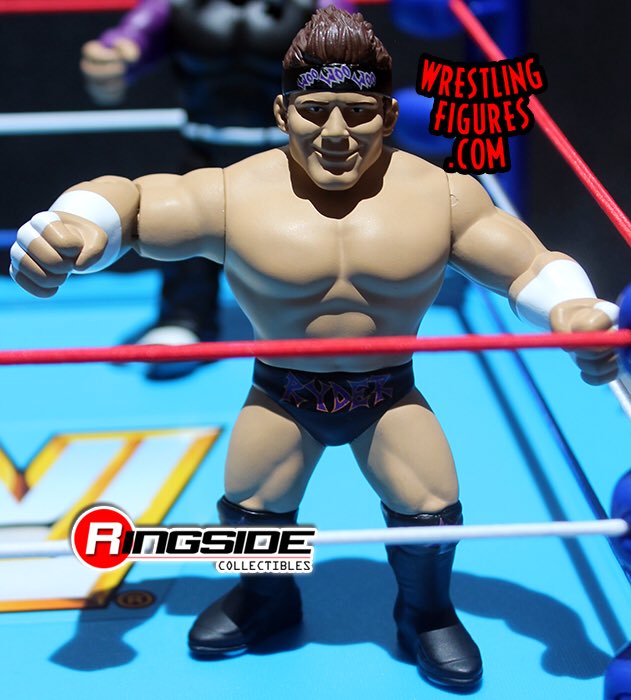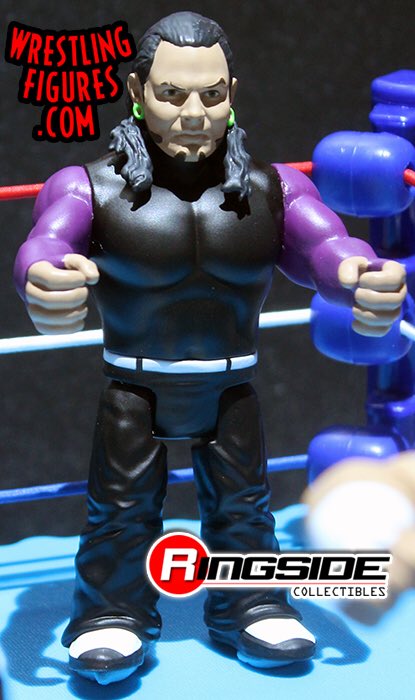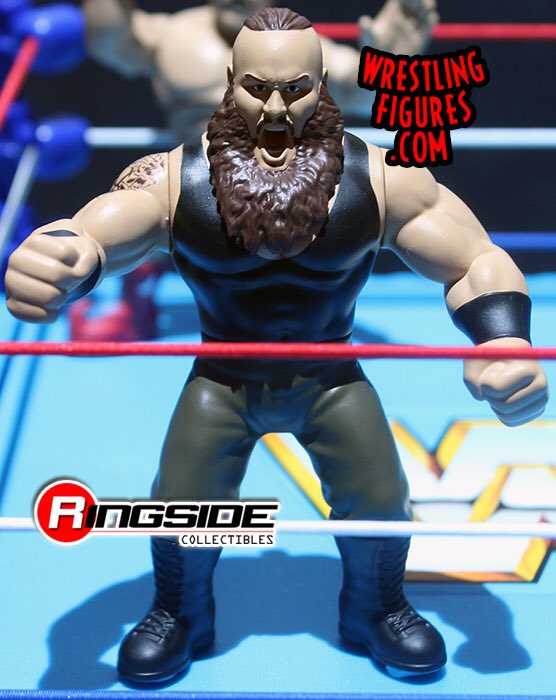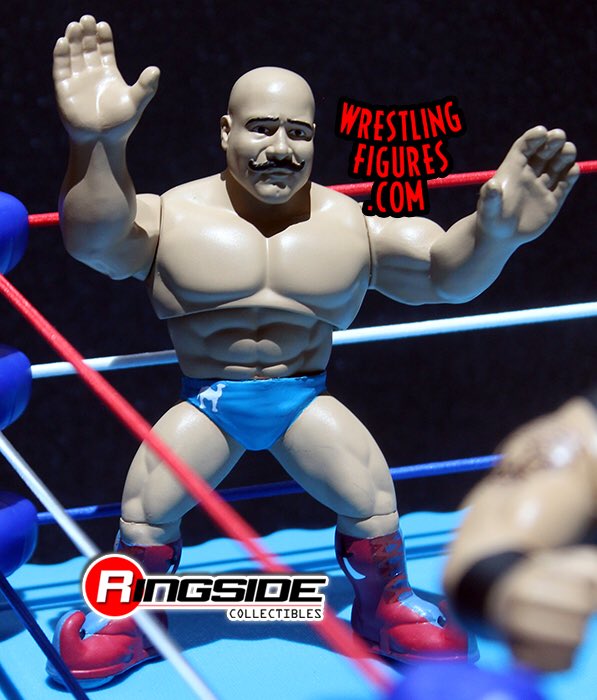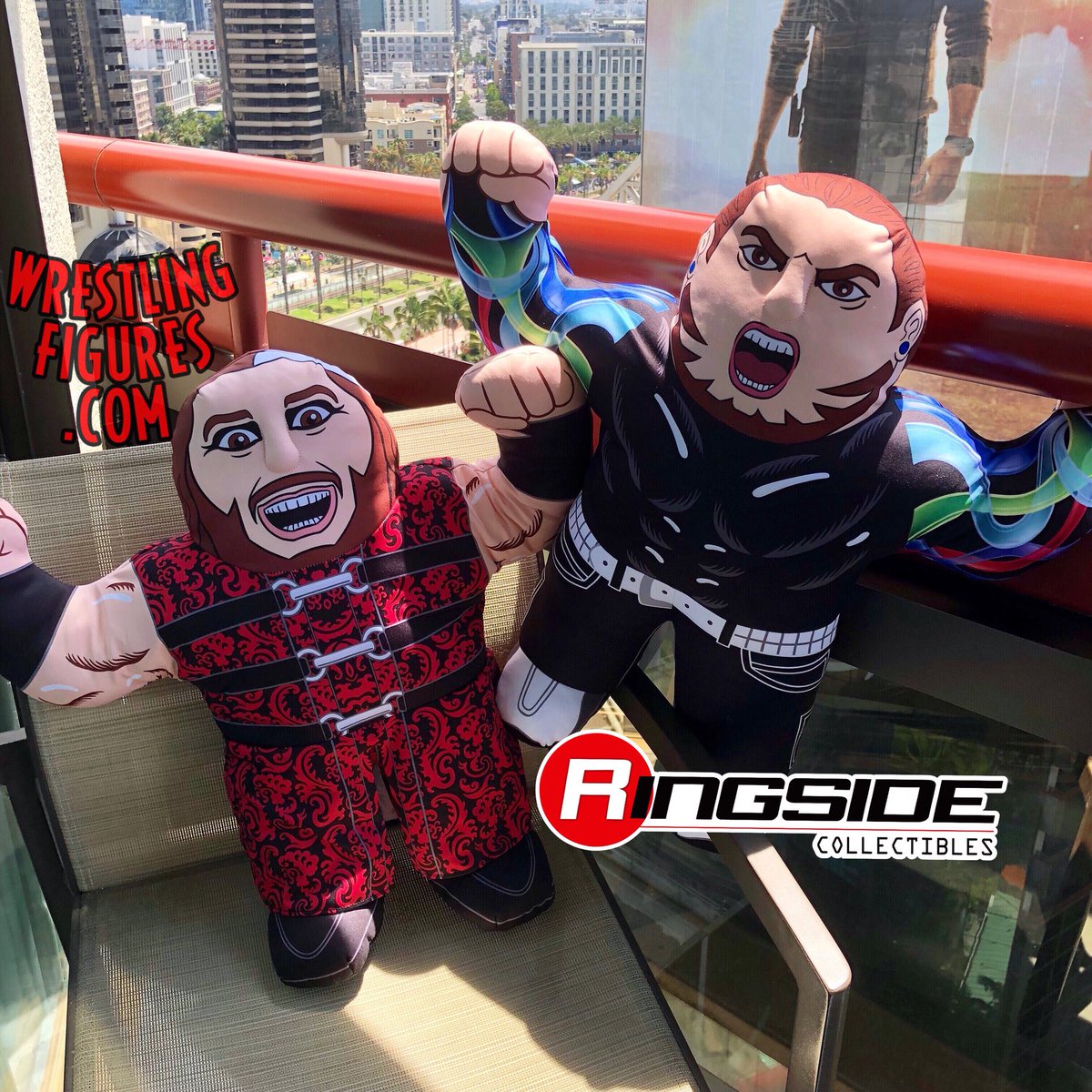 SDCC 2018 Mattel WWE Display Day 2 7/20/18Please take the time to view

screech

's compilation of the reveals from both Thursday and Friday:

Condensed reveals:
*UPDATED Friday with new info/pics*
****** Thanks to Ringside Collectibles for the images below! ******Ronda Rousey Basic Series 90 (Due Out November 2018)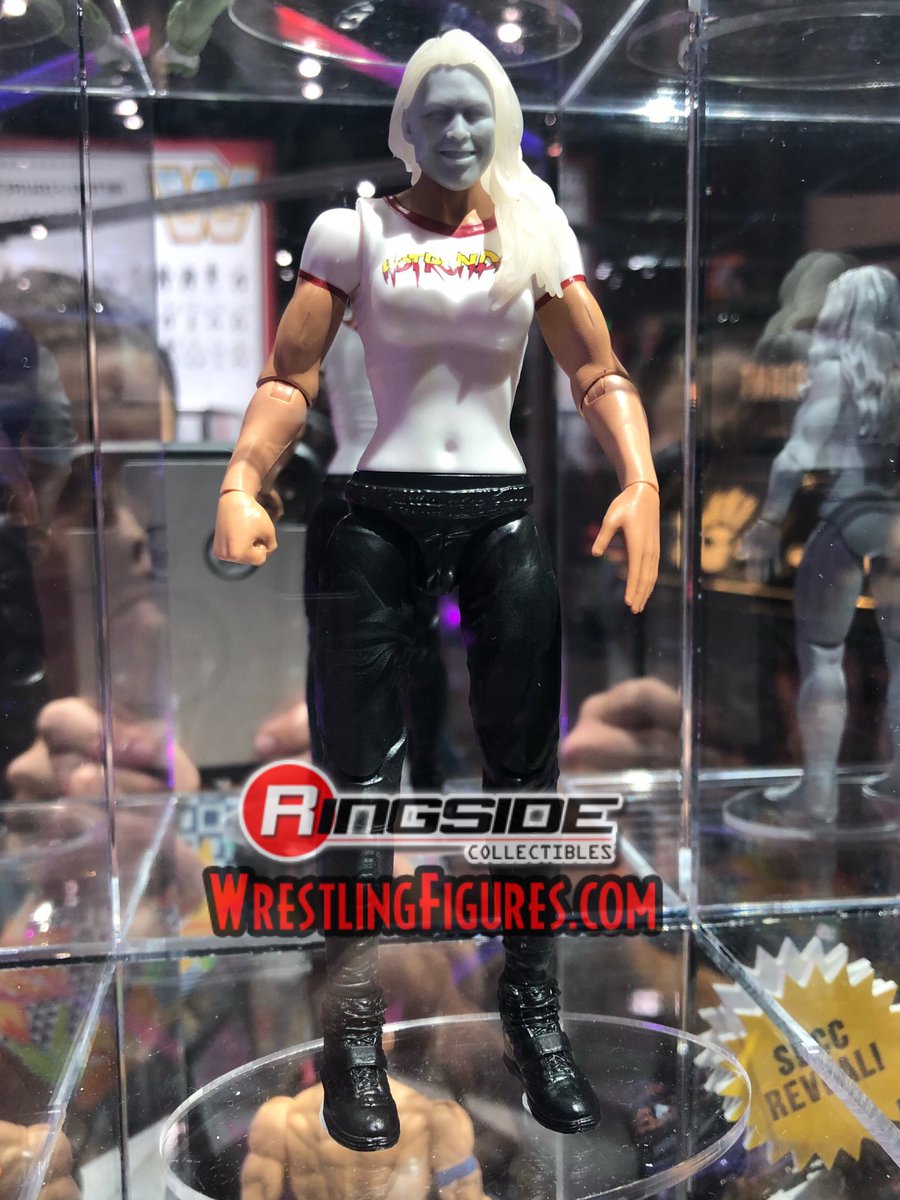 Singh Brothers Battle Pack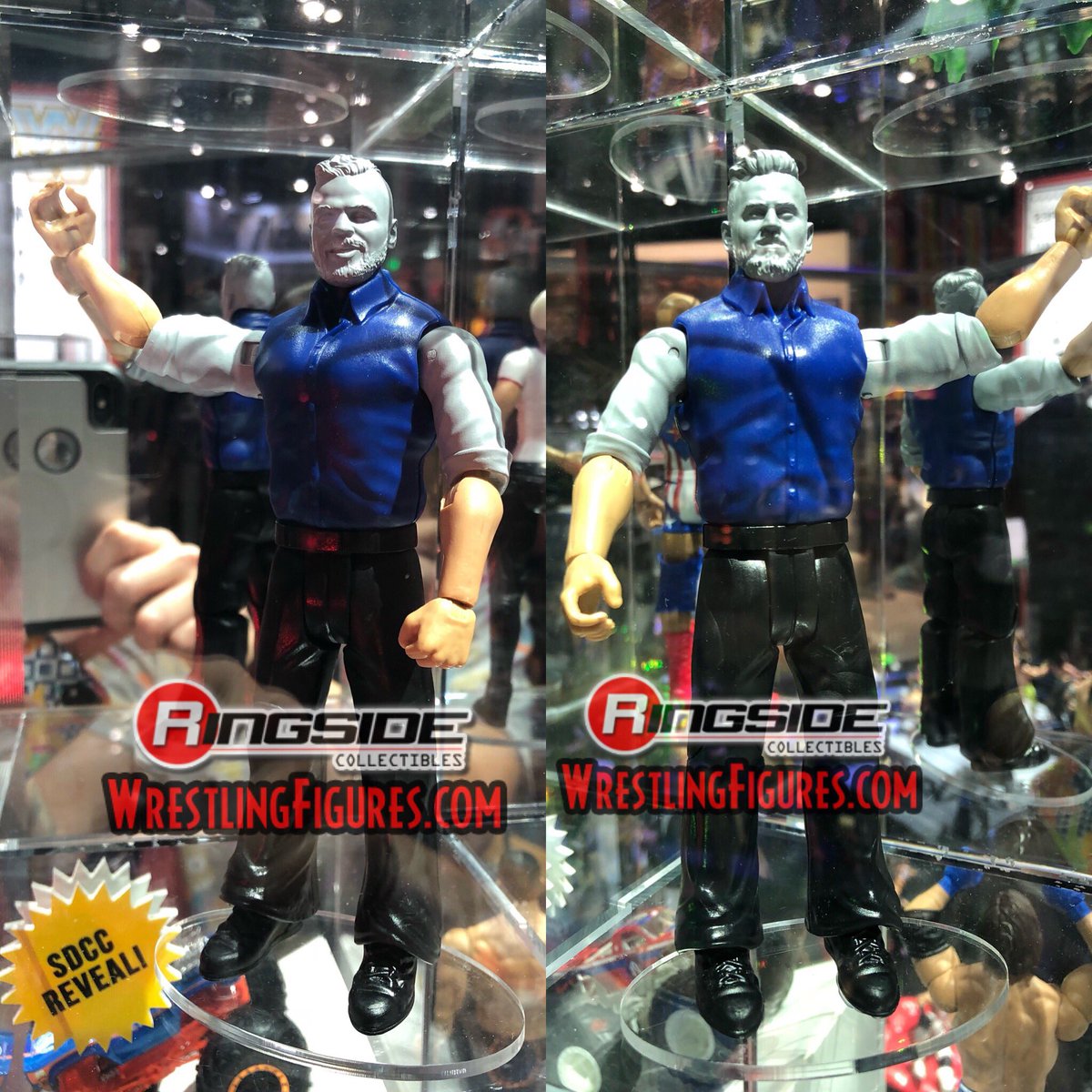 Mandy Rose Basic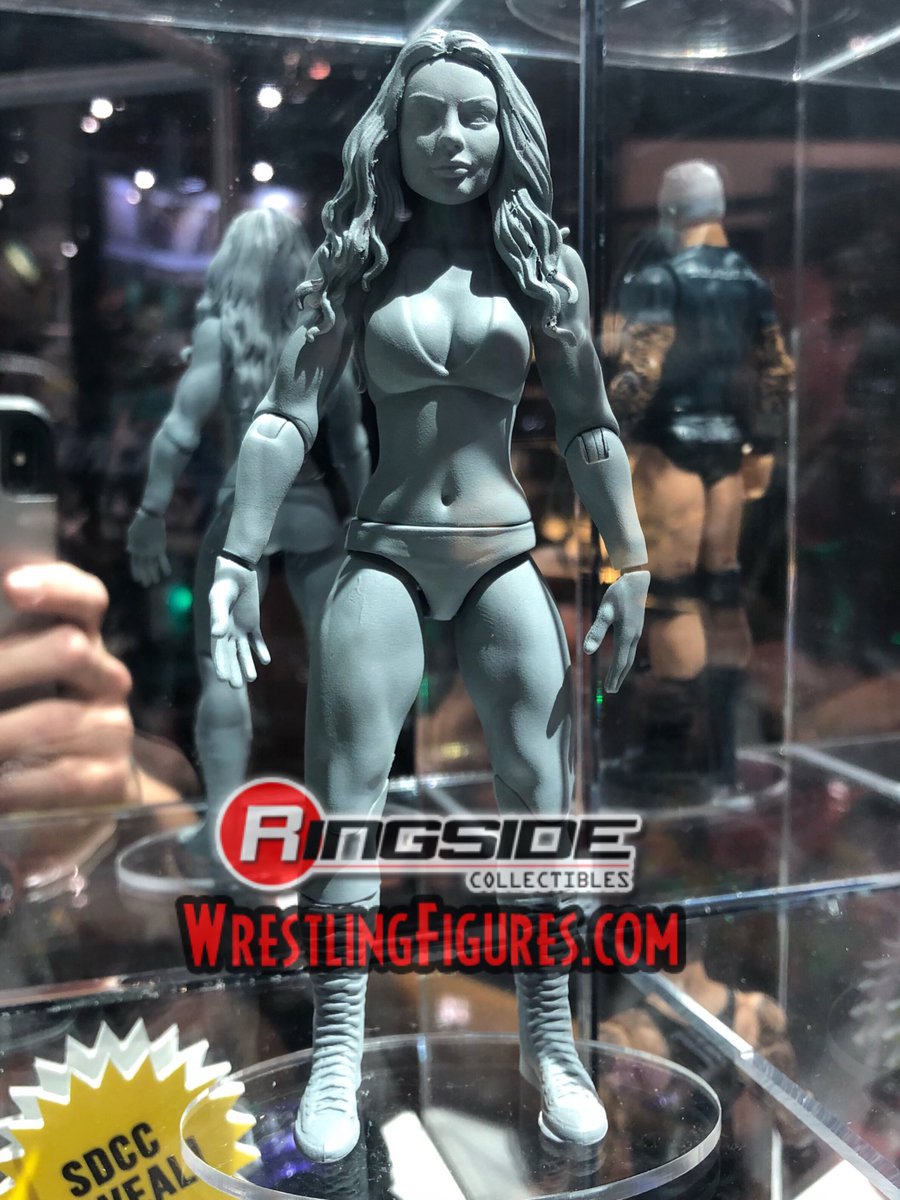 Entrance Greats Elite Goldberg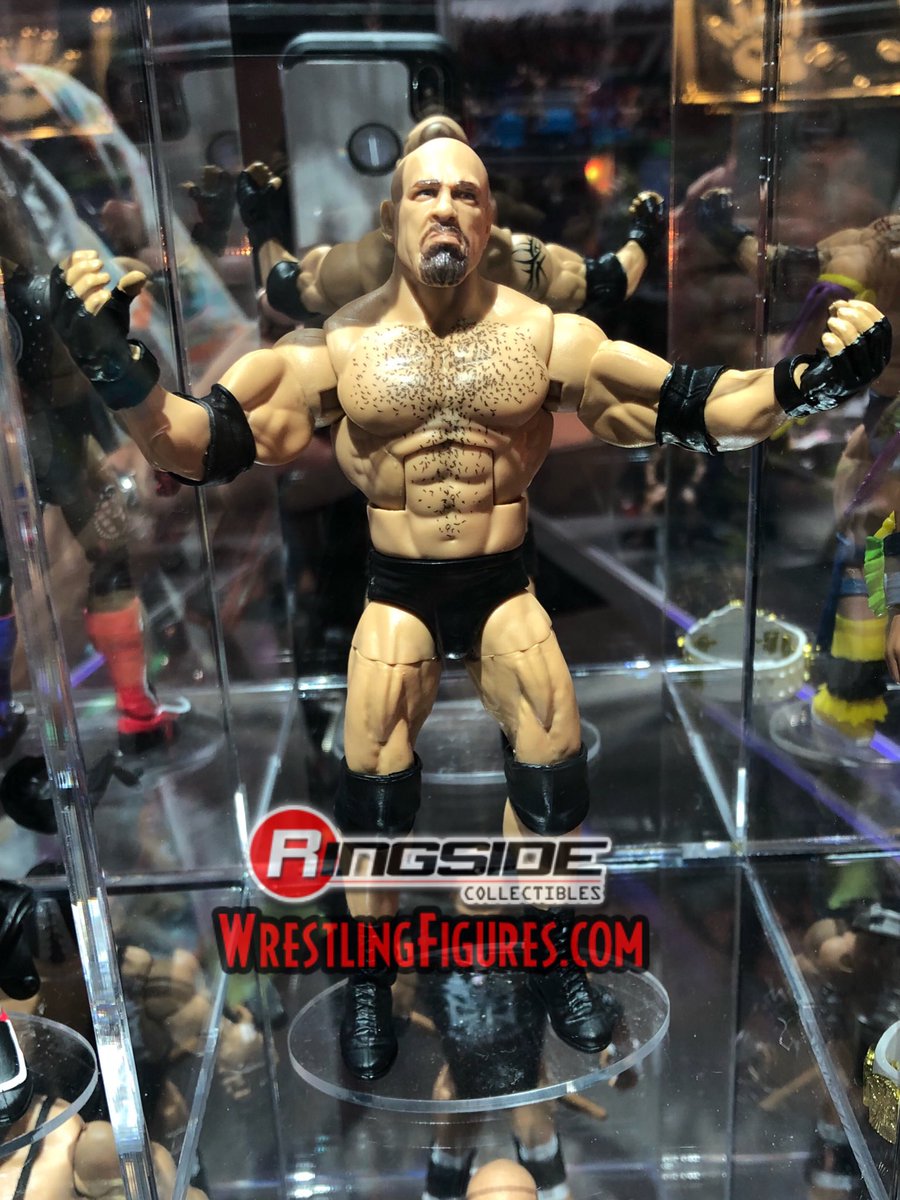 Retro App Series 8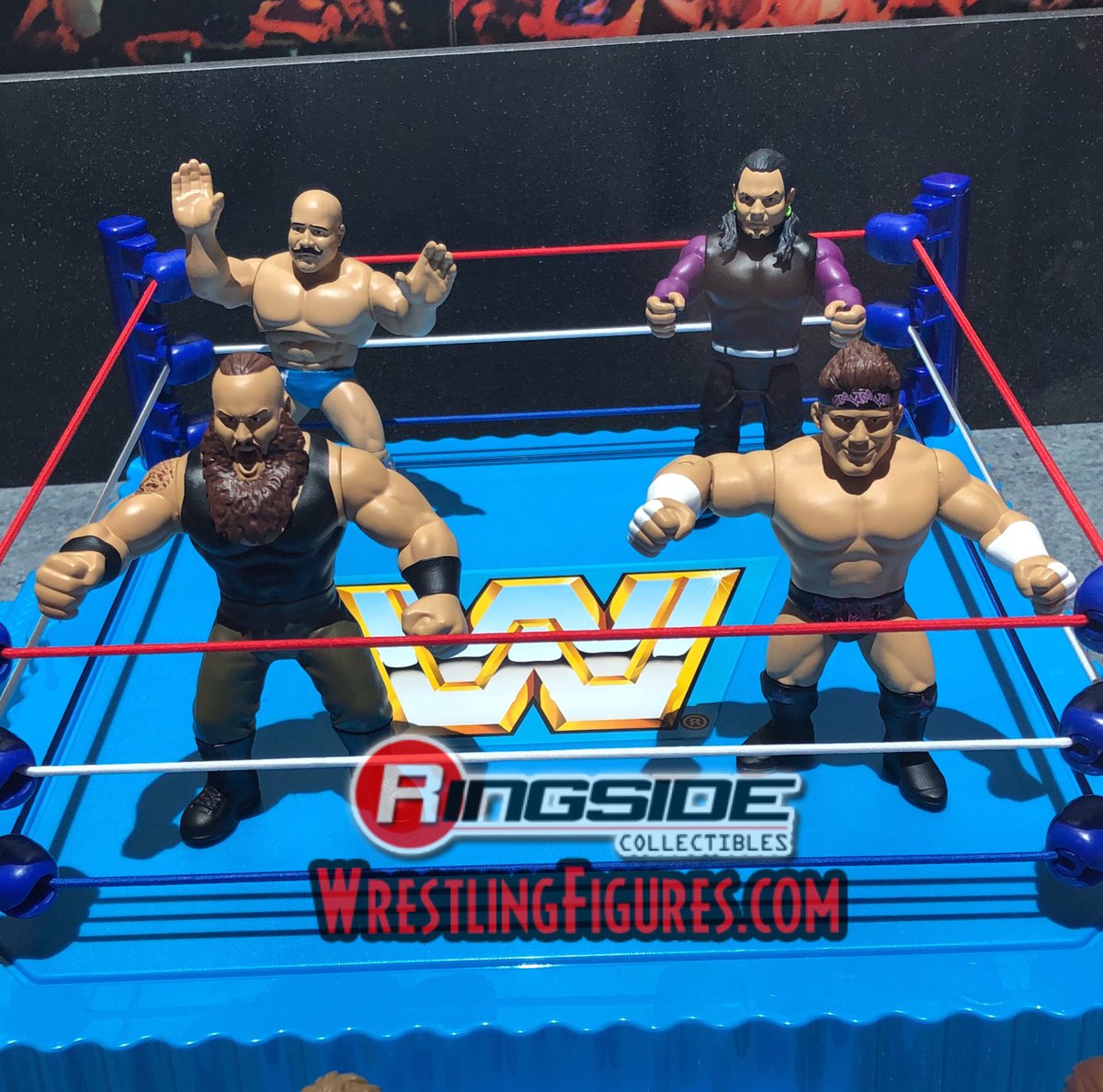 Preview of upcoming Retro App Goldust figure accessory
SDCC 2018 Mattel WWE Display Panel Day 7/19/18****** Thanks to FullyPoseable/Jeremy Konrad, Ringside Collectibles, and WWE.com for the images and captions below! ******AJ Styles (Elite)
Asuka (WrestleMania Axxess Exclusive Elite - comes with crown, three masks, full entrance robe & NXT Women's Championship)
Bob Backlund (Elite)
Bobby Lashley (Elite, work-in-progress)
Daniel Bryan (Elite, work-in-progress)
Cedric Alexander (Elite, work-in-progress)
Curt Hawkins (Elite Series 64)
Curt Hawkins (Chase; Elite Series 64)
Velveteen Dream (Elite, work-in-progress)
Pete Dunne (Elite)
Dusty Rhodes (Elite Series 63)
Goldberg (Entrance Greats Elite - coming next; second-to-last EG figure)
Elias (Entrance Greats Elite - coming after Goldberg; last EG figure)
Finn Bálor (Elite)
Undisputed ERA (Epic Moments Elite 3-Pack)
Ronda Rousey (Basic Series 90 - coming November 2018)
"Hacksaw Jim Duggan (GameStop RetroFest Exclusive Elite)
Matt Hardy (Ringside Collectibles Exclusive Elite)
Mustafa Ali (Elite, work-in-progress)
Shinsuke Nakamura (Elite Series 63)
Eric Young (Elite)
Alexander Wolfe (Elite)
Nikki Cross (Elite)
Pat Patterson (Elite, work-in-progress)
Rowan (Elite)
Harper (Elite)
Seth Rollins (Elite Series 64)
Shayna Baszler (Elite, work-in-progress)
Shelton Benjamin (Elite Series 63)
"The Gold Standard" Shelton Benjamin (Chase; Elite Series 63)
Mabel (Elite, work-in-progress)
Sherri Martel (Elite)
The Undertaker (2000 ABA Elite)
Ruby Riott (Elite, work-in-progress)
Charlotte Flair (Battle Pack Series 55)
Becky Lynch (Battle Pack Series 55)
Bo Dallas (Battle Pack Series 56)
Curtis Axel (Battle Pack Series 56)
Samir Singh (Battle Pack)
Sunil Singh (Battle Pack)
Drew Gulak (Basic Series 91)
Mandy Rose (Basic)
"Macho Man" Randy Savage (Basic)
Sasha Banks (Basic - will be available first at WrestleMania Axxess)
Sonya Deville (Basic, work-in-progress)
Daniel Bryan (Basic, work-in-progress)
Jeff Hardy (WWE Retro App Series 8)
Zack Ryder (WWE Retro App Series 8)
The Iron Sheik (WWE Retro App Series 8)
Braun Strowman (WWE Retro App Series 8)
Ultimate Deletion Playset (Epic Moments - coming after The Undisputed Era)
A dilapidated boat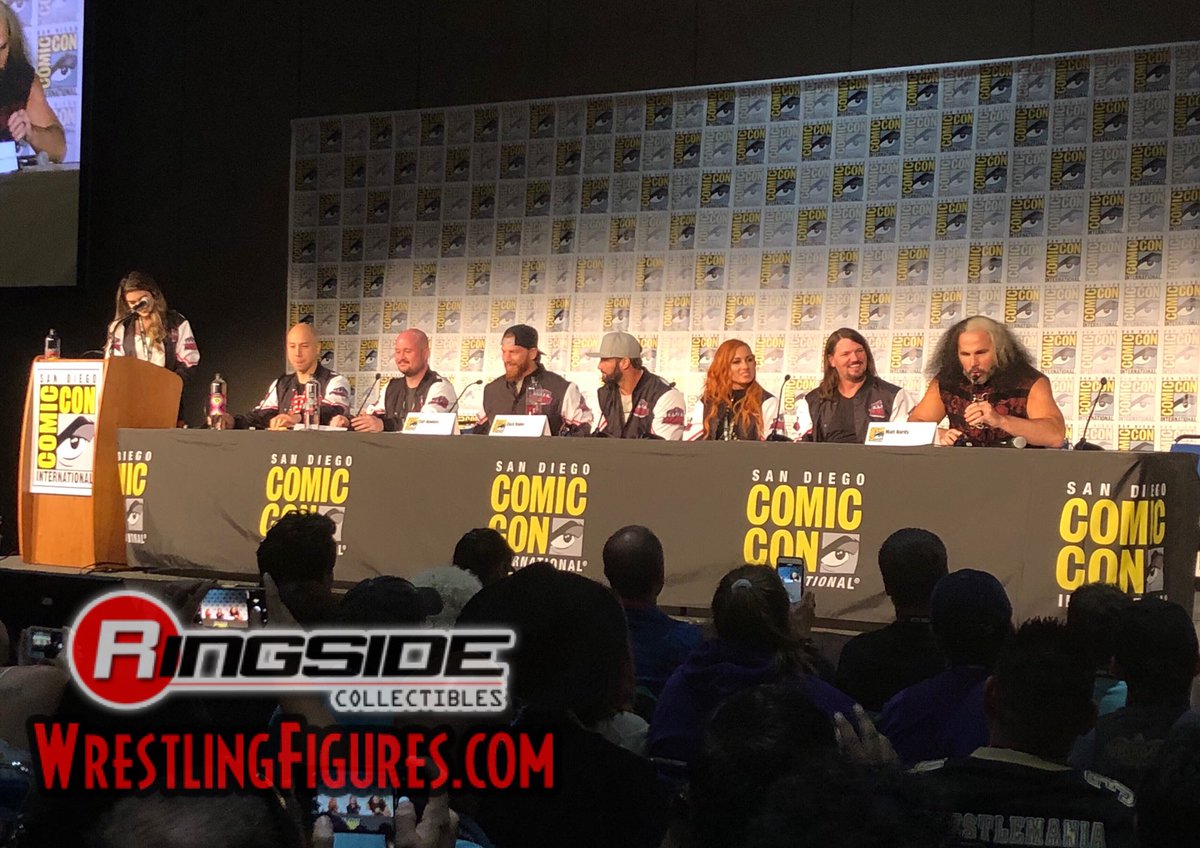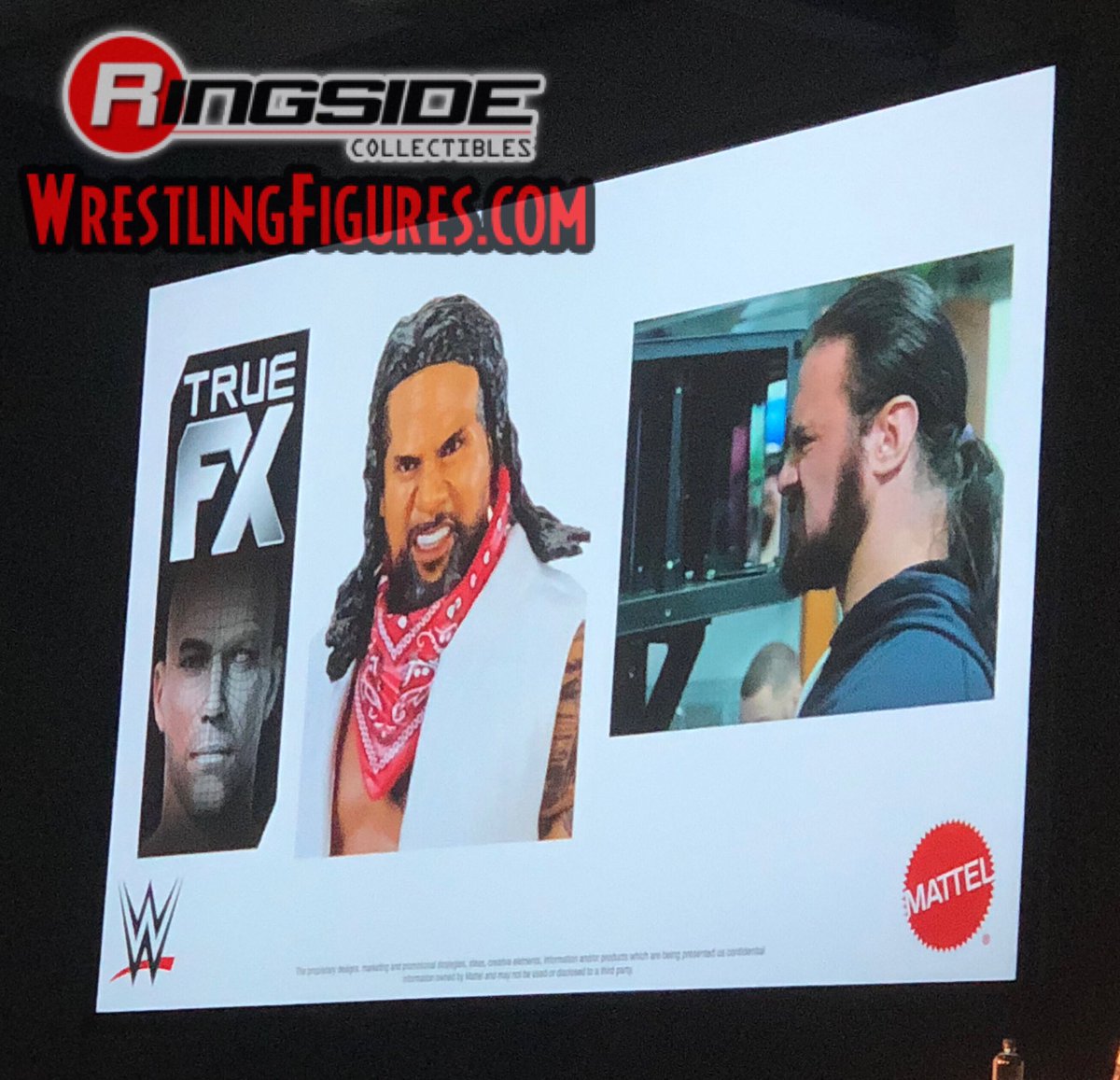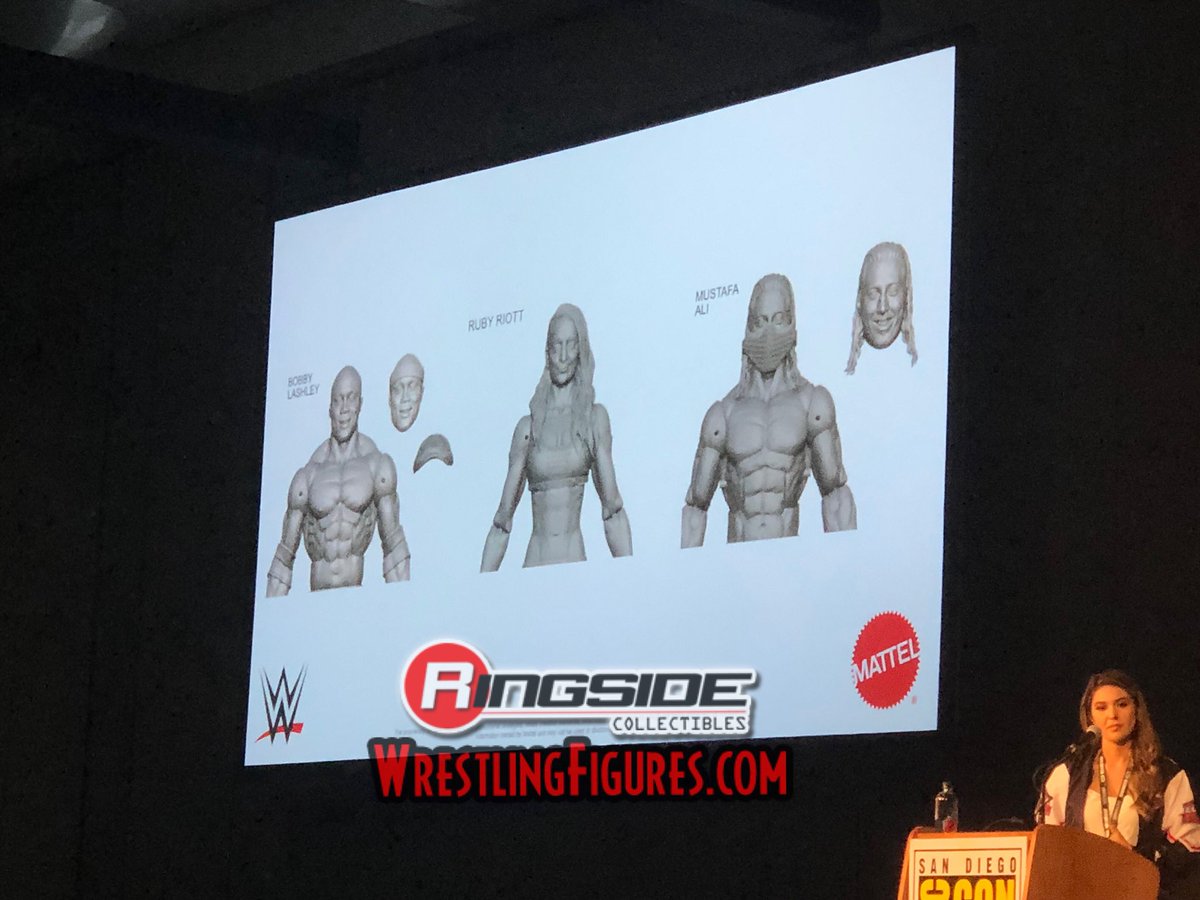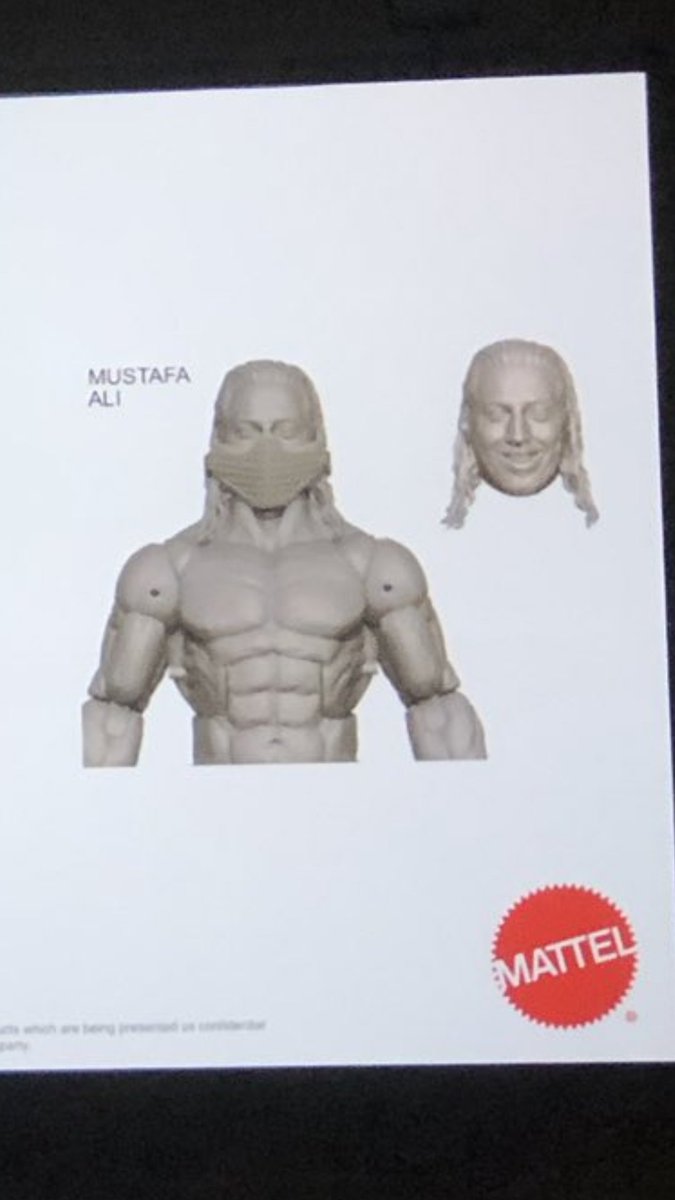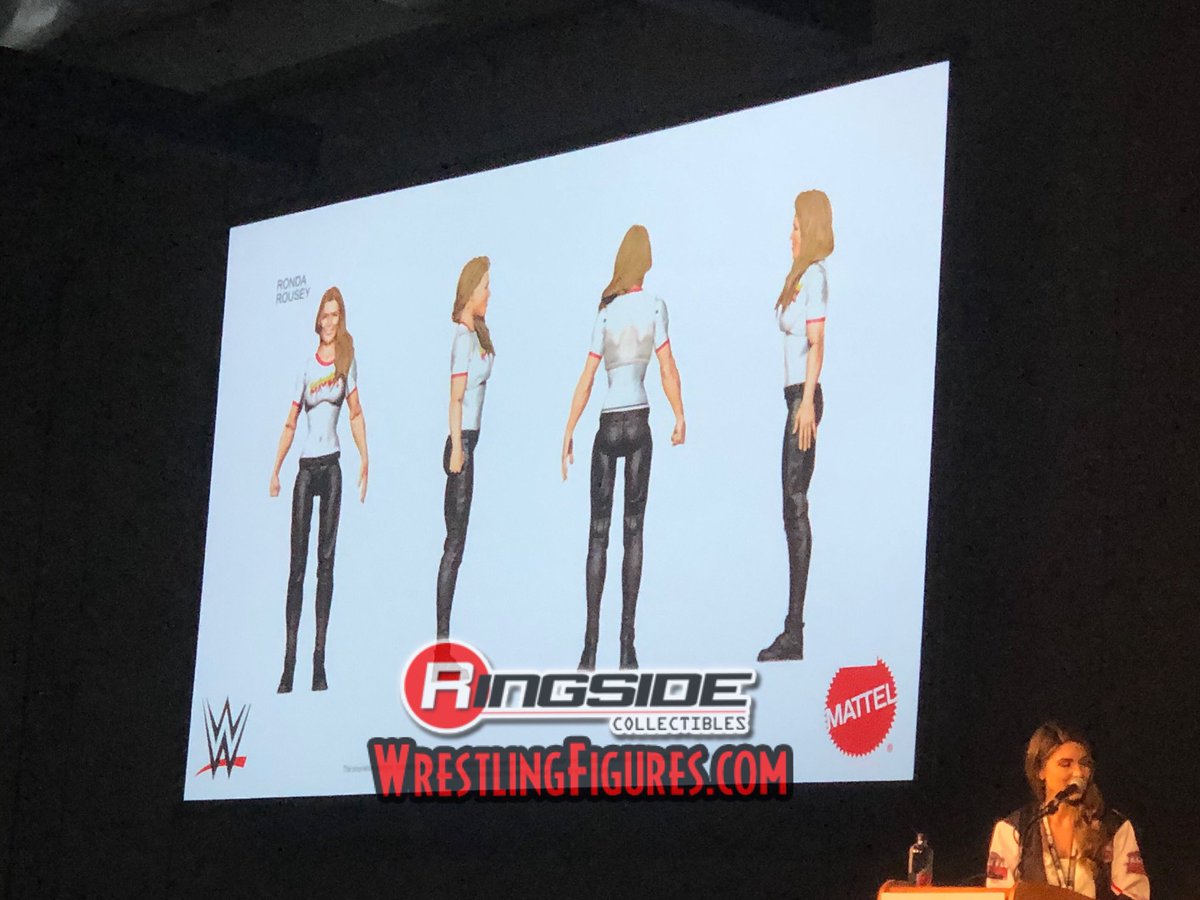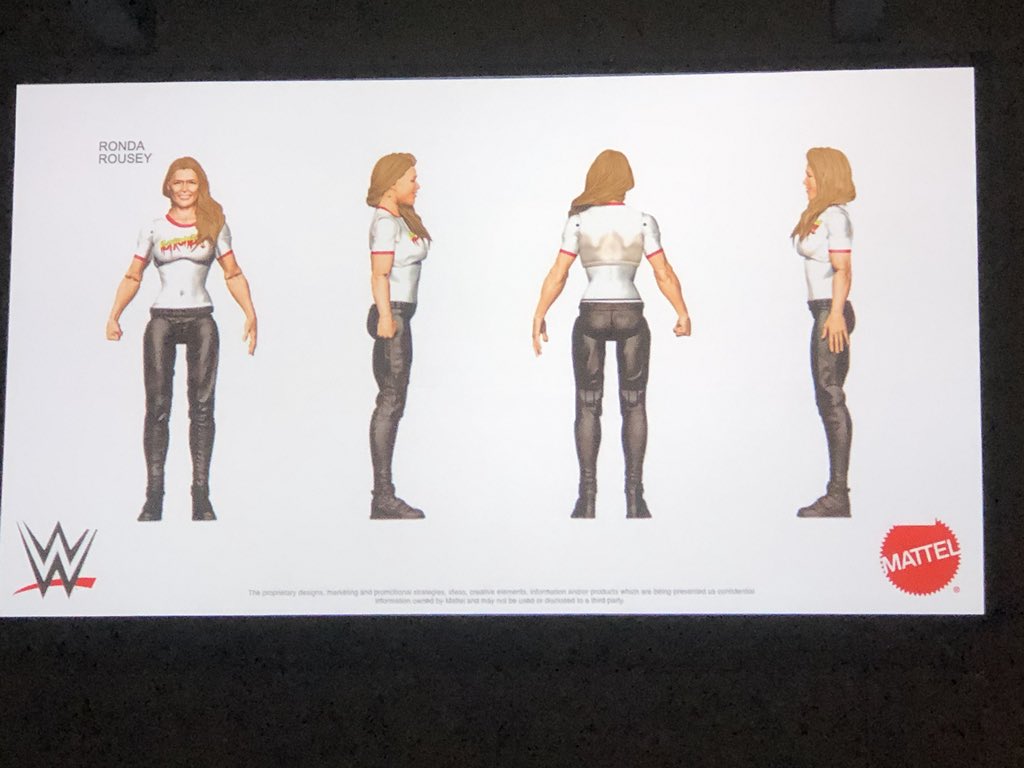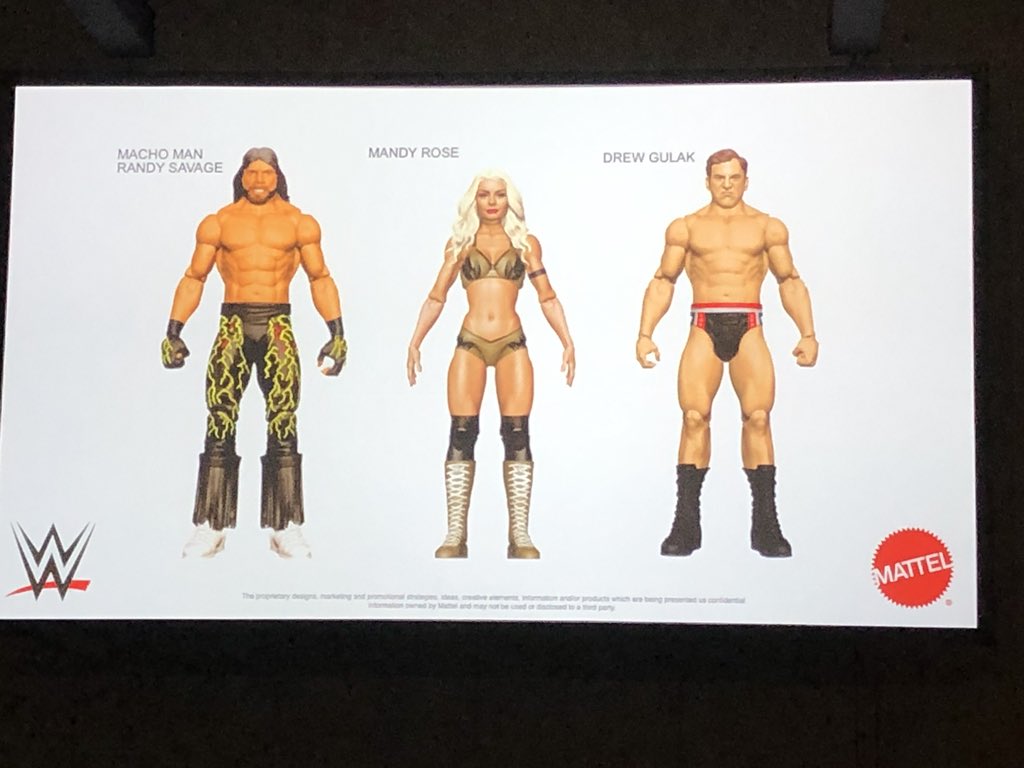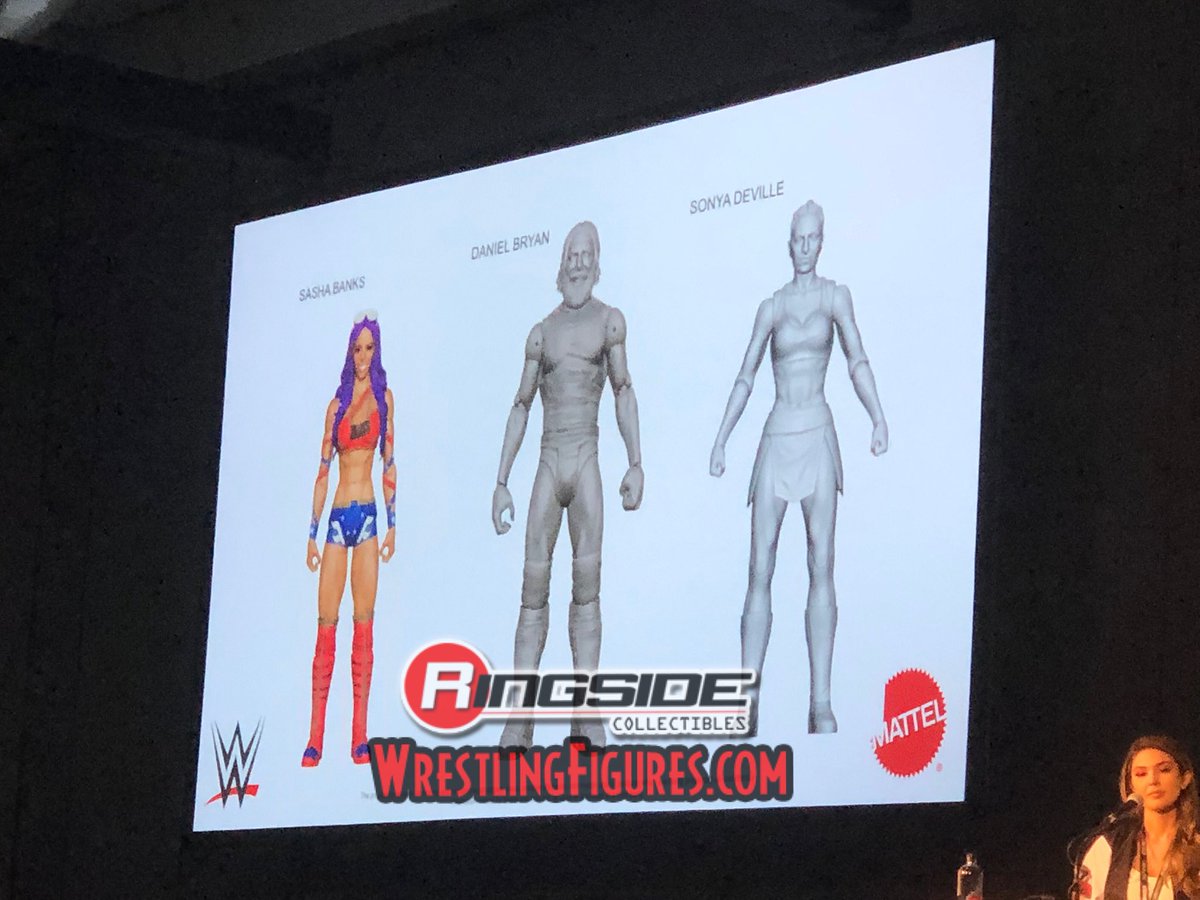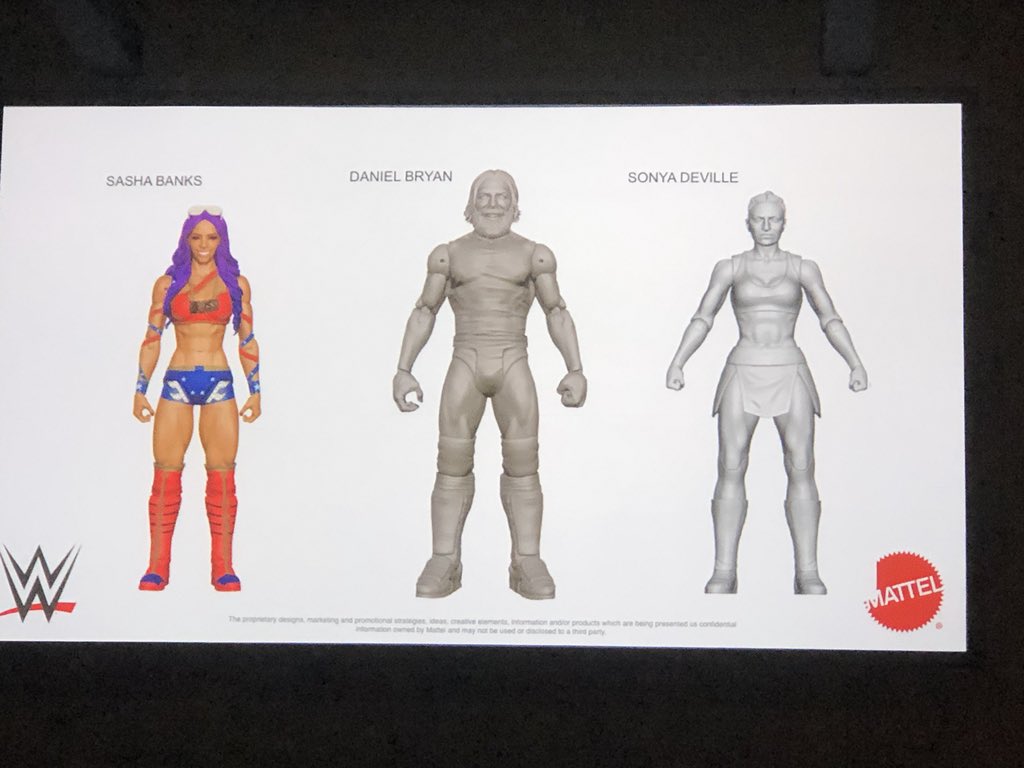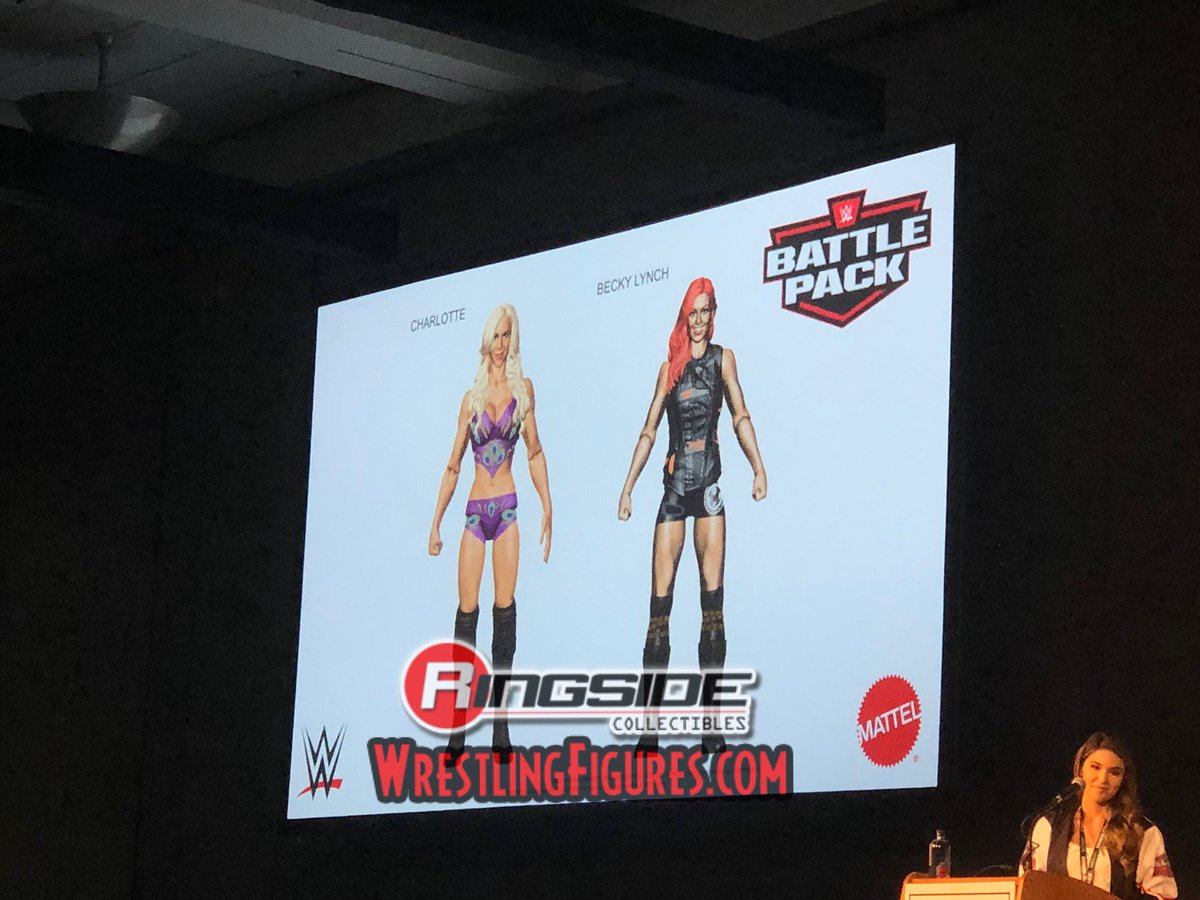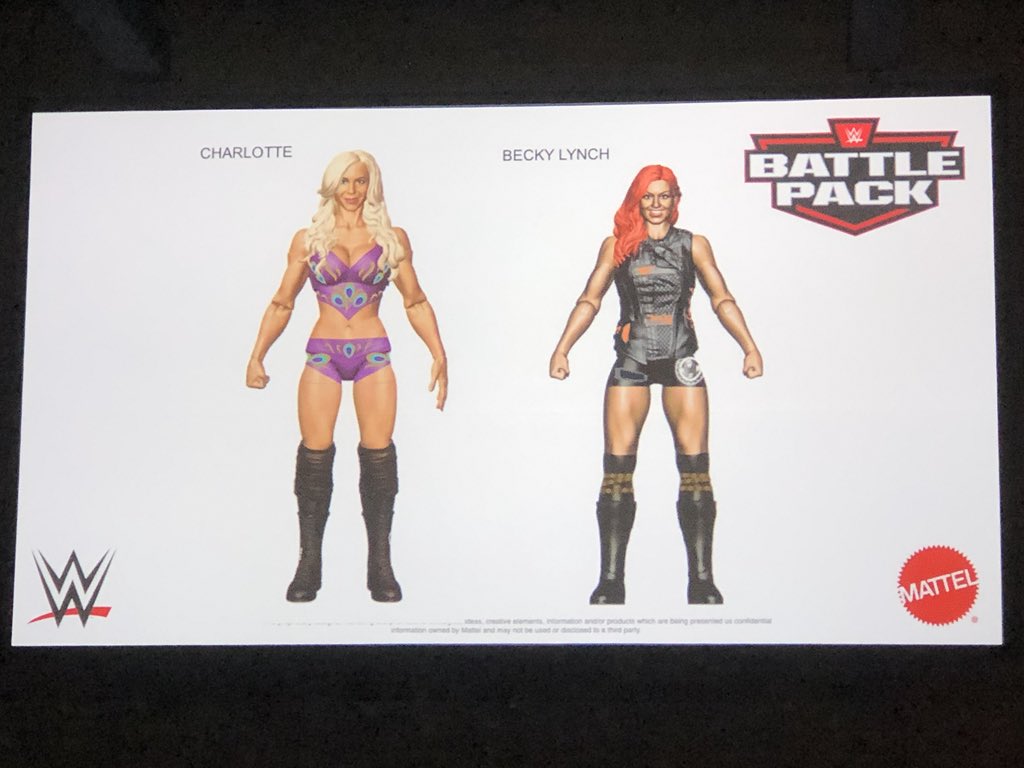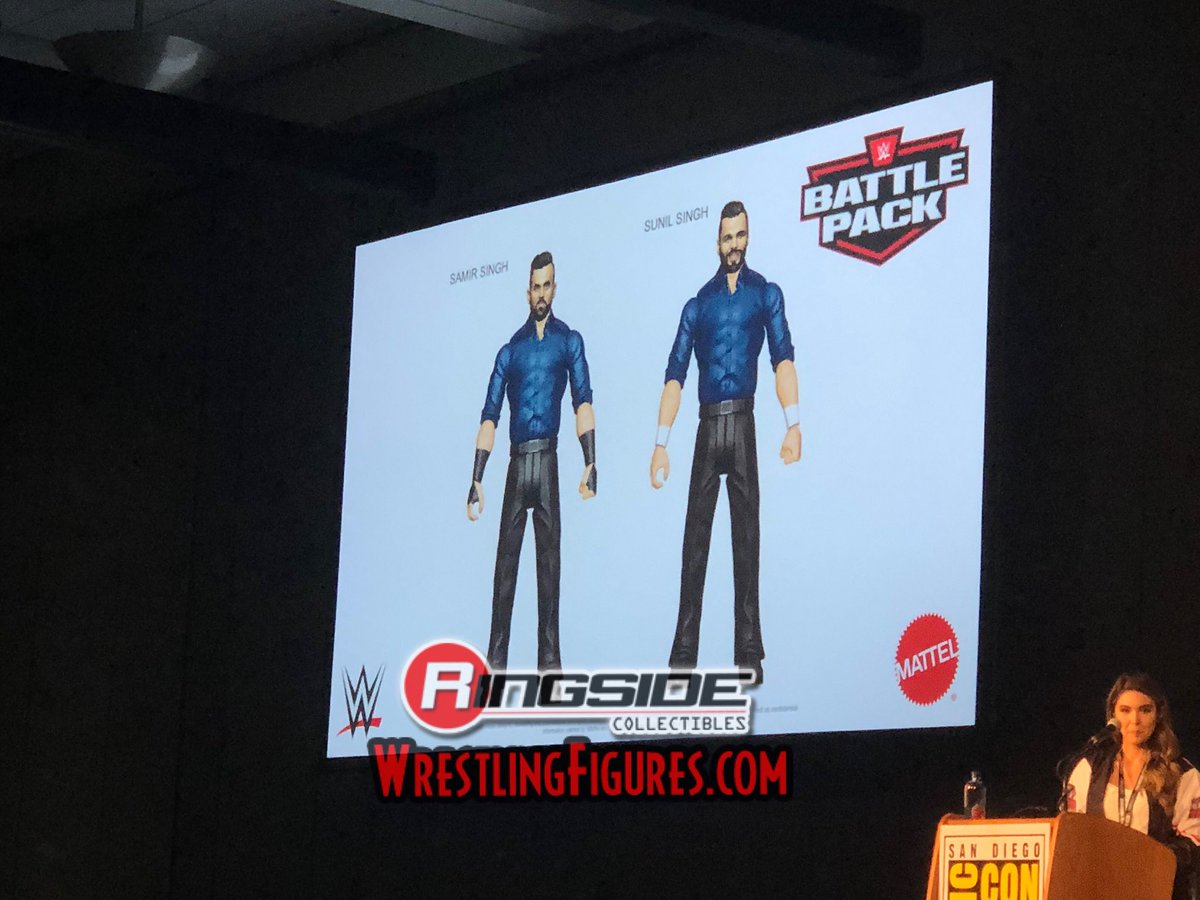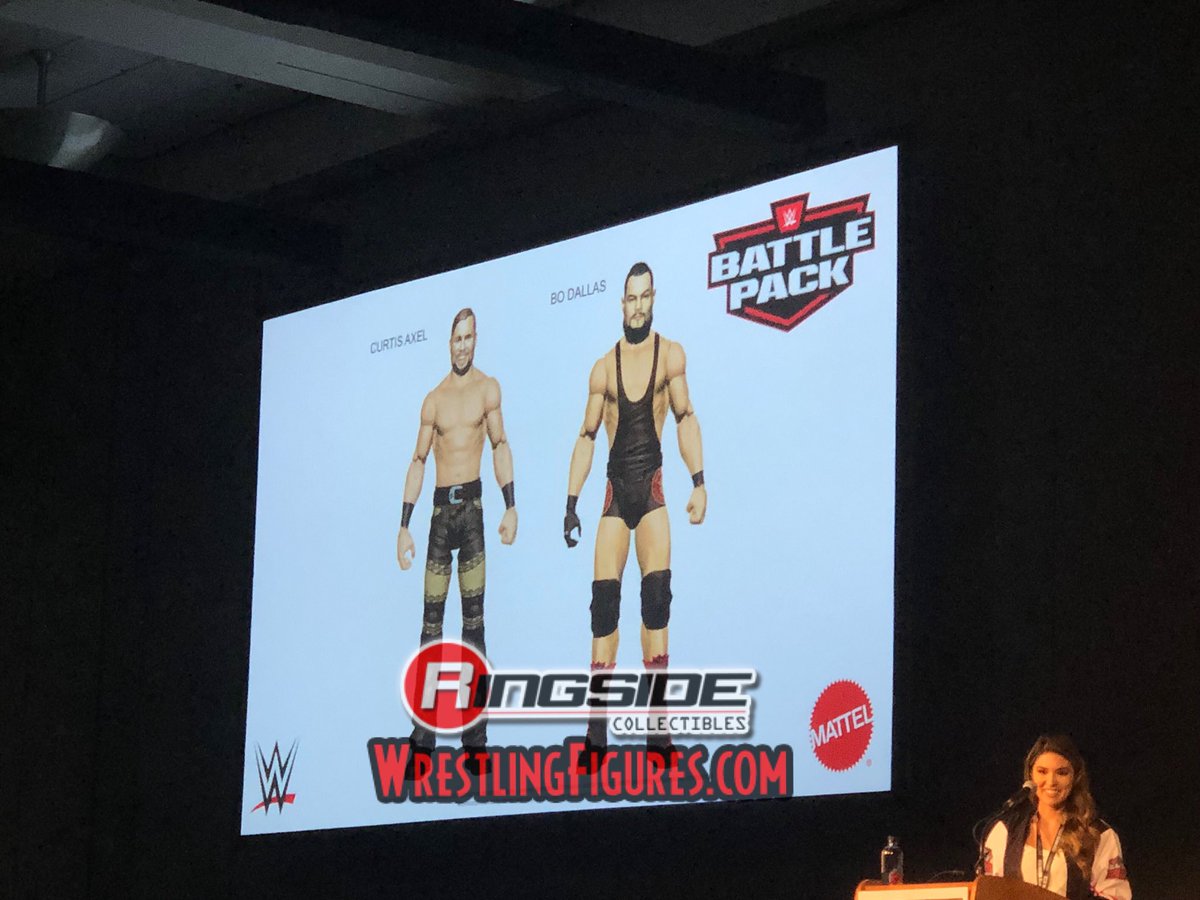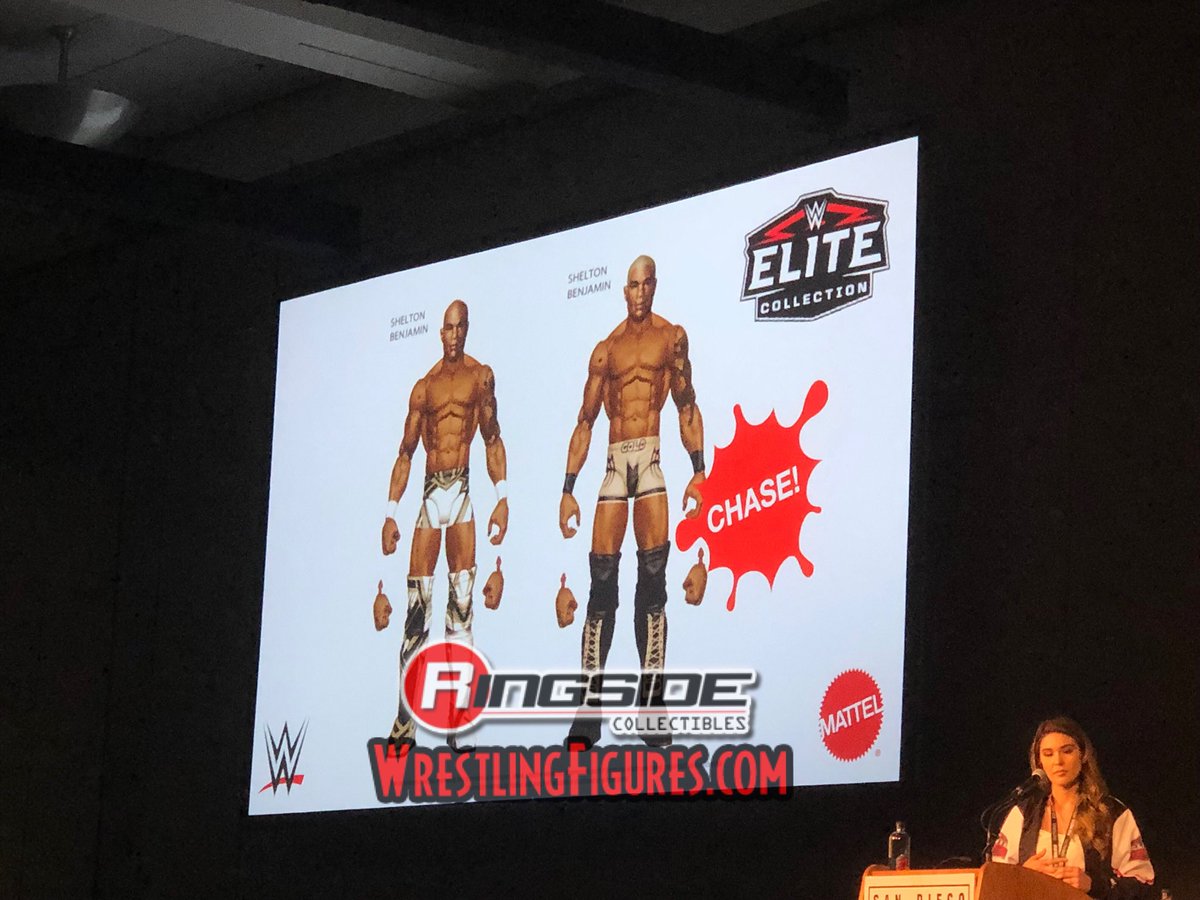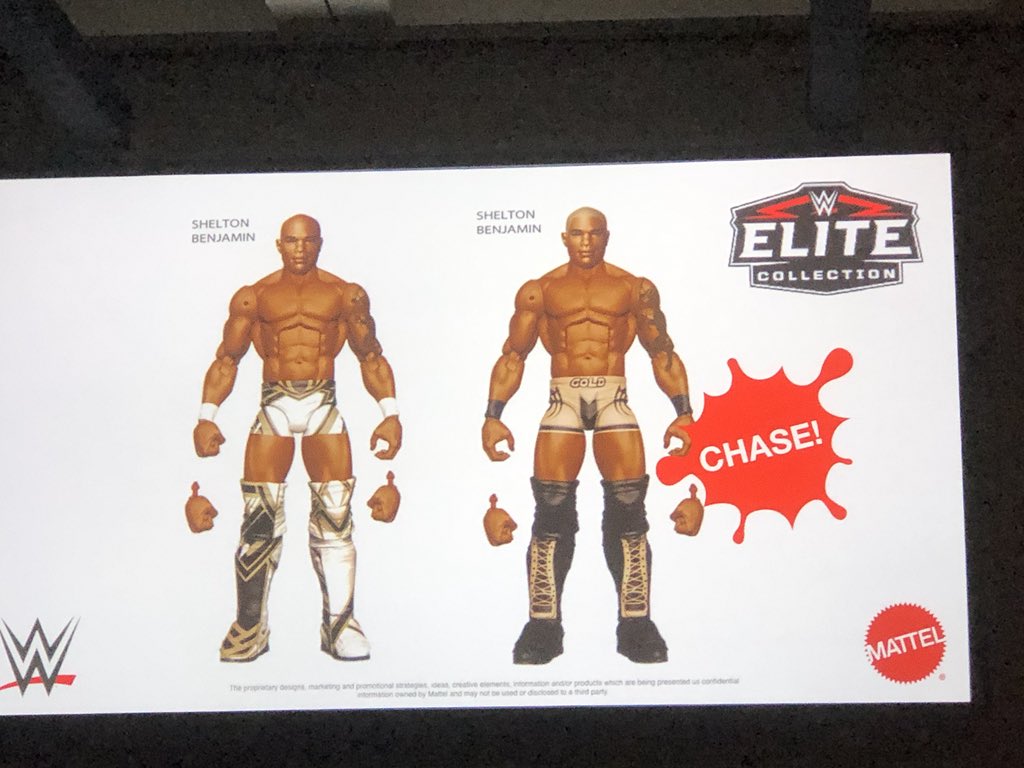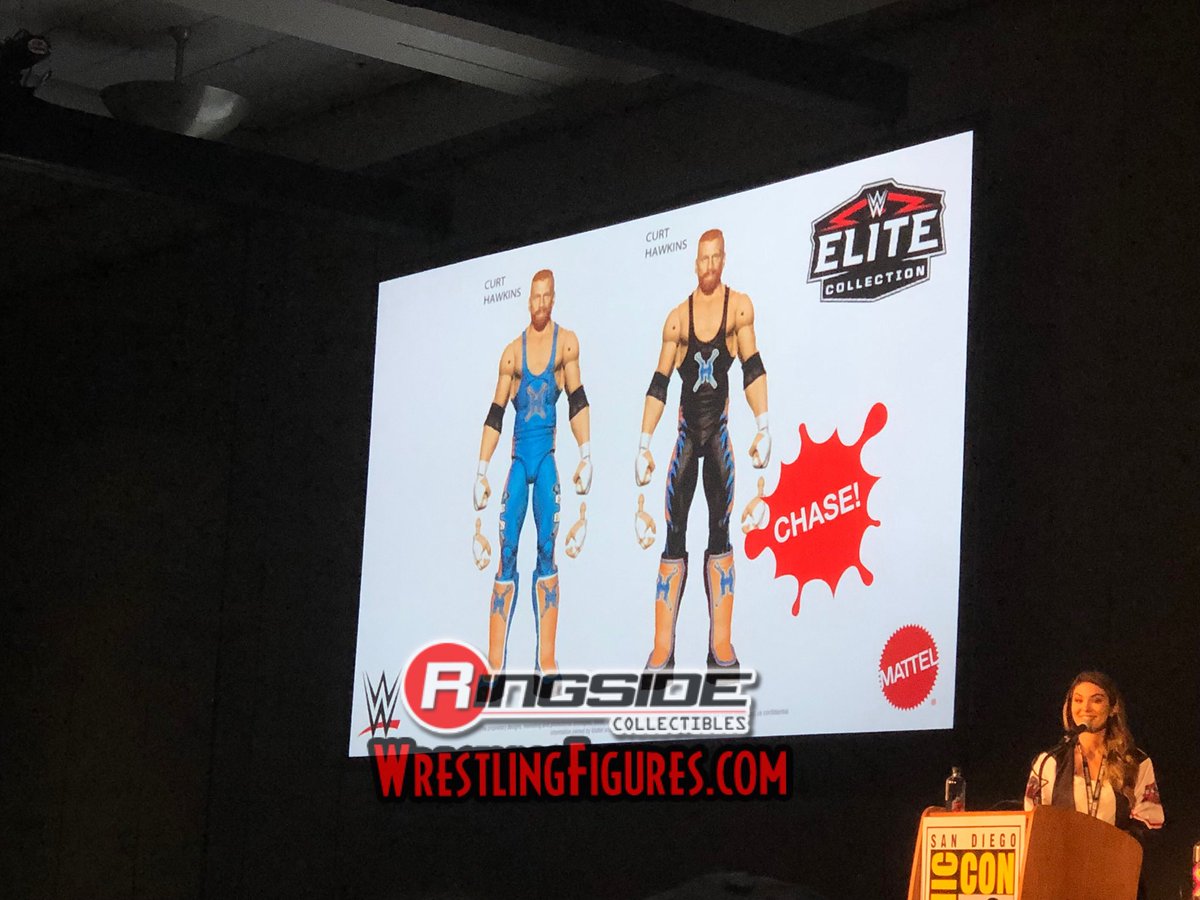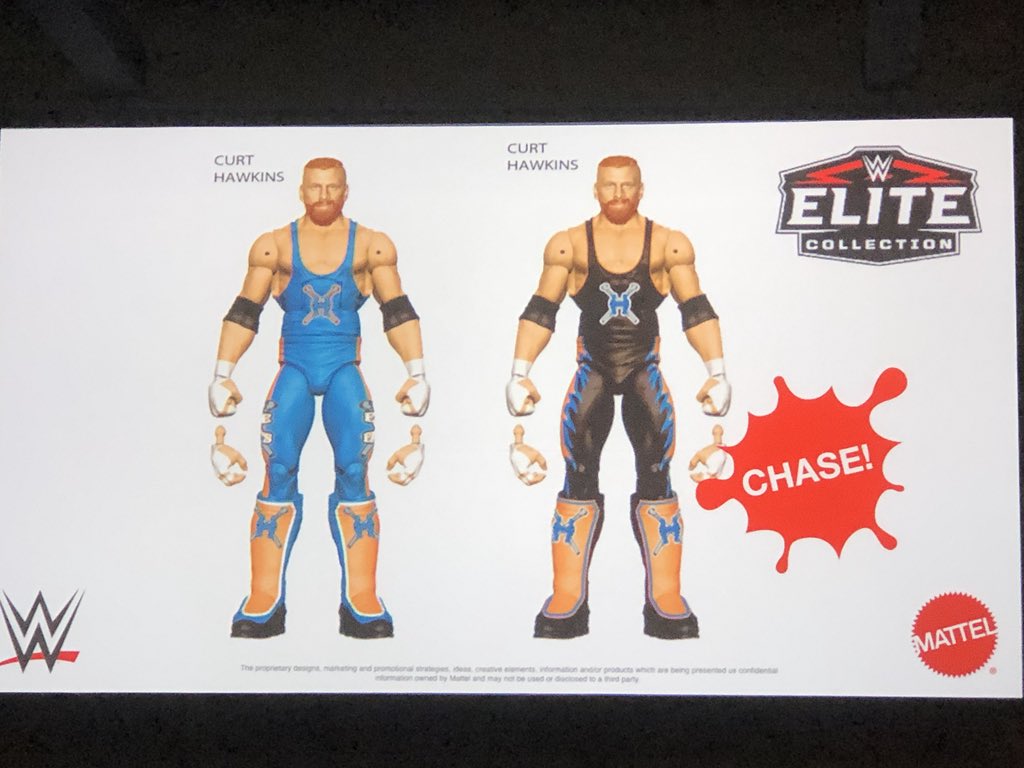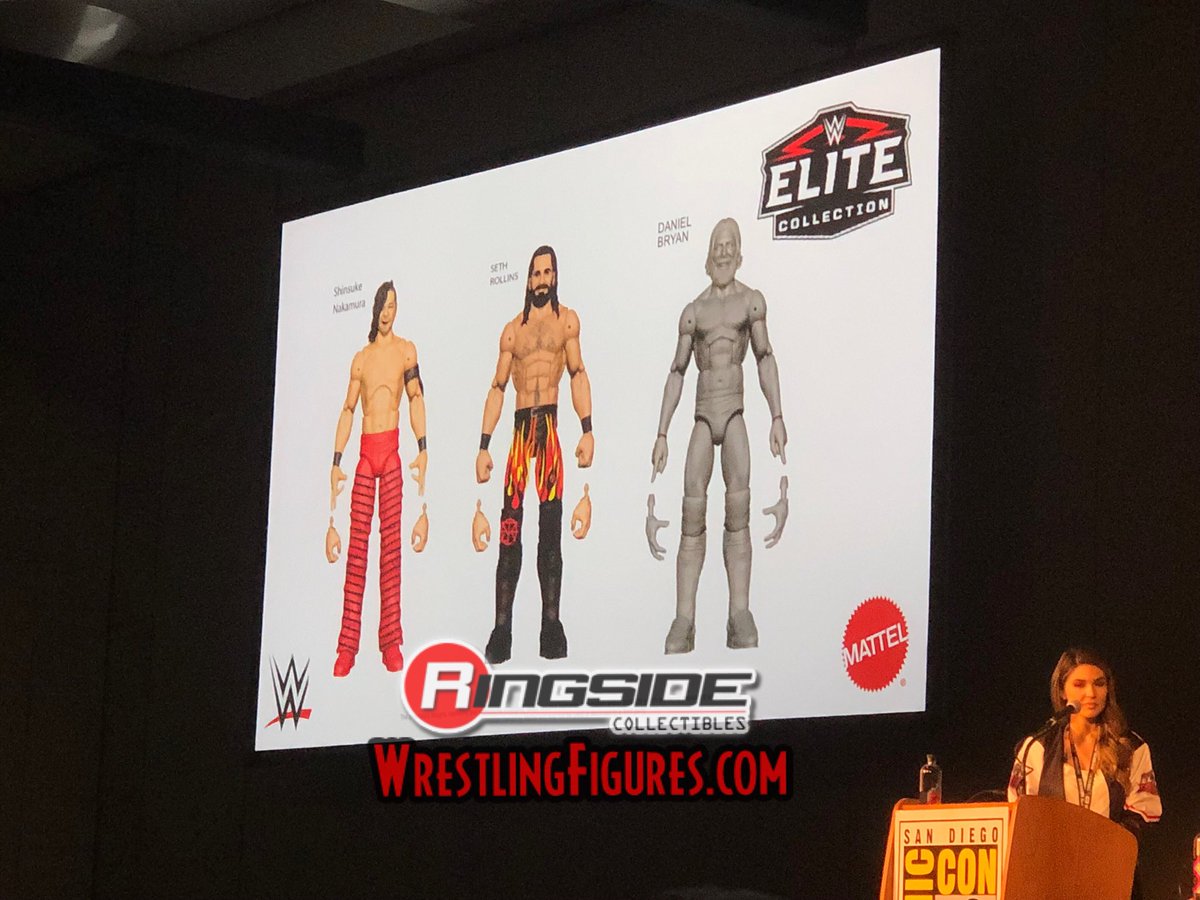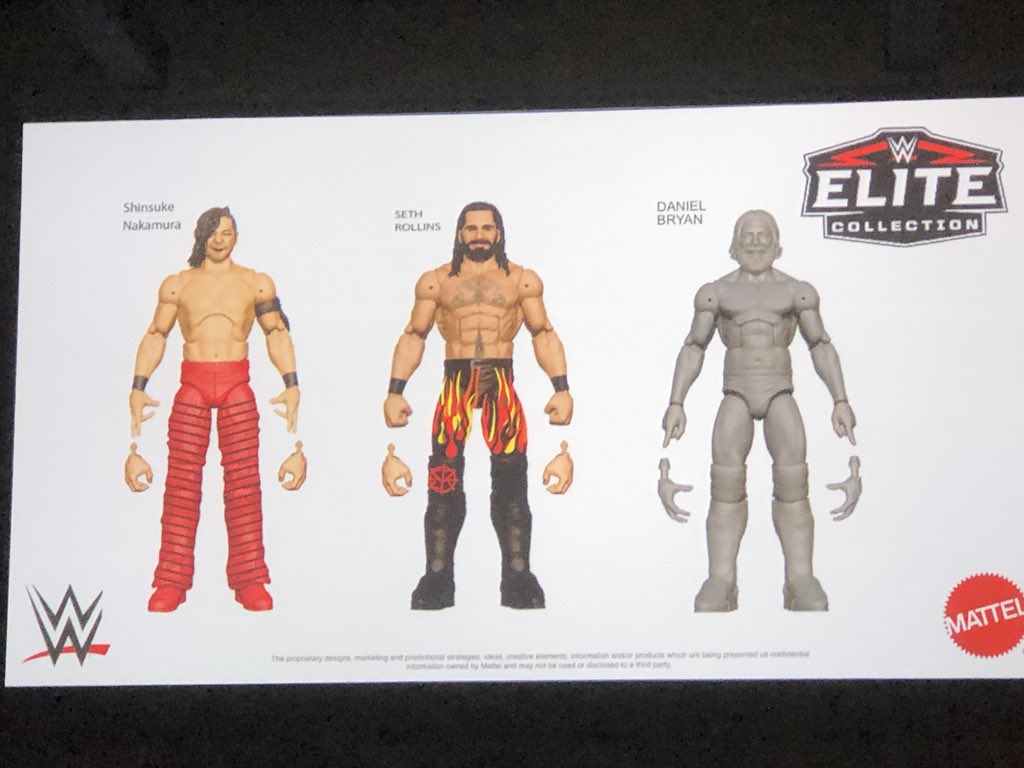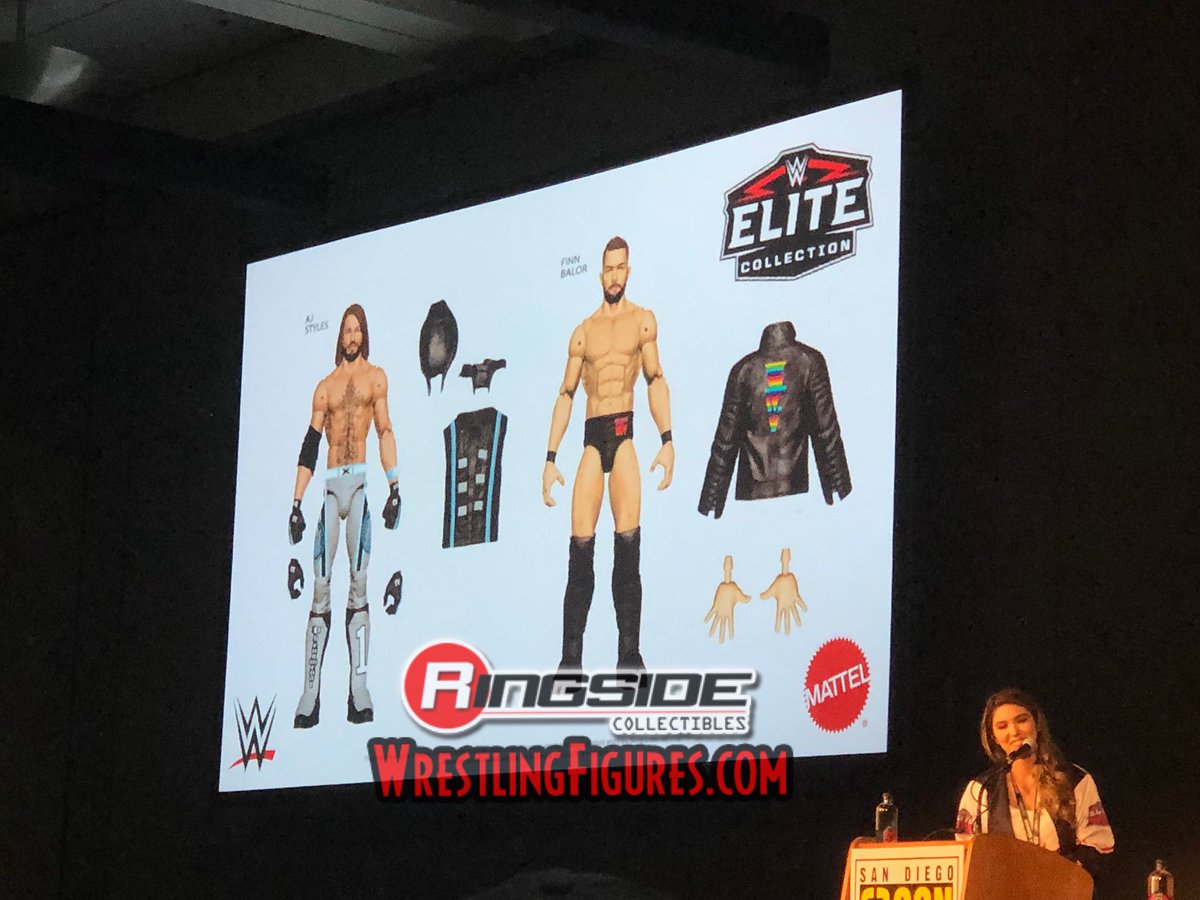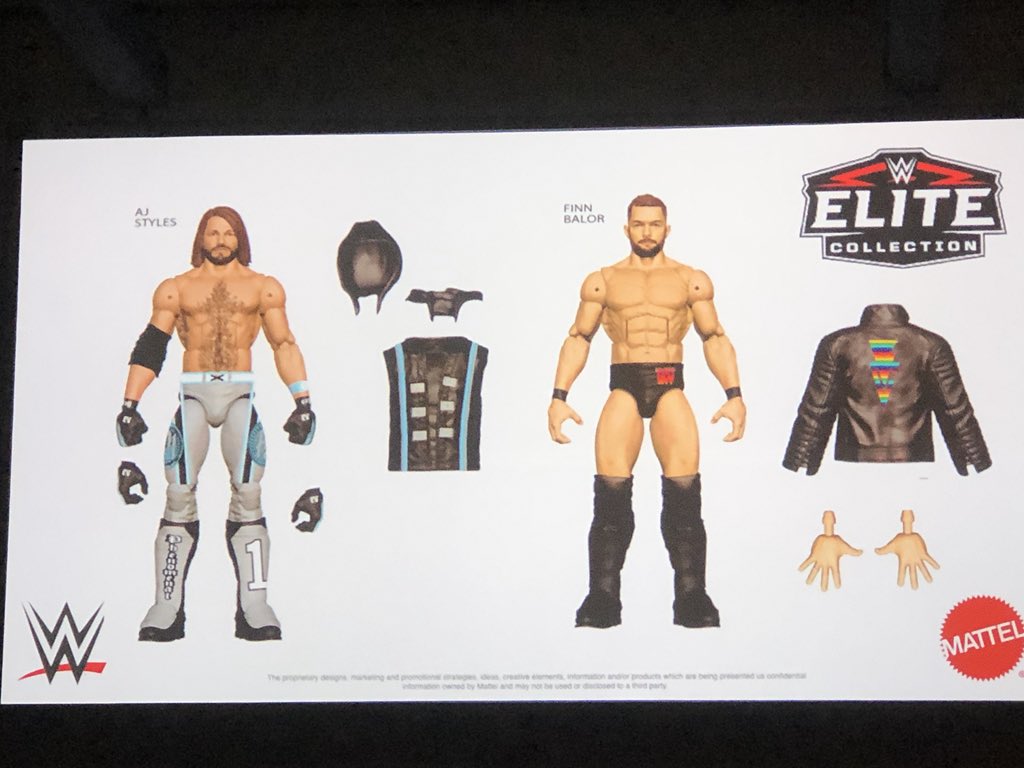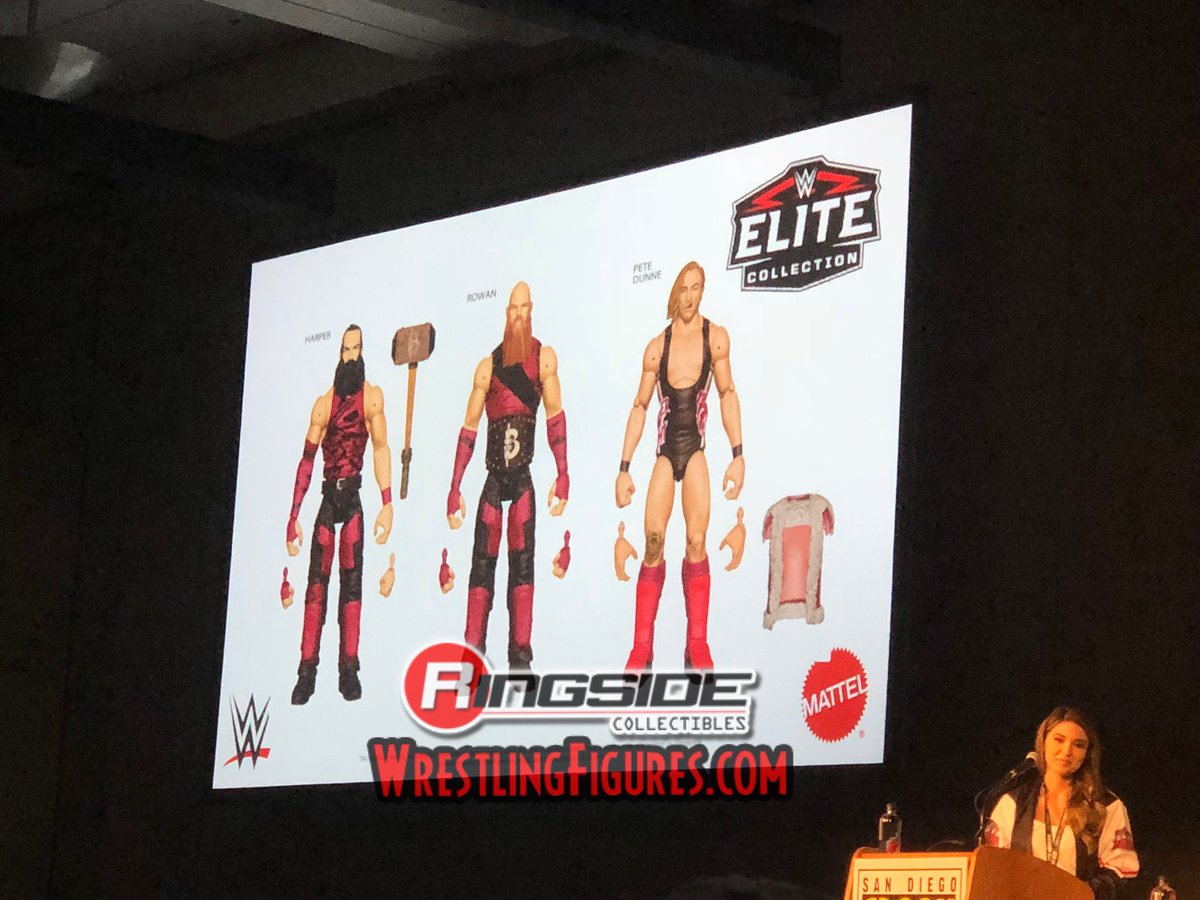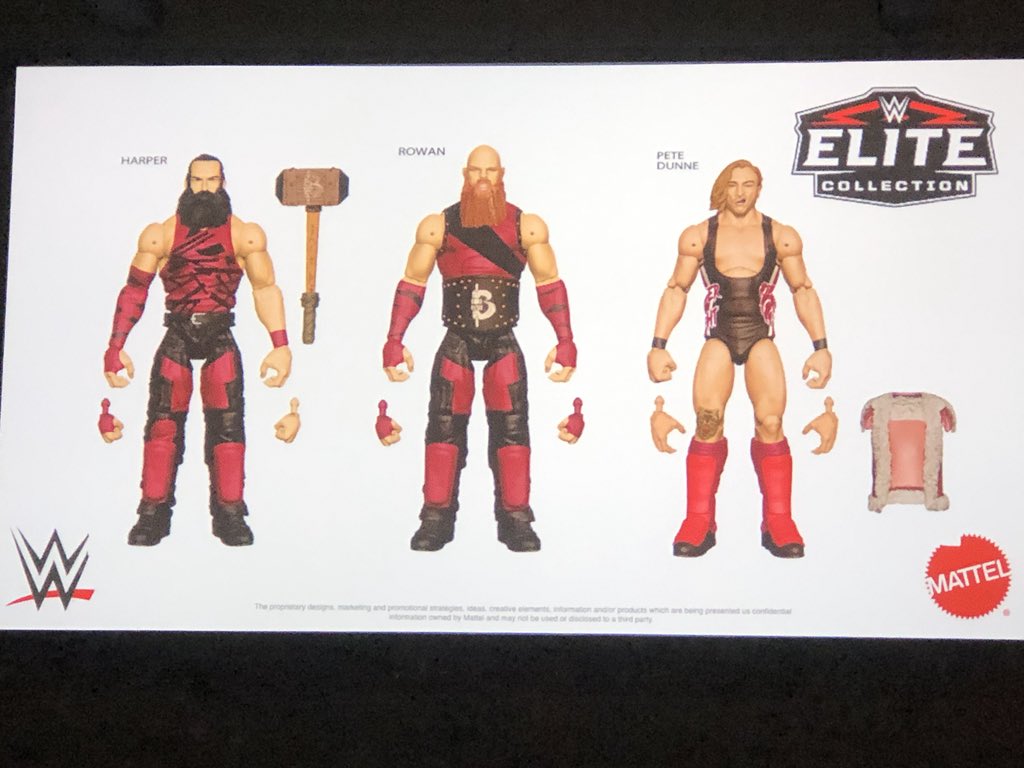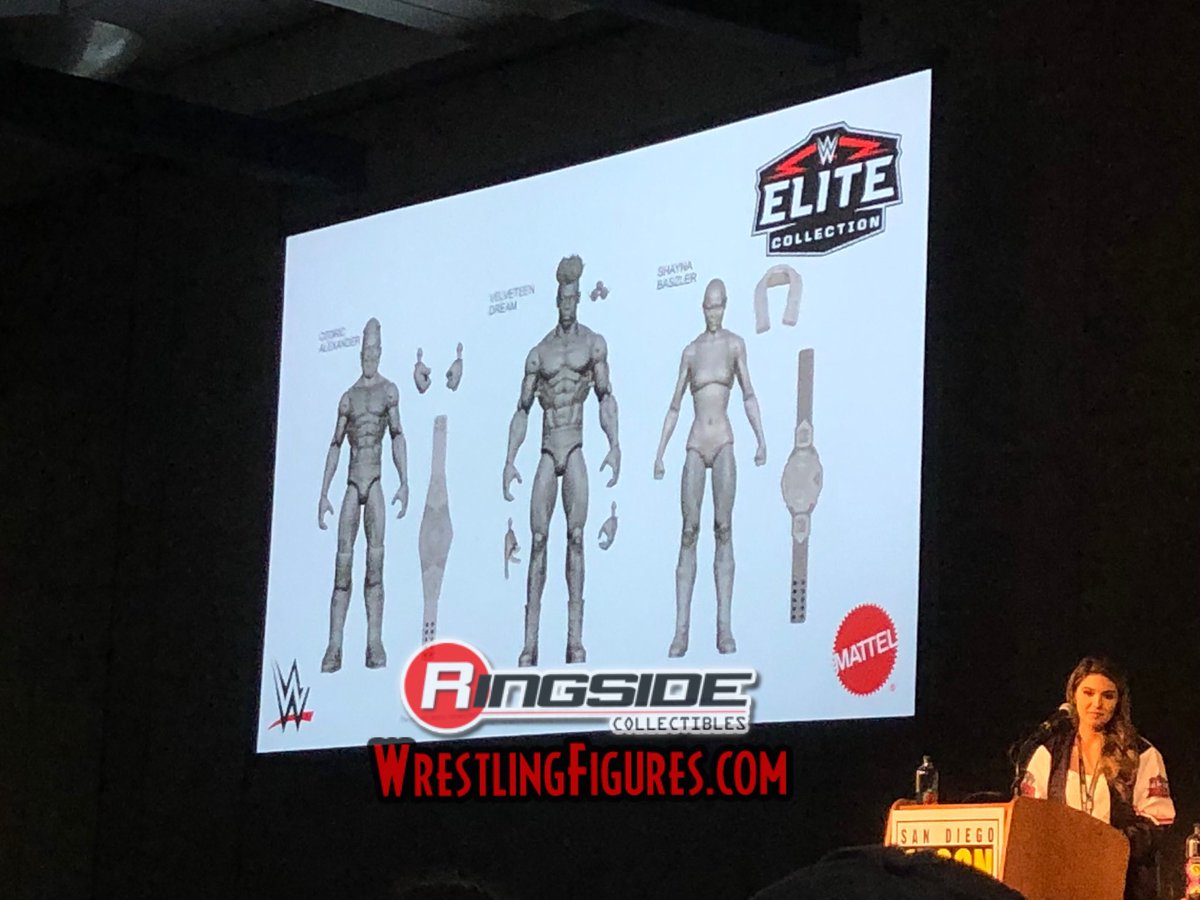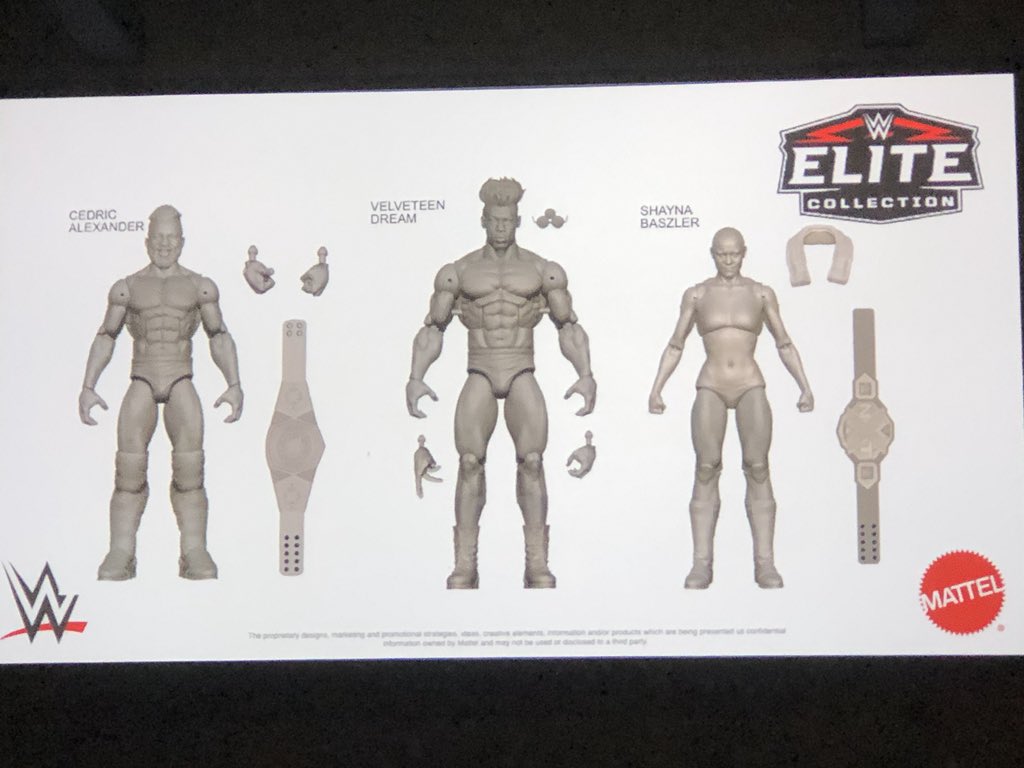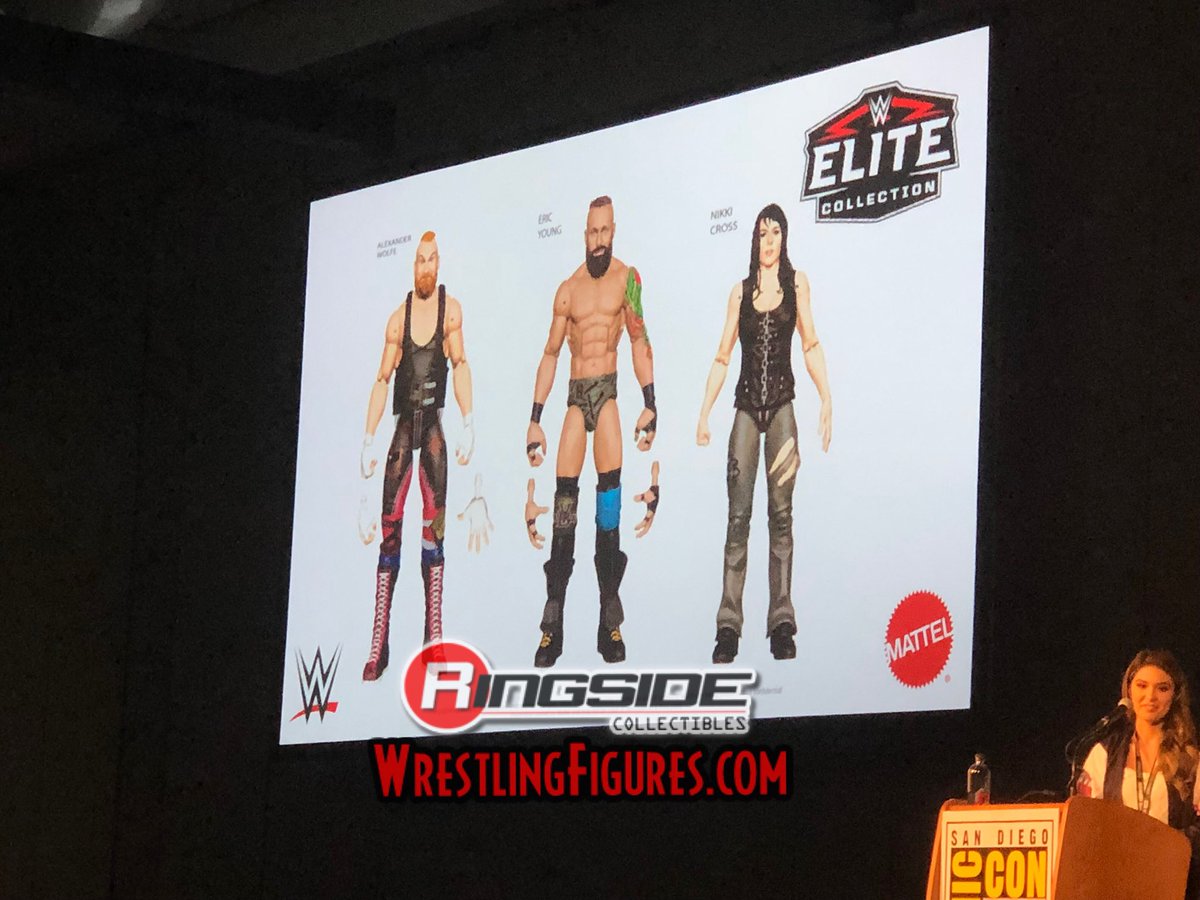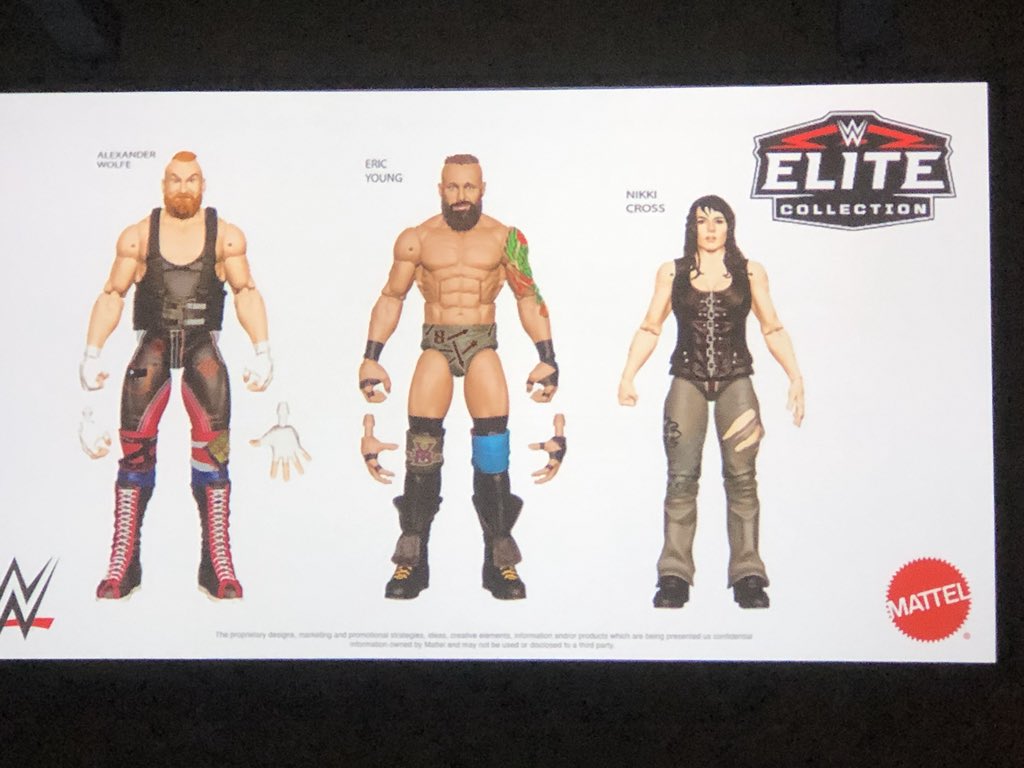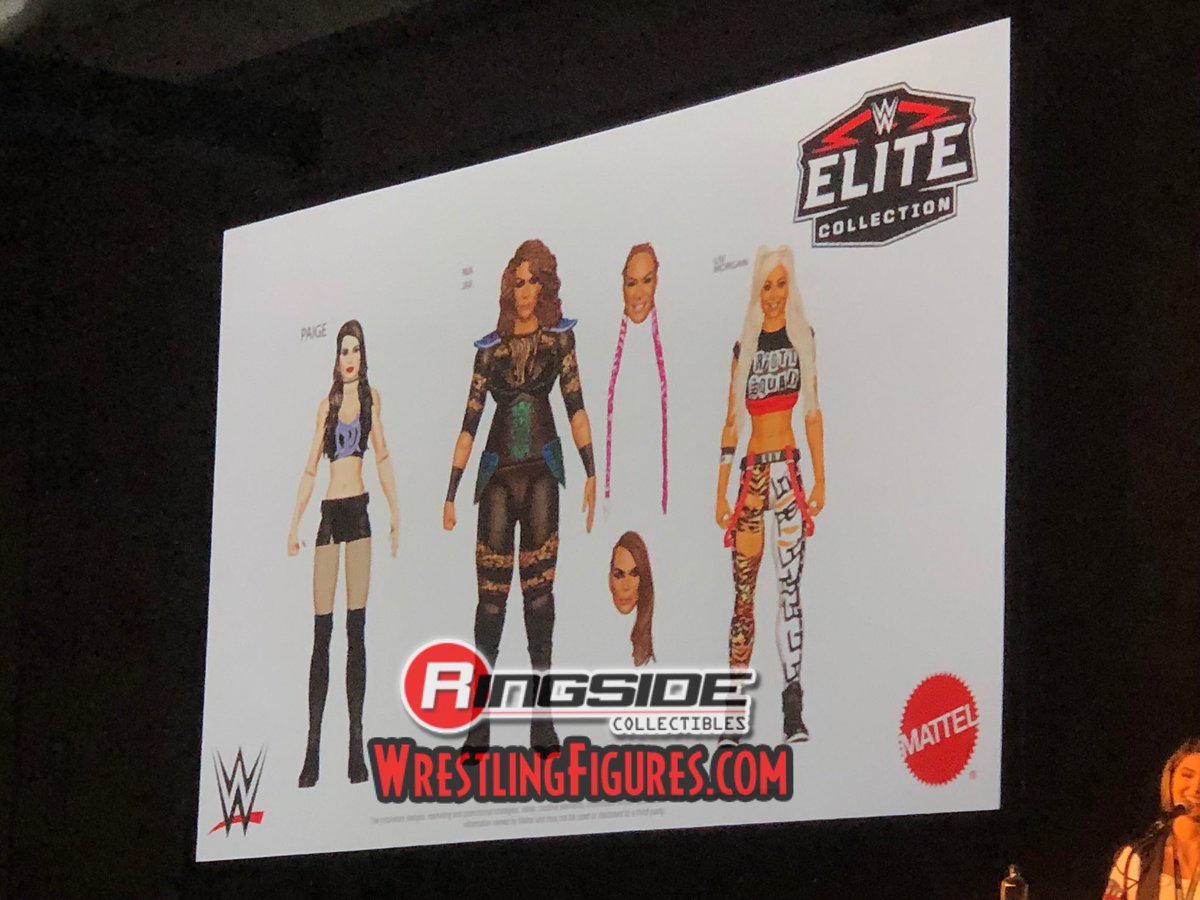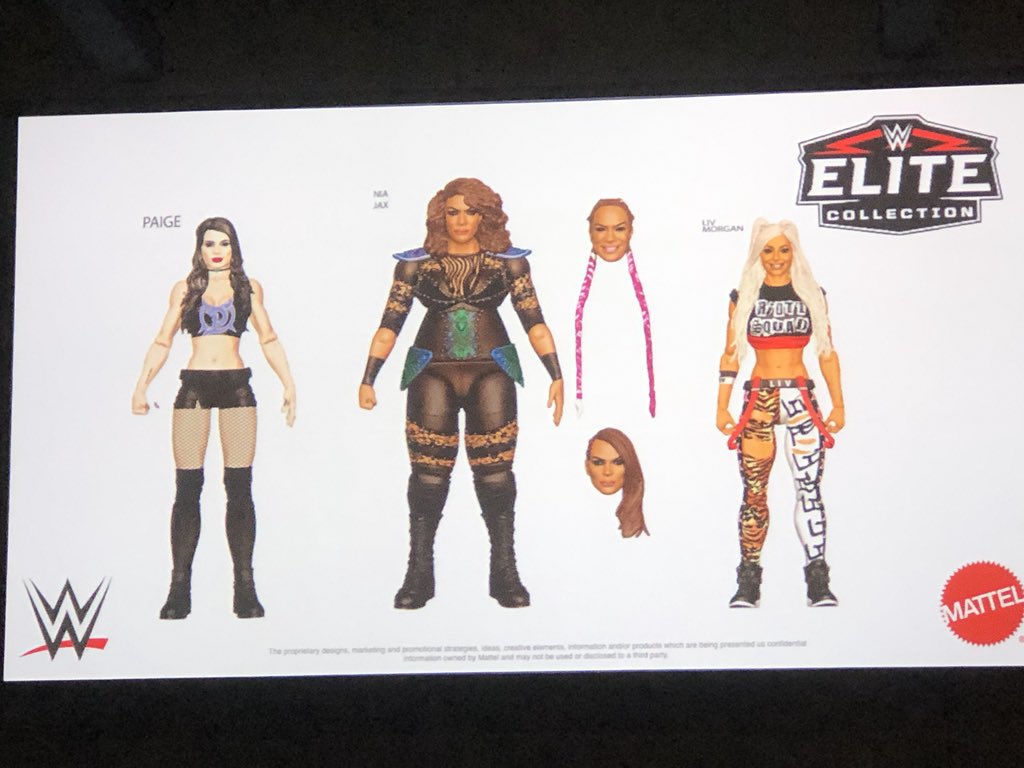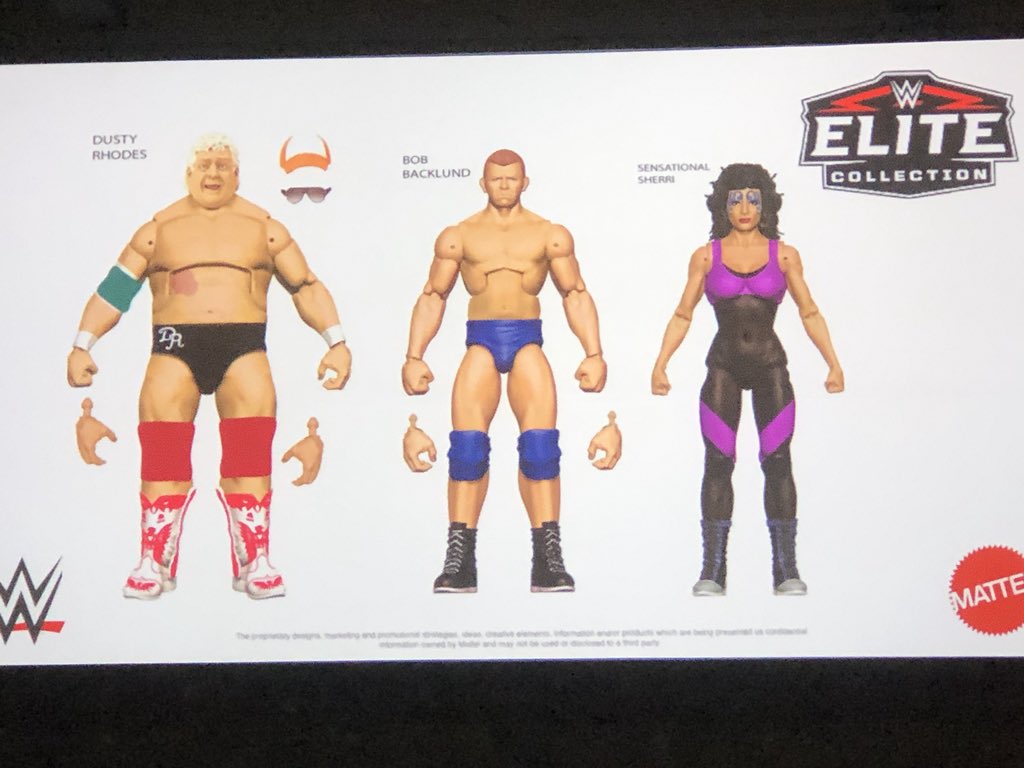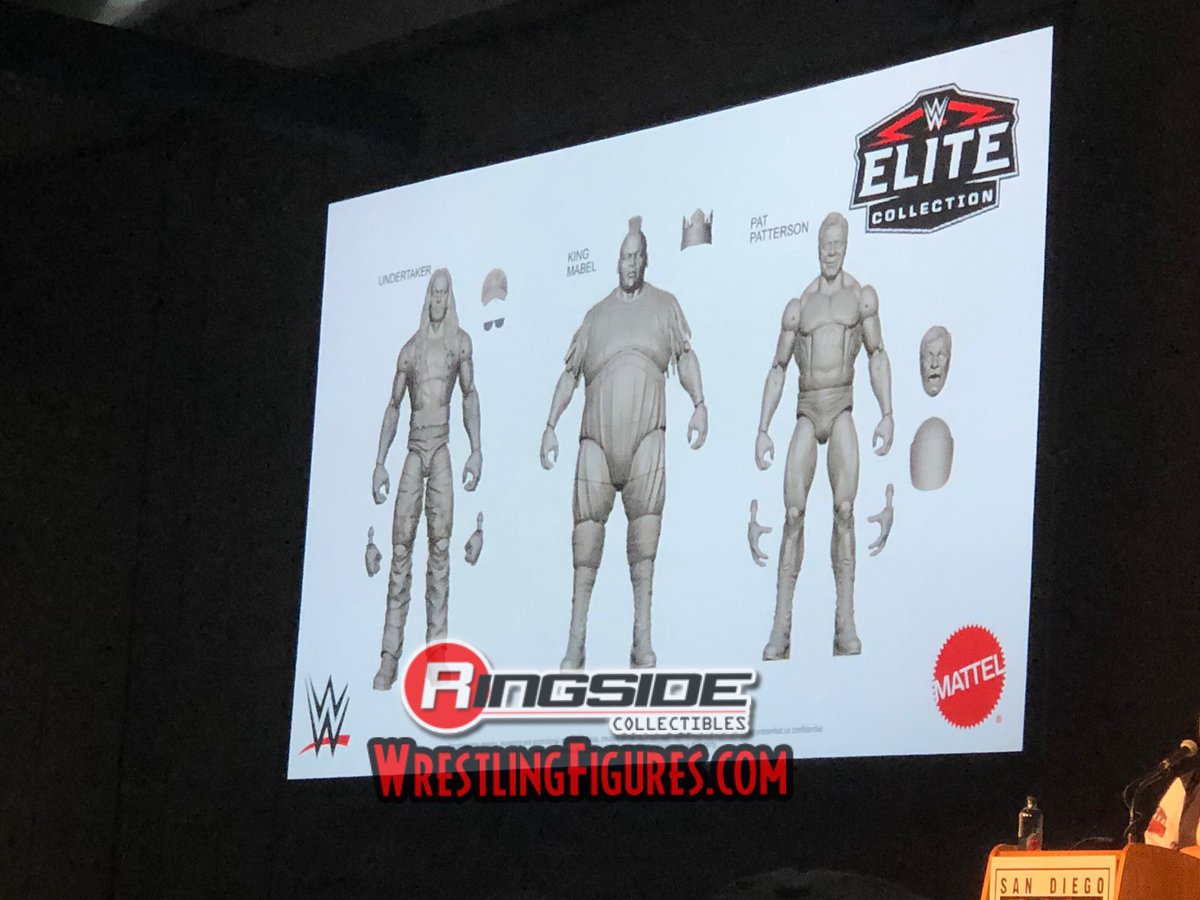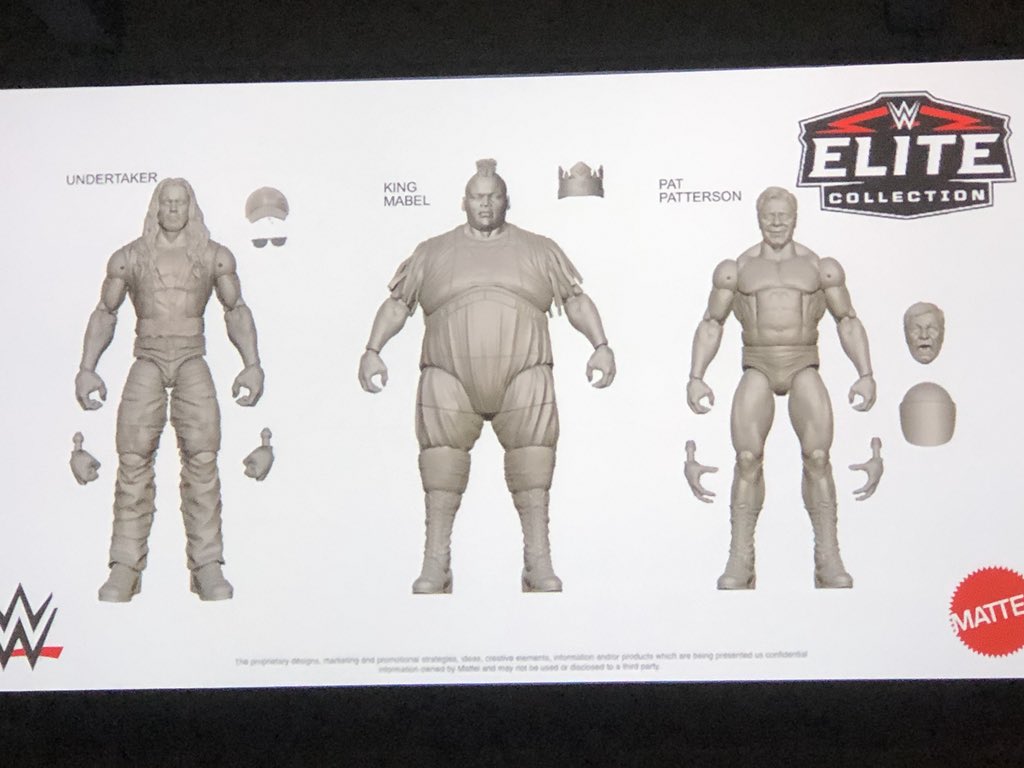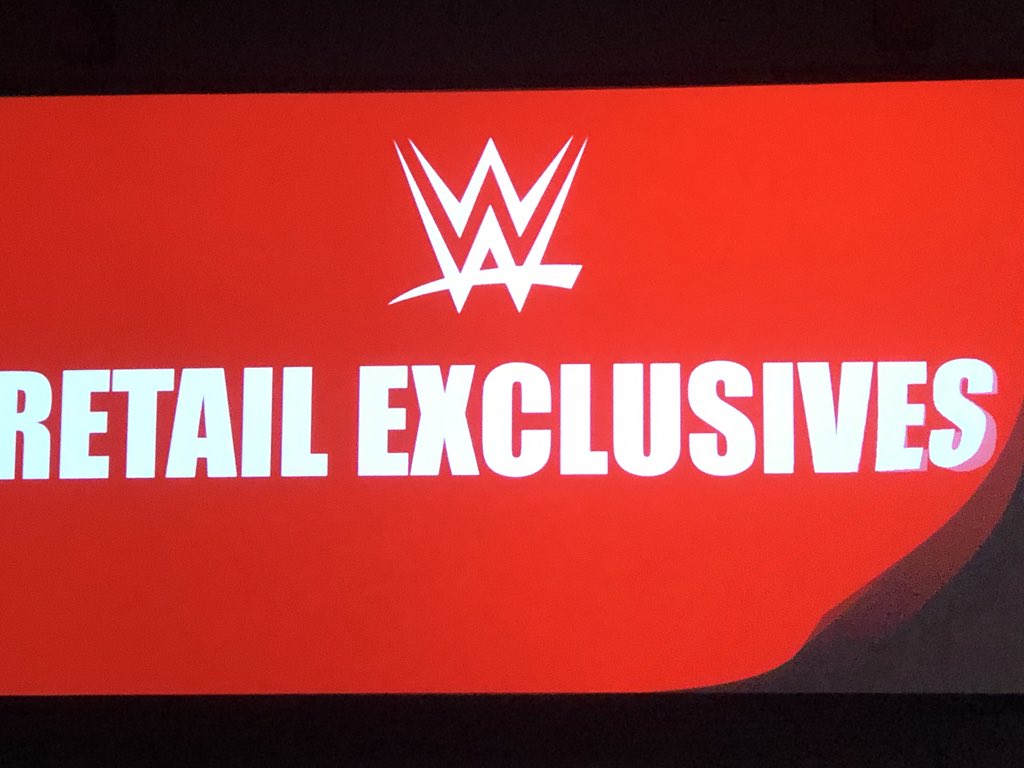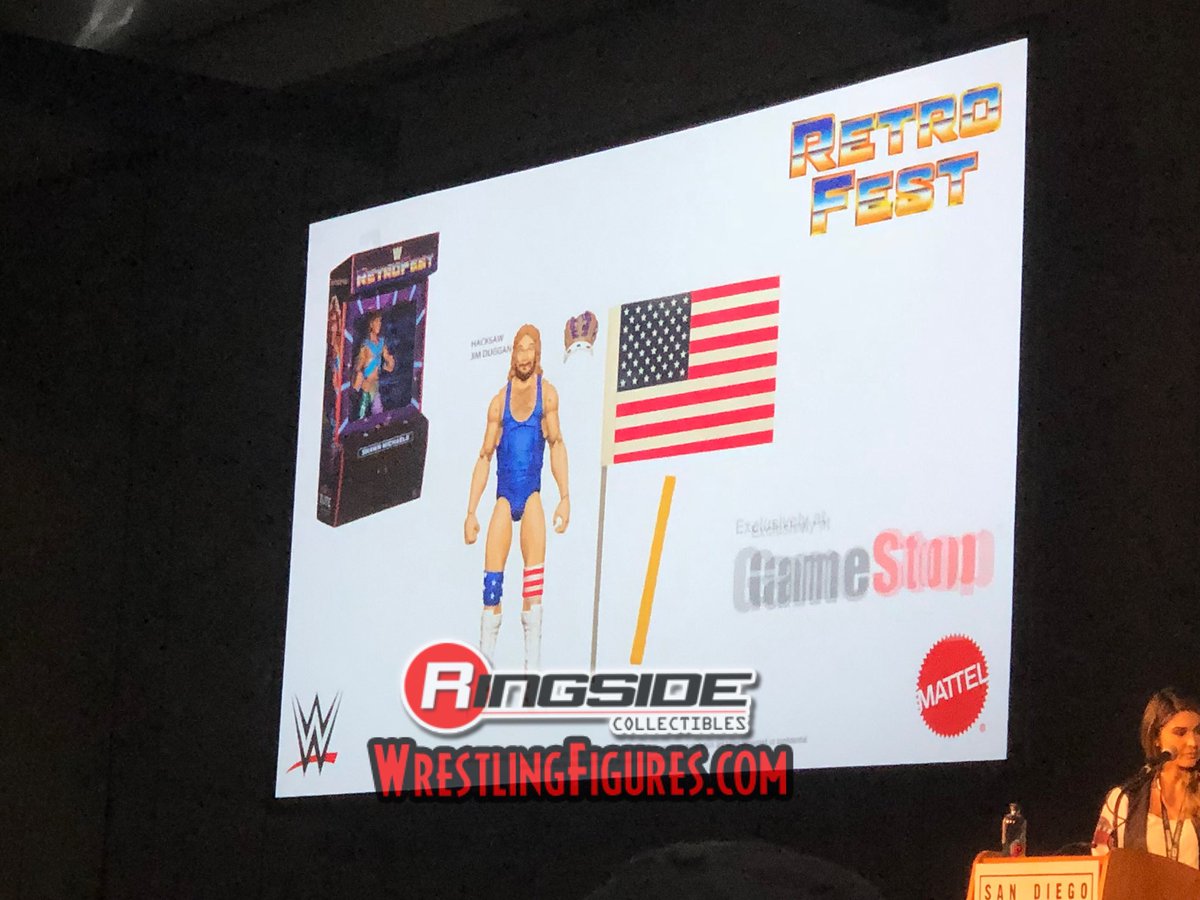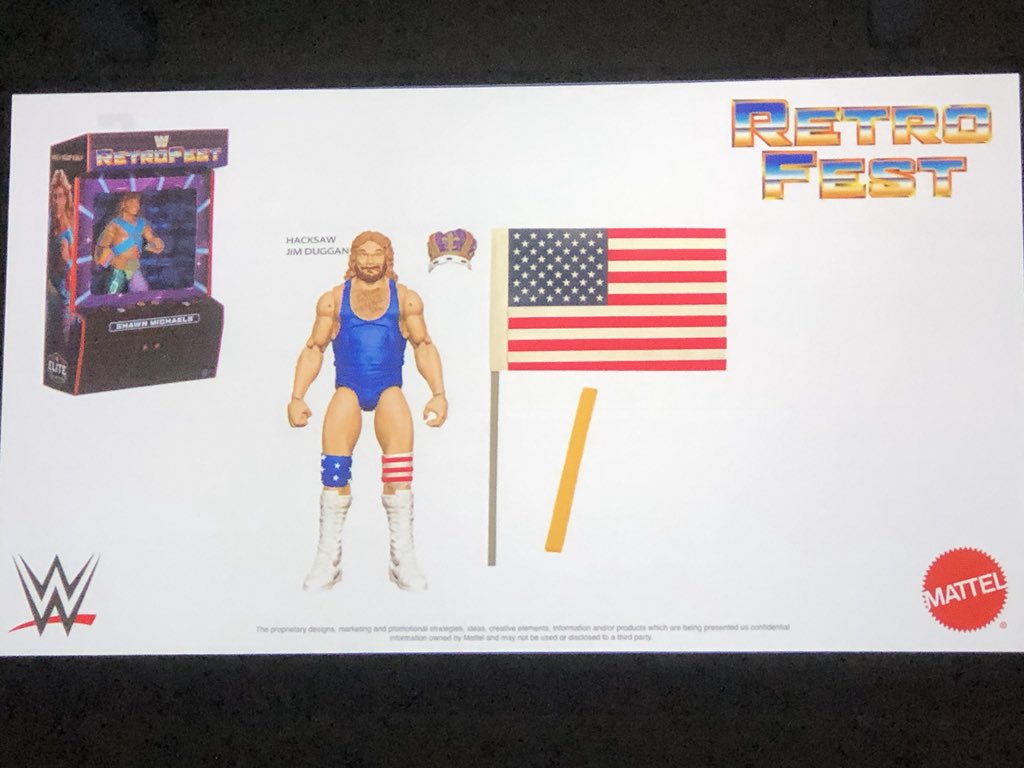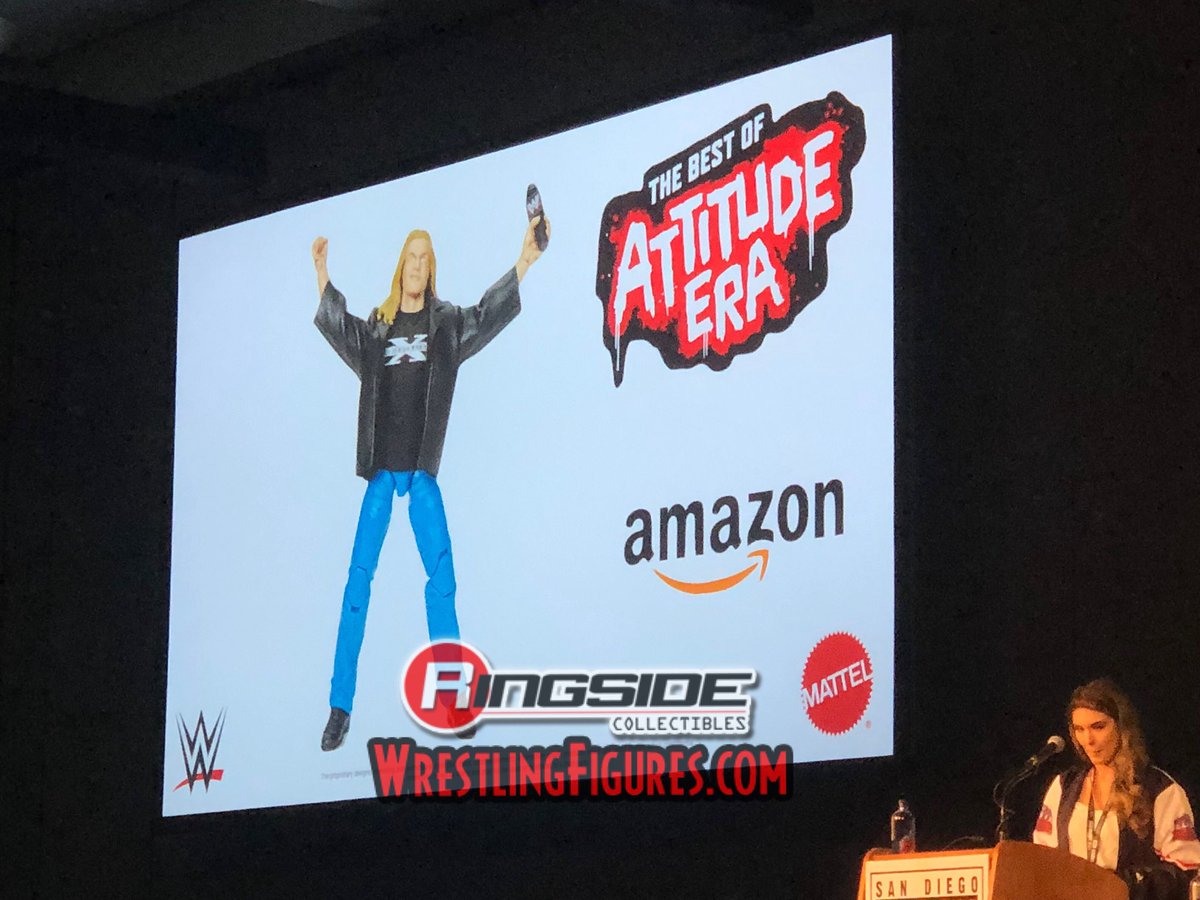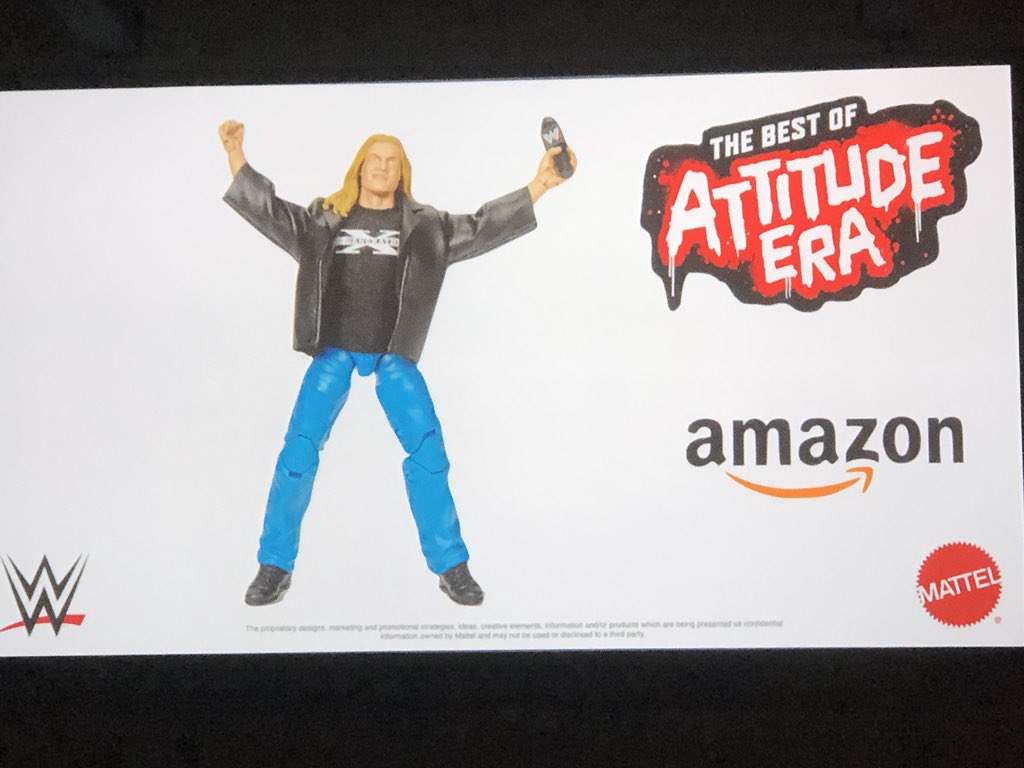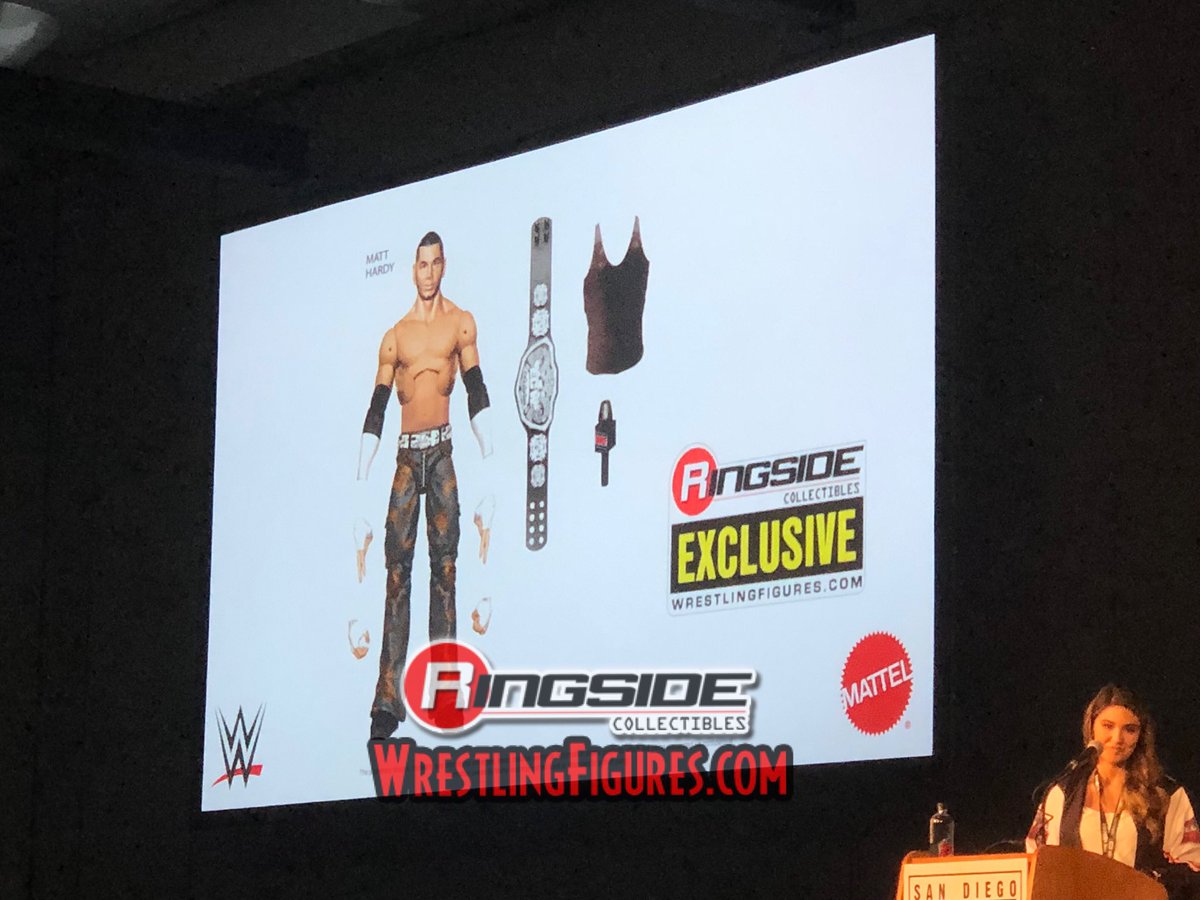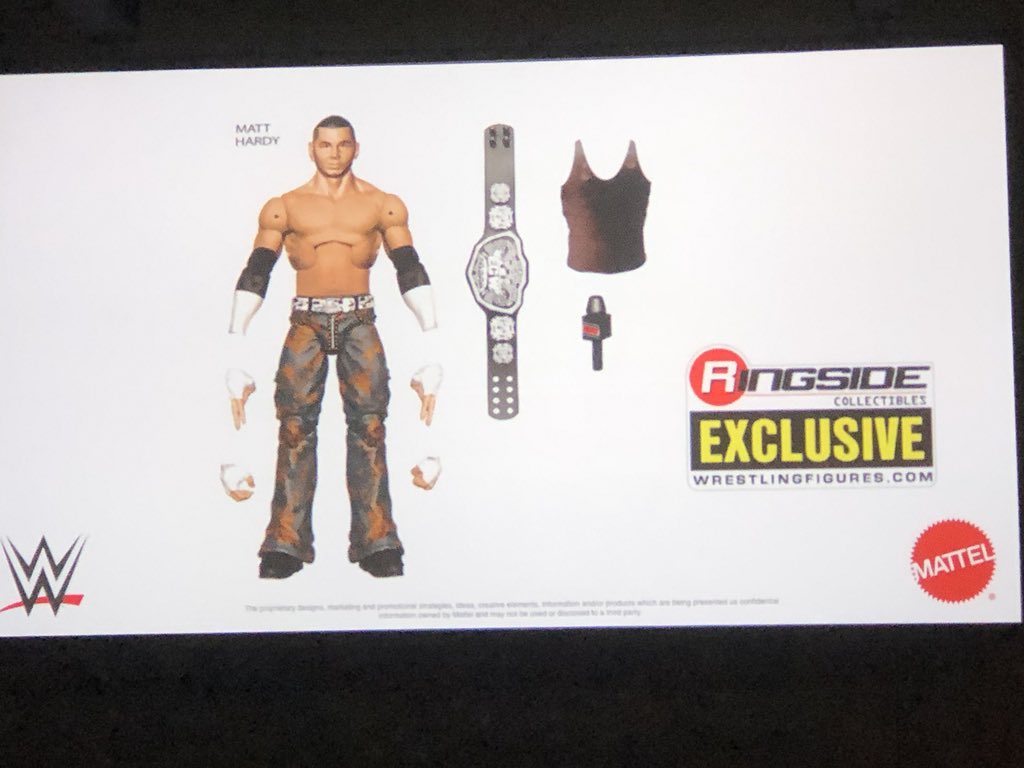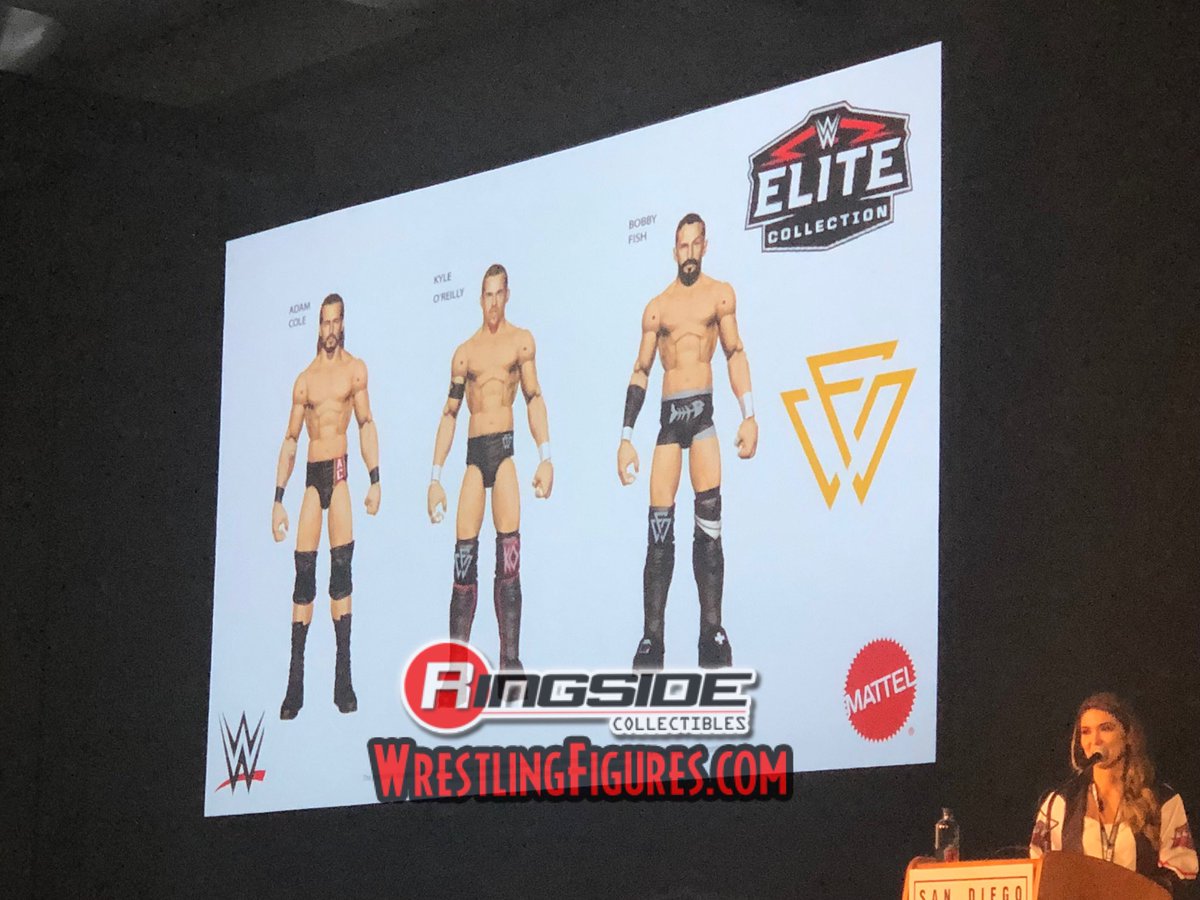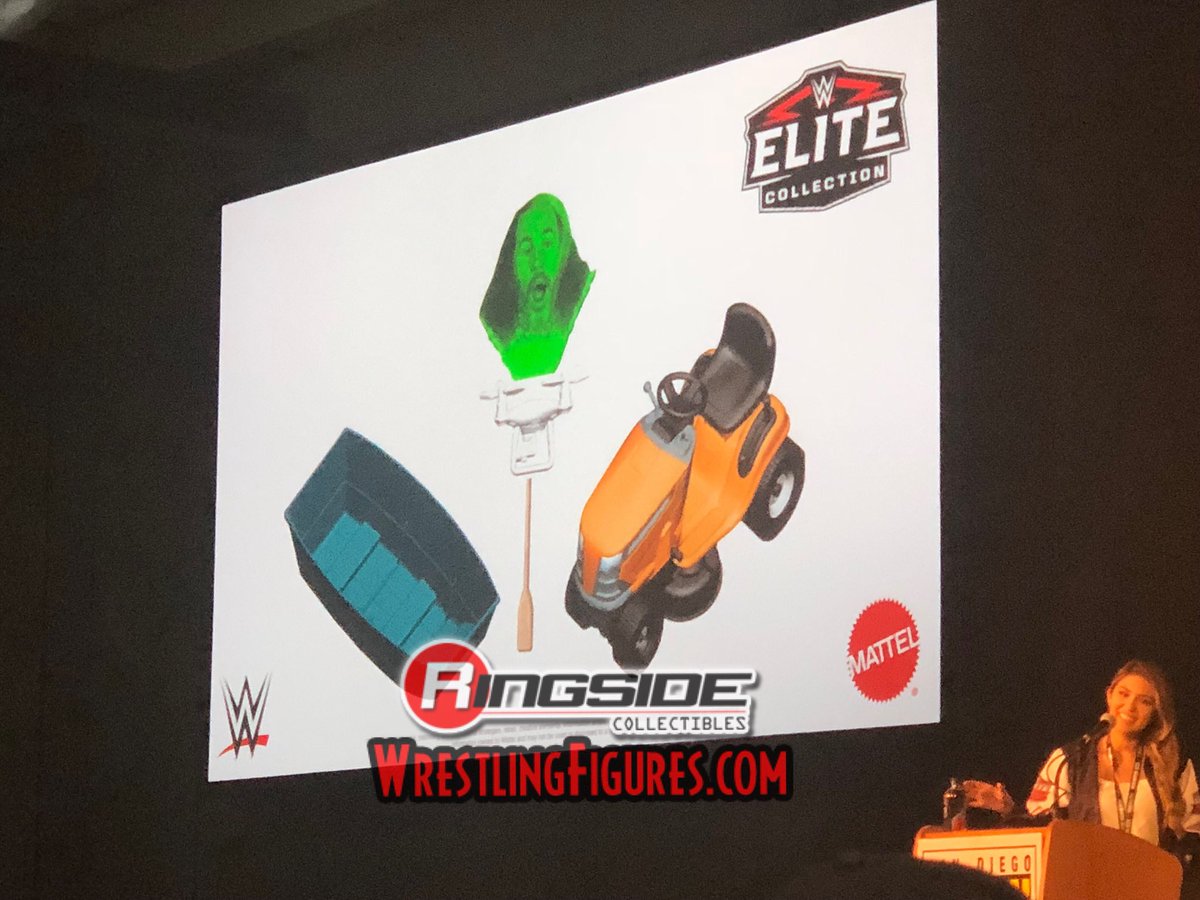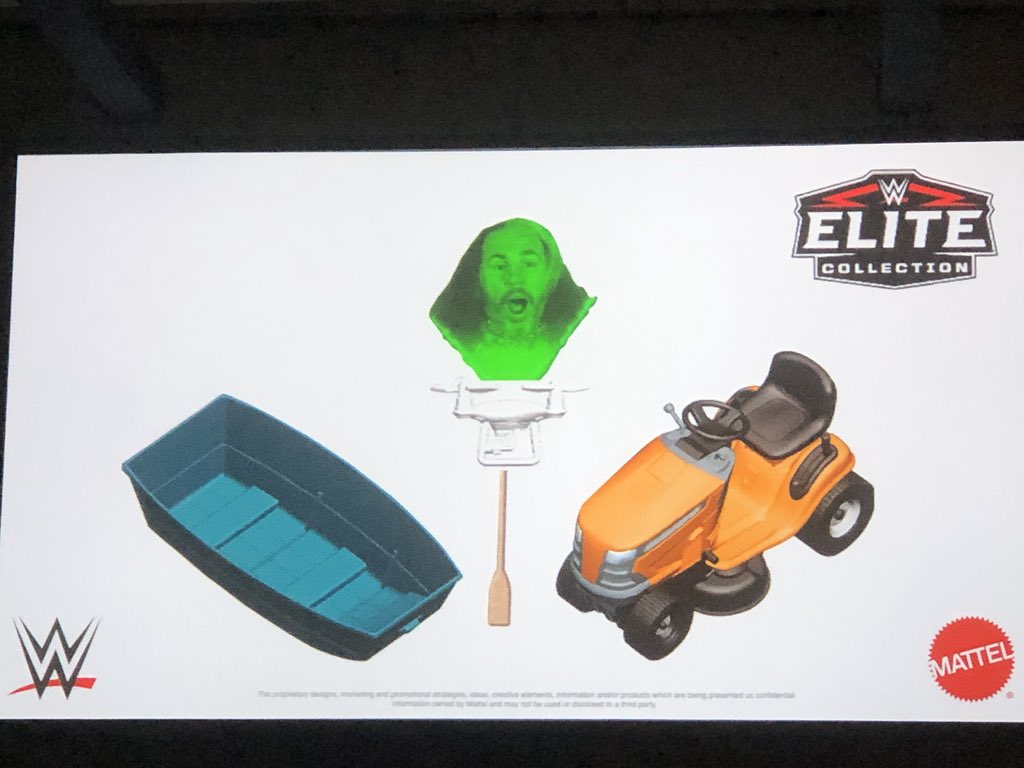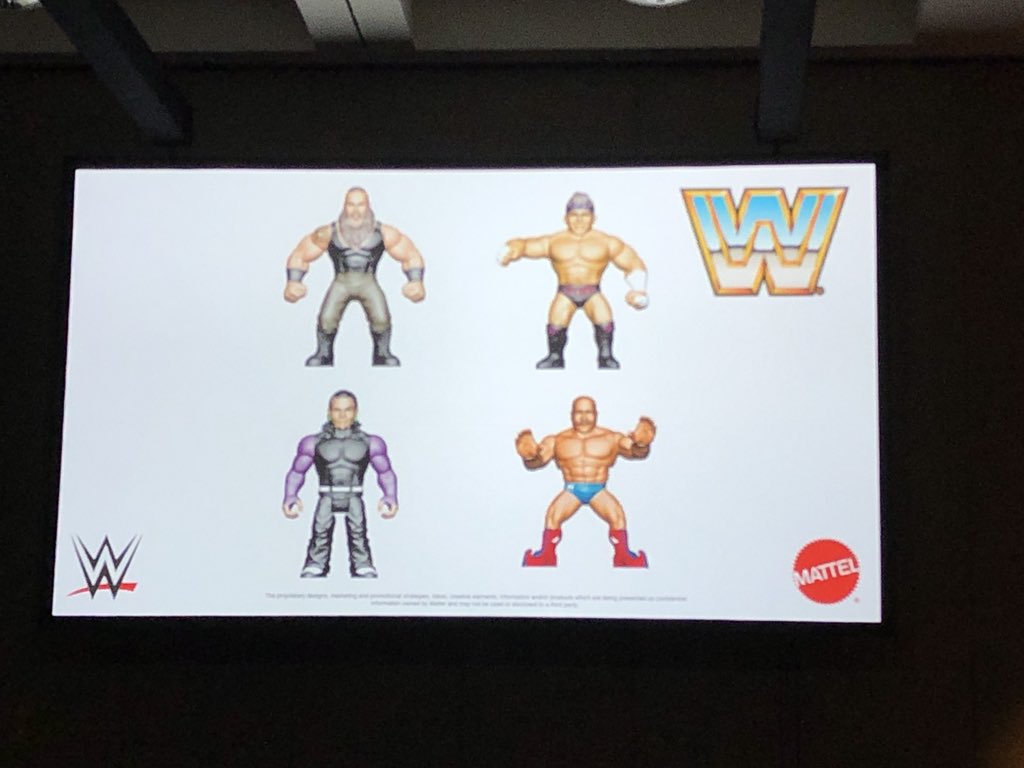 Preview of upcoming Retro App Diesel figure (courtesy of WF member
baggio
/
Figure Collections on Facebook
):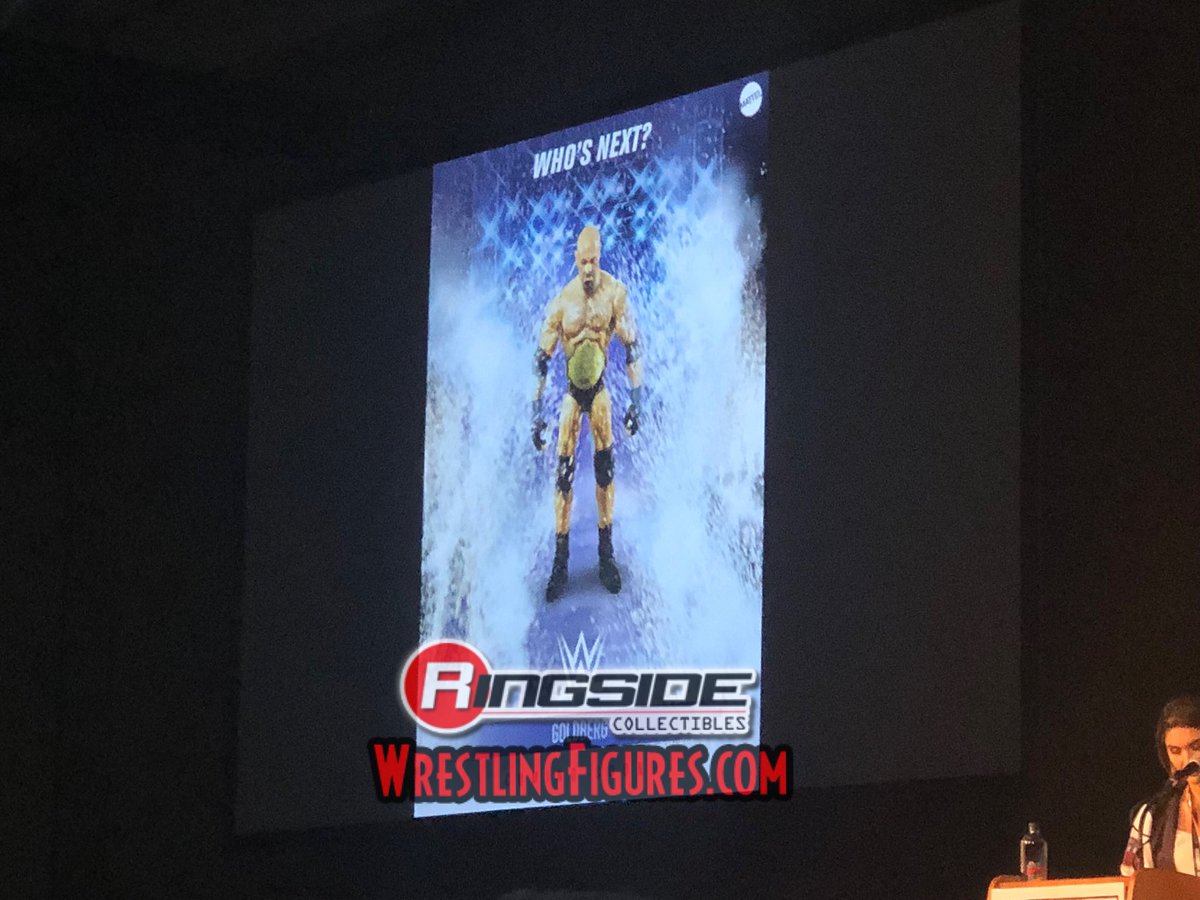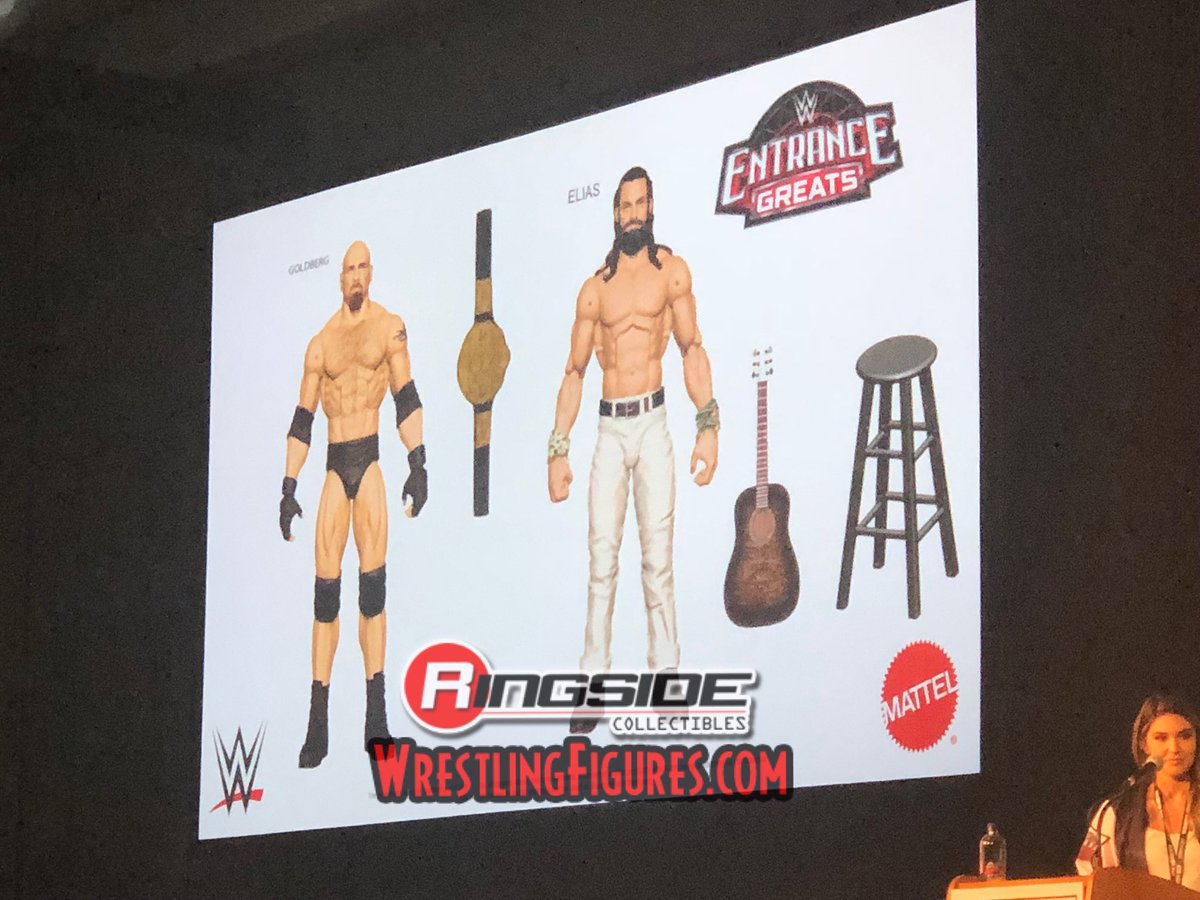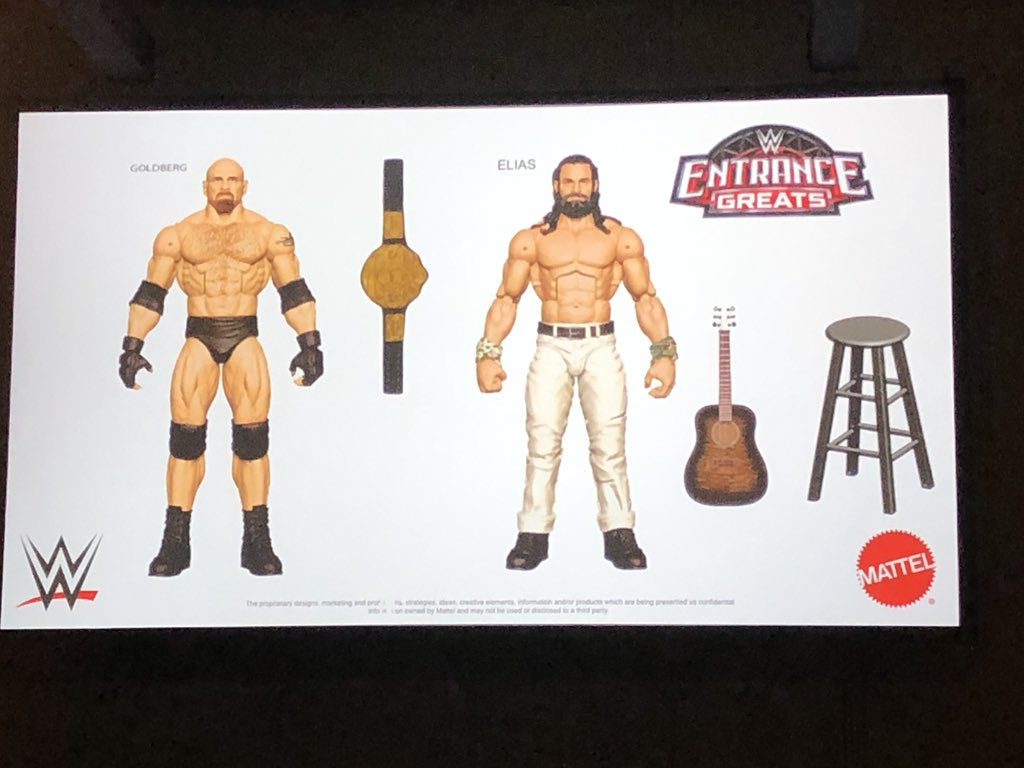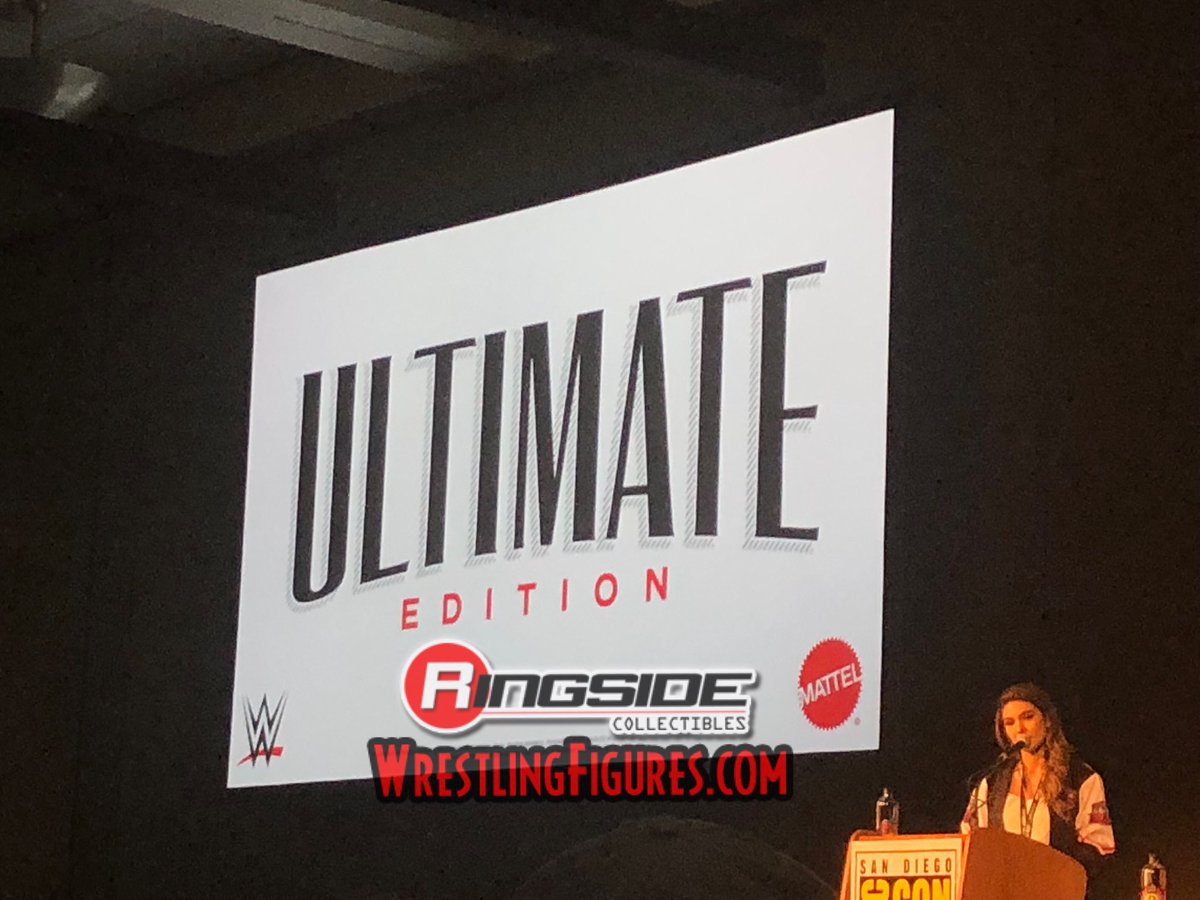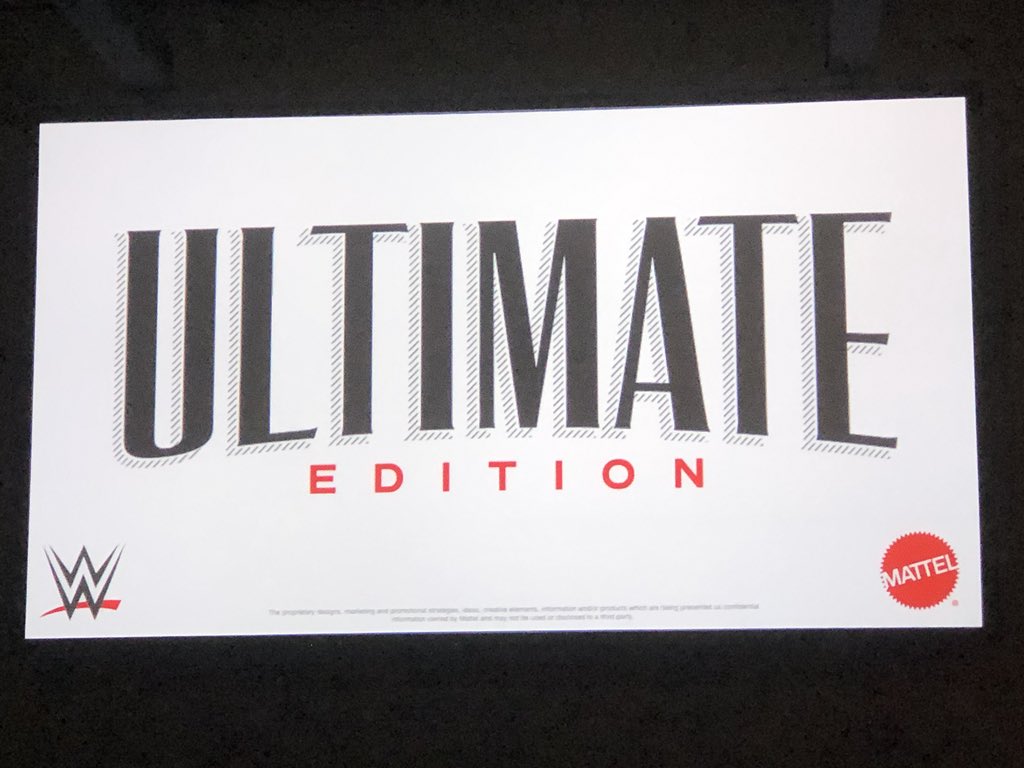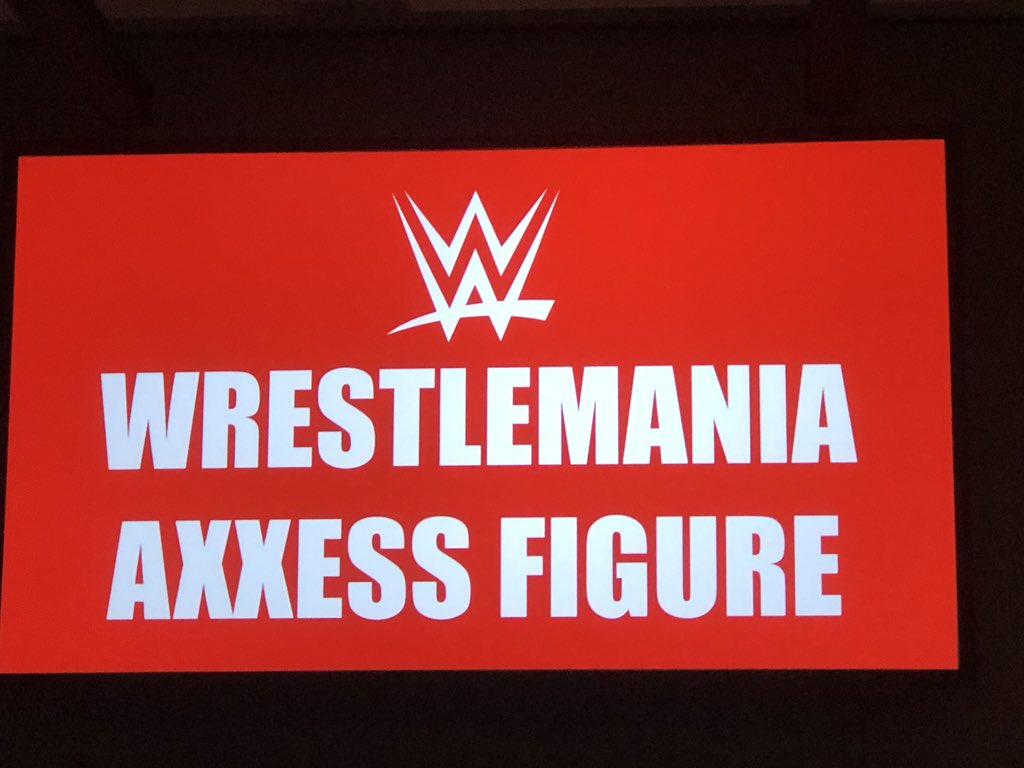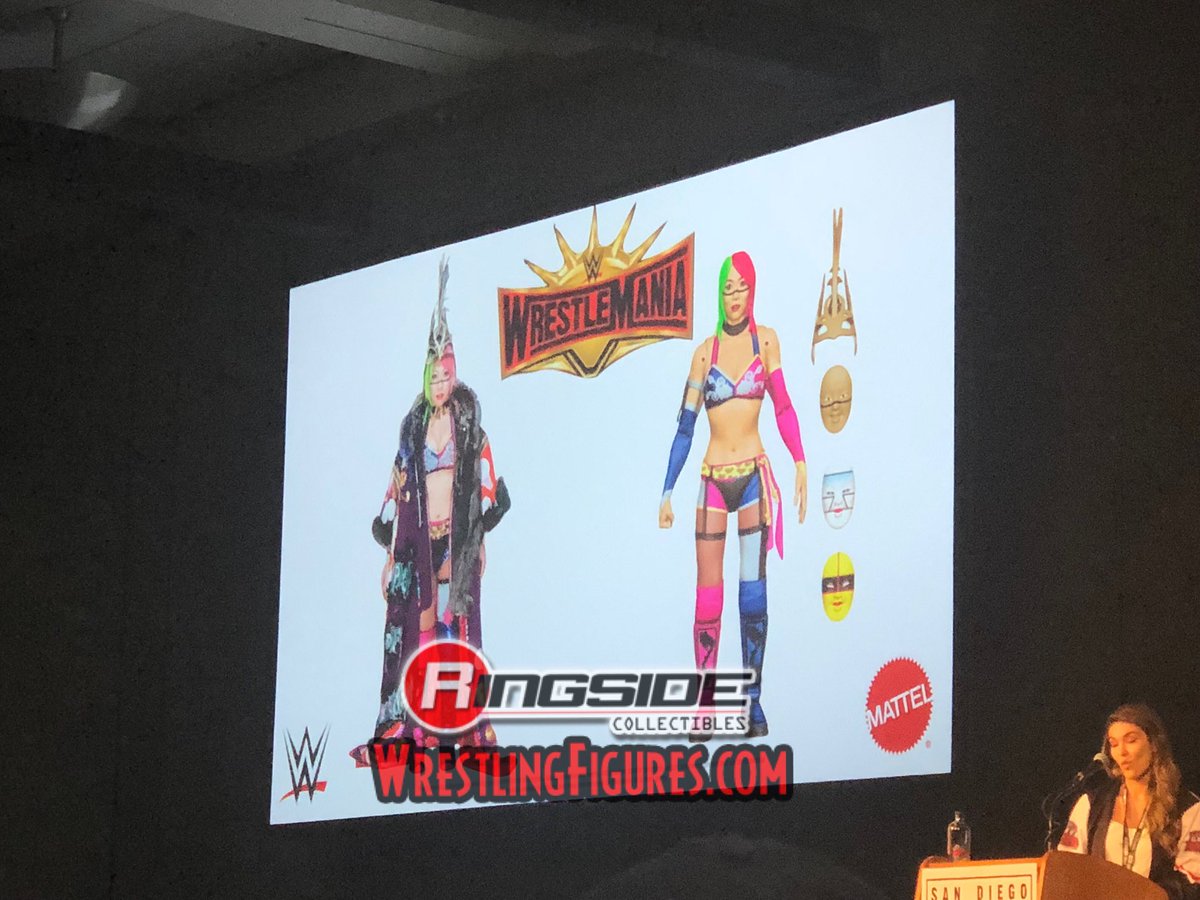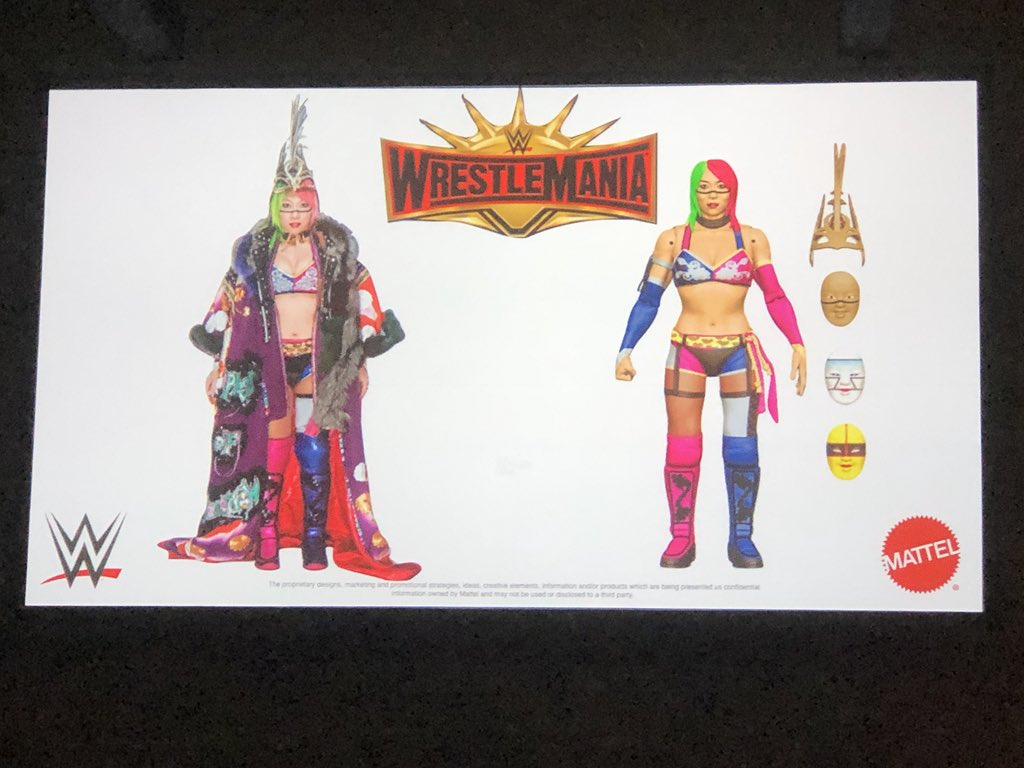 Zack Ryder with his new Retro App figure (courtesy of
Zack Ryder's Twitter
):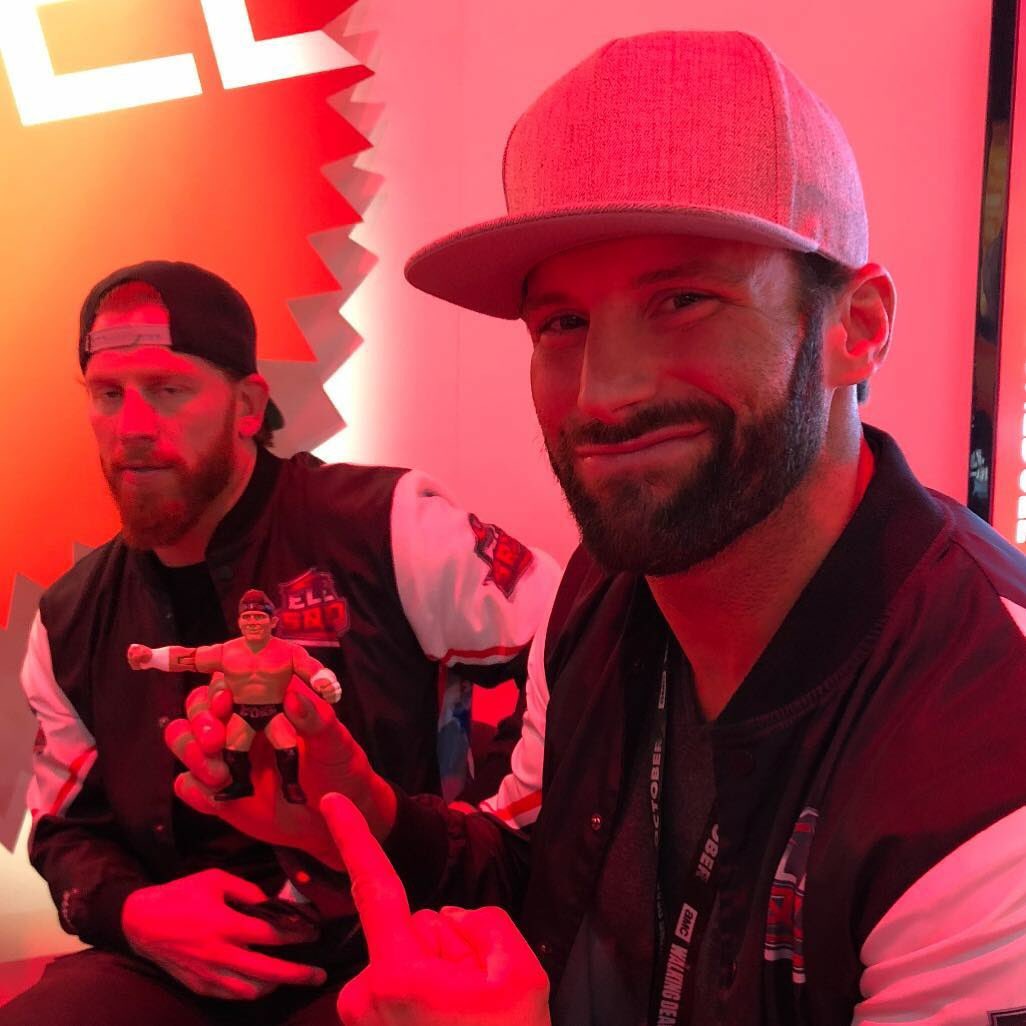 Matt Hardy with his new Ringside Collectibles exclusive Elite figure (courtesy of
Ringside's Twitter
):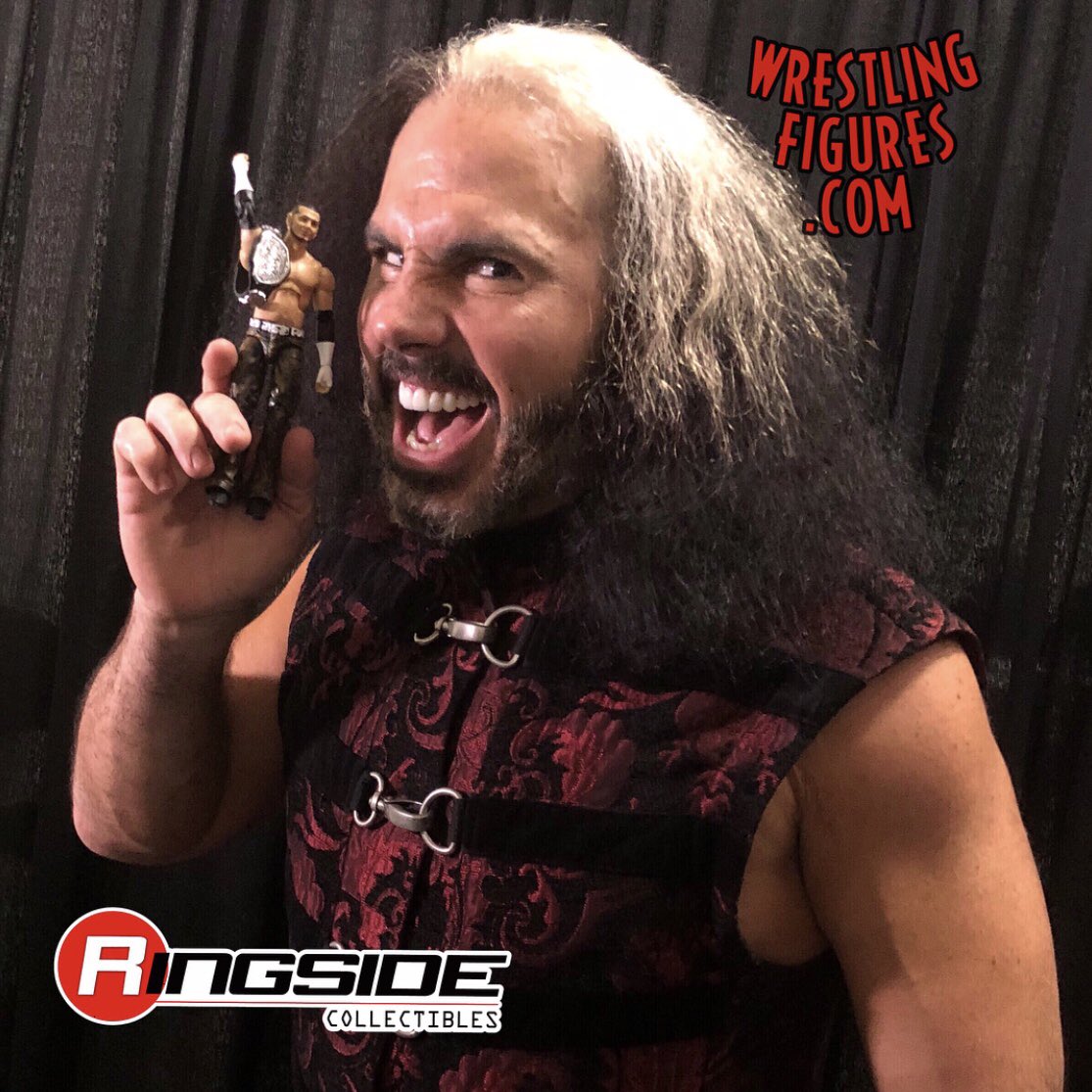 WWE at San Diego Comic-Con 2018: Photos courtesy of WWE.com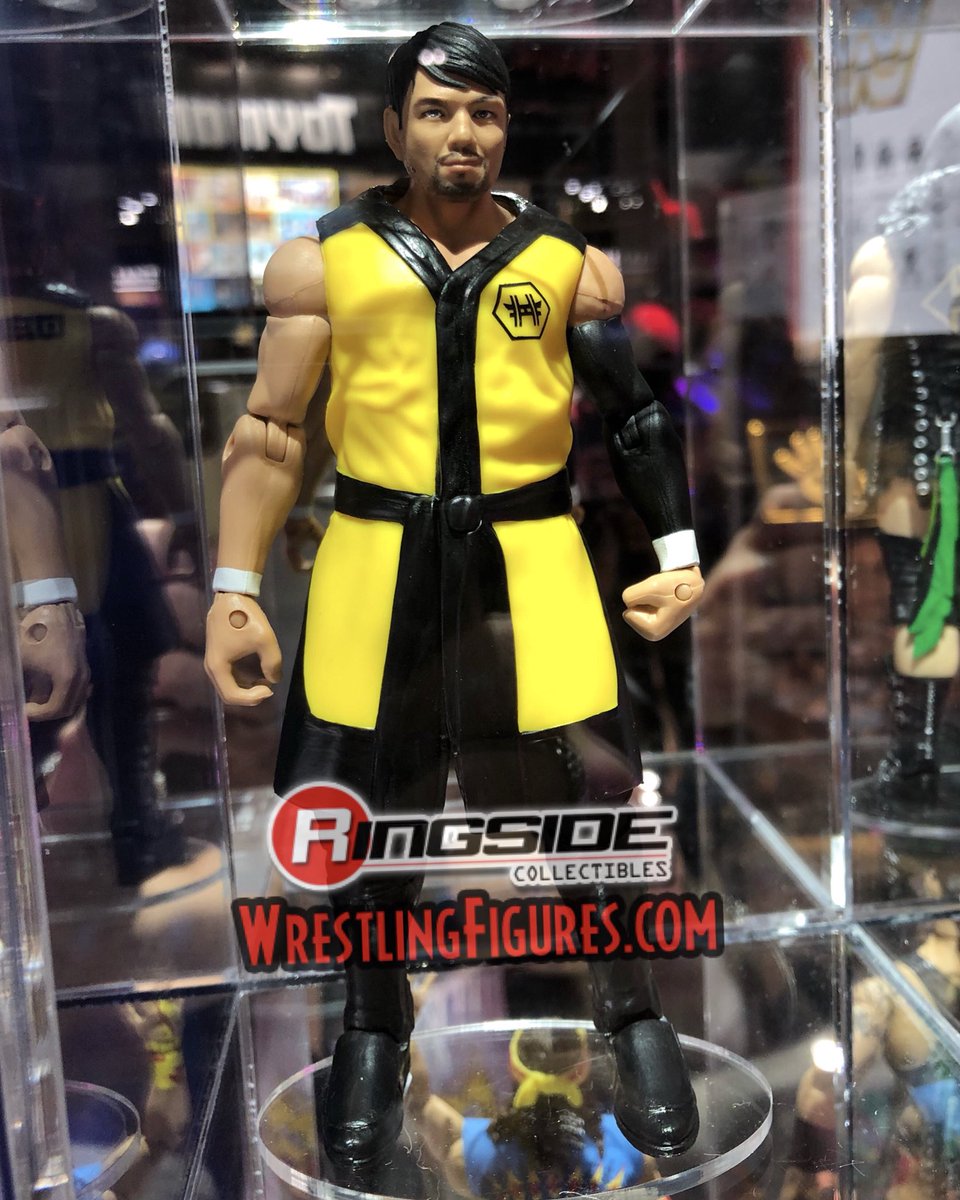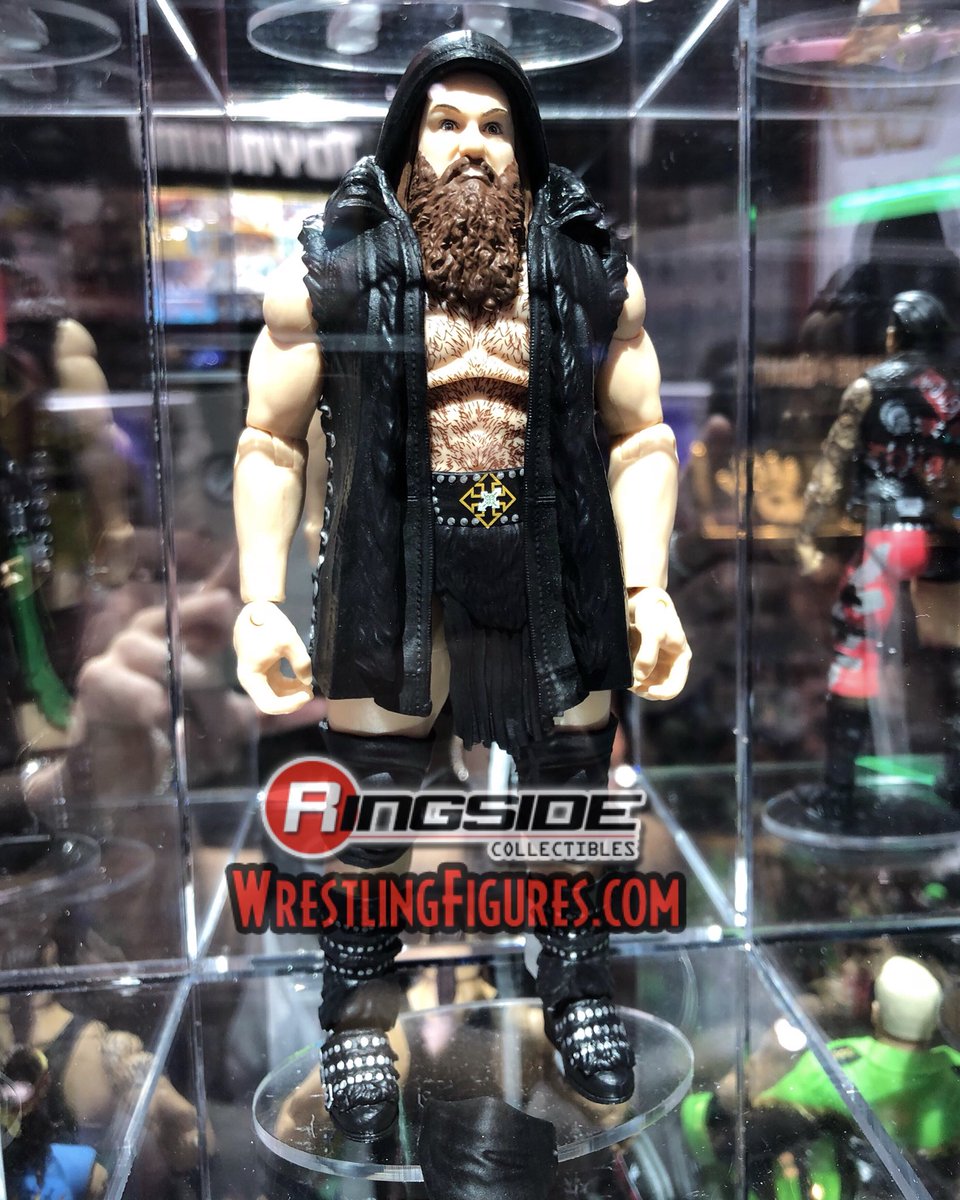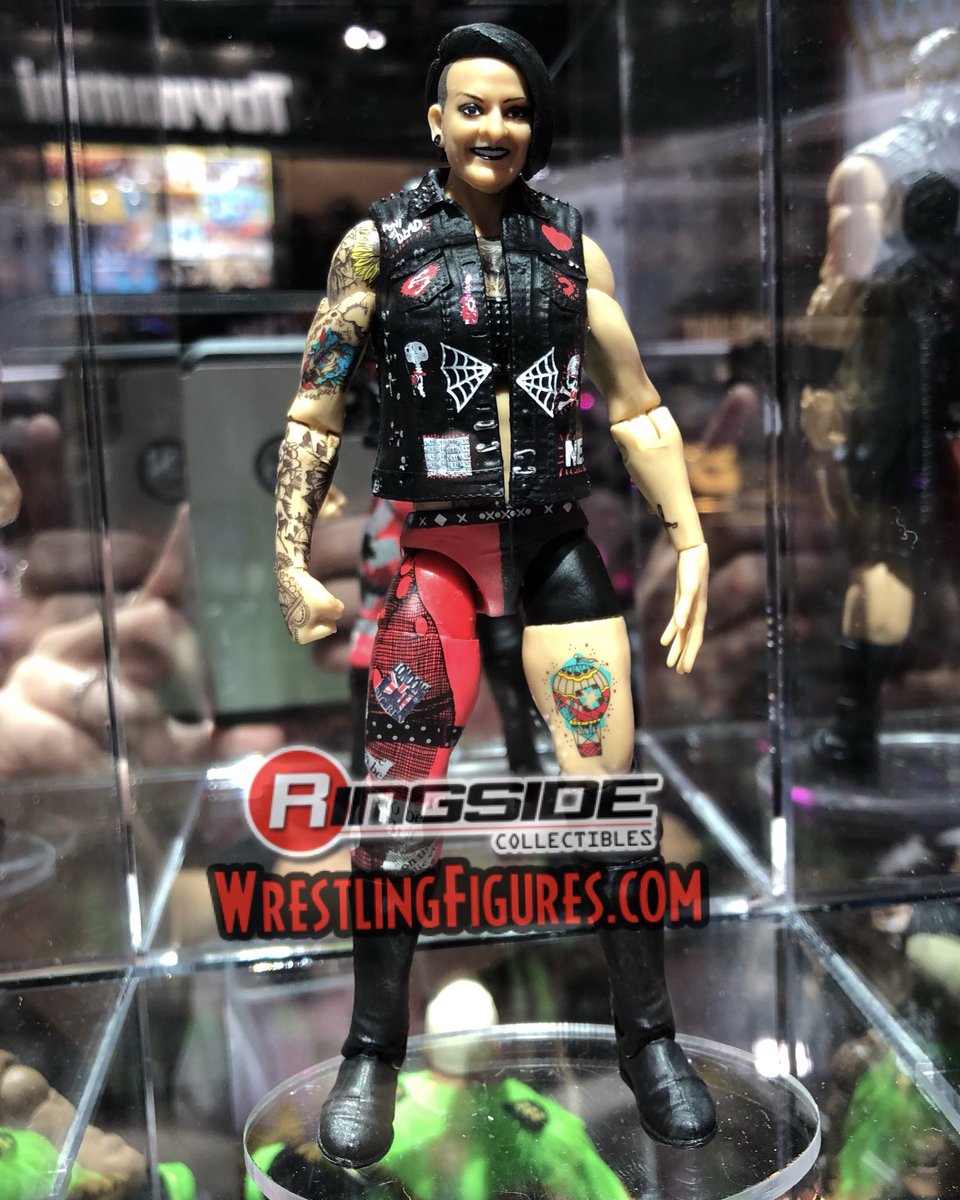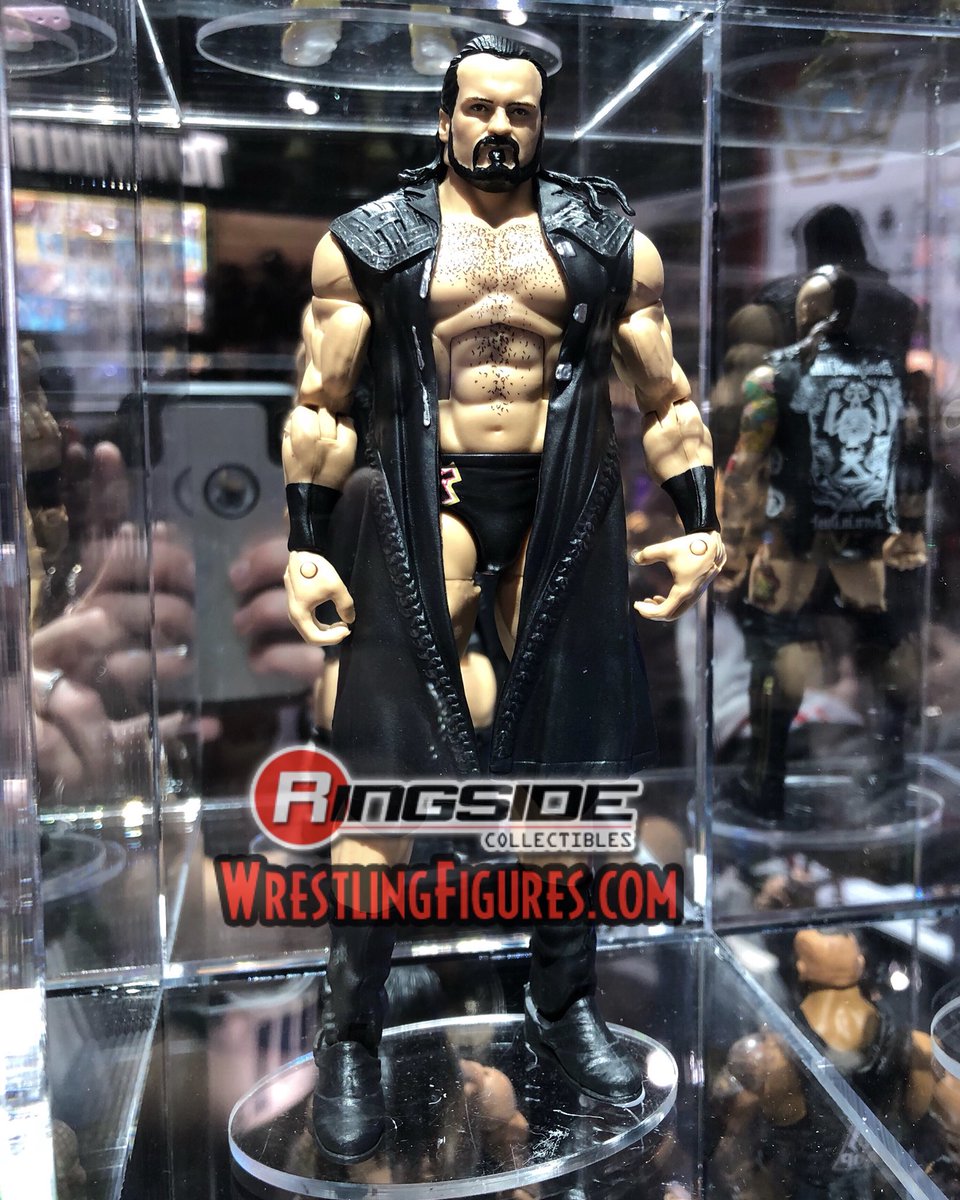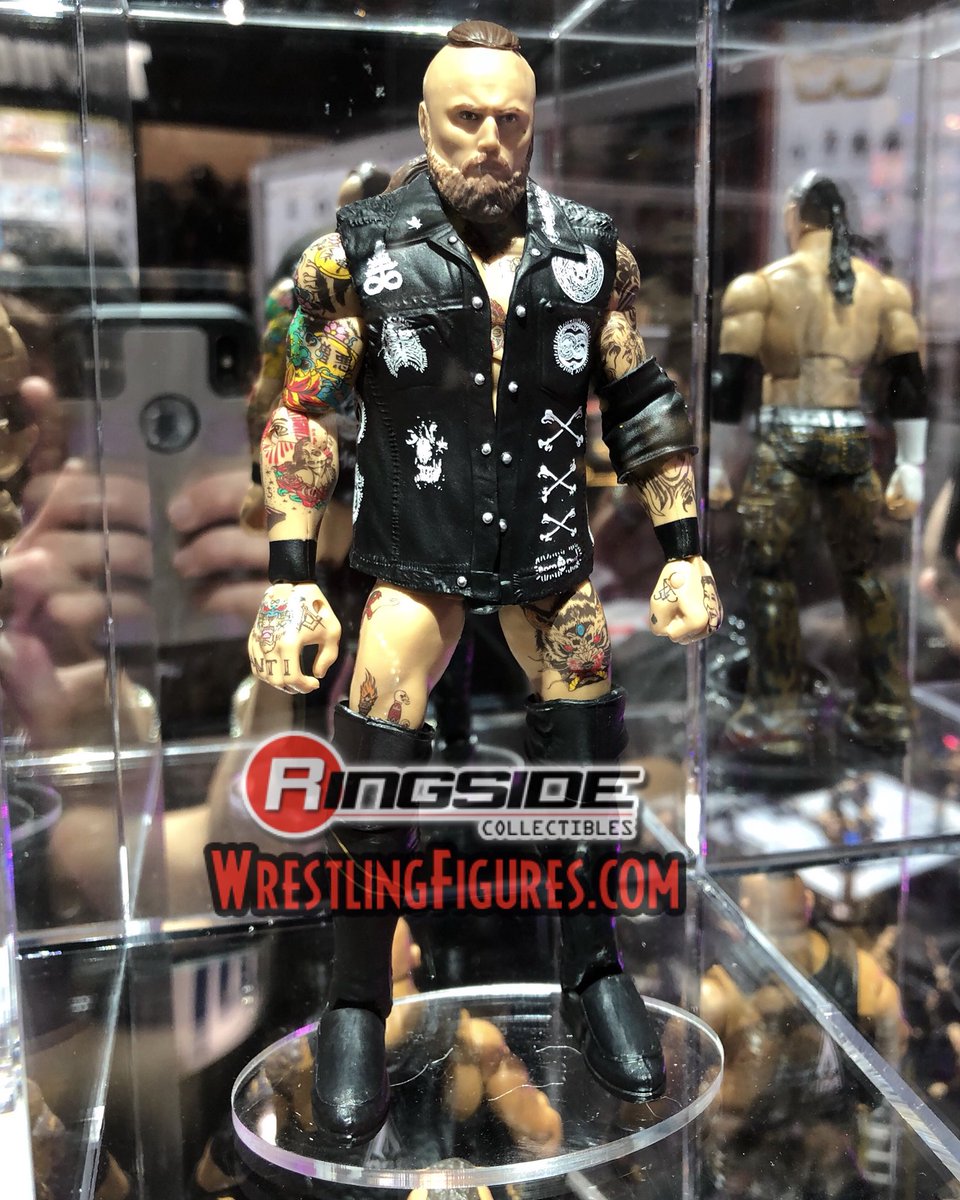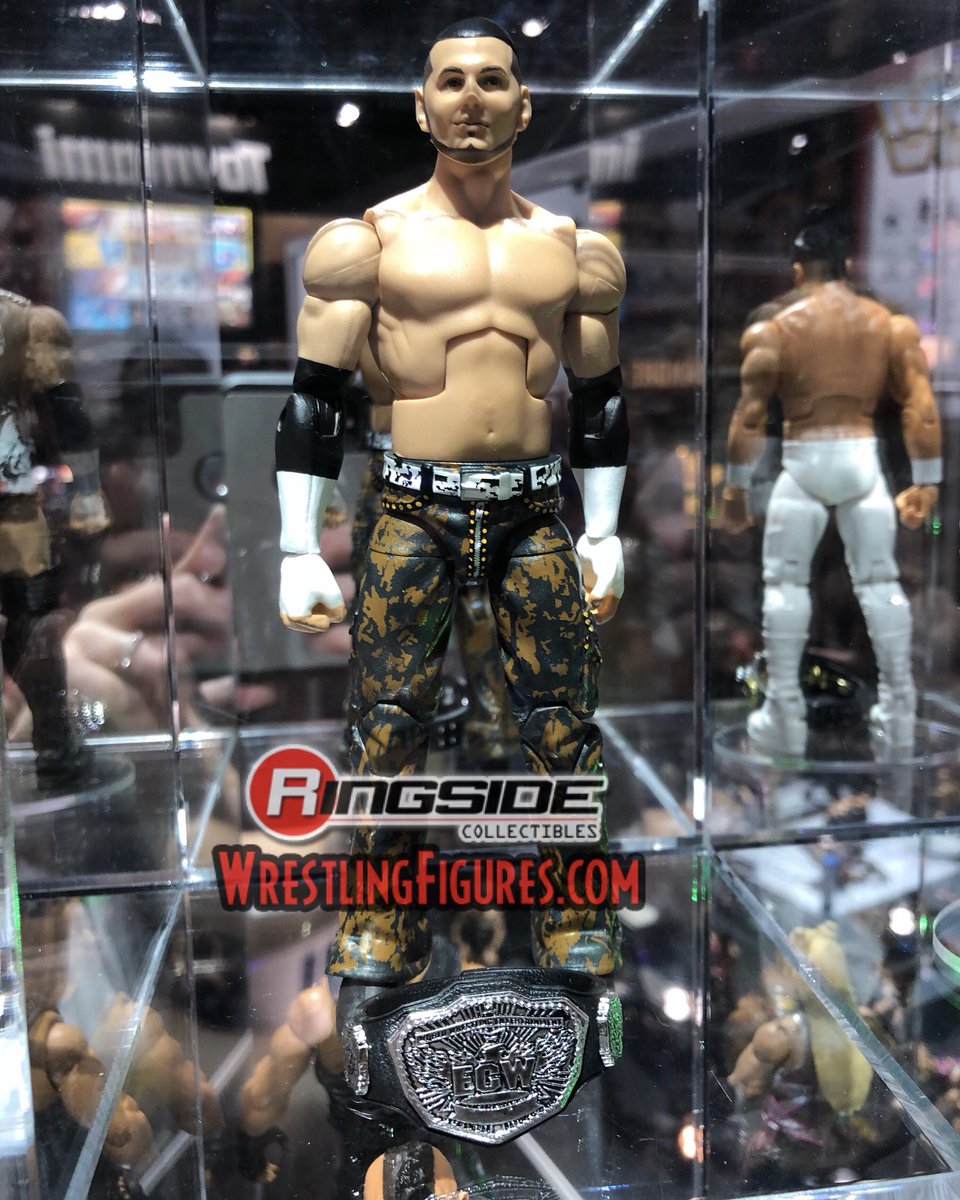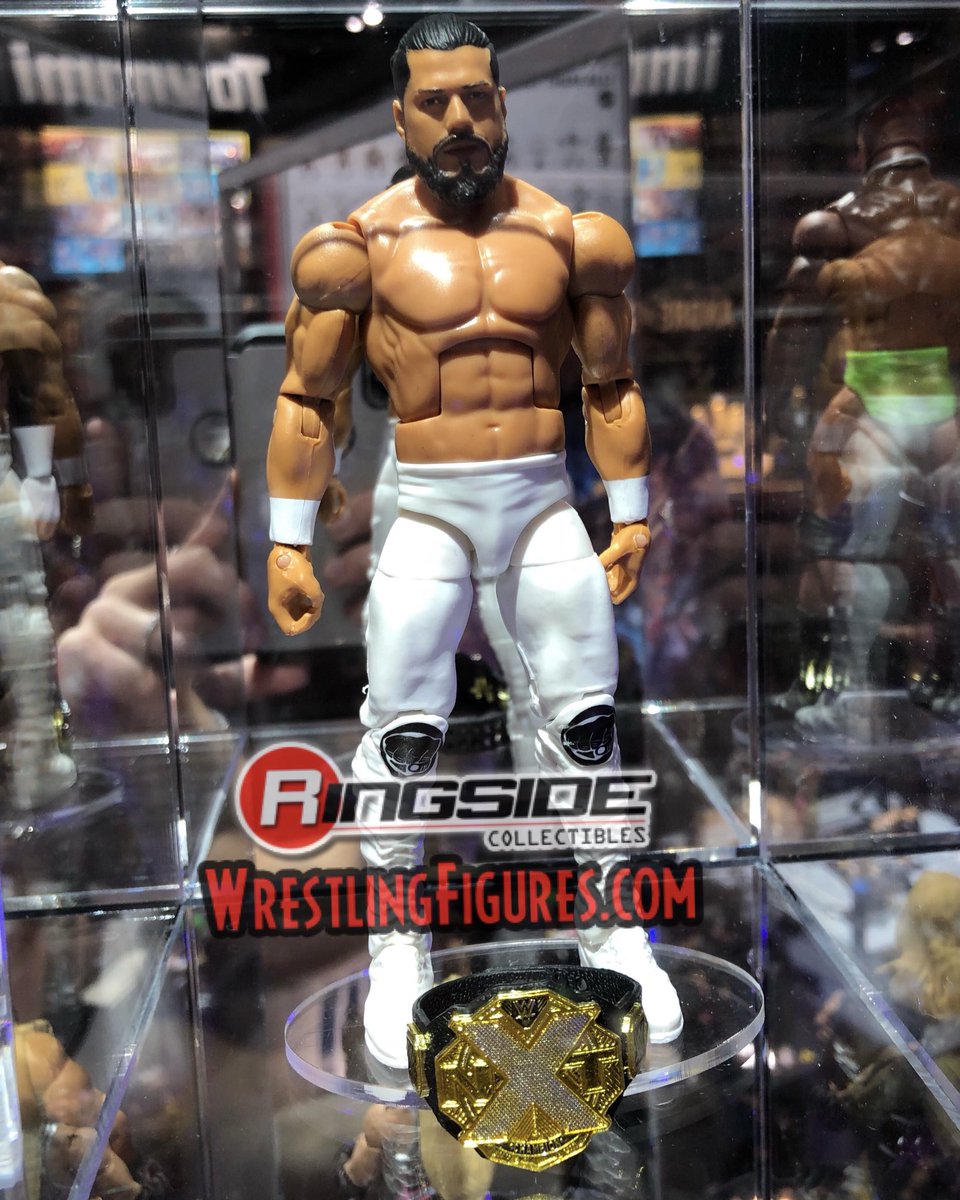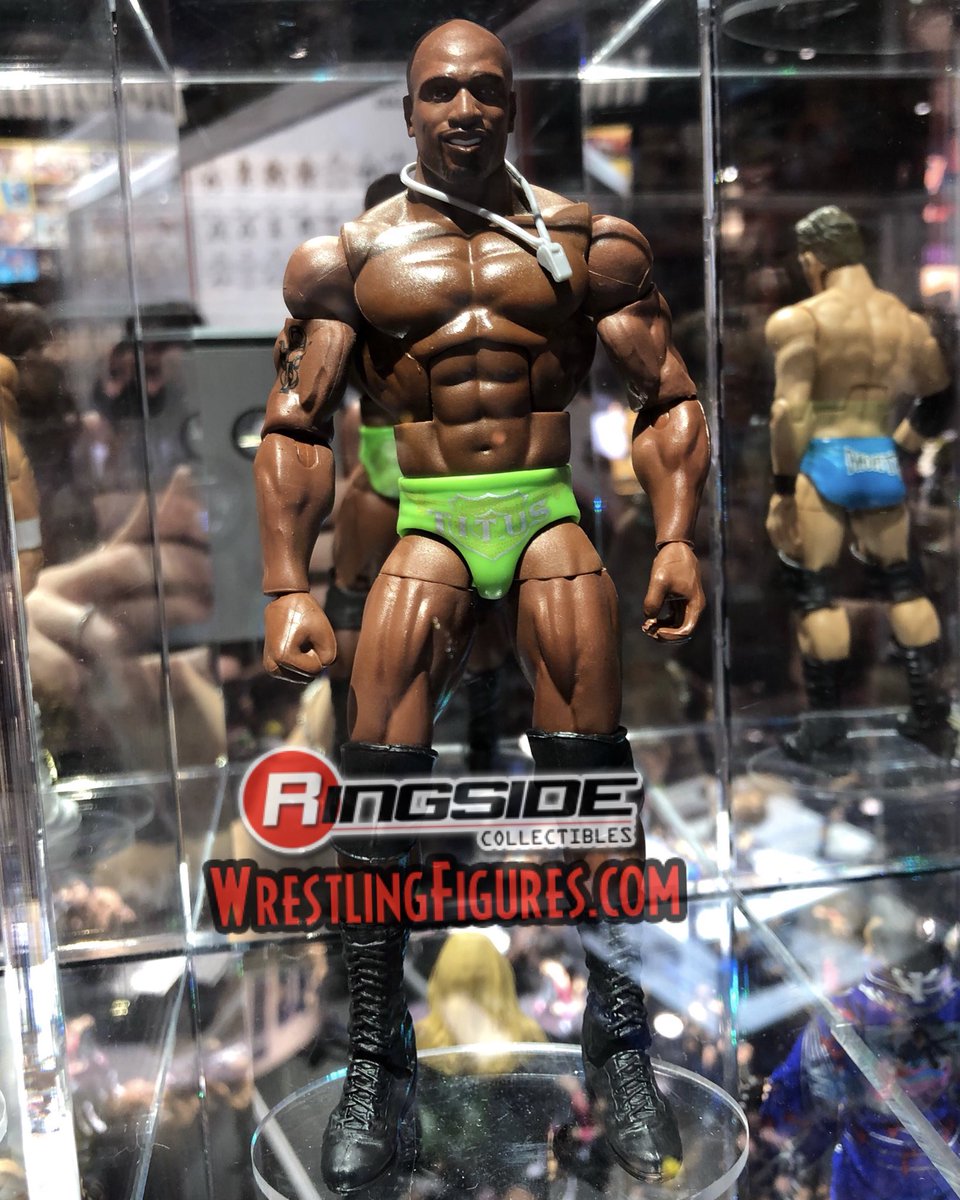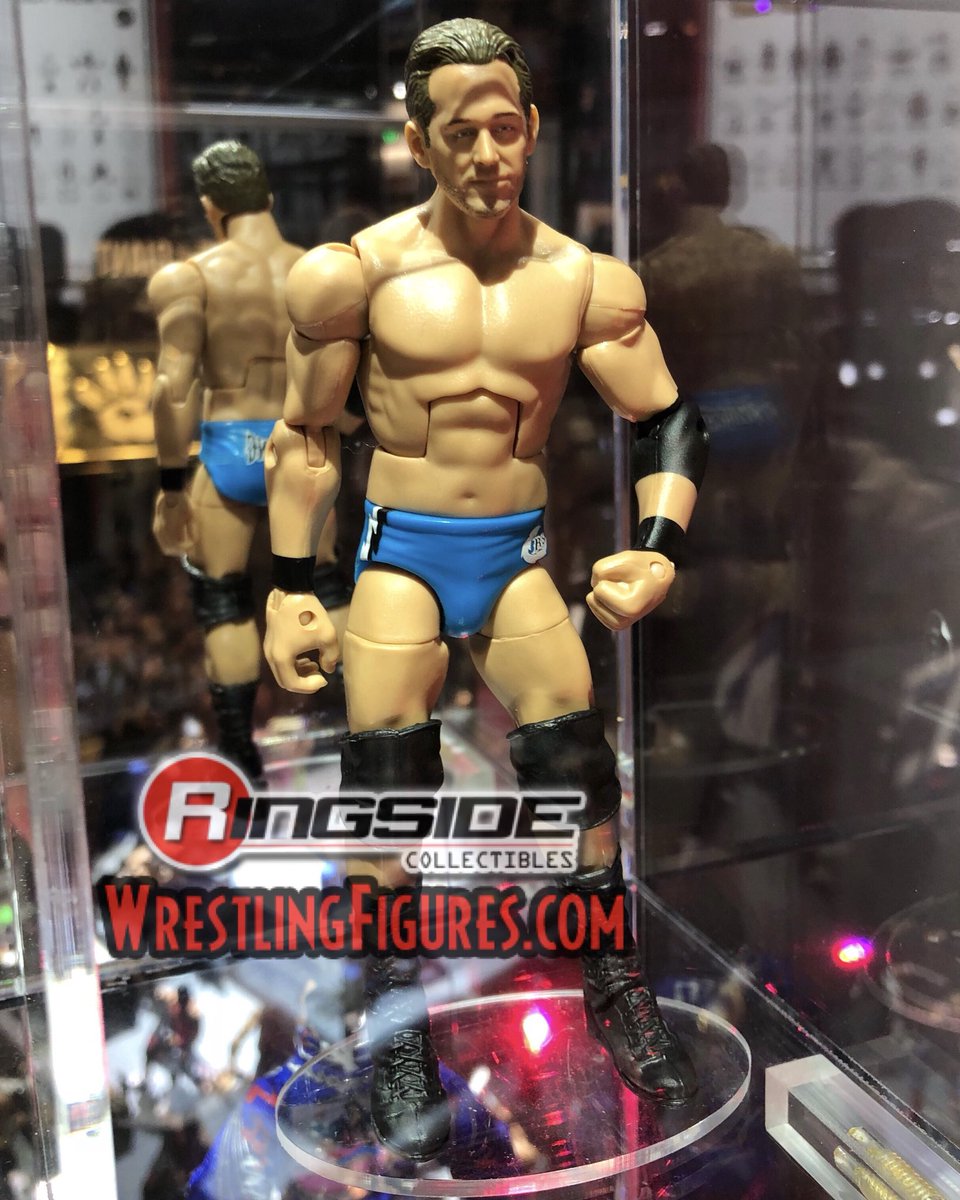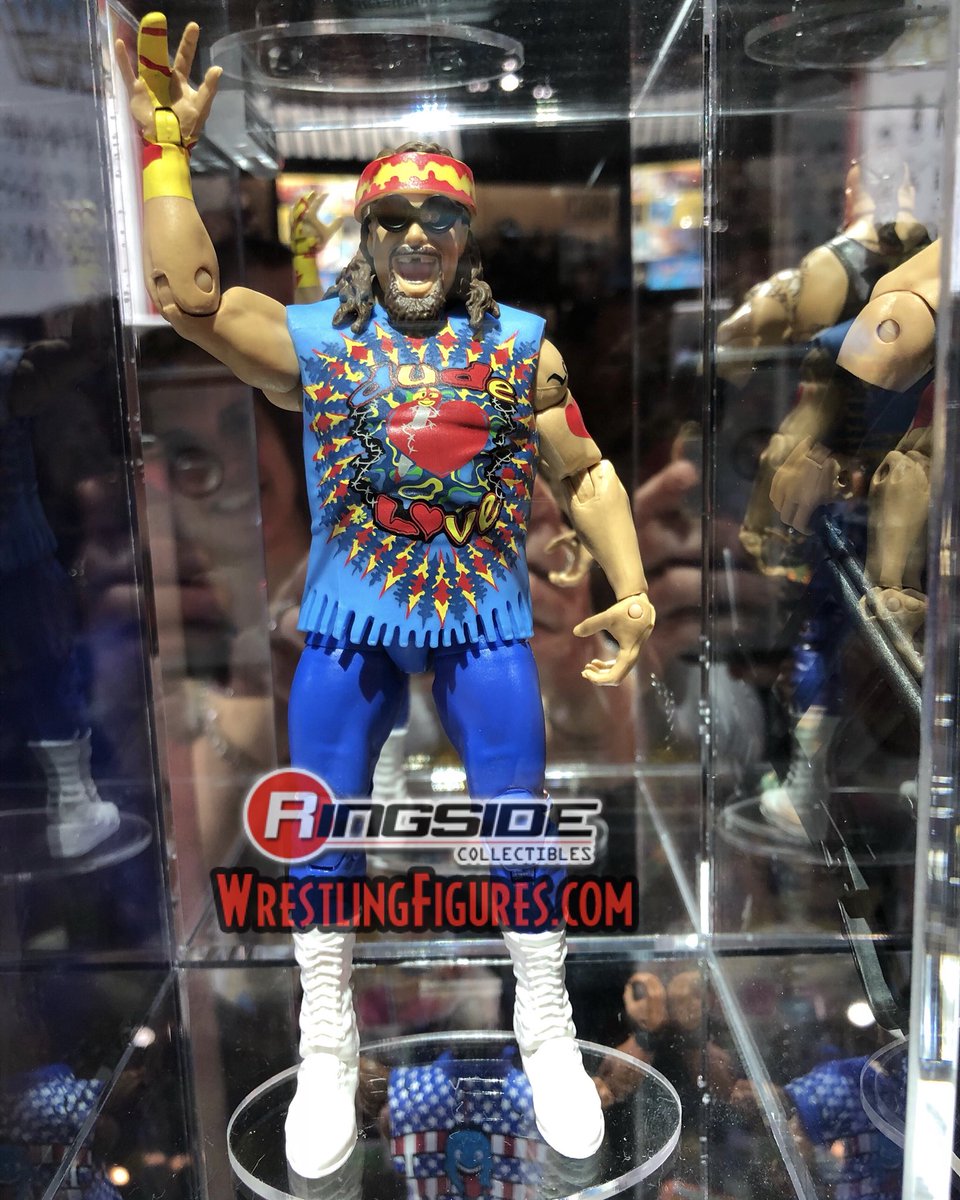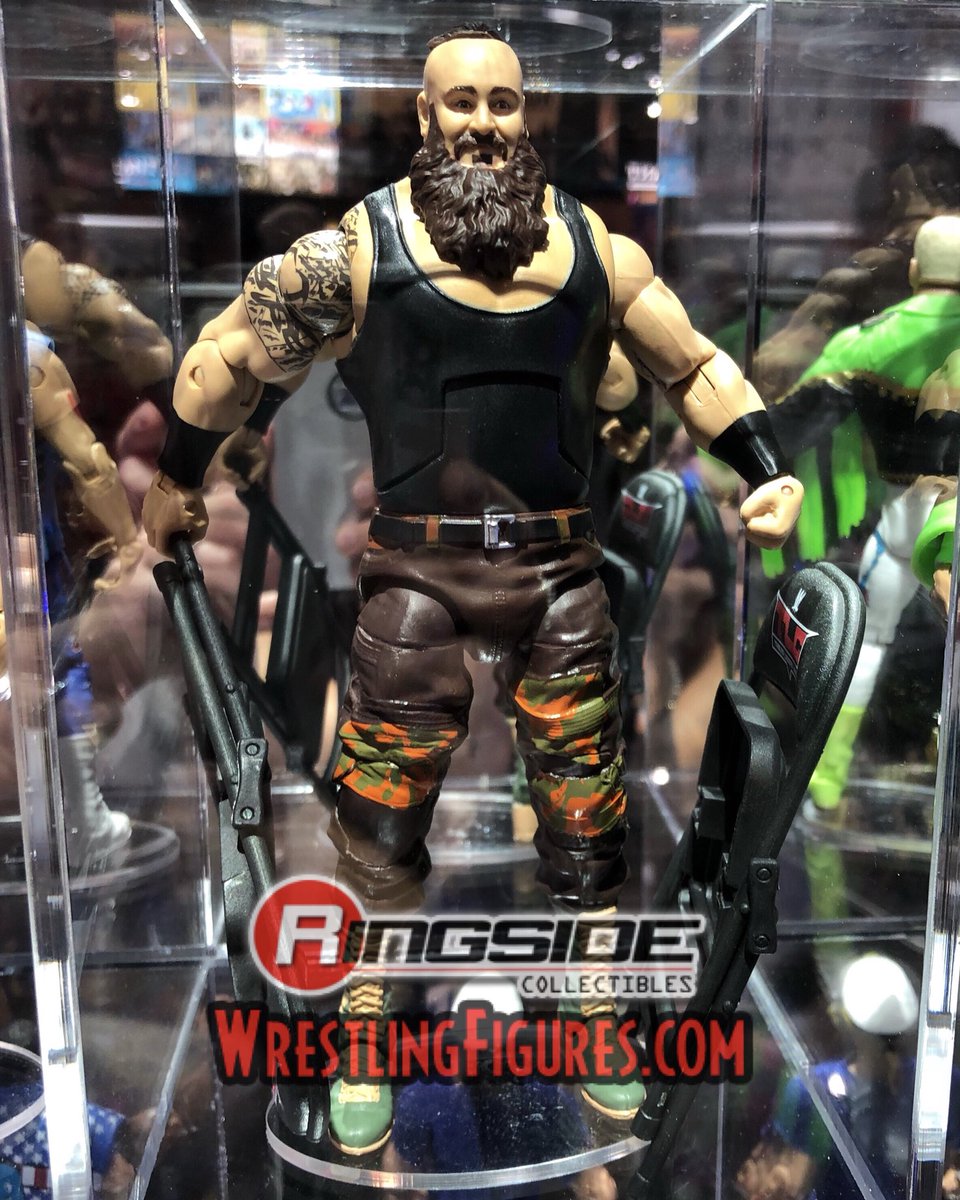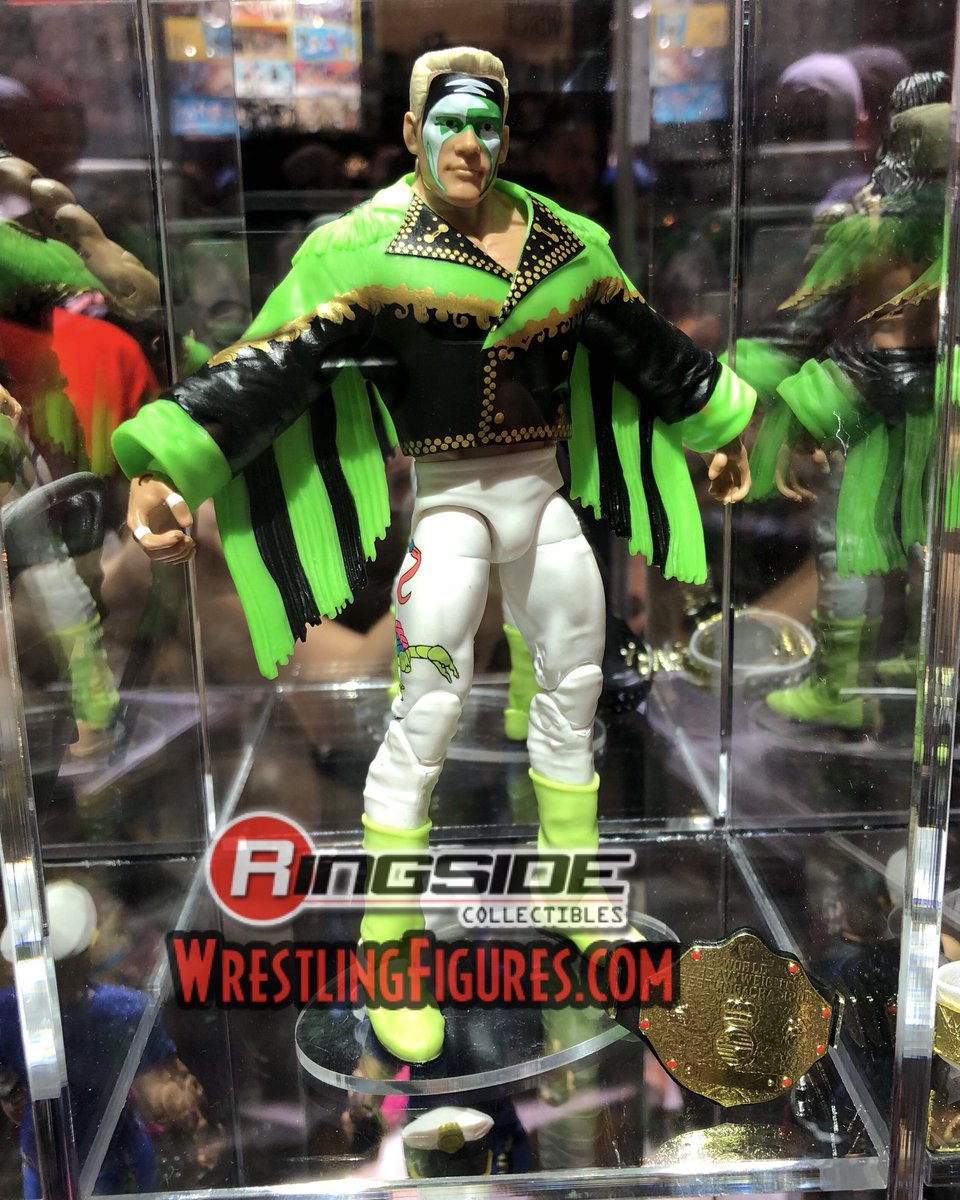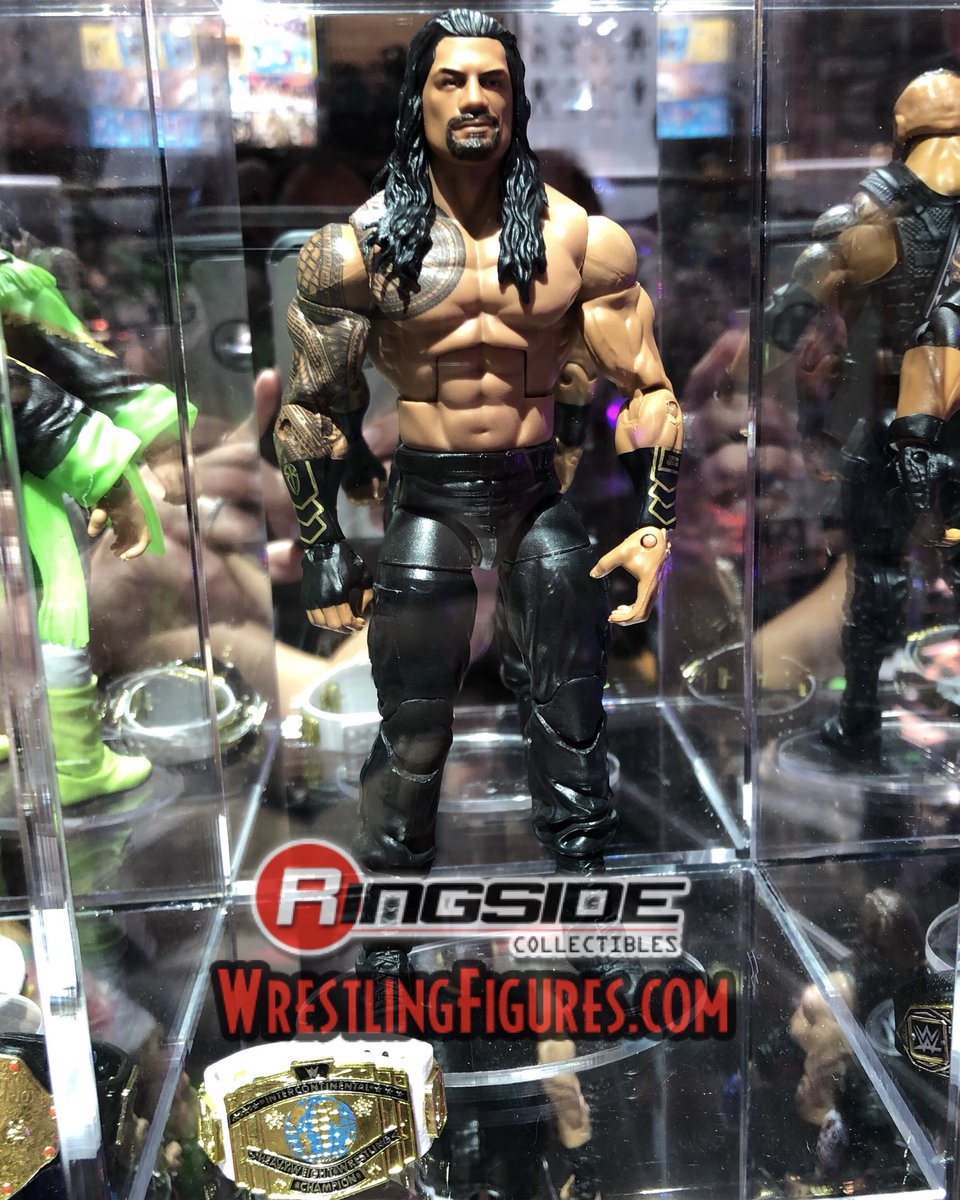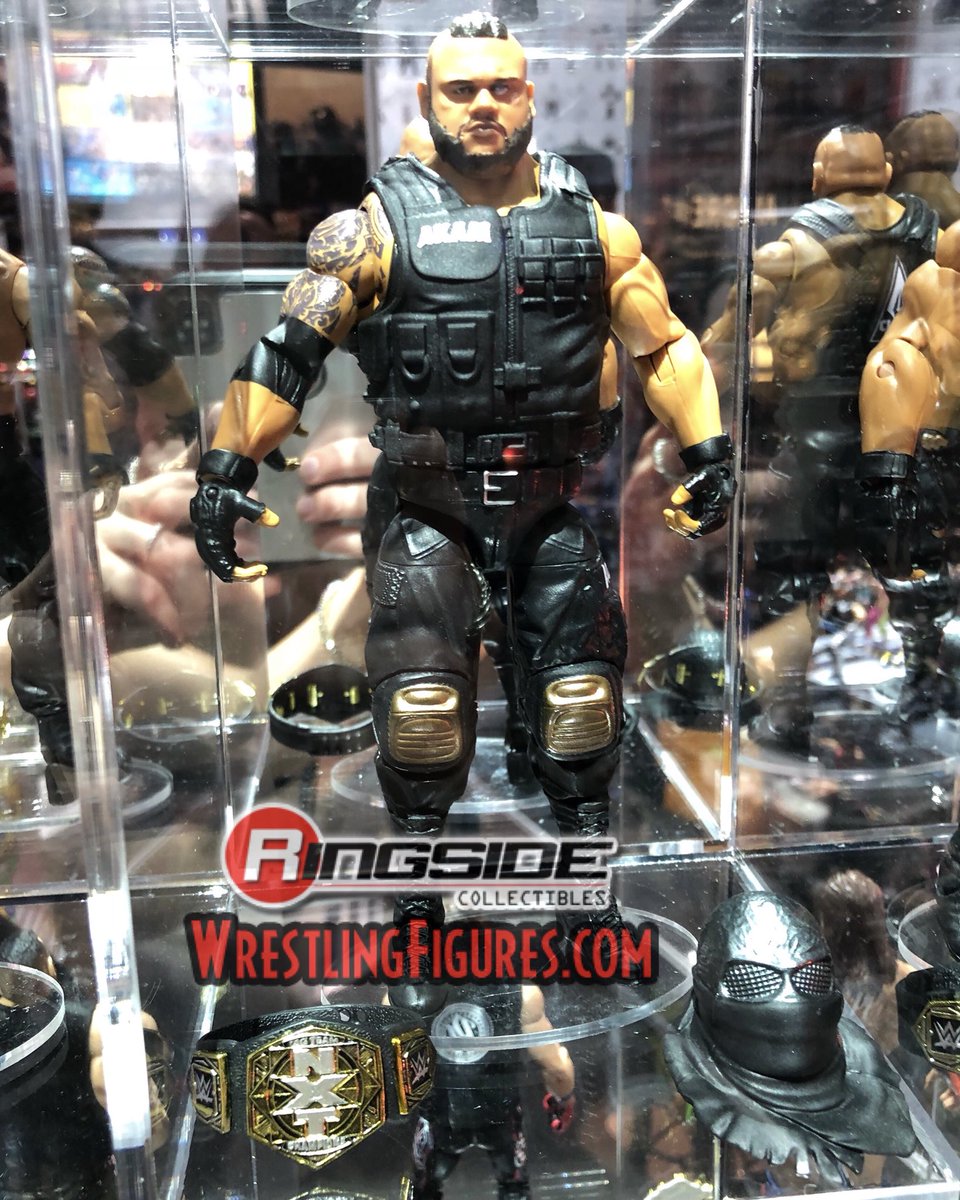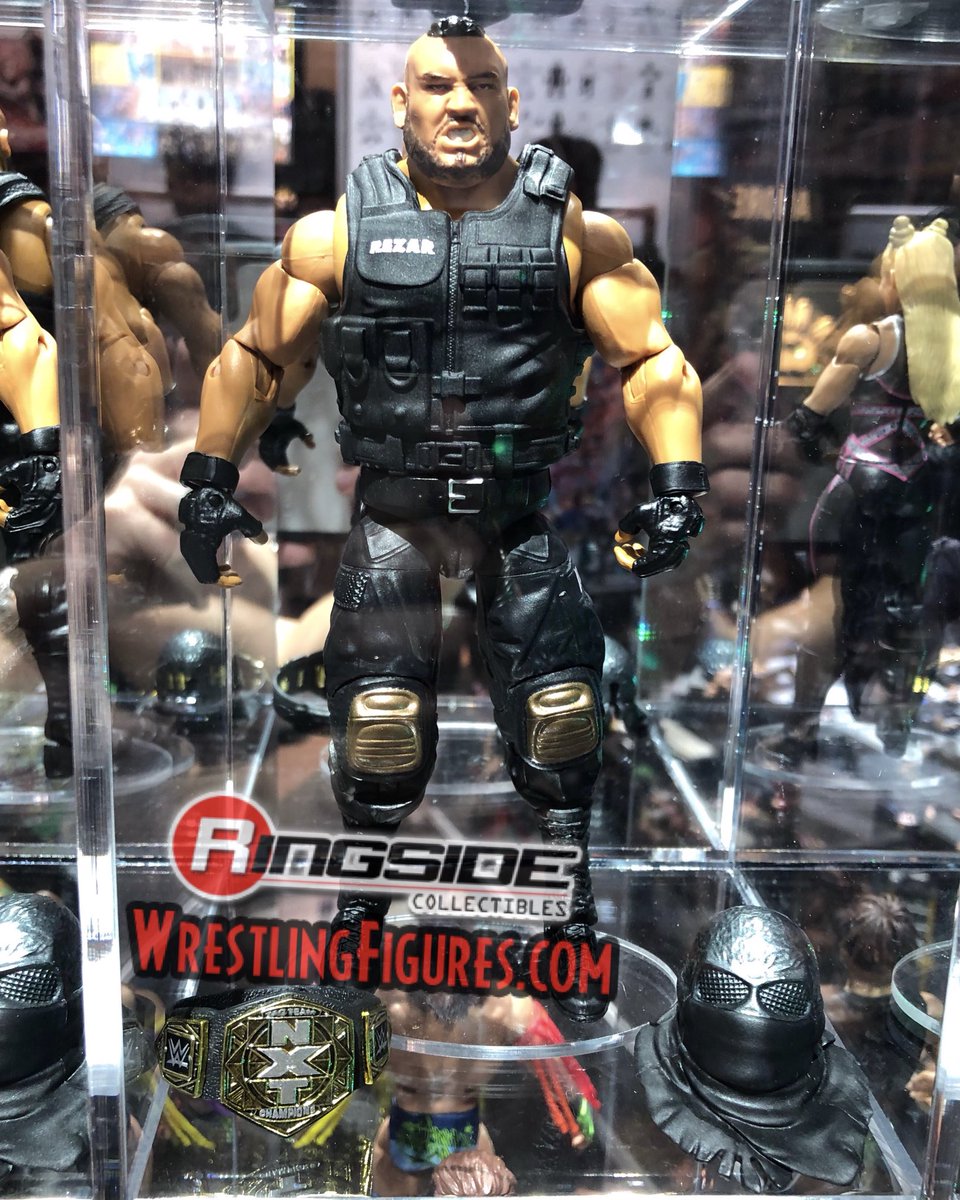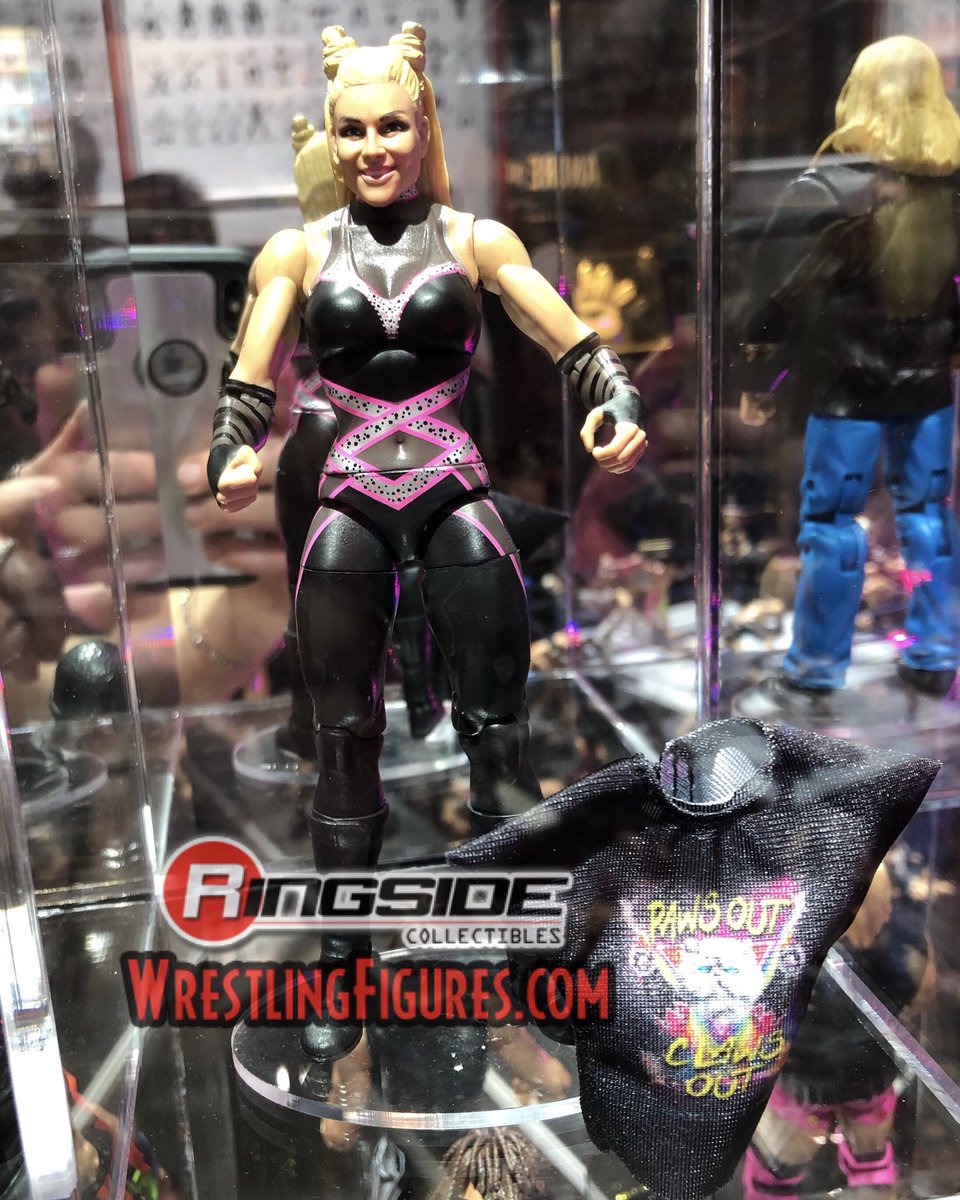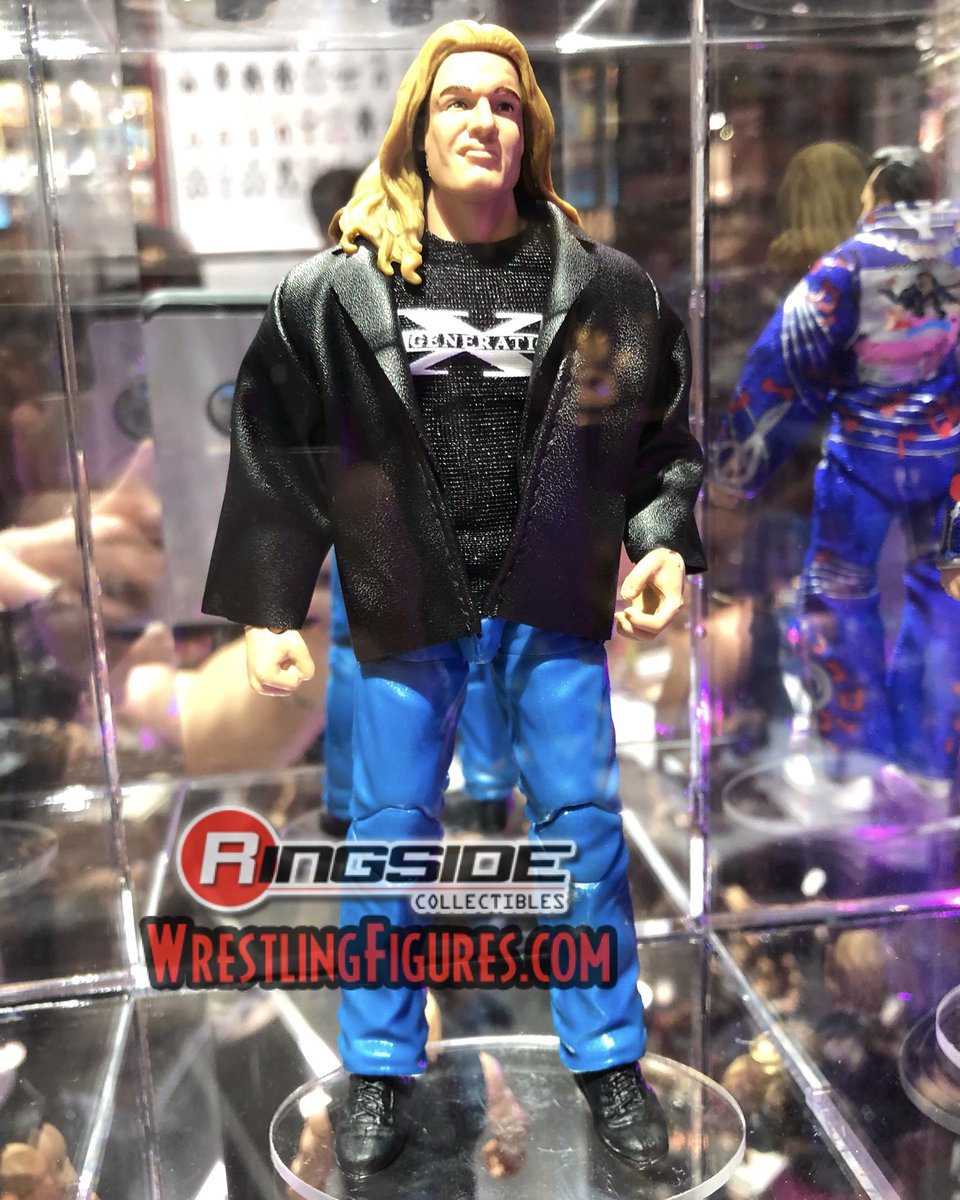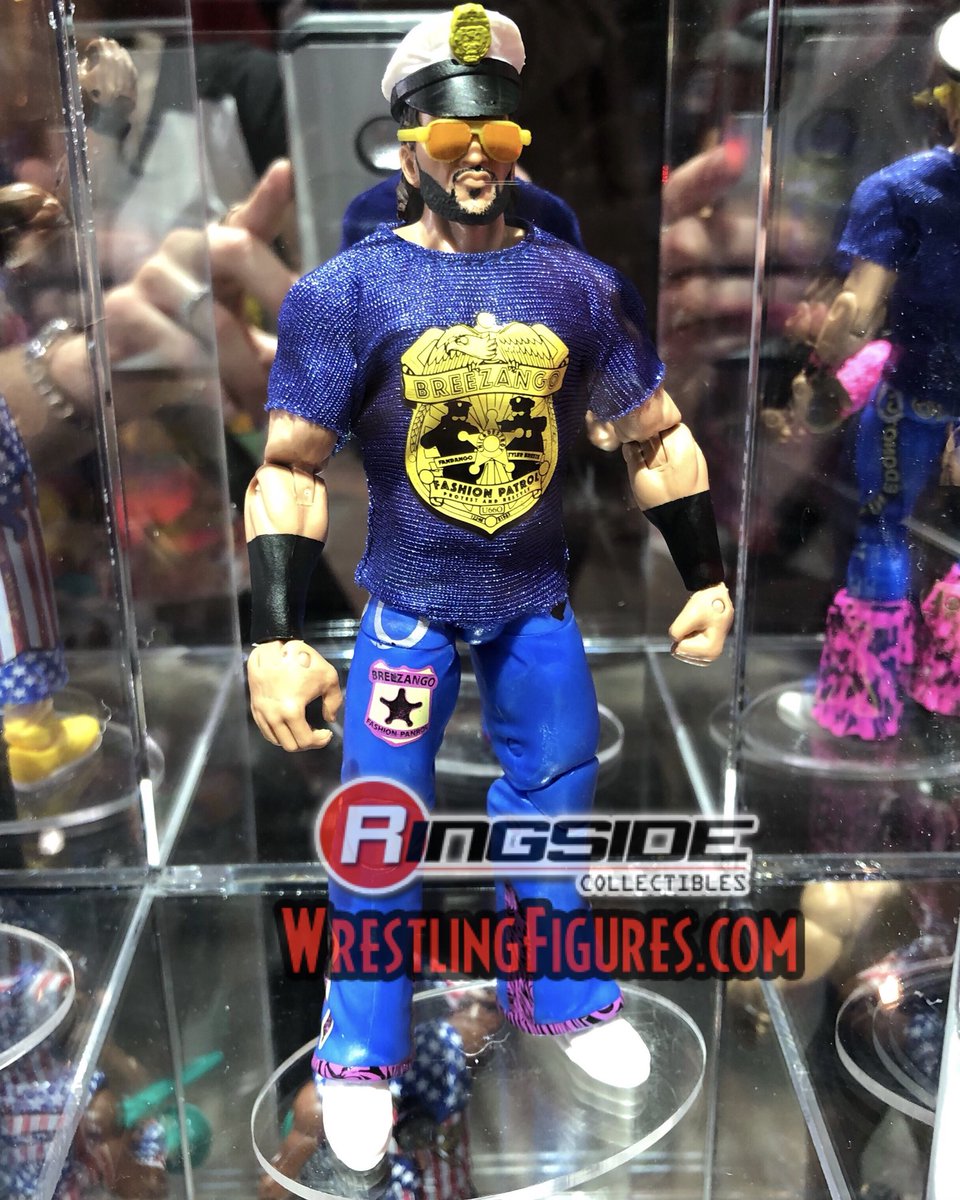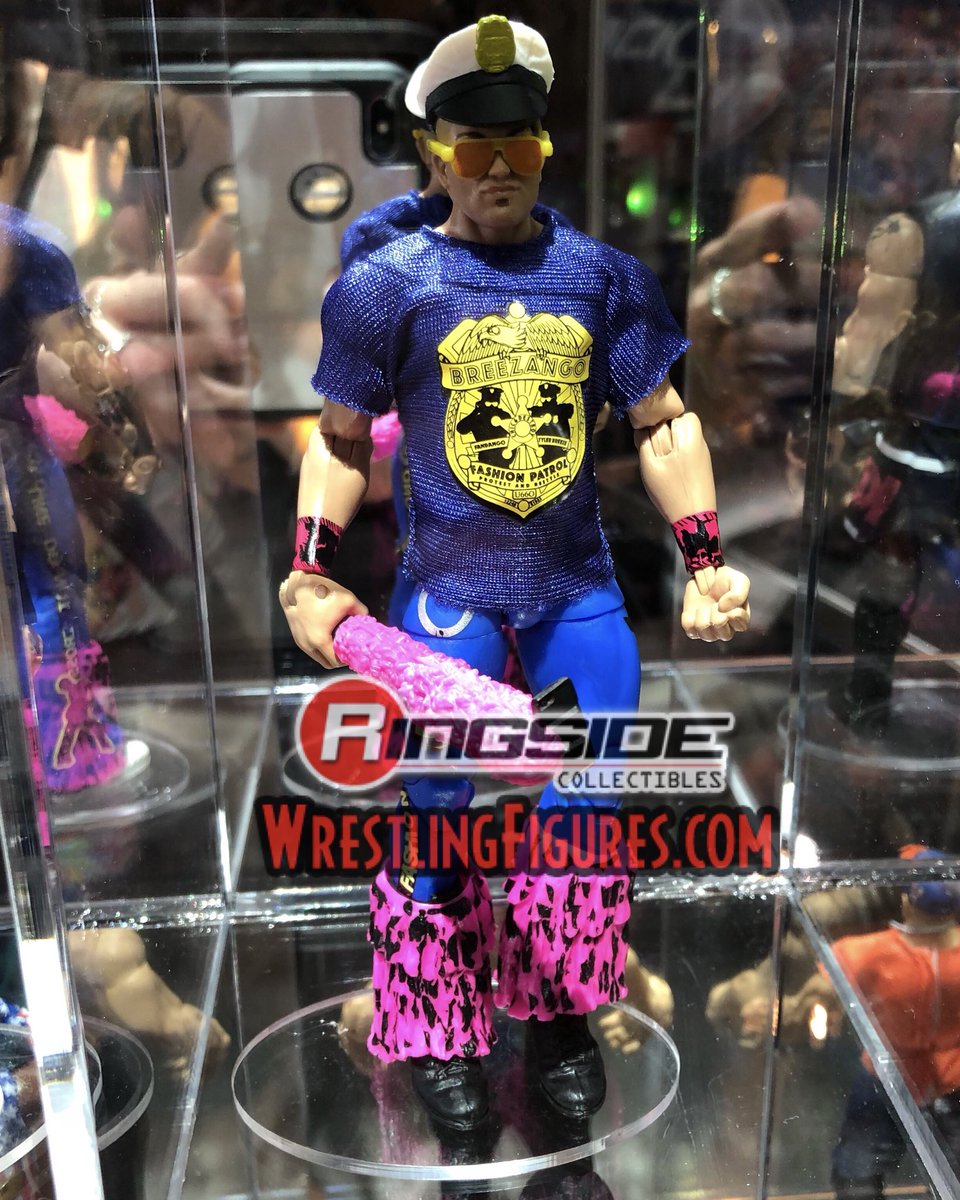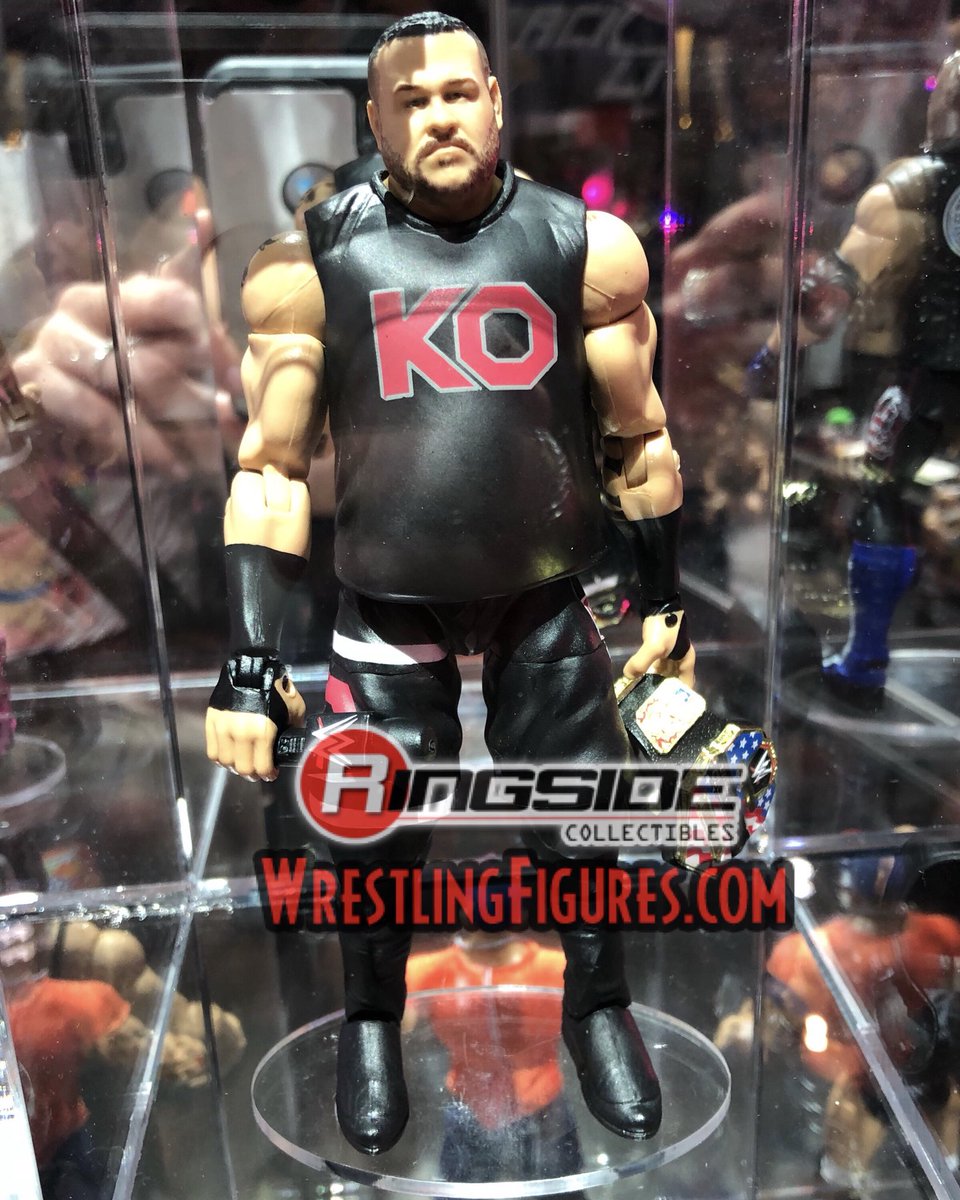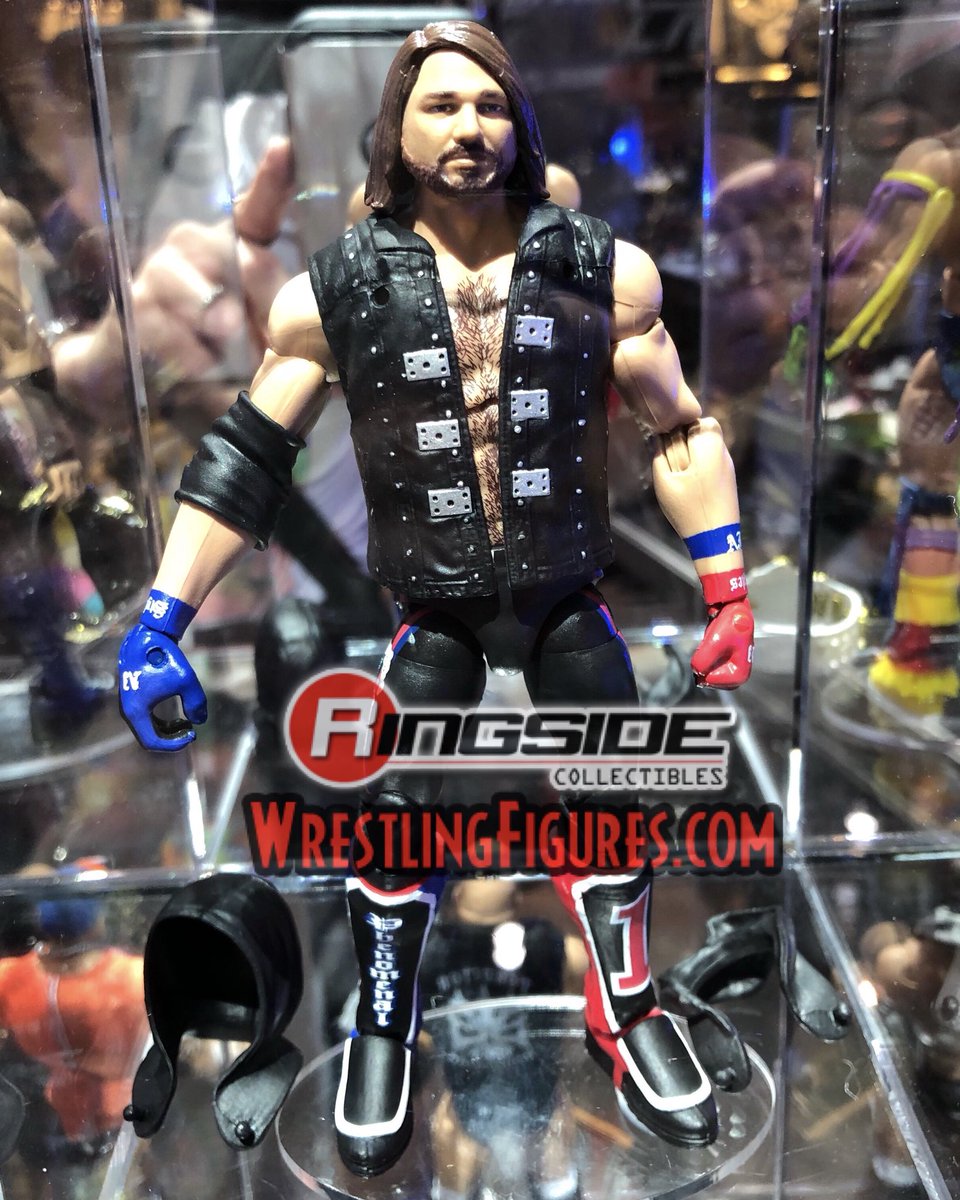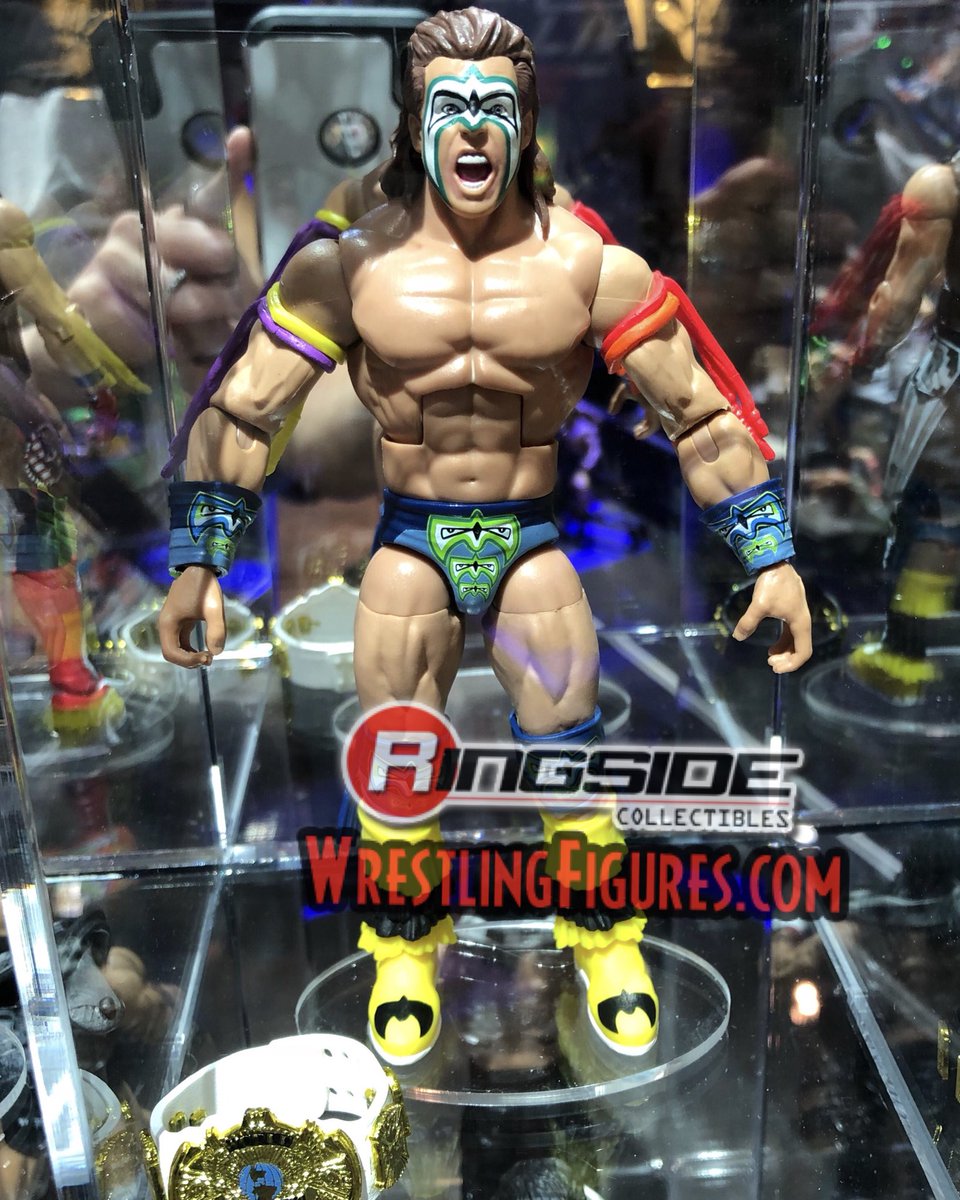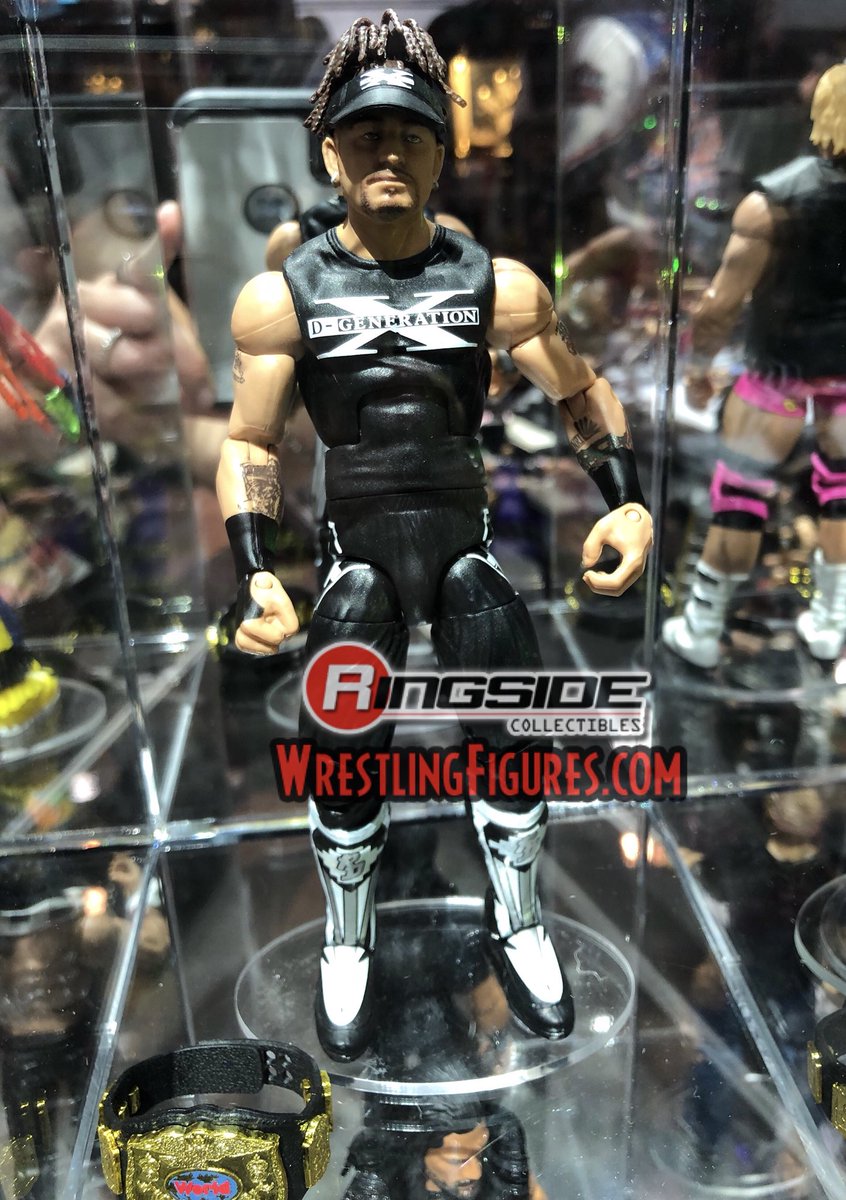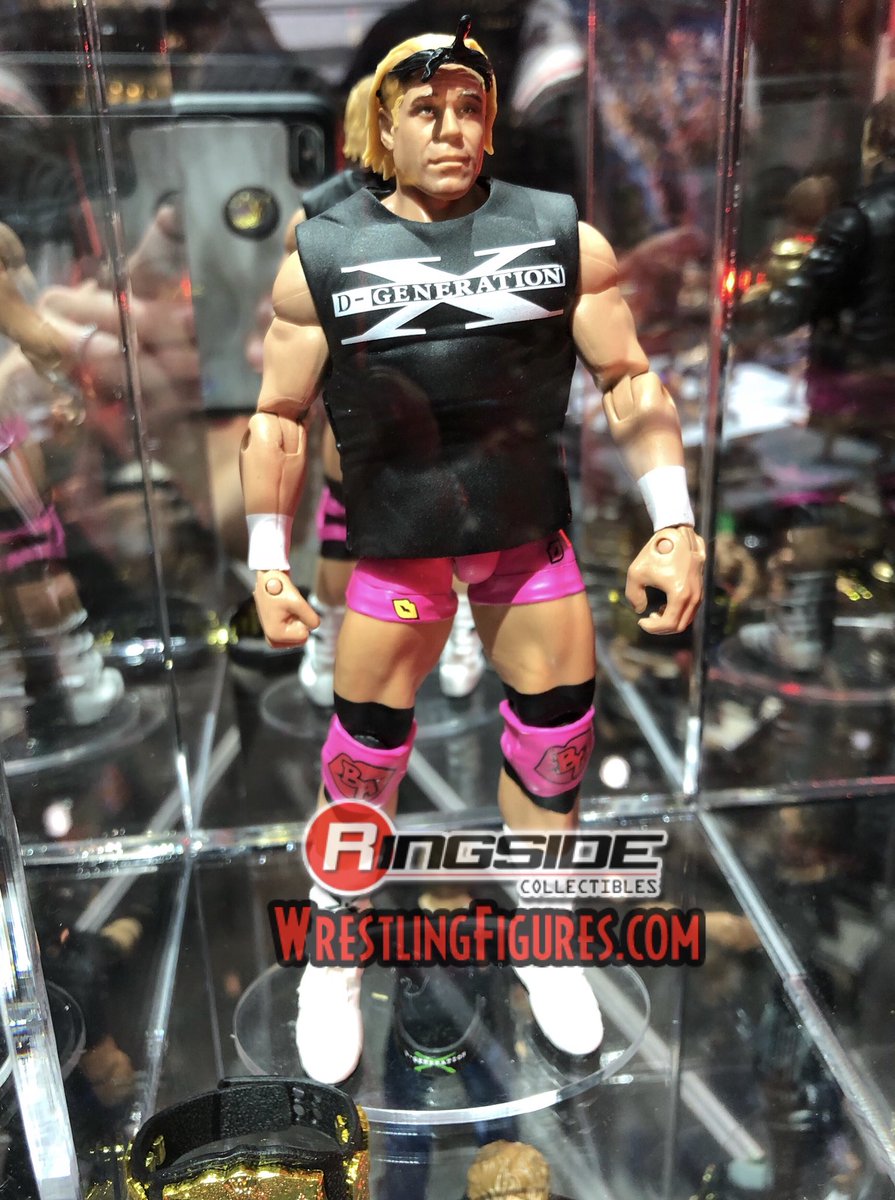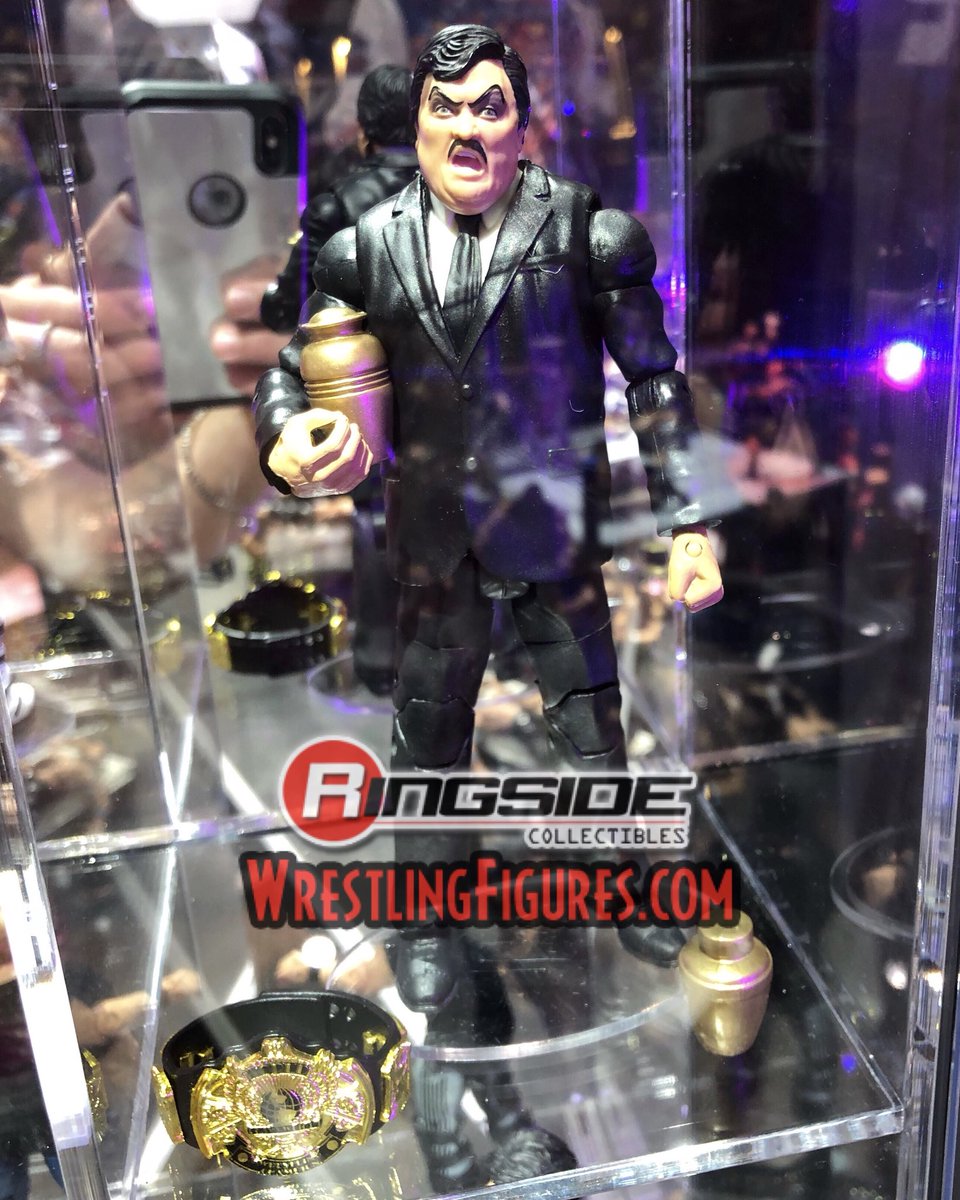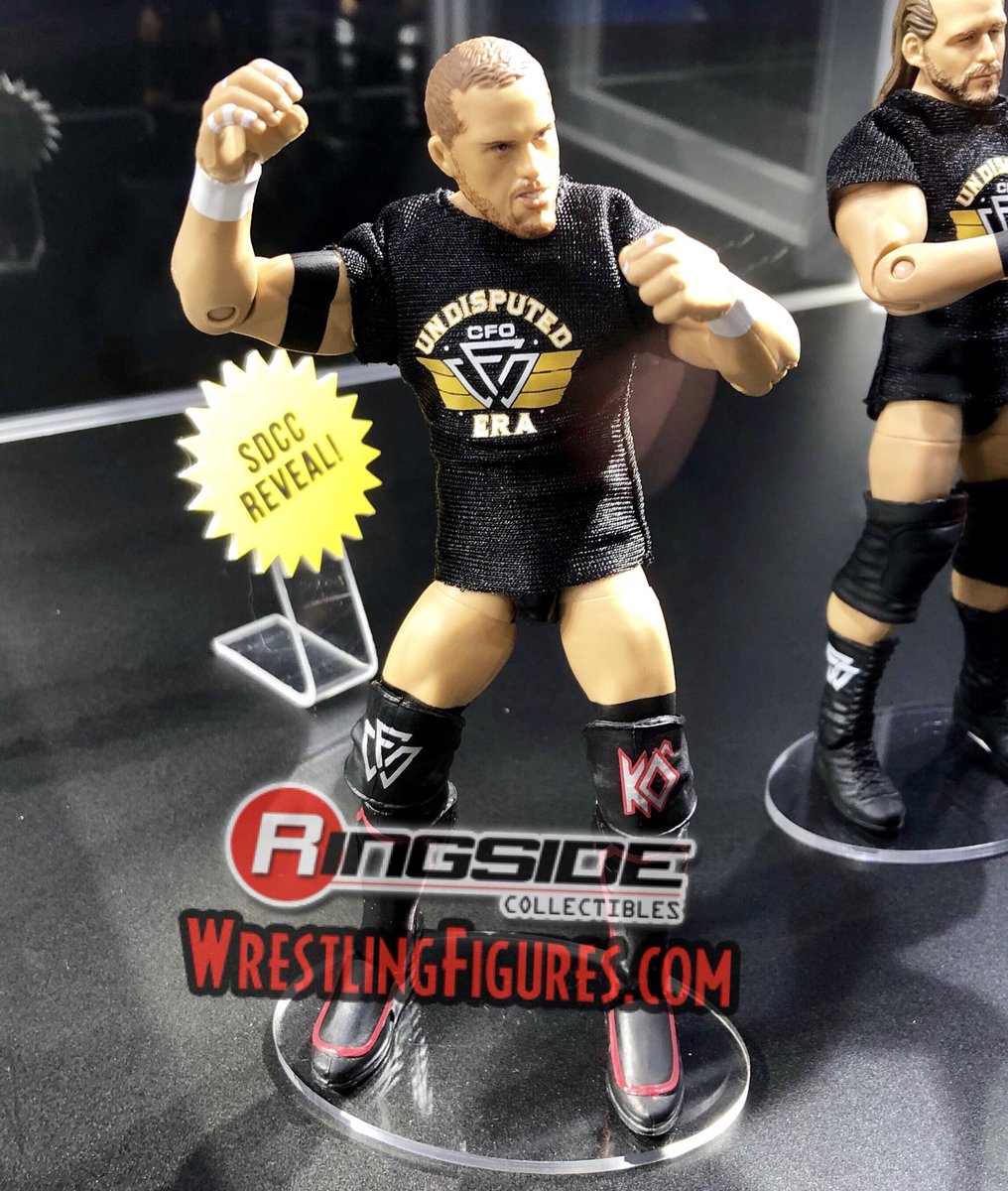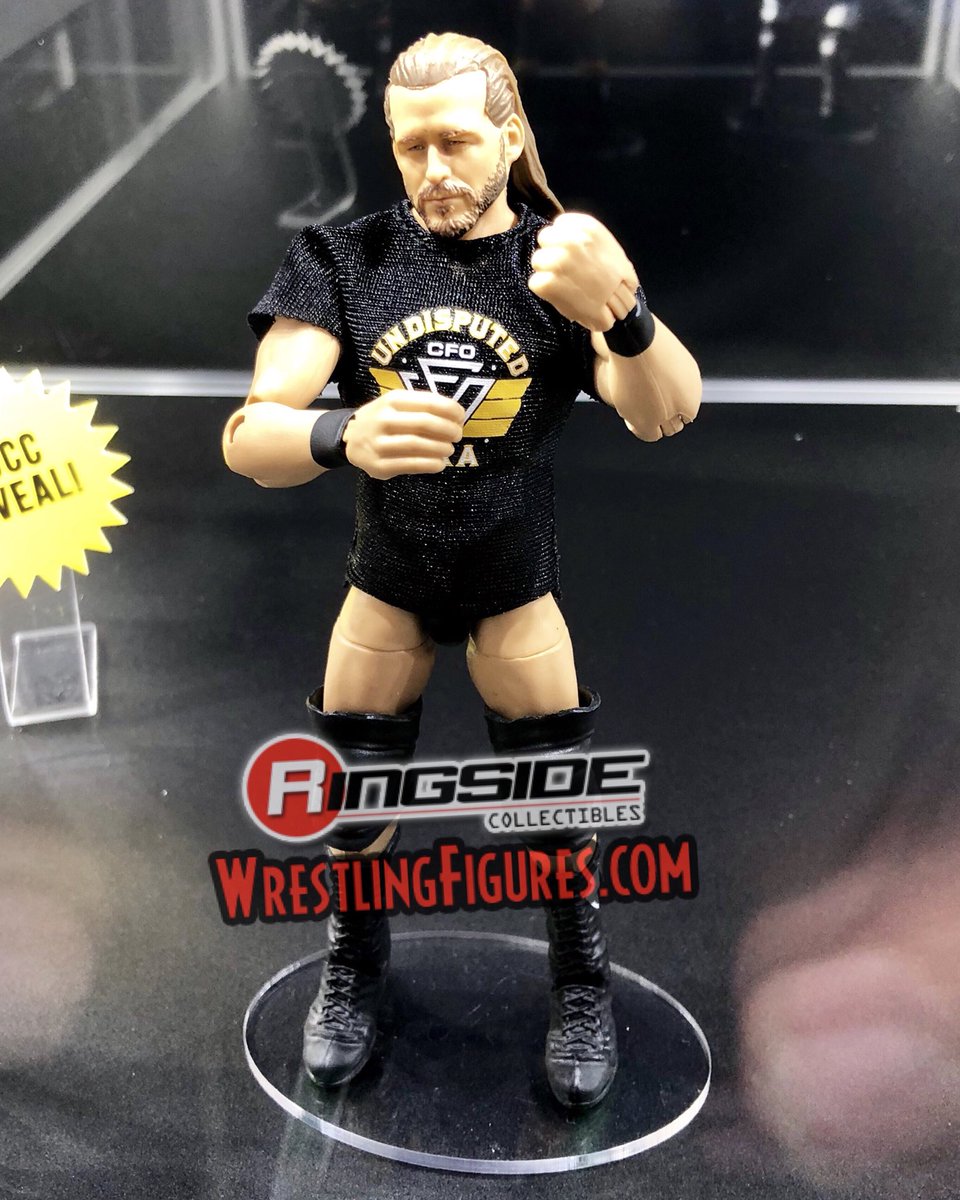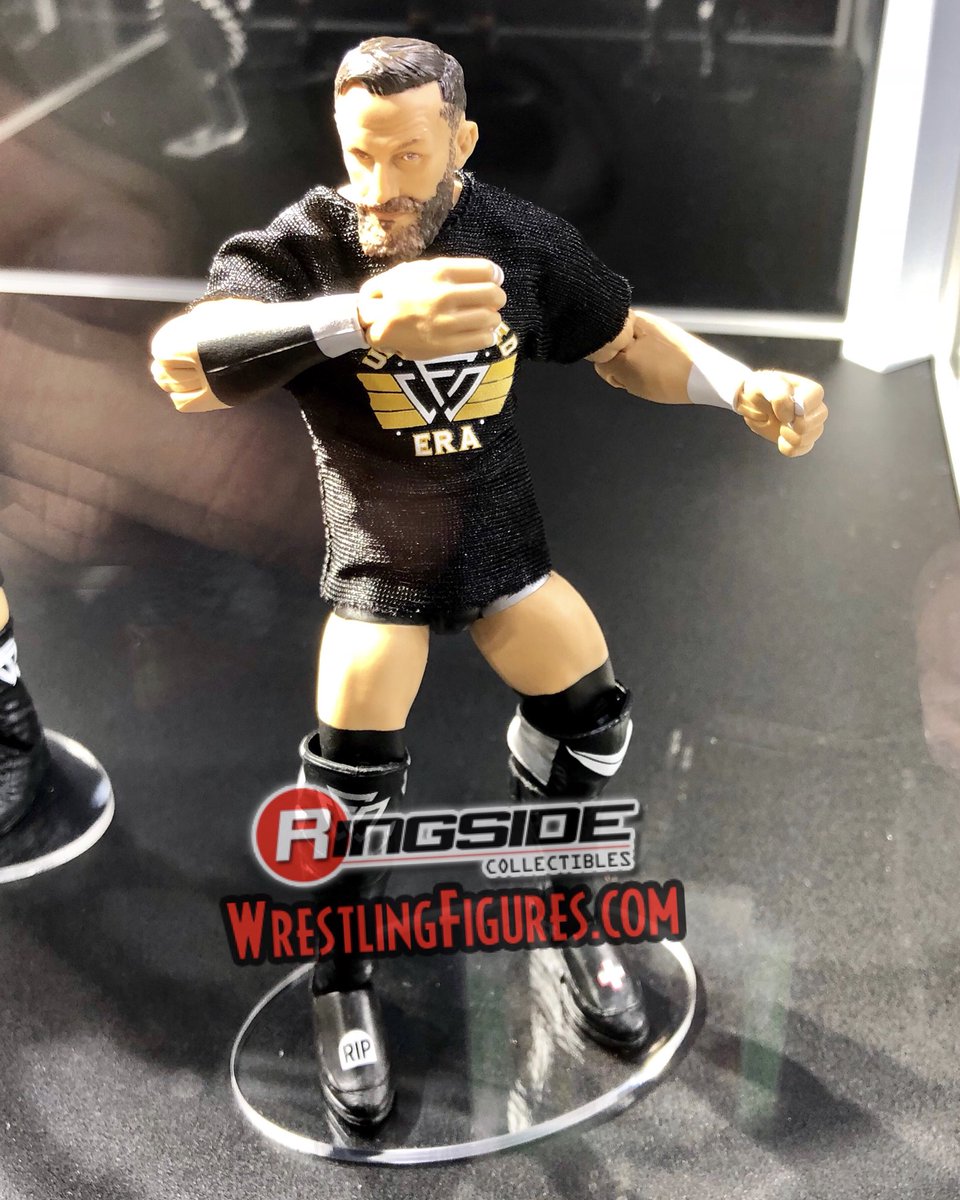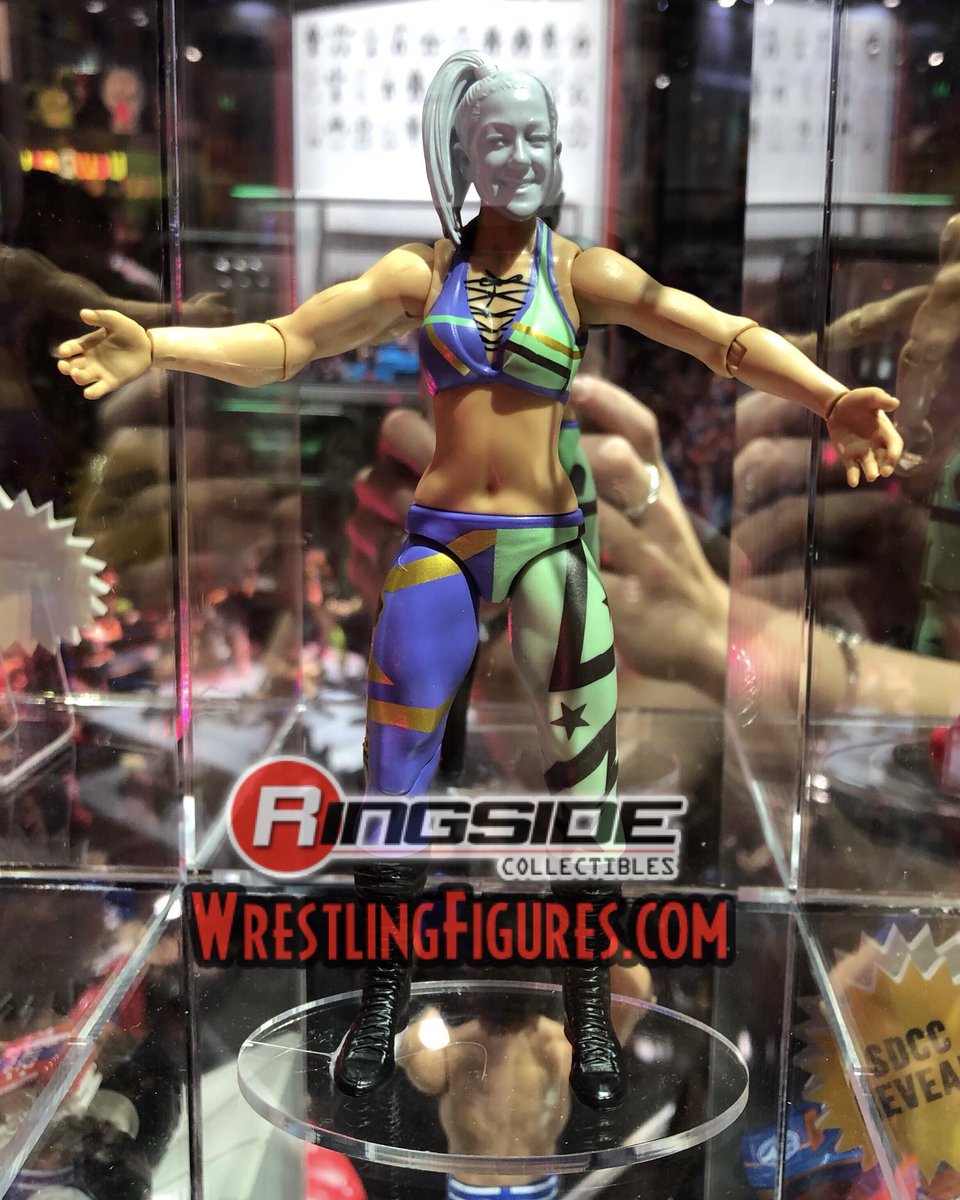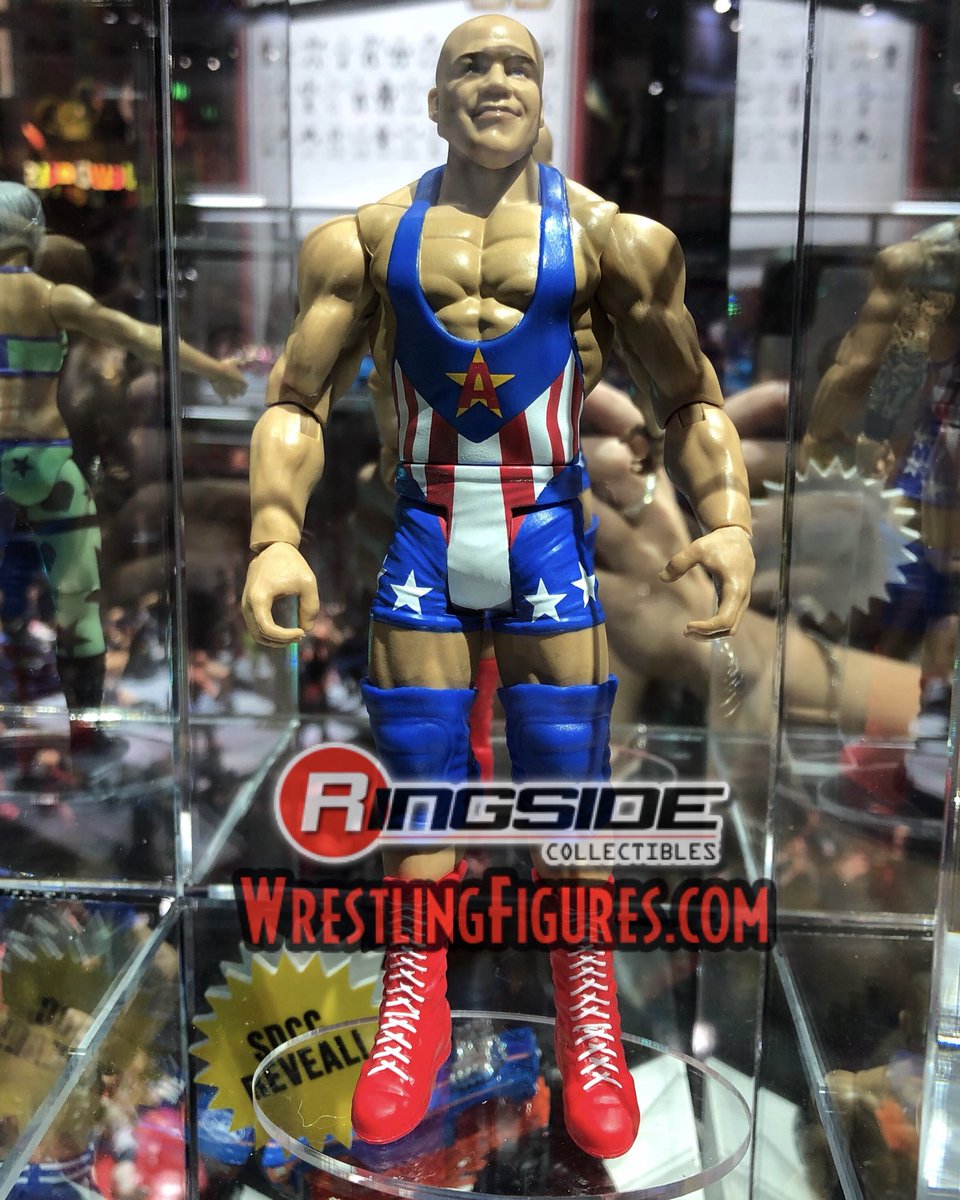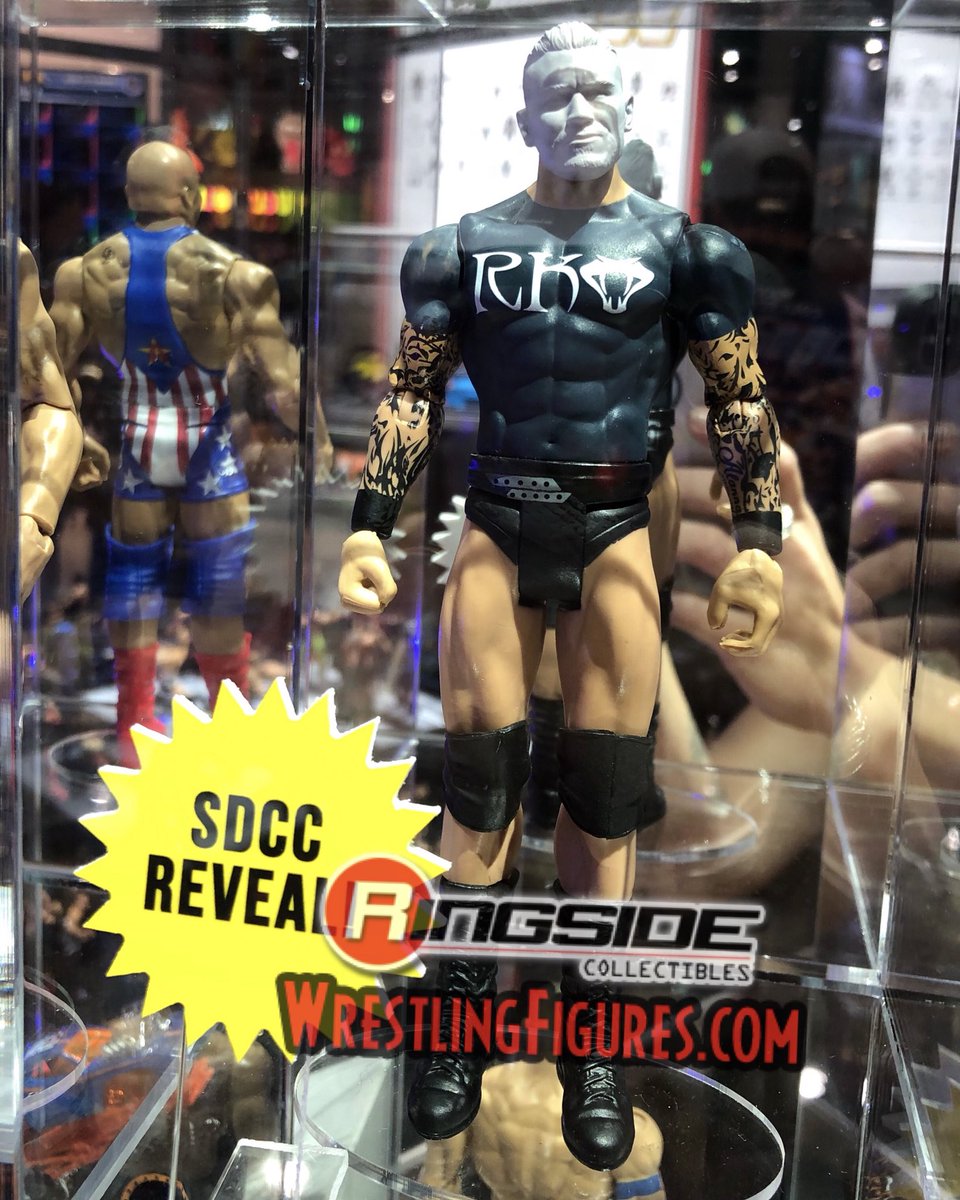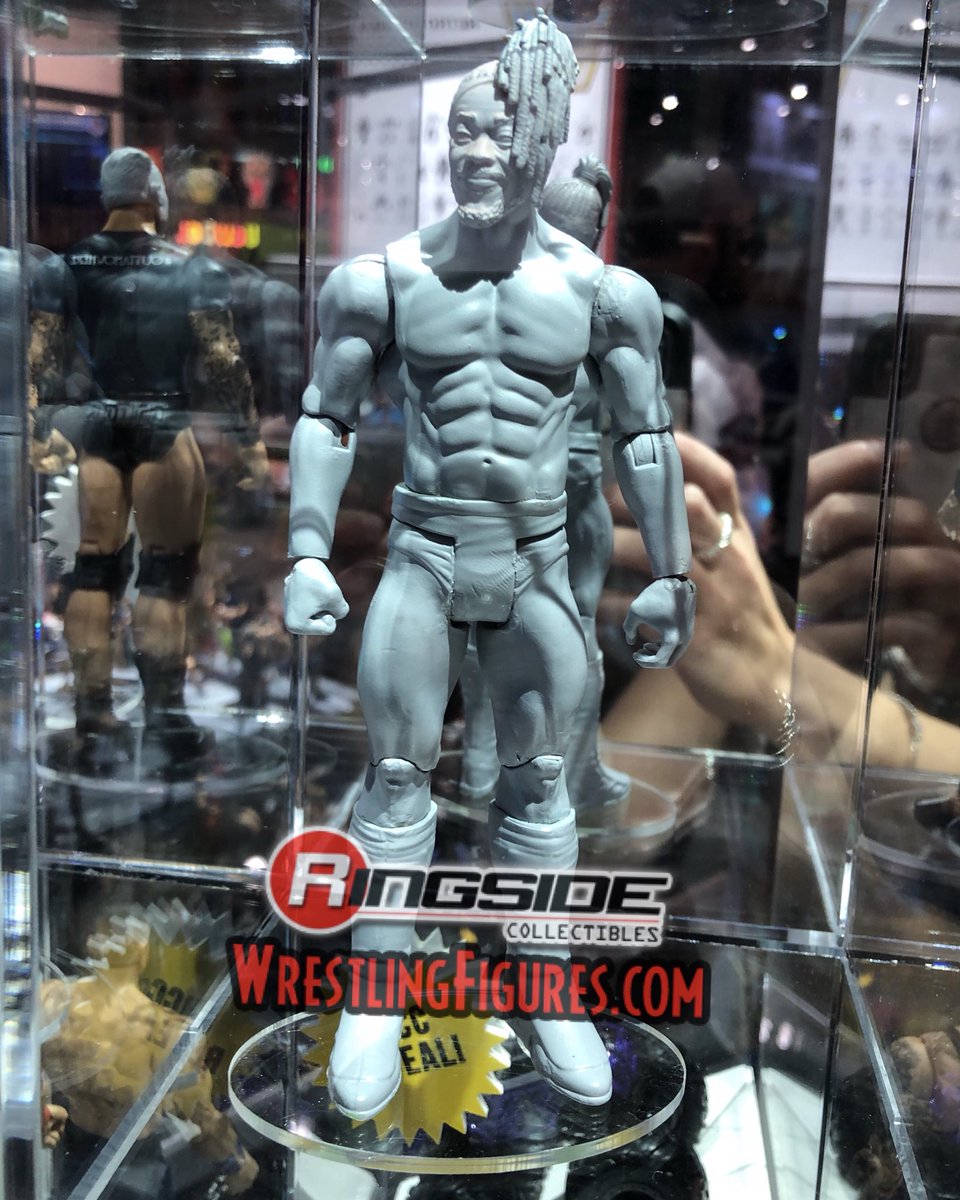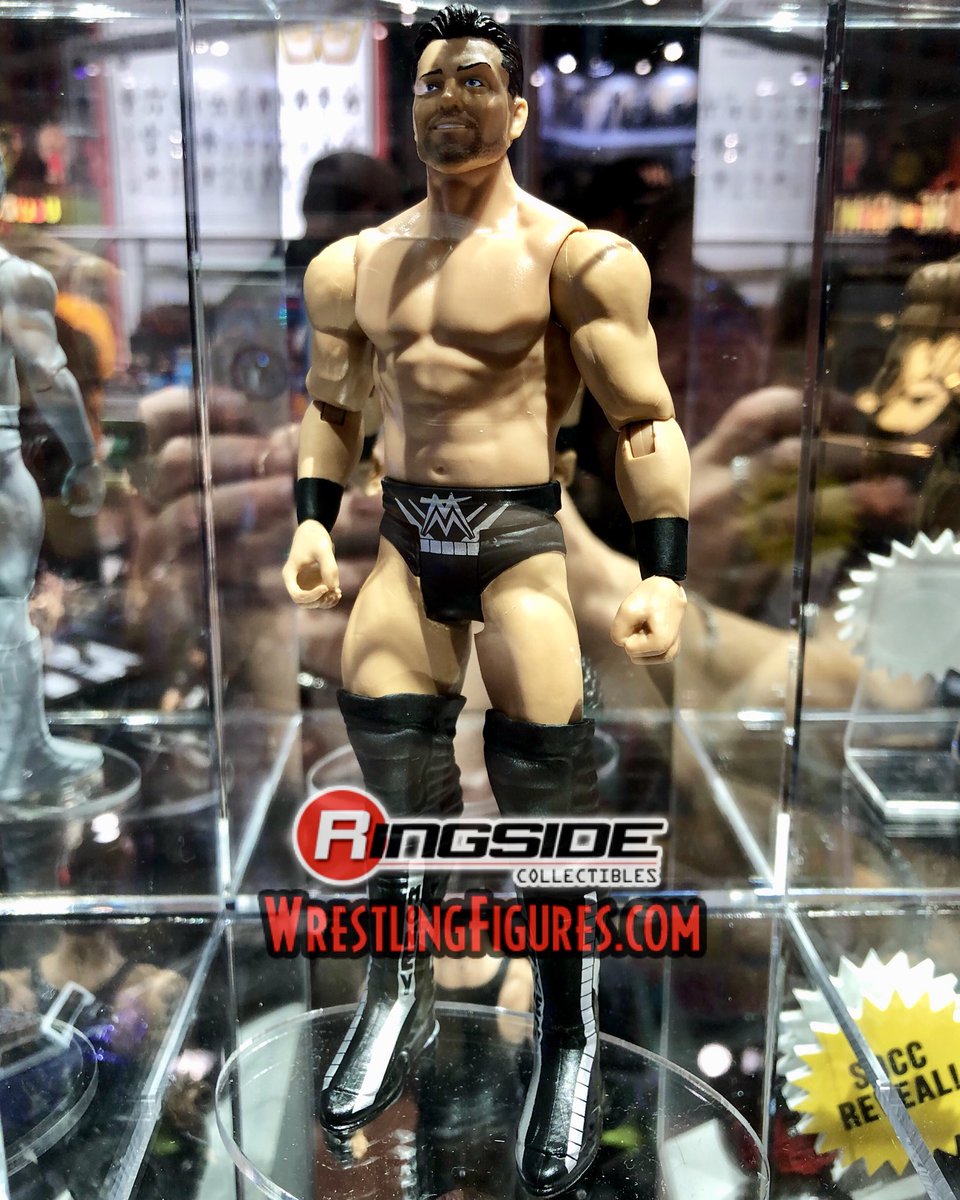 ---
SDCC 2018 Mattel WWE Display Preview Night 7/18/18
-
****** Thanks to Action Figure Attack, Dfreedom30, Ringside Collectibles, and Zack Ryder for the images and videos below! ******
https://www.instagram.com/p/BlZV3DOnctt
https://www.instagram.com/p/BlZ3HD1nUdt
---
SDCC 2018 Mattel WWE Teaser Images 7/17-18/18****** Thanks to Action Figure Attack, Bill Miekina, and Nattie for the teaser images below! ******
Torso change made to Hall of Champions Elite Series 2 Ron Simmons (Action Figure Attack/Instagram)
Reveal of Elite Series 61 Big E on display with New Day (Bill Miekina/Twitter)
Sneak preview of upcoming Elite Natalya with cloth t-shirt (Nattie & Bill Miekina/Twitter)
Retros are all packed up and ready to go for SDCC (Action Figure Attack/Instagram Story)