Post by I Hate My Job on Jul 9, 2018 17:18:40 GMT -5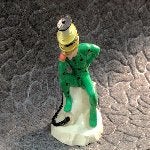 I think it would be insane but I doubt WWE or UFC would have the guts to do it.
Can't tell you how much I'd love to see that lol. And no matter what light it's in from people, or how much it might be crapped on by UFC fans, the world's eyes would be on Strowman. And it might just make him one of the most over WWE stars ever. It would also be the only other time besides the CM Punks fights that I'd go out of my way to watch anything UFC.
Braun Stroman cashing in his MITB after Lesnar loses on the UFC PPV would be the biggest crossover since Avengers Infinity War. All sports and entertainment media outlets would be talking about it. Can you imagine...
Brock Lesnar is KOd and looking at the lights. This starts playing
Braun Stroman comes in with a referee and ring announcer and announces he is cashing in his Money in the Bank contract
Lesnar gets those hands followed by a Powerslam
Stroman wins the WWE Universal Championship!
If that does happen, best thing is that Daniel Cormier would probably laugh his ass off instead of complaining that they are stealing his moment.