Post by warriorlynx on Jul 10, 2018 17:36:19 GMT -5
I'm sure most know that Kevin Nash aka. Diesel's run wasn't all that great, heck his booking was pretty poor (eg. King Mabel). He was initially promised a three year run, but we all know it ended at Survivor Series 95. He had a lot on his plate to begin with. Financially things weren't so great, Slim Jim was gone as a sponsor (thanks to Randy Savage). There was pressure for being the face of the company to drive the new PPV line "In Your House", plus the Monday Night Wars would begin in September. This is how I would do rebook his run after winning the WWF Championship from Bob Backlund at MSG in late 94: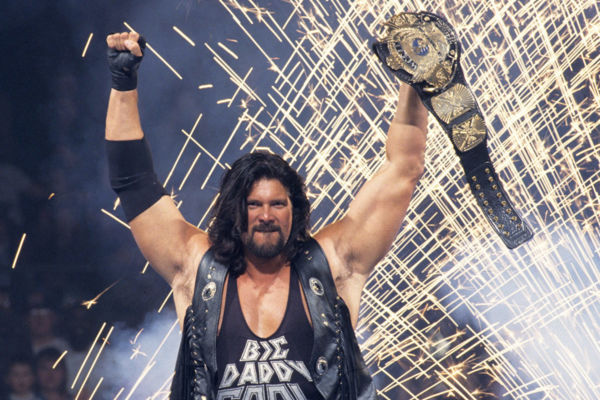 Royal Rumble 95 - Diesel (c) def. Bret Hart via pinfall.
I would actually have Diesel go over, it's the right way to start in his first big PPV as champion. The finish would have Bob Backlund run in and attack Bret with a chair without Diesel knowing, as Diesel delivers the powerbomb for the win. Diesel had no idea and wants to restart the match, but Bret is hurt. Diesel runs to the back to go after Backlund only to the superkicked by Shawn Michaels! Thus setting up two matches for Wrestlemania. Shawn wins the RR.
Wrestlemania XI - Diesel (c) (w/Pamela Anderson) def. Shawn Michaels (w/Sid and Jenny McCarthy) via pinfall.
No need to change this, with the exception of having this as the last match on the card.
In Your House 1 - Sycho Sid (w/Dibiase) def. Diesel (c) via Countout.
Sid is put in the match after destroying Shawn on RAW (Shawn turns babyface after he returns). Originally Diesel won, but Sid gets the win here in order to set up another match.
King of the Ring 95 - Diesel (c) def. Sycho Sid (w/Dibiase) via pinfall.
Instead of a tag match, here we finally have Diesel beat Sid on a PPV. King of the Ring winner is Yokozuna.
In Your House 2 - Diesel (c) def. Yokozuna (c) (w/Owen, Fuji & Cornette) via pinfall.
King Yokozuna gets a title shot, while being Tag champ with Owen. Diesel gets help on the outside from the Allied Powers (Luger & Bulldog) late in the match.
SummerSlam 95 - Diesel (c) def. Razor Ramon via DQ.
Razor turns HEEL again destroying Savio Vega on RAW for losing KOTR and trying to take his spotlight as his once "childhood friend", with Diesel making the save. Razor gets a title shot. Here Diesel only gets a DQ win after Razor uses a chair twice in the match, the first was off with a "warning" (because of it being a high profile match), the second time it was DQ.
In Your House 3 - Diesel (c) def. Razor Ramon via pinfall.
Diesel finally gets the win over Razor.
In Your House 4 - Diesel (c) def. Isaac Yankem DDS (aka. Kane) via pinfall.
More of a "big guy" match for Diesel to work with.
Survivor Series 1995 - Diesel (c) def. Bret Hart via pinfall.
Diesel turns HEEL at the end of the match. Bret had the match almost won when he fakes dropping on the floor and locks in the small package, but Diesel kicks out. Diesel snaps and powerbombs him THREE times thereafter for the pinfall win. He gets heat from the fans and Diesel curses them on his way out with the title.
Survivor Series 95 RAW Aftermath
- Shawn Michaels talks to Diesel in the ring at the beginning of the show, trying to remind him that it was wrong to what he did to Bret last night. Diesel then powerbombs Shawn. Shawn is back up and has a match later on the show. Shawn does the "collapse from a concussion" storyline here after getting hit hard in the head by Owen, plus thanks to Diesel's devastating powerbomb earlier (and the Syracuse incident to add on top of it), Diesel is largely blamed for it.
In Your House 5 - Diesel (c) def. Ahmed Johnson via pinfall.
Johnson wins a shocking battle royal on RAW to become the No. 1 contender. Diesel beats him with the jacknife powerbomb.
Royal Rumble 96 - The Undertaker def. Diesel (c) via DQ.
Shawn Michaels wins the Royal Rumble for a second time.
In Your House 6 - Shawn Michaels def. Bret Hart via pinfall to become the No. 1 Contender for the WWF Championship at Wrestlemania XII.
The match was set with Shawn not being cleared by Gorilla Monsoon for a WWF Championship match on the RAW after RR as he believes he's incapable of facing Diesel. Shawn trains hard to get back in and to prove he can do it he has to go through Bret Hart. Diesel is on commentary for the match as this is the main event of the PPV.
Wrestlemania XII - Shawn Micheals def. Diesel (c) via pinfall to become the new WWF Champion.
Shawn wins clean over Diesel, ending Diesel's one year and four month reign.
How would you rebook his run?