Post by Ruby Fusion on Dec 25, 2018 14:11:29 GMT -5
I get the concept, but it just looks terrible to me. I can't even really envision what they are shooting for with that, because all I see are Frankenstein wrestlers lol
OK I'll quote the (previous?) owner: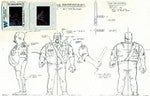 I am not sure whether this was meant to replicate him beating his chest or shaking ring ropes. Unfortunately only the left arm works. I can't see inside to know where the right arm connection broke off.
Enjoy the pics and I look forward to your comments.
My guess: they used Ax' torso because it was the easiest to house that mechanism.
Come to think of it, the mechanism kind of made it to Ultimate Warrior 3: without the string and without articulated elbows and wrists.
Also since this is a mock-up it is very well possible it was never meant to be for the WWF series, but rather to get the license to produce Conan figures: the Conan the Adventurer has this exact mechanism with string (as noted by Meatybat in the original topic) :