Post by stc13 on Jun 9, 2019 22:17:53 GMT -5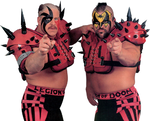 Mattel only uses wrestlers who are signed to WWE merchandise deals, and that list has pretty much been exhausted at this point.
Many wrestlers inducted into the HOF have not signed Legends deals because, simply put, they are very restrictive for not a lot of money.
At one point Mattel signed wrestlers directly, but stopped doing this after the Legends line. Mattel saves on money by working directly through WWE merch deals, so that probably won't change any time soon.
Your comment about legends echoes my thoughts. I have been wondering of late, if perhaps there are some legends that we may not get figures of because they have no interest in signing a legends deal due to what you mention- they are too restrictive (as Bret Hart said- 'they own you') and the money is not that good, especially for the mid-carders who aren't as popular as the top stars. For legends that are active on the indie scene (taking part in autograph signings, making appearances at conventions), they can probably make more money doing that then they will get from a WWE legends deal. Some guys that originally signed with Mattel but have not resigned such as Martel, Bundy, Crush, Demolition, might be due to them not wanting to sign a legends deal. I don't understand why WWE does offer a simple merch deal as another option for those who don't want to sign a full legends deal.

Without getting too into the weeds on details, I think that's exactly it. The Legends deals pay a 10K advance for a 6 year deal, with royalties paid against that advance with a very low percentage on figures, trading cards, dvd sales, tshirts, etc. My estimation is that most midcard stars never make much beyond that advance.
In exchange, they sign away global marketing rights to their name and likeness. It probably makes sense for estates of dead wrestlers or guys like Kamala who are in bad health and off the road. But for Scott Steiner, the R&R Express, etc who are still actively doing shows they're likely making much better money at shows and through ProWrestlingTees with a much, much larger cut of the revenue.
The easiest solution would be Mattel doing direct deals, but I think they got burned on poor sales from the Legends line and won't go back down that road in the current retail landscape. Maybe there's an outside chance WWE ether raises the payout or lightens up on terms to get more guys under deals with AEW on the scene. But AEW doesn't have a tape library or other way to monetize older talent, so I can't see much rush on WWE's end to lock them up.
If Mattel is in fact extending their deal with WWE, it's going to be a boring few years for Legends collectors unless there are some significant changes.