Post by master of the WORLD! on Jul 15, 2019 18:28:44 GMT -5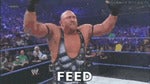 Well he did wear that style briefly, but had they done that , it would be an actual 10/10 perfect figure for me.
I just got the set , only opened Ricochet, Ciampa and Lashley so far. All are amazing but Lashley is the most complete and best out of the set. He comes with a ton of accessories, and it's like this body mold was made for him all along. I've been needing a Lashley figure ever since he debuted in WWE in what ? 06? So yeah I'm stoked to have this
Ciampa was my favorite wrestler at the time he got injured. His figure is absolutely amazing , luckily I got the logo on the back. The new ab mold is perfect. The cloth pants and knee brace are unreal. Only small issue is the height , but I grew up with Jakks, so I'm not as picky as some. Also his Pants are packaged backwards, much better looking when turned the right way.
Ricochet is tall, but not THAT tall. Put him next to your Big Show, Kane, etc and you'll see it's not as bad as Jakks Rey's being nose to nose with Undertakers. Otherwise what an amazing figure , I feel like the only reason they used bigger legs was to make sure the attire detail was spot on.
oh damn he did wear those style? i dont remember that at all. if i get it ill just paint the rest so it looks complete. i do agree its a solid set.
a lot of the more recent stuff has been really good. i havent bought an elite in some time but i have my eye on quite a few