Post by hbkbigdaddycool on Sept 15, 2021 21:07:37 GMT -5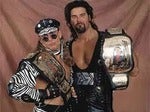 New characters who need to be established, most likely future Raw and Smackdown superstars.
The wedding was great! So entertaining. I wish Raw and Smackdown could have entertaining segments like that on their shows.
Ciampa winning the NXT Title was shocking. I really thought L.A. Knight or that new giant guy they put in the match was gonna win.
Bron Breaker....?? Should be Rex Steiner!!!
All I know is that I want Steiner to be NXT Champion. He is like his dad and Uncle Scotty all rolled up into one!
Still, great show tonight! Looking forward to NXT 2.0 next week as well!
I hoping the fans start chanting "steiner" and that ends giving the guy a name change. He definitely was a bright spot on the show.
That would be great. Even Vic Joseph said something about "Dog Face Gremlin" on commentary during the match too. I think anyone who was a wrestling fan knew that was Rick Steiner's son. The same build, same face, even a tattoo on his shoulder like his dad had, plus the same style of ring tights. It was ridiculous not to call him Rex Steiner like they originally had planned.