Post by supremeopinion on Dec 20, 2019 8:02:35 GMT -5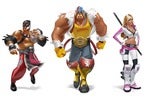 As a consumer you have the free will of purchasing now if you have the funds to do so in order to have the item. Or risk it selling out because you are waiting for the price to drop.
In case you weren't aware, Black Friday is typically the single day when you get the absolute best sales. No other retailer has since then, sold items for cheaper than they did on Black Friday. It defeats the purpose of having a black Friday sale if every Friday is Black Friday. Ringside is the only one doing that.
I'm aware, it is you that's clearly not aware.
Immediately Dillard's comes to mind, the best time to shop Dillard's price wise is January 1st not Black Friday. Everything you buy there on Black Friday if still available January 1st will be cheaper.
Super Bowl season (January/February) is the best time to buy televisions, so again, not Black Friday.
Hell literally right now Don Muraco has been price adjusted by Walmart dot com down to $8.99, and we are way past Black Friday.
I can keep going, but it's clear you are not an informed shopper, you are a mainstream shopper who shops when the news outlets tell you to instead of doing independent research in your own.