Post by TWIZTID on Nov 5, 2020 16:07:33 GMT -5
Profile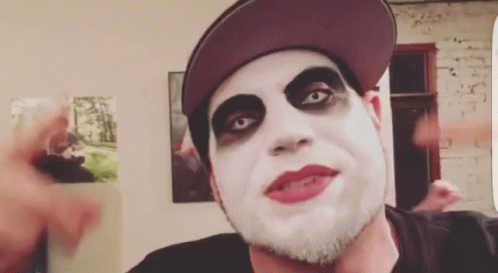 Real Name:
Charlie Jay Evans
In-Ring Name:
Twiztid Insane
Nickname:
The Clown Prince
Titles Won:
3x DTW Deathmatch Champion, 2x DTW Tag Team Champion (with D), 1x DTW Heavyweight Champion, 2x BCW International Deathmatch Champion, 1x ACW Hardcore Champion, 1x ACW Heavyweight Champion.
Heel/Face/Tweener:
Neutral
Hometown:
Detroit, Michigan
Weight:
230 lbs
Height:
6'4
Biography:
Charlie was a backyard wrestling LEGEND in the early 2000s, but unfortunately Charlie broke his right leg in three places during a backyard match. Now he has returned to the ring after his career in music has slowed down, and he's looking to try and get his name out there like it once was, back in 2009
Style:
Brawler
Appearance
(Image used of Jamie Madrox)
(In ring Charlie wears a jersey of the local sports team, along with some baggy sweatpants or jeans, depending on what he feels like, with some wrestling boots, along with his Juggalo Facepaint.)
EntranceEntrance Music:
 Raw Deal (Juggalo Song) - Twiztid
As Raw Deal queues up on the arena speakers, the lights in the pulse until the song hits the 11 second mark and Twiztid bursts through the curtains, vibing to the song, bobbing his head to the beat of the song in the background, as he makes his way down the ramp, high fiving the fans that do want to high five him, the announcer makes their introduction.

*ANNOUNCER NAME*: Making his way to the ring... from Detroit, Michigan. Weighing in tonight at 220 pounds, TWIZTID... IN... SANE!

After the introduction is done, Twiztid slides under the bottom rope and goes to a corner, posing on the second rope before hopping down and getting ready for the match.
Side Character(s)
(Image used of Monoxide Child)
Real Name:
? ? ?
Preferred Name:
D.
Relationship to Charlie:
 He's Charlie's childhood best friend, now his manager.
Moves
Finishers
Main:
'Hatchet Party' - Suplex into a Sit Out Powerbomb
(couldn't find a video of someone doing the move, so here it is in 2K)
Signature Moves1.
'The Gathering' – Swinging Fisherman Neckbreaker
2.
'Majik Ninja' – Double Underhook Brainbuster
Common Moves
1. Death Valley Driver
2. DDT
3. Brain Buster
4. Snap Suplex
5. German Suplex
6. Frog Splash
7. Lariat
8. Big Boot
9. Bicycle Kick
10. Elbow Drop