Post by TheHitmanKid on Feb 26, 2021 12:10:05 GMT -5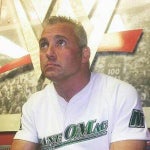 Ok, I tried to photoshop the paint job (very roughtly, no you don't get to see) and if you take her hair off, resculpt it, and give her a full facial repaint including making her eyes bigger, then yes, the end result does look like Linda.
It's not perfect mind you, but it's better than what I have now. Also, my photoshop skills are trash when it comes to freehand so I'm sure once I would get to sculpting, it would come out better. The very big question that would make or break it is... does she have an ear hidden under that big red hair. Because Mattel has been known to skimp on ears before if they know they'll be covered. Linda's hairstyle shows her ears, so if Eva doesn't have a left ear that matches her right, it won't work unless I also sculpt an ear, which I'm not sure I'm that good at sculpting.

You can ask that question on the "Picture request" or "Fix up" thread. If I had the figure I would check. I didnt know Mattel did that to certain ears.