Post by Scott! on Nov 1, 2021 15:11:32 GMT -5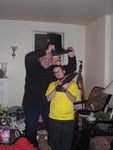 Kinda quiet. I asked Ted why he didnt bring Virgil with him and he kinda chuckled and rolled his eyes. I told him he's probably set up in the parking garage and Rotunda said "He can stay there"...Luger was nice but it killed me watching him struggle a bit cause of his condition. You're looking at a picture of a guy larger than life and he's sitting in a wheel chair struggling to pick up a marker. He was a favorite of mine so it kinda just was a gut punch actually seeing that in person.
I met Ted a few years ago, and he was nice enough but didn't say much. I tried talking to him about the figure I was getting signed but he just kind of gave one word answers. Definitely not the best experience of mine meeting a wrestler. I actually left a little disappointed because he was so larger than life on TV and in person he just seemed reserved and kind of like he didn't want to be there.