Post by King Richius on Apr 26, 2021 13:36:07 GMT -5
Profile
Jacque Le Douche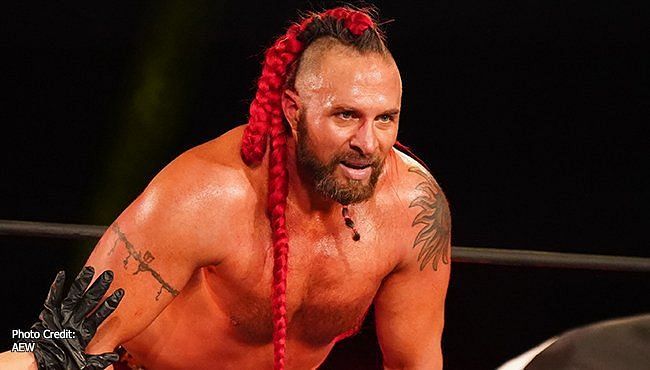 Real name:
Jack Buford
Nicknames:
The Forgotten Son, The Crimson Giant
Titles Won:
n/a
Heel/Face/Tweener:
heel
Hometown:
Currently the
Bronx, NYC
although he has bounced between Boston, NY, Philadelphia, and DC depending on who he was wrestling for and where he could find the cheapest apartment
Weight:
275 lbs
Height:
6' 7"
Biography:
Born Jack Buford to lower class parents in the hills of rural New York, Jack had a troubled youth. He had numerous incidents with the law starting as young as 10 years old and ending at age 17 when he was tried as an adult for the murder of his father. Despite believing that his father's death was an accident, the deck was stacked against young Jack so he took his lawyers advice and pled guilty to the lesser charge of manslaughter, serving 1 year in a juvenile facility and then 7 more in the Emerson Penitentiary, a federal super max prison.
Upon his release after serving out his full sentence (no parole for good behavior for this bad boy), Jack struggled finding his footing in normal society. He spent several months bouncing around pointless jobs that mainly involved throwing sweaty drunk men out of less than reputable establishments earning barely enough to pay the rent. After beating the hell out of a surly patron who turned out to be an over the hill professional wrestler, Jack landed a spot in a local indy fed. Despite having no wrestling experience, Jack used every bit of fighting skills he learned while in prison to amass an impressive winning record that got him signed to Legacy Wrestling under the name Jacque Le Douche, considered a top prospect and future champion by many. His brief eight months in Legacy were marked by more wins and a record amount of fines for his frequent rule breaking tactics that put his opponents in the hospital.
Despite his lack of respect for the sport, he caught the eye of Legacy owner Frank Lynn. Frank got Jack signed to a WFWF contract where he brings his give no f***s and take no s*** attitude to the biggest names in the sport.
Style:
Jacque is a brawler, plain and simple. He doesn't care as much about winning as he does hurting his opponent with his unique brand of brutal prison inspired offense that leaves them unable to continue the fight.
Appearance
Reference: Lance Archer
Jacque's attire reflects his background and his general lack of respect for professional wrestling as being anything other than a legally acceptable way for him to hurt people. Ripped jeans with a steel chain for a belt and motorcycle boots are his mainstays while he will mix up shirts and jackets from whatever he can find cheap at costume shops, military surplus stores, and thrift shops. He will tape his wrists, but in another act of defiance and nonconformity he will use electrical or duct tape.
EntranceEntrance Music:
Iggy Pop - Search and Destroy
Strobe lights flash, spotlights circle the arena, and Iggy Pop's scratchy voice screams out over the punk rock guitar chords of "Search and Destroy".

I'm a streetwalking cheetah with a heart full of napalm
I'm a runaway son of a nuclear A-bomb
I am the world's forgotten boy
The one who searches and destroys

Jacque Le Douche, all 6' 7" off him strides onto the stage like he owns the place as the spotlights stop swirling around and all center on him. Jacque stops long enough to peruse the audience and soak in the boos. It only serves to strengthen his resolve as he walks back and forth on the stage to look at the audience as if trying to single out each and every one of the fans in attendance. It works on more than a few who do their best to avoid the crimson giant's fearsome glare.

Honey gotta help me please
Somebody gotta save my soul
Baby, detonate for me!

Jacque quickly grows tired of the fans and turns his attention to the ring, walking towards it like a man with a purpose, which is all too true. Jacque Le Douche is in the building on a mission to maim and mutilate... to search and destroy!

And I'm the world's forgotten boy
The one who's searchin', searchin' to destroy

Jacque stomps up the ring steps, walks along the apron to the middle, and steps over the top rope into the ring. He quickly removes his jackets and shirt leaving him in his ripped jeans with chain belt and motorcycle boots, grabs the top rope on either side of the turnbuckle and does a few quick stretches all the while testing the ropes for how much give they have, then turns to the middle of the ring ready to fight... ready to destroy.

And honey I'm the world's forgotten boy
The one who's searchin' only to destroy

Moves
Finishers
Main:
Go to Hell - a GTS with a steel chain wrapped around his knee
Other:
Razor's Edge - crucifix power bomb, sometimes done off the second rope for added impact
Submission
: Full Nelson (note that Jacque will only use a submission finisher if the match has a stipulation calling for it)
Impact Moves
01:
Superman punch
02:
Big boot to the face
03:
Fallaway slam
04:
Running Clothesline
05:
Brain Buster (He particularly enjoys if if he can deliver the brain buster onto the ring apron with himself landing outside the ring on his feet.)
06:
Anything involving smashing his opponents into or through the ring steps, ring posts, announcer's table, security barriers, or any other convenient object
06:
more punches and kicks
07:
eye gouge
08:
even more punches and kicks