Post by veronicaaaahhhh on May 3, 2021 13:15:14 GMT -5
Profile

Wrestler's Name.
Scarlett Quinn
Heel/Face/Tweener.
Tweener
Hometown.
Montreal, AZ
Weight.
130lbs
Height.
5'4"
Biography.
Daughter of former WFWF champions, Wayne and Vanessa McGurk. From a young age, she has shown a keen interest in following in the footsteps in of her parents. In her first year in the sport, Scarlett won the WFWF World Heavyweight championship under the guidance of best friend and occasional enemy, Penny Shannon. Following several years spent in Japan, Scarlett is back home.
Style.
Scarlett takes full advantage of her size, by using speed and agility to maneuver her way around the ring. She possess amazing awareness and psychology, and is advantageous enough to use every part of the ring in a match. Despite this, she will look at every opening to win and is not afraid to go cheap and dirty if the situation calls for it. That said, she can get incredibly aggressive when she's frustrated.
Appearance


In Ring: See Picture
Outside: Basic jeans and a t-shirt
Entrance
Entrance Music.
"Barracuda" Heart
The arena lights fall as the opening Heart's "Barracuda" hits the arena, filling the entrance way with smoke as pink and purple strobe lights flicker across the curtain. Not a moment later, Scarlett Quinn walks through the curtain with her arms stretched out.  She pauses for a moment, bathing herself in the light as Penny Shannon comes through behind her. 

Once ringside, Scarlett makes the quick jog up the steel steps. She gives herself a moment to wipe her feet on the apron before slipping into the ring through the top and middle ropes. Scarlett keeps her eye on the hard cam as she climbs up the ropes and raises her arms into the air. Hopping off the ropes, Scarlett approaches the corner as the lights slowly return. 

Moves
Finishers
Drive-By Kiss:
 Flying superkick 

Medulla Oblong Stunner: A vicious kick to the lower abdomen followed by a stunner. 


Signature MovesDropkick From Hell:
Leaping running dropkick to the neck
The McGurk Lock:
Formerly known as the Razorback, the move was created by Scarlett's father, Wayne.
Following a reverse DDT that ends in a back breaker, Scarlett locks her opponent into a modified dragon sleeper as she fires vicious elbow shots across the chest and ribs of her opponent until a knock out or a tap out.
Impact Moves
01.
Crucifix Drop (transition move Scarlett will occasionally use a a pin)
02.
Lou Thez Press (followed by punches to the face)
03.
DDT
04.
Neckbreaker 
05.
 Bulldog
06.
Hurricanrana 
07.
Sleeper Hold
Other
01.
 Atomic Drop
02.
 Reverse Atomic Drop
03.
 Drop Toe Hold
04.
 Running Knee Smash
05.
 Spinning Wheel Kick
06.
 Clothesline
07.
 Illegal Chokes (only when no one's looking)
08.
School Girl Roll Up
Extended CharactersPenny Shannon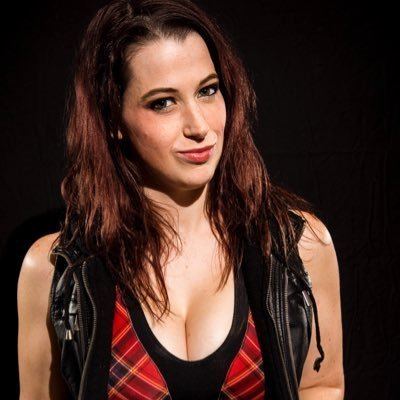 BIO:
Scarlett's best friend. 
Angela "Mama" Sandoval
BIO:
Scarlett's Abuelita (Grandma)
Vanessa "Phoenix"
Gillespie
-McGurk 
BIO:
 Scarlett's mom and former WFWF International and Womens Champion
Wayne McGurk
BIO:
 Scarlett's daddy and former WFWF Worlds Heavyweight and International Champion.