Post by dgnr8 on Aug 20, 2011 14:28:18 GMT -5
I have always had this strange fascination with really big, life-size or larger, promotional materials for things that I like. Commercial advert materials have an unmatched appeal to me because they make great display pieces, but they also tend to be extremely hard to obtain since these items are most often destroyed.
I have built a small collection of these WWF/WWE displays, many of which are probably the only ones I will ever see. My collection of these is extensive and I'll list them below for anyone interested. However, I have just acquired two new WWF displays that I am quite proud of, one of which I have been looking for for a while.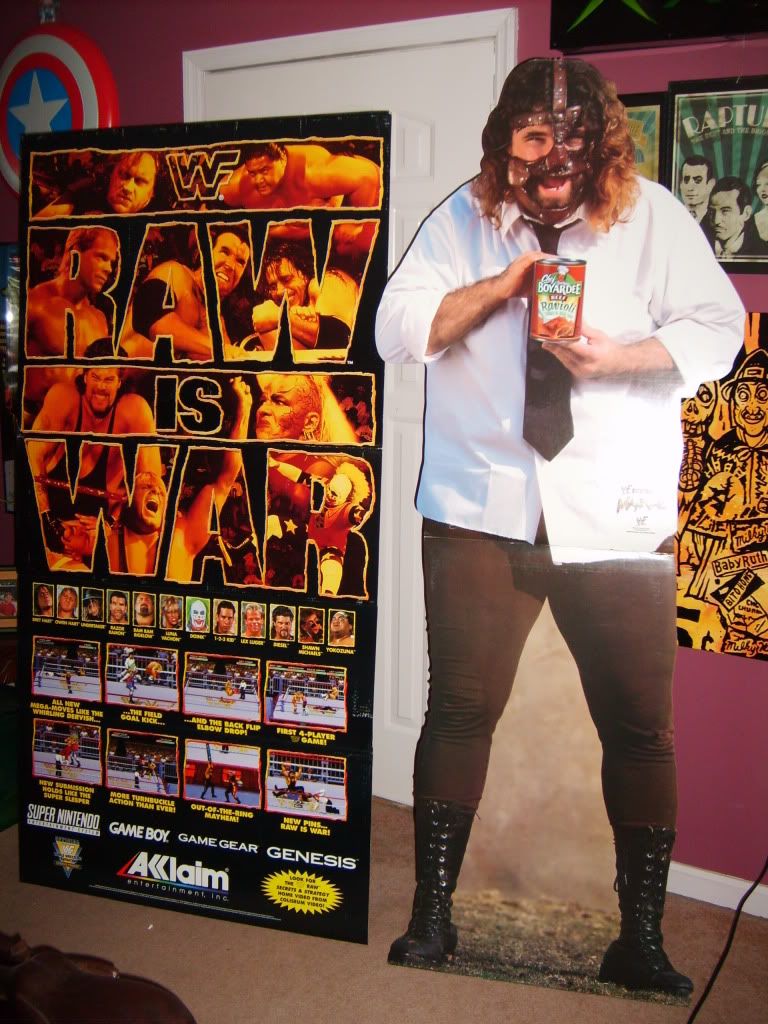 The famed Mankind Ravioli standee, and the inconceivably rare WWF RAW IS WAR video game standee. The Mankind standee is one of my favorites, being a HUGE Foley fan, and I am elated to have finally tracked one down... and for only $10!! The RAW IS WAR standee is the only surviving piece of its kind in existence that I am aware of. It is in incredible condition, especially considering its age. It even came in its original shipment box with the original folding instruction sheet! The last time I saw one of these was before the game was originally released (for Super Nintendo and Sega Genesis!) at a local video store.
For those interested, the other display that I own include:
- 1995 WWF Undertaker standee
- 1995 WWF Diesel standee
- 1998 WWF Undertaker Standee
- 1998 WWF Stone Cold Steve Austin standee (both commercial and consumer versions)
- 1998 WWF the Rock standee
- 2005 WWE HHH standee
- 2007 WWE DX Shawn Michaels standee
- Wrestlemania XXIV Big Show vs. Floyd Mayweather standee
- WWE Canadian Cellular Service standee
- WWE Power Pasta Brock Lesnar Canadian standee
- WWE Wrestlemania XXIV KMart DVD standee
- 1998 WWF Undertaker vinyl banner (consumer version AND one that hung at several RAW IS WAR tapings)
- 1998 Stone Cold Steve Austin vinyl banner
- 2003(?) WWE Ric Flair vinyl banner
So is there anyone else out there who shares my affinity for these displays? What do you have?