Post by UltimateCollector78 on Jun 26, 2015 17:51:34 GMT -5
Ultimate Warrior was one of kind not only as a character, but also when it came to ring gear choices, especially his awesome coats. This thread will take you on a journey through Ultimate Warrior's ring worn coats, or Dusters as they were written in his COA's for the ones he sold. I do not know they are called dusters and not coats, so from now on these pieces will be referred to as Dusters. I will cover ALL of Ultimate Warriors ring worn dusters over the years. If you are not a fan of Warrior at all, please feel free to participate in the many other threads on these boards.
Following WM6, Warrior started to change his ring gear from stitched ring gear to a more unique airbrushed designs, and since WM 7 he has worn a Duster in all his PPV appearances. There will be 4 different points of Warrior's Career where he wore dusters . Hopefully this thread will help MDT with their future picks of Warrior figures with dusters. so let's get started and get this show on the road.
Dusters Worn during Warriors First WWE Run:
-Wrestlemania 7
"Career Ending Match" vs Macho Man Randy Savage

This historic match was a first in many ways for Warrior, not only was it the first time he did not run to the ring, but it was also the first time ever that Warrior wore a duster in his career. The back portion of the duster had air brushing of him and savage butting heads with a Warrioe symbol staring back at you. This is the first and probably most famous of all of Warriors dusters. This is so far the only Ultimate Warrior with a Duster that we have received from Mattel in the last 5 years of them making Warrior figures 'except the 1 of 15 2k14 figure". I wish they would of used the screaming Warrior scan instead of the one they did.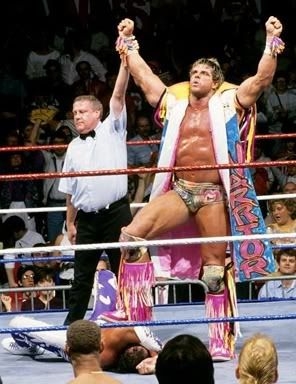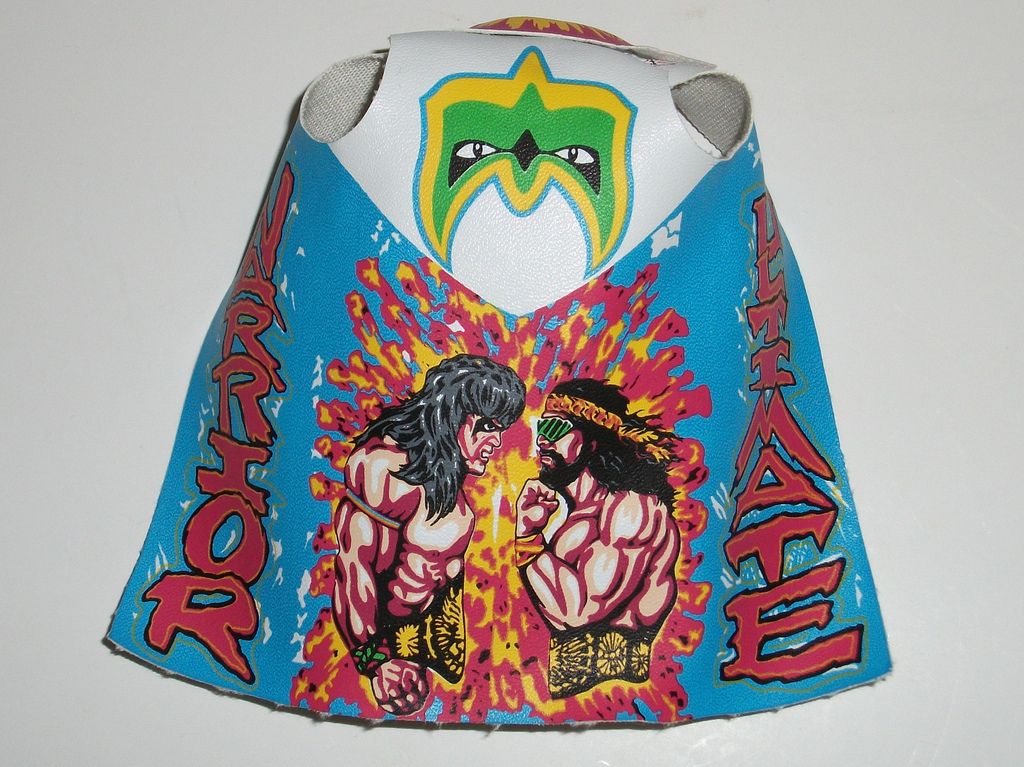 -SummerSlam 1991
"Match Made in Hell" with Hulk Hogan vs The Triangle of Terror
The second duster had more people airbrushed on their, with Warrior & Hogan on the back and the triangle of terror getting bombed with missiles that are a cartoony looking Hogan and Warrior.
The front shows Hulkmania and warrior wildness on the each side fused with patriotic red, white and blue. Warrior and WWE parted ways for 6 months right after this match. It's a bit surprising that this look was never done in toy form by any company. This attire is deserving of the DM treatment along the same line as WM 7 figure, as I am biased towards this duster.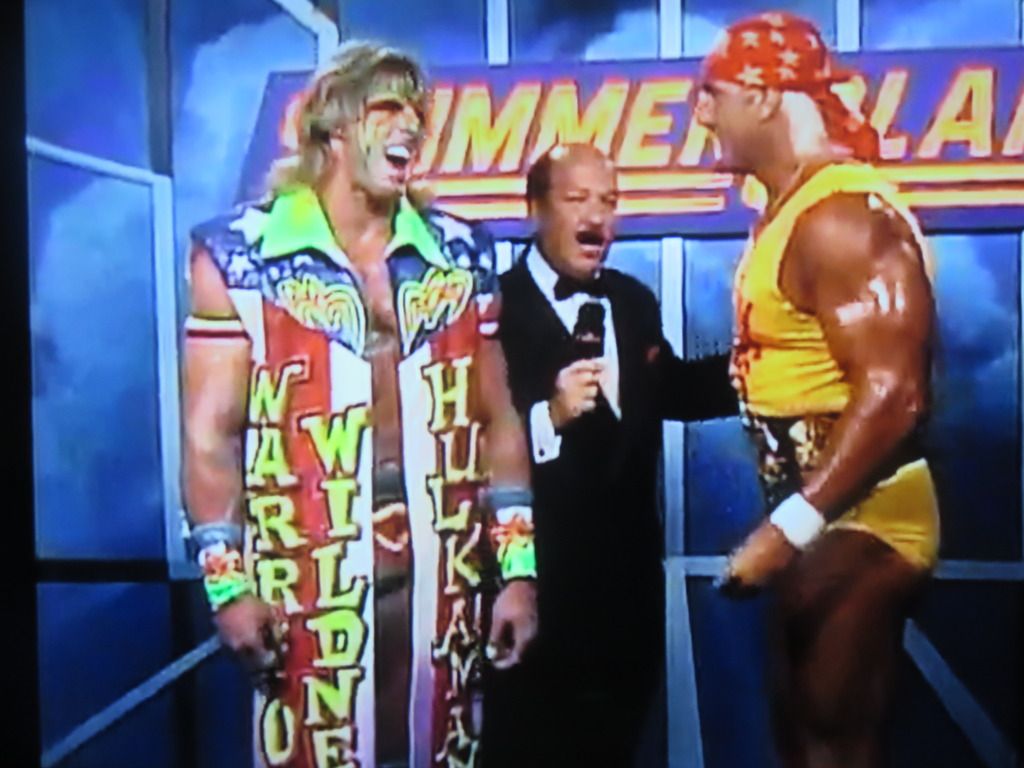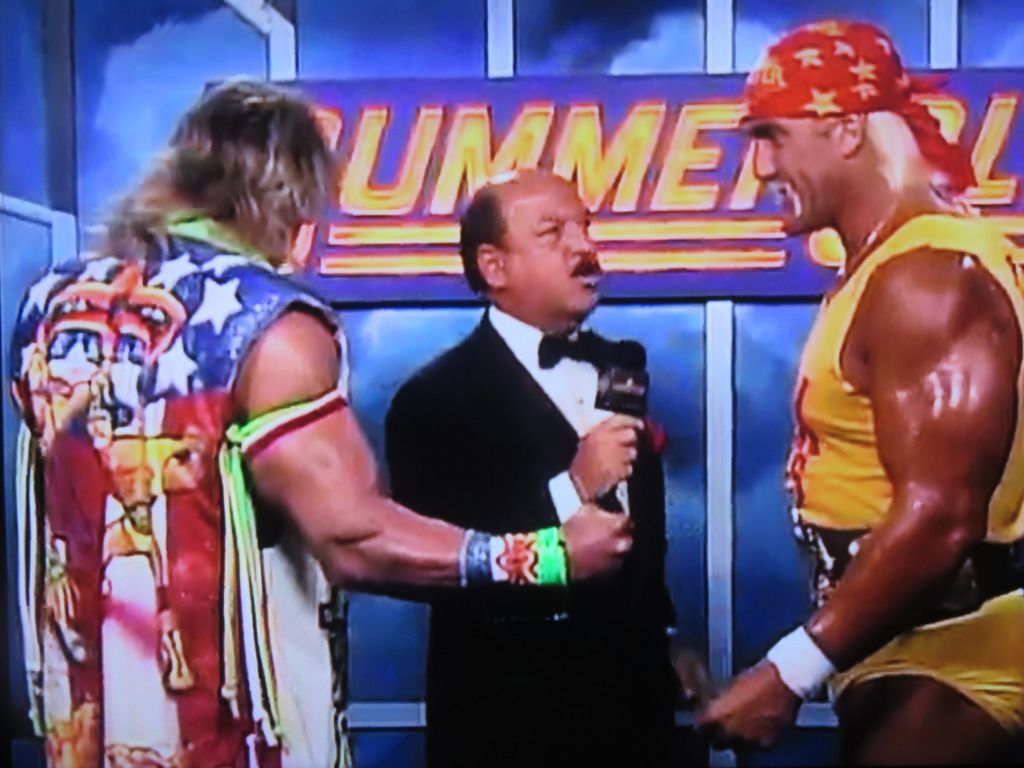 -SummerSlam 1992
"WWE World Championship Match" vs Macho Man Randy Savage"


SummerSlam 1992 Wembly Stadium saw Warrior take on Macho Man again, but this time it was a face vs face match in the first ever over seas WWE PPV. Some people are not a big on Warrior's singlet period that lasted for about 5 months in 1992, however I love it.
The airbrushing on the back again references the match with Warrior, Savage, Flair and perfect all in the back surrounding the WWE title. In my opinion, this is might be the best of the 3 and a totally awesome piece. Mattel released Warrior's look from this event in Elite 26, however without the Duster. That's unfortunate, as This duster and singlet combination is probably in my top 3 favorite Warrior attires ever.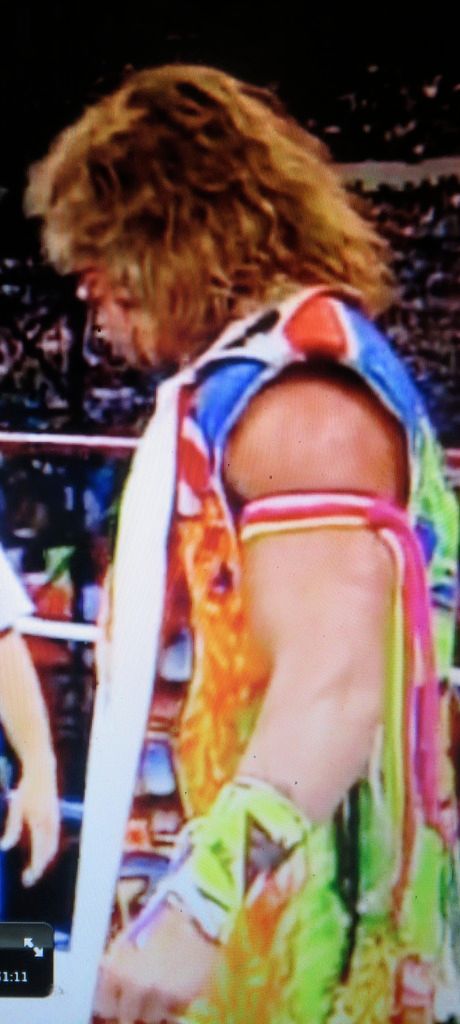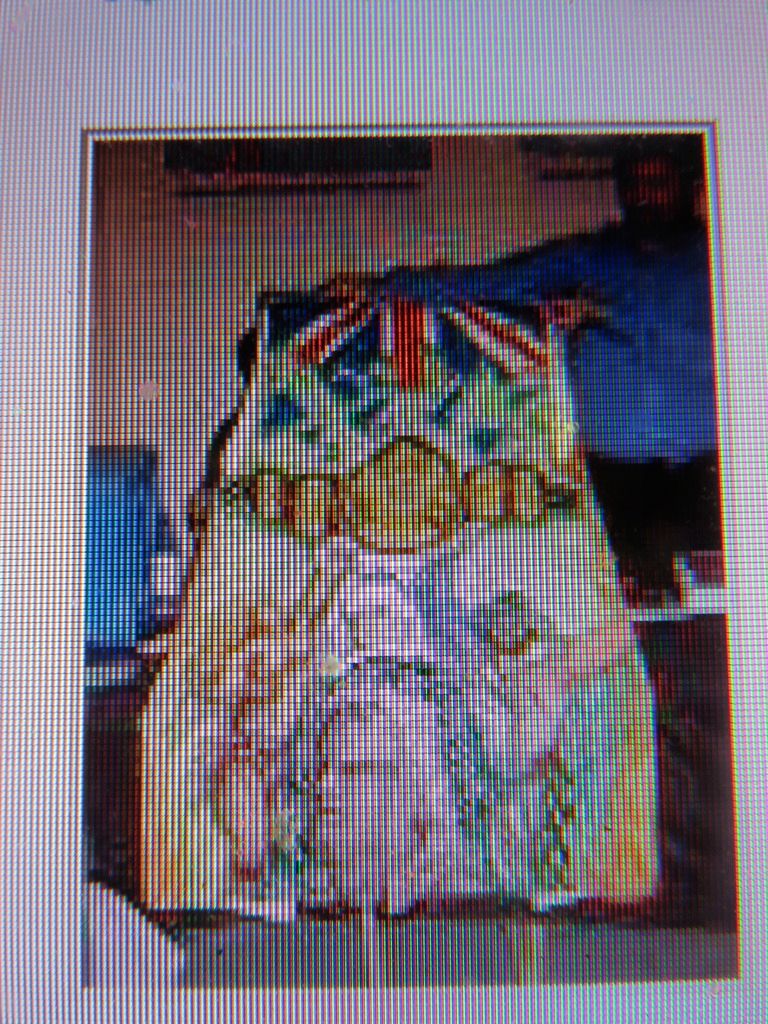 Well that's it for the early years of Warrior attires featuring him wearing a duster with the count of 3. These were the only dusters were the airbrushing art reflected Warrior and his opponents from the match. We would wait another 3.5 years to see the next Warrior duster at Wrestlemania 12.
Second Run: a Brief, but Ultimate Return 1996 :
In 1996, at Wrestlemania 12 The Ultimate Warrior finally returned to the WWE. After a few months of hype, I was curious to see how he would like after all these years, and also what cool attire he will wear.
All the Dusters worn during this period were inspired by the WARRIOR comic that came out in 1996. I will include the comic art that inspired the air brushing on the dusters.
-Wrestlemania 12
"WWE Return Match" vs Hunter Herst Hemesly

The match was a forgettable squash, but the attire was anything but. This Wrestlemania 12 Duster is awesome and has airbrushing of Warrior comic on the back with red Warrior symbols on the front.
Jakks toke a stab at this look, and was the only Warrior with duster ever released by Jakks "not counting the 1 of 20 WcW Classic Deluxe warrior and the Classic Superstars 1 of 20 OWN Warrior"
The result while good for the time, does not really hold up all that well. I am confident MDT will definitely give us a WM12 warrior, but will it be with a Duster or not remains to be seen. I really hope we get one as this is my favorite duster from his 96 stint.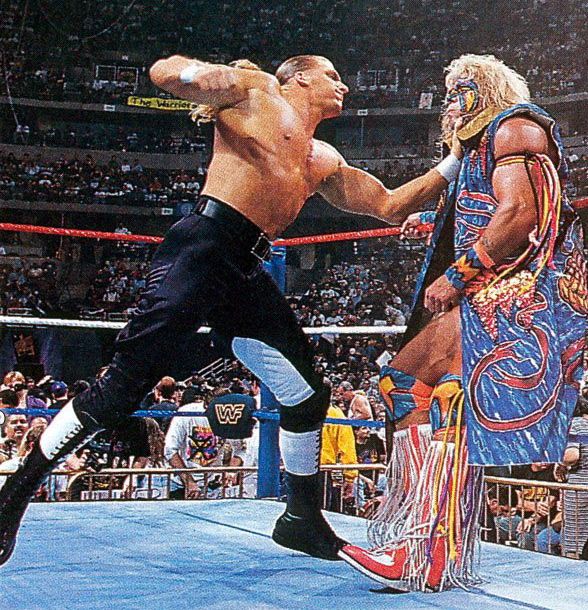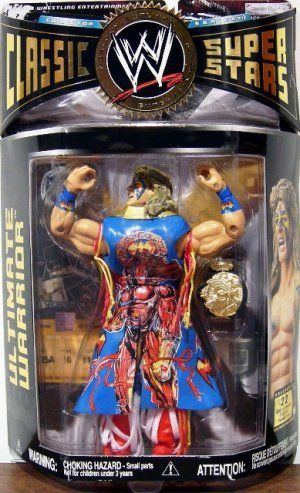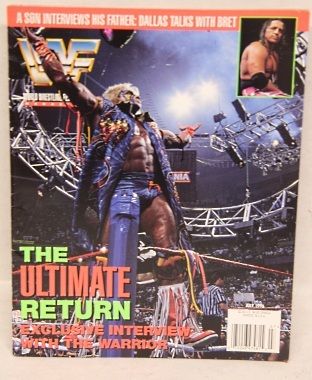 -In Your House Good Friends, Better Enemies
"WWE Intercontinental Match" vs Goldust

This was more of a segment than a match, but I still enjoyed it, and the crowd were crazy for Warrior here. While WM12 was blue this event was green and it has similar air brushing as the comic art below with Warrior standing over and looking at u like a predator is looking at its prey. I highly doubt we will ever see this look done by MDT.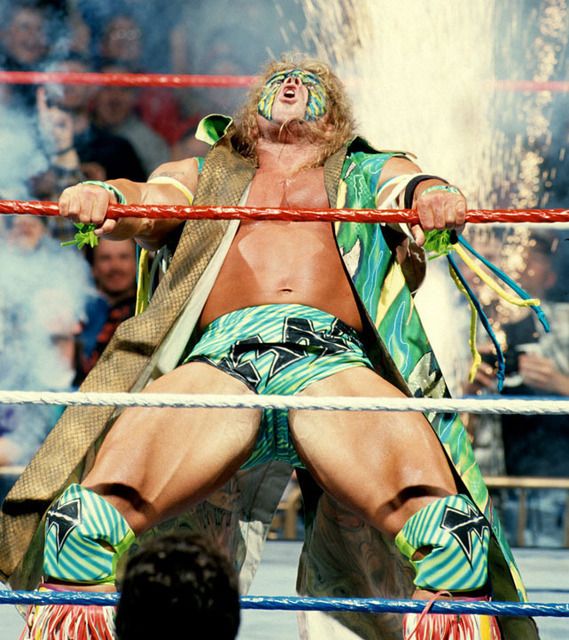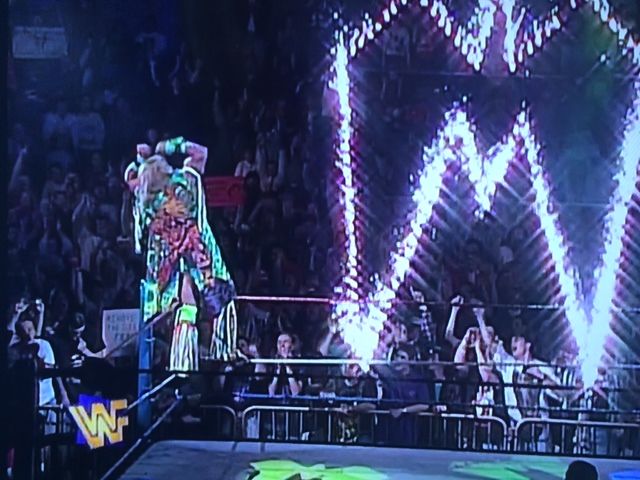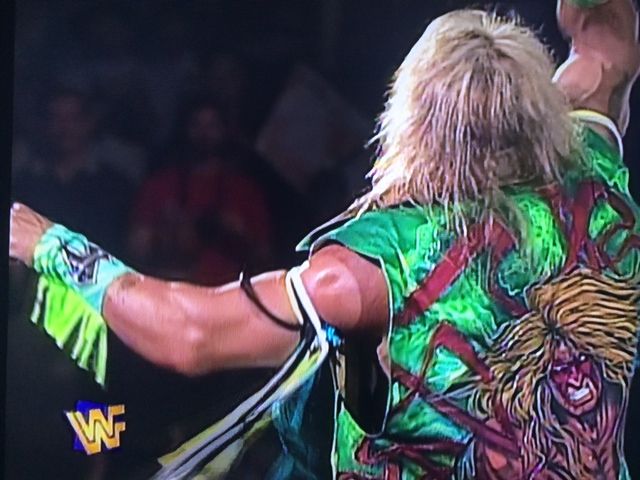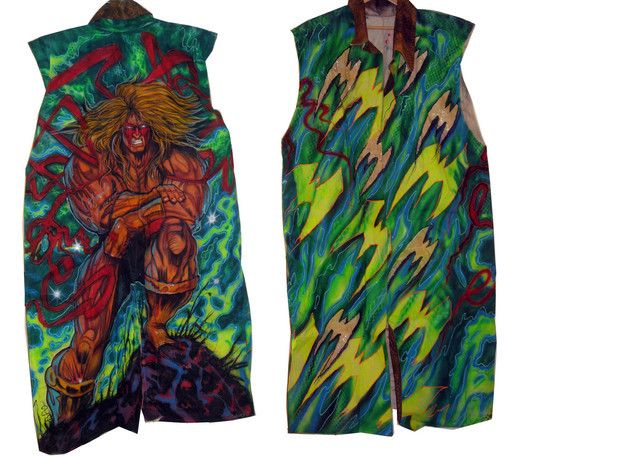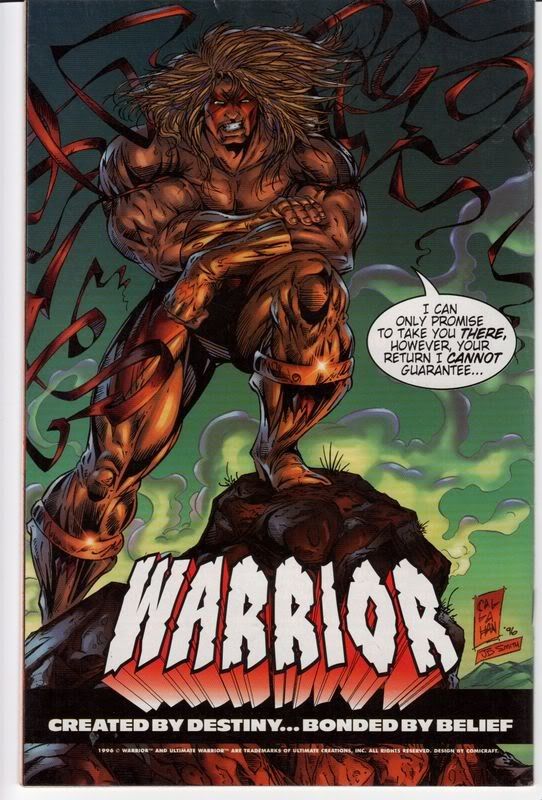 -King of The Ring 1996
"Grudge Match" vs Jerry the King Lawler
For his final WWE PPV match, Warrior had a very unique look, all purple gear and purple duster. This look is screaming for a figure treatment, and I think MDT will make it, but I have a feeling it will be with out the duster.I could not find a clear pic of the back, so I used the custom figure instead. Trust me it is accurate and also taken from the WARRIOR comic.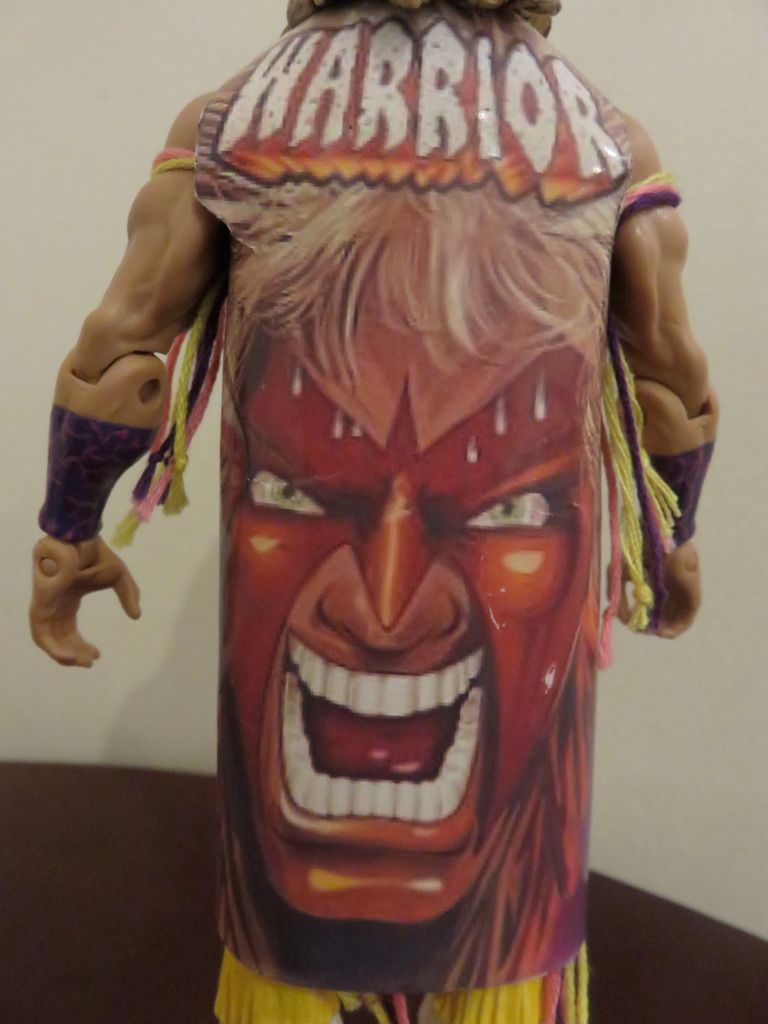 -Monday Night Raw July 9, 1996
"Final WWE TV Match" vs Owen Hart
In July 1996 Warrior had his final WWE TV match against the late great Owen Hart. It was the first time he wore a duster on a none PPV event. The the air brushing on the back of the duster was taken from the WARRIOR #1 comic book cover. I have no pic of the back of the duster, but it is almost identical to the cover of WARRIOR #1. Though similar to the KOTR duster, i assure u they are different.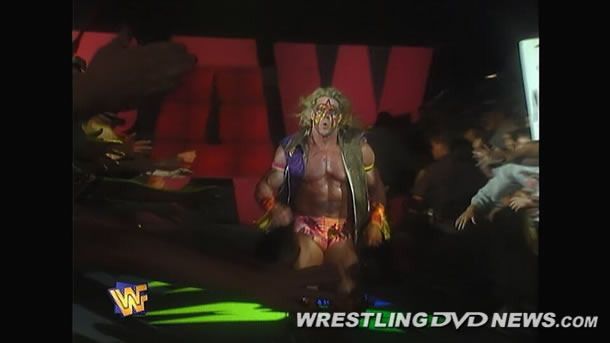 That ends the second era covering his 96 return and brings the total of Ultimate Warrior duster count to 7. The type and length of the dusters would change going forward, as previously the dusters were sleeveless, and there length coming down just below the knees were the boots start. Going forward all Warrior's dusters were made to be full length to almost bottom of the boots and are long sleeves.
Part 3: A One Warrior Nation is Born:
From August to November 1998 Warrior appeared in WCW, yes only a 3 month run, but some how 6 Warrior Dusters were made. Unlike his 96 dusters, all airbrushed designs are original ideas and artwork form Warrior and his airbrush artist.
Also up until this point It was easy for me to refer to the pervious dusters by just referencing the PPV event they were worn at, but in this case its mostly Nitro TV appearances. For this part the dusters will be named.
- Nitro Debut Duster
"Ultimate Warrior's WCW Debut""
I thought you were Dead" were the first words Hollywood Hogan uttered after being confronted by a debuting Warrior on the August 18 1998 edition of Nitro. The duster, Blue Jeans and white cowboy boots were a nice combination and would make a great figure. Jakks did a 1 o 20 Classic Superstars deluxe figure for his privet collection. Warrior was wearing this Duster when I met him at the Legends of The Ring signing appearance in NJ back in June 2012. It was last seen on display at the Wrestlemaia 31 Axess event.
-oWn White Duster
"Fall Brawl 98 War Games Match"

This white duster has with Warrior symbols all over, the first Duster with no airbrushing of people just symbols. It was worn on back to back Nitros , when Warrior had the Disciple hostage on September 14 Nitro, and was worn at Fall Brawl 98 by the renegade who was a decoy in the ring during the War games match. This Duster was also very notable for being worn during Warrior's final match in his life. In June 2008 when he won the NY-Wrestling Evolution Title in his first match since 1998, he wore this duster to the match.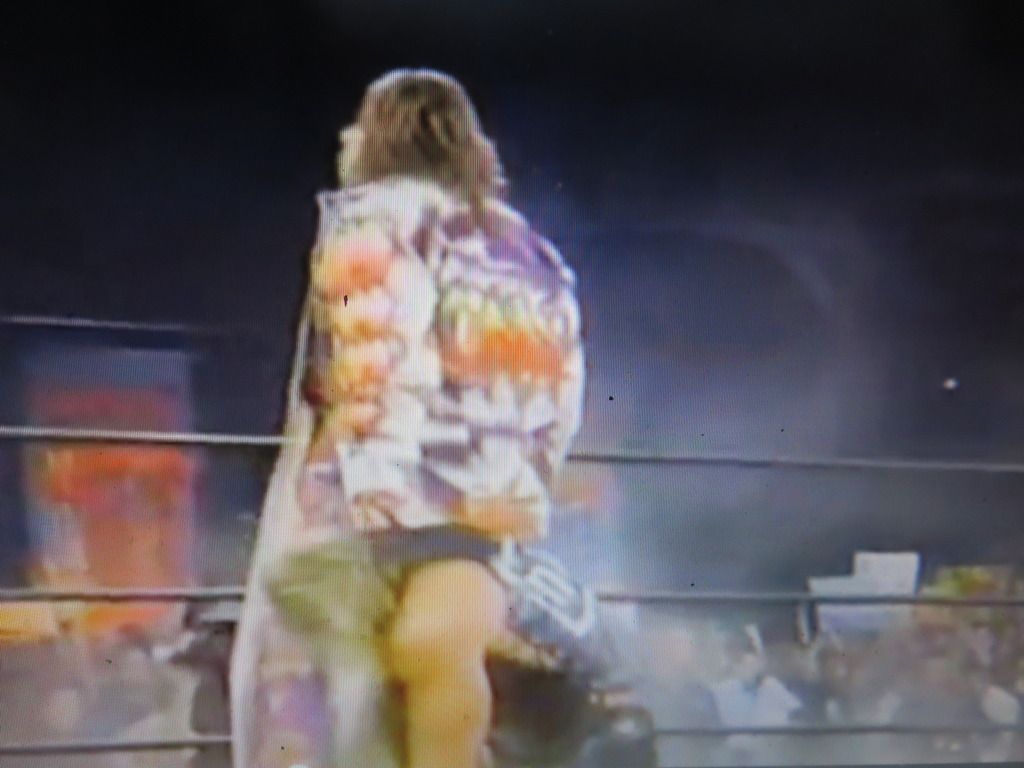 -White Comic oWn Flag Duster
"The Only Nitro Match"
with Sting vs Hogan & Bret Hart
The second white Duster from his WCW run is known to be one of Warrior's favorites, it was only worn during the "only Hogan can see warrior in the mirror" skit from Nitro, and also during Warrior's only match on Nitro when he tagged with Sting to take on Hollywood Hogan and Bret Hart. Jakks made a 1 of 20 exclusive figure of a WCW version of Warrior wearing this duster, however the face paint, trunks and knee pads are a fictional design. Warrior wore it again in the 2k14 video game commercial, and the 1 of 15 figure from Mattel was wearing it as well, and since that figure is not a retail release I am only counting the DM WM7 Warrior as the only duster wearing Warrior we have got so far from MDT.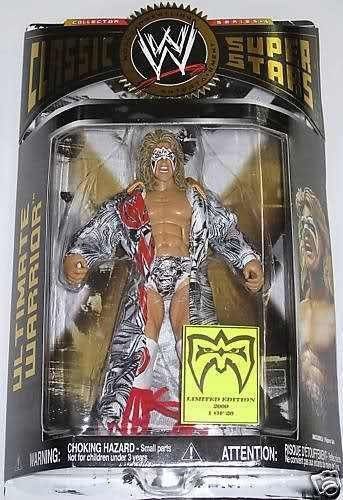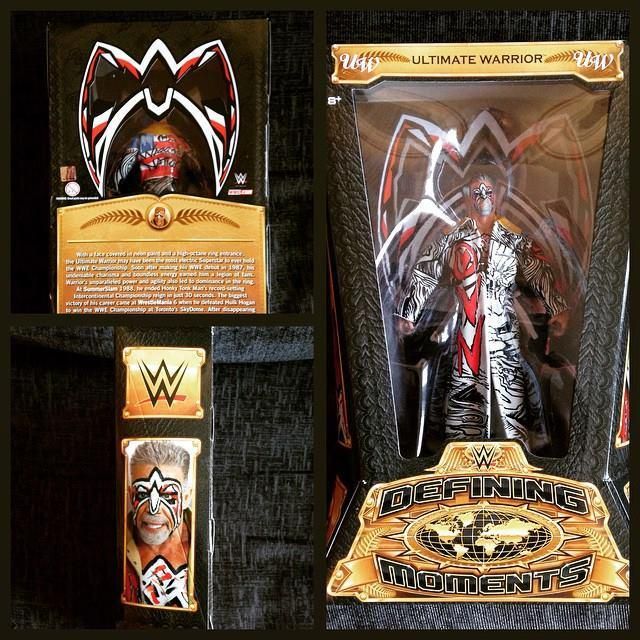 -oWn Black Duster
"The Only WCW Photo-shoot"

Finally we get the first ever black colored duster from Warrior's career, many fans were confused between this one and the Halloween Havoc duster. This one was worn on 2 different Nitro episodes. The first time with warrior cutting a promo in the ring, and the second being when he was in the rafters throughout the show to finally come out at the end with the Disciple behind him having joined the oWn. This duster again like the white oWn version, has only Warrior symbols airbrushed all over it with a huge oWn air brushing on the back. This duster is also notable for being worn in Warrior's only WCW photo shoot. That photo shoot produced the cover of the October 1998 WCW magazine and a poster that appeared in the November issue.





- Halloween Havoc 1998
"The Final US Match"

Many consider this Warrior's final match, though he did have one more in 2008 in Spain, this was his final US match and horible one at that. The Duster has very colorful and has a gravestone on the back that reads " here lays the NWO" and a grim reaper airbrushing going signaling the death of the NWO. This duster was also worn the next night on Nitro with Warrior opening the show with a promo.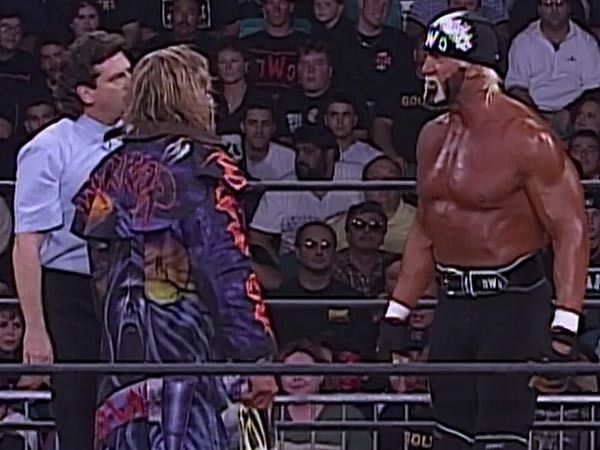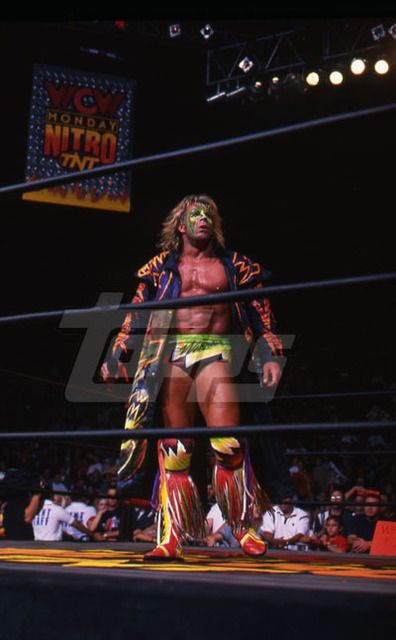 -oWn Cattle Skulls Duster
"Never worn in WCW"
This Duster was intended to be worn during Warrior's time in WCW, but never was. Most likely because again his run was cut short. I did not know it existed until Warrior was wearing at Wrestlecon 2013 over WM 29 weekend. The cattle skulls are airbrushed between the Warrior symbols reminded me of a trunks and kneepads set that he wore in his WCW days.

Final Part: Every man's heart one day beats its final beat :
With WWE and Warrior finally having a working agreement between again, he had 2 more Dusters made for his 2014 return. Both dusters have airbrushed designs taken from two pervious photos of Warrior in his prime. Here is a link to the interview with the designer that made the final 2 dusters for Warrior's 2014 WWE return.
www.wrestlezone.com/news/553043-rob-schamberger-talks-making-jackets-for-ultimate-warrior

-WWE Raw April 2014
"Raw Return"
In his first WWE appearance in 18 years, Warrior came out in a suit first. When he got to the ring he pulled his latest Duster from under the ring and proceeded to cut the final and most legendary promo of his life. The air brushing is from an action pic of Warrior from the late 80's you can see it below.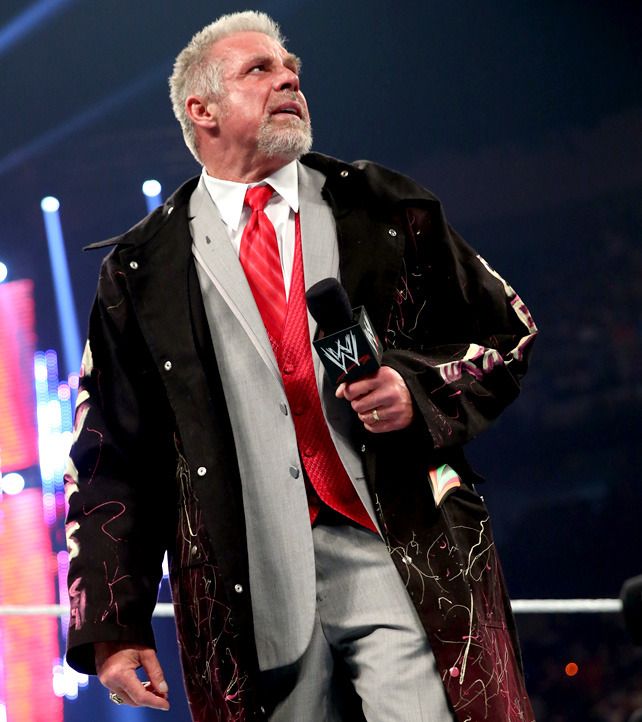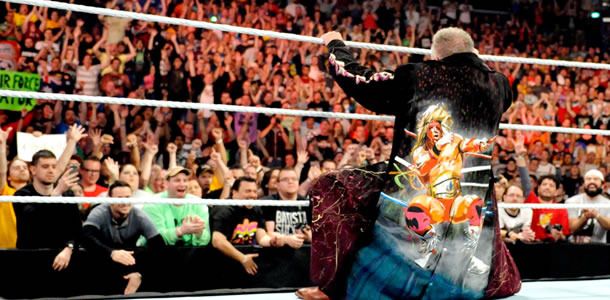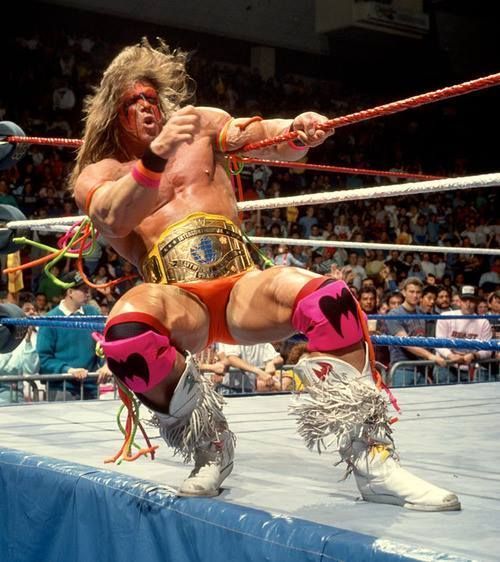 -The one that was never worn 2014

As mentioned two Dusters were made for his 2014 return, with this being the second. Warrior never wore it due to his tragic passing. It was shown for the first time, when displayed at Wrestlemania 31 Axess. The airbrushed image is taken from Warriors infamous crash the plane promo that he cut on Hogan going in to WM6.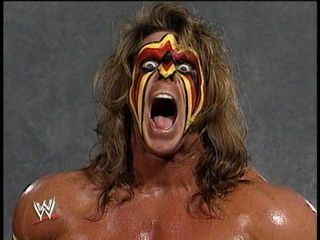 Well there they are 15 dusters were made during the legendary career of Ultimate Warrior. As some of you know, the majority of these have been sold off through the years.
My 5 favorites in order:
H.M: IYH 96, white comic own flag dusters
5. Halloween Havoc 1998
4. SummerSlam 1991
3. Wrestlemania 7
2. Wrestlemania 12
1. SummerSlam 1992
The 3 Dusters that i think have the best chances of being made by MDT as awesome accessories for future figures are
Raw 2014, WM 12 and Halloween Havoc 98.
Hope everyone enjoyed going through this Ultimate Warrior duster journey. What about those Warrior singlets? hmmmm.