Post by UltimateCollector78 on Aug 29, 2015 13:41:32 GMT -5
A couple of months ago I uploaded a look at all of Ultimate Warriors ring worn Dusters
forum.wrestlingfigs.com/thread/321974/ultimate-warrior-complete-dusters-journey
. I also wanted to look in to his many colorful singlets. This thread will take a look at the many different singlets worn the Ultimate Warrior, they were worn during a short period in his legendary career.
Hopefully Mattel will give us at least one more warrior in a singlet before the line ends, and this thread should help them realize there are so many to chose from.
In 1992 at WM 8 the Ultimate Warrior returned to the WWE , a few months in to his return he started wearing singlets for the first time ever in his career. This was met with mixed reactions from fans, some enjoyed this attire upgrade, while many were not fans of it. Regardless his wwe singlet look only lasted from July up until his departure.
When known, I will indicate where the singlets is worn. For many of these, there are no images that are known to exist with Warrior wearing them. Unlike the Duster journey that went from the first to the most recent, that will not work here as the majority of the singlets were worn at house shows during a short period of Warriors career.
Here we go:


Singlets Worn During Warrior's 92 Run:

1-
The First singlet – worn on Prime Time Wrestling August 11th, 1992, during a tag team match with Macho VS the Nasty Boys. This was during the build towards SummerSlam 1992 in the UK, and as opponents they wore teamed up here prior to the PPV. It was the first time Warrior would wear a singlet. I am not a fan of this singlet at all, but it's the first and you have to start some where.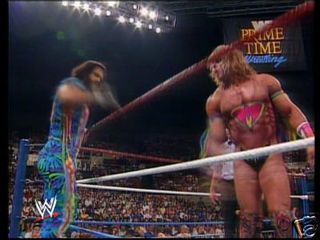 2-
Warrior Shattering the brick wall singlet – This is one the most memorable singlet's he has worn, it has an airbrushing of Warrior running through a brick wall as he shatters it in the process. It was worn, in August of 92, and would be the only singlet that he has ever worn during a WWE photo shoot. Those shots of warrior in this brick singlet have now become infamous and definitely capture what the character was all about. He would also wear it in a house show match vd Flair and a few more times in his handful of indy appearances in 93. This one is up there for me and is one of my favs.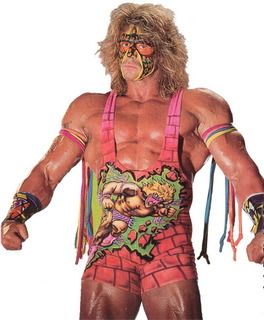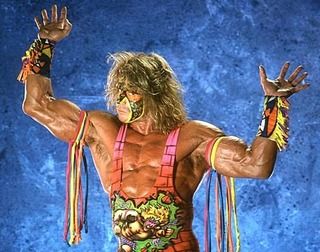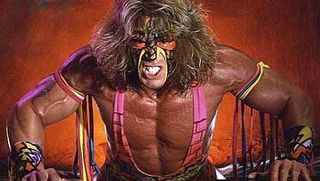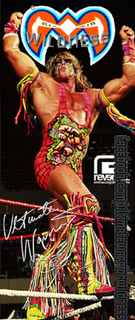 3-
SummerSlam 1992 singlet - pretty much nothing more I can add to this one. Its an iconic attire of his, the only ppv match with Warrior wearing a singlet, its also the only time he wore a singlet and duster at the same time, an awesome attire Worn also in a backstage promo. So far this is the only singlet Warrior Mattel has produced, and only the second Warrior figure in a singlet ever.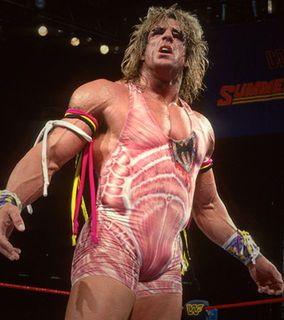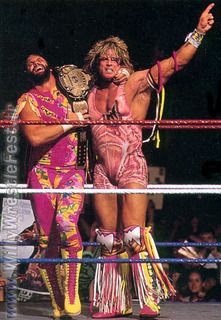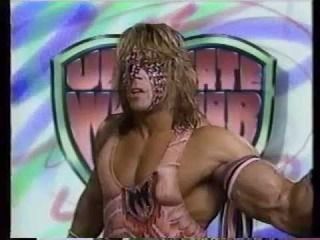 - Following SummerSlam 1992 Warrior and Macho Man would form the Ultimate Maniacs. The team would only go on to have 2 matches during their existence as a team, and in order to spread the star power on the house show card, both team members would wrestle separately on those cards. During this period warrior wore many singlet's in these house show matches that toke place between August –Nov 92 where he faced Ric Flair in matches, Kamala in 12 matches, Nailz in 2 matches and teaming with Bossman and Undertaker to face the trio of Kamala, Nailz and Razor Ramon in the others. So let's keep things going and take a look at those and take a look at those singlet's. Not many warrior fans know this, but there are 3 different versions of the Ultimate Maniacs singlet Warrior. Lets take a look.


4-
Ultimate Maniacs – Brick version – this is probably the most one that comes to mind when thinking of Warrior as one half of the ultimate Maniacs. It is due to it being worn in many live interviews in front of the crowd, and in backstage interviews and on 27/10 edition of SNME, his only post SS92 TV match Ultimate Maniacs vs Money Inc. This singlet is a beauty.
5-
Ultimate Maniacs – Flame Version – this was worn in many backstage interviews and on house a show matchs against Nailz. very nicely done.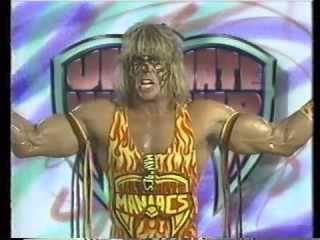 6-
Ultimate Maniacs – Red Version – this was also worn in a couple of house matches, backstage interviews, and in the promo pics building up to Survivor Series 92. Sadly the warrior would not be part of the match, and would be replaced by Mr. Perfect.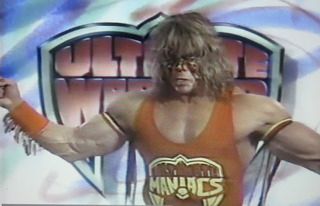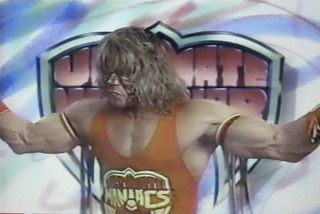 7-
Warrior Comic green singlet – Another one that has become famous amongst warrior singlets, its due to the many good quality pics the exist from those matches. It was also shown in many wrestling magazines like PWI. It was also worn in the Warrior workout video that he released.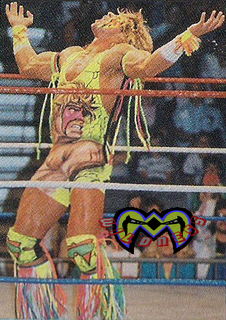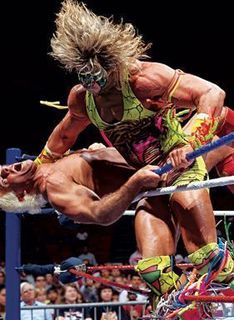 8–
The Terminator singlet – most likely inspired by a movie that came out the pervious summer, Terminator 2: Judgment Day. You might of heard of this flick. This is another one that not many knew about, that was until Jakks released this look the Classic Superstars warrior figure back in 2007. It was the first Warrior figure ever released with him in singlet, that number would go up to 2 warrior in singlet figures following the overly produced Elite 26 figure.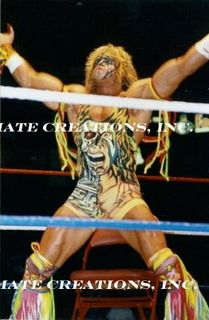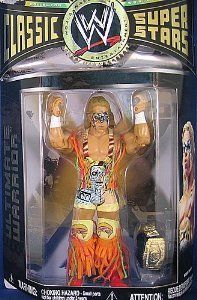 9–
The Flying Warrior singlet – Another one worn during his few matches with Flair. It has a huge Warrior logo with airbrushing of Warrior sort of flying over it. Its very colorful and very few pics of it exist.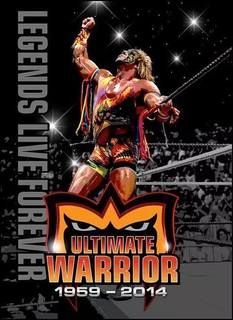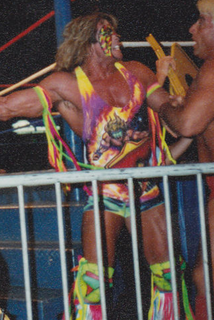 10-
We are the Warrior Children singlet – yeah it's the best name I could come up with, with the airbrushing of many kids surrounding Warrior as he stand tall raising his arms in the air. Hey, it was the early 90's after all and is a bit too much really.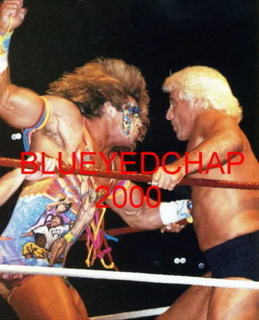 11-
Orange Warrior symbols singlet- – this is a very bright orange with black warrior symbols floating around like butterflies or something. I came across only one dark blurry pic Warrior wearing this one at a house show. It was on Ebay for a long time along with a few other horrible looking ones that we will get to later. I am not a fan of this one at all.
12- White Warrior singlet – This singlet was also made for his 92 WWE run. Though no pictures of him in it are known to exist, it was sold many years ago. I think it would make a nice Basic Warrior in a singlet.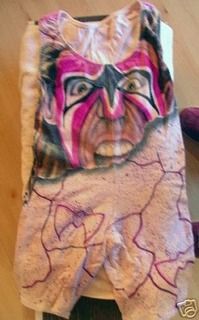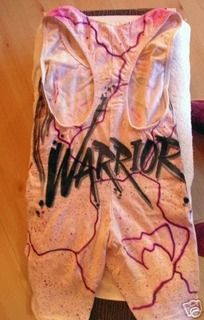 13- Angry Warrior singlet – never seen this one until it was on display at this years axess event. No pics of Warrior wearing it exists, but its an ok singlet.
- In 1993 James Hellwig legally changed his name to Warrior. Since he did not own his likeness, he was not allowed to use the Ultimate Warrior name or Ultimate Warrior symbol either. Due to this he would make a few more singlets that either had his new legal name on them or an alternate face paint scheme airbrushed instead of the traditional Warrior symbol. A few years later warrior would beat WWE in court for the ultimate warrior name and trademark Warrior symbol.
In between his 92 departure and his WWE return in 96, Warrior wrestled only in 10 matches.
In the spring of 1993 he wrestled 7 of those matches against Hercules on a European tour known as "World Wrestling Superstars" it was a tour of Germany and Austria. During the tour, Warrior alternated between trunks and singlets. In the summer of 95, He had one match against Honky Tonk, and wore the next one in our journey.
Singlets Worn During Warriors Indy Appearances 93-95
14.
NWC / Wrestle America singlet– this one was worn in his one time appearance in NWC promotion, where he faced Honky. That same year, Warrior was featured on the Wrestle America magazine cover wearing it. This one was shown at the WM 31 axxess event alongside the screaming warrior singlet.
15.
Super Warrior singlet – no images of Warrior wearing this, believe me i looked, as this singlet was part of my collection until I sold it off last summer.
-
In 2011 Warrior made a deal with an ebay wrestling merch seller, that deal included more than a dozen trunks, 3 Dusters and 7 singlet's were part of the deal. The singlets included were 2 from his 92 WWE run " The first singlet worn and The orange warrior symbols singlet" the other 5 from his 93-95 indy apperances. I am not a fan of any of these and very few if any pics of warrior wearing them are in existence. Besides the first singlet worn, all sat on ebay for the longest time, and aside for the high asking price, I think the main reason they did not move was that fact that no one recognized any of them at all. After warrior's passing all were sold, with exception of the Dingo one still remaining for sale today still.
16.
Warrior Workout Green singlet – I added workout to the name, as I only came across Warrior wearing this once in a gym workout black and white pic.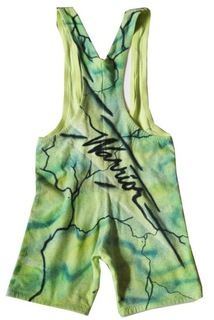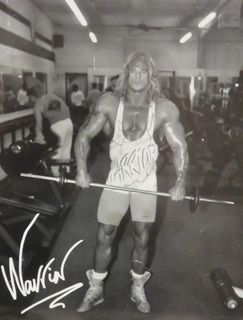 17.
The Muscle singlet – it's a plain muscle tissue design, and its nice at all as an attire of his.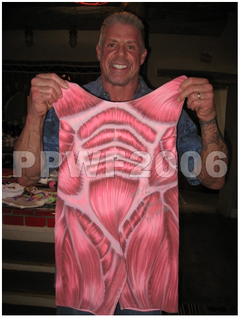 18.
Warrior Lightening singlet – same deal as the muscle, nothing special, moving on.
19.
Dingo Warrior singlet – This has been on ebay from over 3 years now. Not liking this one at all.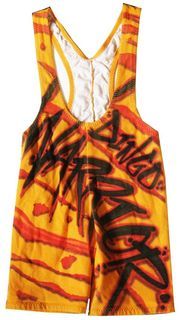 20. The singlet I can't find pics of – I gave up on finding pics of this one. But trust me when I tell you it's the worst at of all the singlets I covered in this thread. Its just a mesh of colors and scratch like airbrushing. It's the last of the 7 that were offered for sale, maybe its best I could not find a pic of it.
Well, there they are 20 Ultimate Warrior ring worn singlets, I am sure there are maybe a couple more that have never surfaced. But these are the one that are known to exist, please let me know if there are any I missed.
Though it was a look that was not received well by many warrior fans, I for one love the Warrior singlets look and I hope that Mattel will give us at least one more Elite Warrior in a singlet. But just in case they do not, I have myself covered.


Hope you guys enjoyed this journey, and my final thread that looks at Warriors many attires will cover my top 10 favorite UM attires ever, the choice may surprise some.