Post by BoneCrunchingCustoms on Jan 30, 2014 20:32:55 GMT -5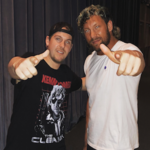 I never collected Star Trek toys. Quite frankly, I just collected Star Wars and wrestling figures like a lunatic when I was a kid and I never got too much into the Playmates stuff. I did have the Galoob figures but that was about it. I've recently started watching a bunch of my favorite episodes from TNG over again on Netflix and it led me here, which led me to Ebay, which is about to get me in trouble haha. I grabbed a few the Playmates figures for cheap of some of my favorite characters, but what I really want is just just a solid collection of the Diamond figures because, judging from your pictures, they look spot-on. My problem is that they are very thin on Ebay. I think I'm going to start with Crusher and Worf, but I really want a Riker (with beard) but they are few and far between and not cheap. I guess I'm just going to have to be patient. I'm going to Megacon in March so hopefully I can do some work there if I haven't got much collected through Ebay by March.
Anyway, love it all and keep it up.
Wow, thanks for the nice compliments
What I love about the Playmates line is that they are still cheap and the vast array of figures pretty much covers everyone from TOS, TNG, DS9 and Voyager. Check out
Final Frontier Toys
for some real good prices on a good selection of Trek figures.
You will find that even the majority of the Diamond Select basic line has gotten a bit pricey and hard to find, especially TNG duty uniform Data fr some reason. But, imo, it's definitely the definitive line of Star Trek figures. The scultps, accessories and articulation are outstanding and I think you will really enjoy them if you choose to start collecting them.