Post by M̷͇͙̱̏͜͝ͅ3̵̈̐͘̚͜͝S̵̡̝̺̖̑H̸͙̊͋̂ on Oct 16, 2018 19:18:29 GMT -5
WFWF: London Calling Review
BY ICHABOD SLIPP| @i_SLIPP| OCTOBER 16th, 2018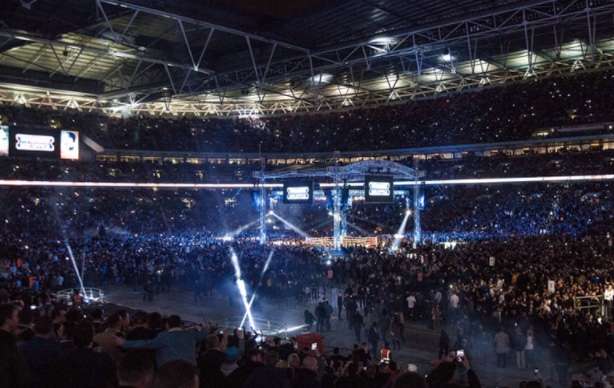 (Picture by PWN subscriber, @moneymark)

Okay, so I'm exhausted. Sorry for the delay. London Calling was such a good finale for the WFWF World Domination Tour which reportedly brought in big money for the company. Of course, that's not to say the show wasn't without its fumbles. Oh yeah and I'm pretty sure we witnessed a public execution. I wouldn't be surprised if the authorities are investigating and/or searching for a certain wrestler on the roster. *looks at Ryan Payne*
This show was also bittersweet – if the rumors are true, this show was the last appearance ever of David f'n Brennan who was dethroned by Lizard Kink aka Drakz in the shocking finish in the main event. There is speculation that Michael Kyzer is also hanging up the boots after this show but more on that later.
RYAN "NEEDLES" PAYNE vs. CHRIS PRICELESS - **
Okay so this is where the public execution I mentioned earlier occurred. For this being a "deathmatch" it wasn't as violent as I was expecting. The match was very slow at times and it didn't really get violent until midway through the match. There were stabbings, a bludgeoning, attempted suffocation, syringes, lighters, barbed wire boards and a flaming table. Sounds like the review of a bad snuff film and yes, those do exist. Priceless did a stretcher job at the end and strangely, there's been no update on his condition. Guess he died.
TYLER DRAVEN vs. FRANK LYNN for the WFWF INTERNATIONAL CHAMPIONSHIP - **
Full disclosure, I'm a big Tyler Draven mark even though let's be honest here- he's a wannabe Trace Demon. Anyway, his last two matches have been DISAPPOINTING. On paper, Sean Casey vs. Tyler Draven is money yet that match sucked monkey f***. Fast forward to London Calling, Frank Lynn versus Tyler Draven is a main event on any card yet this was the shortest, most average match of the show. I feel like they didn't put too much effort into it, which is a shame.
MESH vs. SHUGGY for the WFWF VANGUARD CHAMPIONSHIP - ***1/2
The internet LOVED this match. I got so many goddamn emails and tweets and messages about it afterwards that I was left scratching my head. DID IT NOT BOTHER ANYONE ELSE THAT THEY PRETTY MUCH BURIED EACH OTHERS FINISHERS??? My God, they kicked out of each other's finishing moves soooo many times that I legitimately got angry. PROTECT YOUR FINISH, I'm guessing Mesh and Shuggy's trainers forget to instill that in them when they first started. Yeah, the crowd was super hot for this match but it certainly wasn't #matchoftheyear. Mesh being a champion is going to take some getting used to but I predict that she'll end up being another Dex. By the way, Mesh's entrance was stupid.
DRAKZ vs. MICHAEL KYZER vs. DAVID BRENNAN for the WFWF WORLD HEAVYWEIGHT CHAMPIONSHIP - *****
This was the #matchoftheyear, in my opinion. This…epoch finale was six years in the making, there's so many story elements, twists and turns that was built up beautifully and culminated masterfully. Many of my subscribers loved the final moments with Kyzer tearing the head off a Mesh plushie (They actually sell those??), wiping the blood from his face with it and tossing it back into the crowd. If only that was the real Mesh….
In fact, I'd love to see her face Tugarin Zmey. *looks at WFWF creative team*
Anyway, Lizard Kink won the big belt again – technically for a fourth time but Lizard Kink has gone on record in the past and stated that he refuses to acknowledge Joshua Dean's reign. Sooo….newer fans of the WFWF- prepare to get bored as Drakz will hold the championship hostage for another eight goddamn years.
Important reminder: Rumors are just that -- rumors. None of this has been confirmed as legitimate news, it's just circulating around the pro wrestling rumor mill, but we present it as fact. Remember, take it all with a grain of salt. Or not. Up to you.


David Brennan is gone. His profile has been deleted from the WFWF website and if you've been following his personal adventures, he literally snuck into The White House and has been feuding with the President ever since A-wut was supposedly deported. Brennan is a unique case. Rumors say that he's creatively burnt out and has been complaining to WFWF management for months now. Other rumors say that his body has given up on the big guy. There's a saying in wrestling – " You only have so many bumps on your bump card" and supposedly, David Brennan is a broken man. Literally.

Michael Kyzer is done too. A...representative of his got in touch with me and said the following: "Mr. Kyzer wishes to spend more time focusing on his personal life. Now go away." Blunt and to the point. Man, Kyzer is going to be missed.

A very prominent member of WFWF management resigned following London Calling. Known only as Bartholomay, this person was a vital part of the production, booking and creative of the WFWF following the company's rebranding phase early this year. Bartholomay supposedly is good acquaintances with Lance Rodriguez and the aforementioned David Brennan. Sleater and company are reportedly searching to find a replacement.
Speaking of Lance Rodriguez, he too left the company again following his disastrous return. Rumor has it that the 40-year old returned to his Uber job following his disappointing DQ win over Ryan "Needles" Payne at El Grito de Dolores. Smash is a very well-known figure in his community and aside from Uber, he's supposedly returning to his coaching days for the high school baseball team, the Humongous Melonheads.
There are talks about a WFWF video game. The company supposedly wants Drakz on the cover but on an official poll run by the company suggests otherwise. Mesh dominated the polls to be the cover star of the company's first ever video game. The rumors are that the game will have two versions: The Pixie Edition will cost $80 and will come with a tons of physical items that exist to solely distract the fans from seeing how the bad the game is going to be, considering the WFWF brought in the small-time indy company, LIM0Z33N to develop the game.
The Streak Destroyer Destroyer Edition is the ultimate bundle for the biggest and hardest WFWF fan, supposedly costing $169. It will come with a replica championship belt signed by Drakz himself as well as a piece of the ring mat from London Calling where he won the WFWF World Heavyweight Championship for the fourth time. It also comes with ring worn trunks from the champ's personal collection among other goodies. WFWF: World Tour is rumored to be released on June 9th, 2019 and it's up for pre-order now although I don't understand why you would pre-order anything.

If you have heard of any interesting rumors that you'd like to add, feel free to post them in the comments section below. Just remember they are rumors and not confirmed as fact but please take them as such. Have fun with it. Tell your friends. To send me news, updates and rumors – send me a tweet @i_Slipp or visit my website, PWN.com for all of your pro wrestling news, updates, reviews and more!